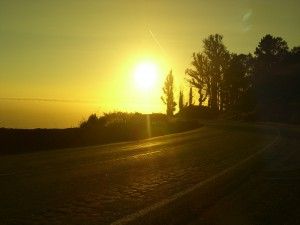 I've always wanted to create something fun. A big adventure that makes people happy and excited. Something that creates some excitement and a following of awesome people.
21 days from now, I have a chance to do that.
I am going to Portland, Oregon for Chris Guillebeau's World Domination Summit. This is an amazing blogging conference of 500 adventurous souls looking to change the world for the better. I've also organized a bungy jump for those daring souls a day after the summit.
But I kept thinking, how can I make this even better?
And then it hit me.
Road Trip!
I will rent/borrow a mustang convertible and make a crazy 3+ week journey out of the event. I'll bring my girlfriend, who has never been to the U.S.A., and we will visit Vancouver, Seattle, Portland, San Francisco, Los Angeles, San Diego, Las Vegas, Salt Lake City, Yellowstone National Park, and Calgary, Alberta.
I will:
Interview bloggers during the summit,
host tweetup/meetups at each destination,
hopefully get some product to give away,
and create adventures with people such as sky diving, bungy jumping, hiking, experiencing disneyland, and any thing else we can think of.
I've always had another dream too. I've always wanted to create some sort of adventure that would interest businesses and people into sponsoring it and becoming part of the adventure. I've always loved networking and recommending businesses/products to people so why not blend the two?
I would like to find some sponsors who would like me to feature them during the trip through video and through writing. I can mention them in the video, the posts, and include their logo on the site or in the video.
Since this is new, I'd like to keep things simple and fairly low-cost for those wanting to participate. I'm looking to raise $4000 to pay for gas, accommodation, food, and some of the adventure activities.
It's good to set a minimum investment for such a project so $200 will be the minimum investment for businesses or anyone wanting to be featured during the adventure. Depending on the amount of investment, businesses will get a certain amount of exposure in each video and/or post. I will also have other business friends help market it by twitter and Facebook.
And for anyone else wanting to sponsor smaller amounts, I'd like to make it fun by offering some incentives and giving you a chance to vote on an incentive.
Current Incentives:
For $20 I will give you a 4-month subscription to Canadian Free Flyers (normally $10/month).
For $40 you will get a 4-month subscription to Canadian Free Flyers and I will send you (or a friend of yours) a personalized postcard from the trip.
If you have any other incentive ideas I could offer, please let me know in the comments section.
If you would like to sponsor the trip, please contact me at (This trip is now over).
I don't have much time left (just 21 days from now) but even if this one doesn't work for you, I am planning more adventures soon after.
Let's see if we can make this happen!!