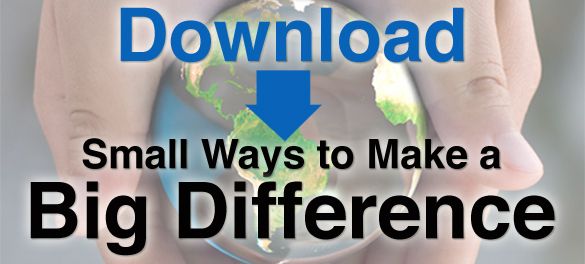 A few weeks ago, I did an interview with Raam Dev of www.raamdev.com. That interview will be posted very shortly but in the meantime, Raam has created a free e-book entitled "Small Ways to Make a Big Difference" which I feel I need to share with you right away.
Raam realized that there are people all over the world who genuinely care about the planet and want to do things to make it a better place but don't know where to start. That's where this e-book comes in. With over 100 contributions from over 40 bloggers (myself included) and heaps of inspiring quotes, this e-book is a great read for everyone and will give you new little ideas to make a big difference.
Ideas range from traveling, plastic reduction, hang drying clothes, sustainability, saving money, and much more.
If you want some cool and simple ideas for making a big difference and setting an example for others to follow, download your free copy here.
"You must be the change you wish to see in the world" ~Mahatma Ghandi