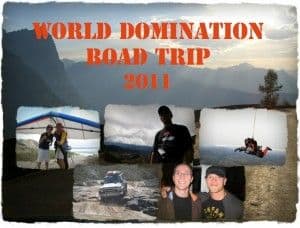 A couple weeks ago, I was still thinking of a way to turn the World Domination Summit into an epic adventure in which I could document the entire journey for my readers to enjoy.
Then it hit me, I could do a road trip! Calgary, Alberta (my current home) isn't actually that far from Portland, Oregon, Although Europeans would probably disagree when I show them the 1300km path to get there.
However, a road trip to Portland and back just wasn't enough. I wanted to make it inspiring, exciting, and entertaining for you. I want to document the World Domination Summit, interview remarkable people, and also create adventure and fun. I want to be able to take the inspiration from the road and the advice from the super powers at WDS and inject it into the people who follow along.
Enter World Domination Road Trip 2011.
I'm gonna borrow a car and drive it 7000 km through Vancouver, Seattle, Portland, San Francisco, Los Angeles, San Diego, Las Vegas, Grand Canyon National Park, Salt Lake City, Yellowstone National Park, Glacier National Park, and back home to catch my breathe.
I'm going to chronicle the epic World Domination Summit and interview inspiring people all along the way. I'll be couch surfing (Ie: staying with people I have never met) the entire time, and involve myself in new, unique, and sometimes odd adventures.
Best of all… it's gonna be fully interactive!
That's right, you'll be able to communicate with me via the blog and twitter and you can even tell me what adventures I should do in each place and I'll do them (within reason of course). We can also meet if it's along the way and host meet-up/tweet-ups together.
I'll be bringing a video camera and a microphone to help record this epic journey and turning it into a Web TV adventure show on A World of Inspiration.
But here's the thing… I need some help. Despite making the trip as cheap as possible (such as staying on peoples couches) it's still gonna run to the tune of $4000. This helps pay for gas, equipment, and other important features of the trip. To make this road trip as epic as I have dreamed, I need to reach out to a larger community or awesome individuals.
This is why I started a campaign on IndieGoGo. The campaign features my story and also lists some really cool perks for those who donate some money. Perks start at just $10 but people can donate whatever they wish. Every $1 counts.
It only launched 2 days ago and considering it's my first "pitch" ever, I'd appreciate some help from you.
Some ways you could lend me a hand are:
Sharing the campaign via twitter, facebook, or any other platform you use.
Letting me know what you think about the page and any advice you have to make it better.
Meet me along the way or organize a big meetup in your city!
Sign up with Canadian Free Flyers or share it with people you think would be interested.
The perks are pretty juicy and unavailable anywhere else. This road trip will be 30 days long if I can raise the money and I will also lend 25% to an entrepreneur in a developing country so I can make their dream come true as well.
There is gonna be a lot of amazing content over the next month! Stay tuned and interact with me along the way. 🙂
Want to Start Your Own Campaign?
Visit my campaign at IndieGoGo, take a look at the content on other campaigns, and then signup for an account.
Write out a great pitch telling your story and why you need the money.
Create some great perks to say thank you to the amazing contributors.
Launch!
As my campaign moves along, I'll share with you what worked and what didn't work. I'll give you any tips I have so you can make your campaign as successful as possible. My pal Lex Garey launched her campaign and is now flying to Australia to speak at an event. Check it out!