Alas, it is finally complete and ready for you to enjoy.
Introduction
A few years back I found myself feeling very down about life. I had realized that I had wasted some key years and had very little adventure in my life. I no longer wanted to be where I was and I wanted to start experiencing all the wonderful things the world has to offer. I had to make a change.
So I moved to another city and started a new life. I began to try things I never would have before. Things like learning how to dance salsa, trying out for the olympic speed skating team, white water rafting, and auditioning for movies. I also conquered 2 things that had been on my mind for 6 years; Lose weight and go to Australia.
I competed in the Body-for-Life challenge and dropped my body fat percentage from 22% to 10%. I also gained 7 pounds of muscle and lost 22 pounds of fat. After this, I left for Australia and New Zealand, spending 6 months doing crazy things like skydiving, bungy jumping, cave abseiling, hang-gliding, scuba diving, climbing volcanoes, camping in the mountains for days, kayaking the Abel Tasman sea, and jumping in on road trips with people I just met.
Life was exciting and I became a new person. I learned so much about myself and that experience has led me to chase adventure for the rest of my life.
I then started A World of Inspiration. This blog helped introduce me to other amazing people all around the world who are following their dreams and living remarkable lives.
Then came this ebook. I asked 20 remarkable bloggers and entrepreneurs what inspired them to do something unique in life. Topics ranged from starting a business to completing an outdoor survival course. I asked each person a different question and made sure to vary them so you can see that remarkable things happen from big and small adventures that all add up to make you who you are.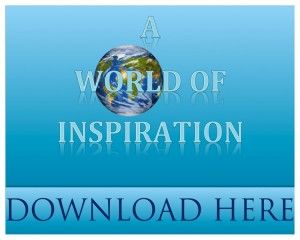 Download A World of Inspiration ebook here (4MB)
I want to inspire you to follow your dreams and start conquering things that have always been on your mind. As you read through the ebook, I hope you feel that spark that ignites your engine and gets you started on your own remarkable journey.
Find out what inspired:
On top of that, I included some organizations that I feel are doing incredible things and making this world a better place as well as some great quotes and questions that will inspire you and help you figure out what remarkable things you would like to do.
The ebook is completely free. This means you don't even need to give me your email by opting in to my updates. You can simply click on the download link and read away.
All I ask is that If you download this ebook and get something out of it, there are  3 things you could do that would mean a lot:
1) Spread the word so the whole world can know! You could tweet about it on Twitter or share it on Facebook. You can submit it to Digg, StumbleUpon, Reddit, or anywhere else you please. Share this post or the ebook itself with friends and family. You could even print it out and leave it somewhere where others can read it.
2) Leave a review here in the comments or write one on your own site. Let myself and other readers know what you thought of it. (You can grab the pictures of the ebook off of this post or a cropped version here.
3) Update me with some cool things you are going to do now that you've read the book. You can email via the link or comment on this post. I'll keep everyone updated as to how much awesomeness is being spread around the world.
Thanks so much for downloading the guide. I hope you get a lot out of it. Here's the link again to download:
Download A World of Inspiration ebook here (4MB)
Note: You need some sort of reader in order to view ebooks. You can download this one for free.