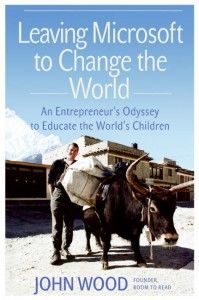 If you've ever dreamed of changing the world and helping those less fortunate, grab the book "Leaving Microsoft to Change the World" by John Wood. This is an absolutely breathtaking story of a man who once had a high level career at Microsoft. He had what many would consider a dream job. A high paying career complete with travel and mingling with top level executives. Living the ex-pat life in high rise condos for free. John Wood had this life and decided to leave it after a short vacation to Nepal changed his mindset.
It was in Nepal that John's life would suddenly change. He witnessed the immense lack of education in this very poor country. Children so eager to learn had no options. He visited a school that had a library with just a couple books. So few that those books were locked up so as not to be destroyed. This troubled him. Knowing that these children had no access to education, simply because they were born in a different part of the world, He knew had to do something.
He promised the school he would return with books for all the children and began to ask friends to donate. His next trip to Nepal brought with him heaps and heaps of books that made him realize how happy and eager the children were having received them. Not to long afterm, John left Microsoft and started Room To Read, a non-profit organization based in San Francisco. This amazing non-profit organization has since done tremendous work to help educate the world.
John gave up security. He gave up something he had worked his entire life for and sacrificed all his energy and money into creating this powerful organization that gives children opportunities all across the world. At times I felt like crying as I read this amazing book. "Leaving Microsoft to Change the World"  is one of the most inspirational books I have ever read. I encourage you to check out this book and the organization if you truly want to feel inspired by someone who risked it all to help others.
Today, Room to Read has built over 10,000 libraries and 1100 schools, distributing over 7.4 million books in over 9 countries reaching over 4 millions children. They have also sponsored over 8900 female scholarships so that they can continue to educate their family. Read about and donate to this amazing organization by visiting www.roomtoread.org.