In the 24th episode of the Live Limitless podcast, I chat with Dax Justin of Daxjustin.com.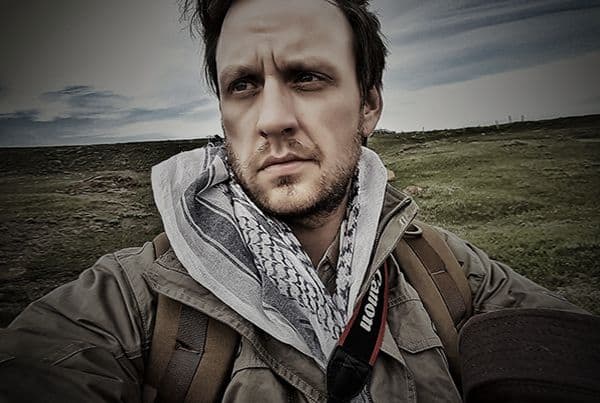 "Nature is absolutely meditative to me".
Dax is an explorer and landscape/adventure photographer based in Calgary, Alberta. Dax specializes in capturing the essence of landscapes and the soul of adventure through displaying moments rooted in passion, culture, and emotion.
I met Dax though a friend of ours and as an avid adventurer and photographer myself, I was inspired by how Dax got to where he is and how he likes to dig deep into an area, to discover stories that are untold.
The thing is, Dax was never a photographer. He was a designer and creative director addicted to the city life. Then one day, he woke up and something came over him. Out of nowhere, he threw on some old clothes, drove near the Rocky Mountains, and just went for a walk into the forest. From that moment on, he fell in love with nature and began sharing photos of his experience on Instagram. One thing lead to another and eventually he was featured as a suggested user, giving him thousands of new followers and a platform for exploring the outdoors in a way he never thought possible.
You can learn more about Dax at Daxjustin.com
In this episode, we talk about:
What inspired Dax to take the path he is on,
How Instagram transformed his life,
Dax's path to becoming a photo journalist,
The beauty of Alberta, Canada,
That first morning that started his whole journey,
The initial reaction of his closest friends,
Some of the coolest things that have happened to Dax since that morning,
How to grow your Instagram account,
And MUCH more…
Listen below or download from iTunes by clicking here. (Please note: If you're reading this from email, you may need to visit the site to listen)
Podcast: Play in new window | Download
Subscribe: Apple Podcasts | Google Podcasts | Email | RSS
If you're running short on time;
04:20: What inspired Dax to take the path he's on (his bio),
08:15: Nature calls Dax,
09:45: The trail that started it all,
12:00: The importance of social media in Dax's life,
13:30: Dax describes his path as a photo journalist,
16:55: We talk about the growing amount of people looking for a passion and how to possibly find it….
19:40: What Dax's life was like during that fateful morning,
21:50: Dax starts talking about a moment he drove into nature in the dark to was up in an unfamiliar environment,
23:00: We talk about the beauty of Alberta,
24:15: We talk about those first few photos that Dax took on his morning walk-about, which led to his next passion,
30:00: We talk about the rich history of the Canadian Badlands,
32:00: We talk about going deeper into stores / tourism and the future of travel media,
34:45: We talk about the initial reaction of Dax's friends,
37:40: We talk about some of Dax's big wins…such as getting featured by Instagram,
43:00: What Dax thinks set him up for success on Instagram,
44:20: Tips for Instagram and some of the ways Dax grew on the platform,
48:20: Do common "growth strategies" for Instagram work?,
51:30: We continue talking about common Instagram strategies,
57:30: Post-travel photos VS in-the-moment-photos on Instagram,
1:00:55: Some of the coolest things that have happened to Dax since that morning he left home to explore,
59:10: Why Derek collects wooden boxes from around the world,
1:04:20: Dax's TEDx talk in Canmore,
1:09:00: We talk about Dax's journey into the Canadian Badlands,
1:11:00: Books, podcasts, or people that have inspired Dax
Links from the show
***
Did you enjoy this interview with Dax Justin?
Please leave a review on iTunes and share with your friends. This would mean the world to me.
If you have a question for either of us, leave a message in the comments and we'll get back to you.
-Matt