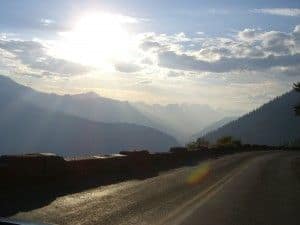 In less then a week, I will be embarking on the World Domination Road Trip through Calgary, Vancouver, Seattle, Portland, San Francisco, Los Angeles, San Diego, Las Vegas, Salt Lake City, Grand Canyon National Park, Yellowstone National Park, and Glacier National Park.
The road trip is epic to say the least but the heart of it lies with the World Domination Summit in Portland, Oregon from June 3rd – 5th. This is where 500 inspiring people will come together to discuss various ways of making the world better, creating freedom, traveling the world, and starting businesses.
Since the event is going to be highly valuable, I didn't want to limit it's scope to just the 500 people who could make it so I've been planning ways to document it with video, pictures, and writing and then share it with my readers. I wrote about this in my last post, which mentioned the need to raise money to make this happen. I've never started a fundraising campaign before so it should be interesting as to whether it will work. The goal is to create a web documentary of the World Domination Summit including interviews with remarkable people and also document the road trip and all the exciting adventures along the way.
This will inspire hundreds of other people to begin designing a remarkable life and thus, a remarkable world. If you can donate to the cause (and score some perks while your at it), that would be amazing and very much appreciated. Money goes towards gas and the equipment used to document things as best as possible. As mentioned, you get awesome perks like unreleased ebooks, free access to the videos, links, secret webinars, and 1 on 1 coaching to name a few.
Big shout-outs right now to the fantastic individuals who have helped start this epic road trip by donating: Ben Eadie, Niall Doherty, Mark Powers, Nick Laborde, Matt Koenig, and Trever Clark. You guys are awesome!
Along with this of course is planning the trip to be as epic as the budget allows. Since I left it to the last minute (2 weeks before departure), it's been a bit hectic trying to figure out where to sleep, where to go, who to interview, and what to do but it's been coming along great though despite the lack of time.
This is what's happening so far:
I've been using couchsurfing.org to try and secure most of my accommodation needs. I've used it in Boston and Tokyo, Japan before and had a great time. Not only is it free but it introduced me to local travelers and a unique way to experience the cities. I've already secured places in Vancouver, Seattle, San Diego (I think), and a couple night in Los Angeles. I'm still looking for a few more nights in Los Angeles (or surrounding area),            San Francisco, Salt Lake City, and Portland for a few nights. If you have a place for 2 people (my girlfriend is coming) and would like to host us, please let me know!
Camping is the other option. I love camping and since much of the time will be spent along the coast and in national parks, it's only fitting to spend the nights in a tent under the stars. This is most likely what will happen from the Oregon coast down into Big Sur, California. It's also likely what we'll do in Grand Canyon National Park and Yellowstone NP. If you know of any stellar camping spots, please let us know.
Some activities that are currently planned are jumping out of another airplane, jumping of another bridge, hiking some of the parks, and visiting Disneyland. Luckily, all of these are discounted in some way or another to save us some money. If you know of other exciting or unique things to do along the way, please let us know.
I've got a lot of exciting people lined up to interview during the conference and I've been contacting others who won't be at the conference as well. In fact, I plan on having lunch in San Diego with Pat Flynn of Smart Passive Income. Really looking forward to that.
Planning a trip with couchsurfing is interesting because it can be a challenge to find suitable hosts at times. There are lot's of people available but they can be hard to reach with certain time frames. And considering internet will be a little more scarce once we start the trip, were really trying to secure the first half of the trip as soon as possible. Luckily, the weather should provide for beautiful camping which will help us on nights when we can't couchsurf.
I'd also like to figure out ways to meet more bloggers, entrepreneurs, and other remarkable people along the road trip. I was thinking of having meetup parties in each city if there is a solid way of organizing them. If you can help with hosting a meetup somewhere in one of the cities (or along the way) or know of a creative way to do so, please let me know! My favorite part of travel is the people I meet along the way.
Since I'd really like to make this interactive, please feel free to comment or send me an email to let me know any cool things we should do, scenic routes we should drive, or people we should meet. If your along the way, let me know so we can meet up!
I think that's it for now! I can't wait to get this started.
PS: Did you know phone carriers (at least Rogers Wireless) allows you to have roadside assistance for just $5/mth and you can cancel anytime? Awesome!