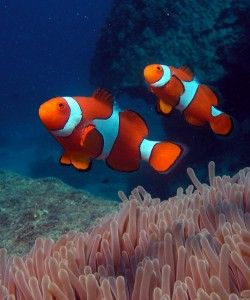 If you ever have the chance to try scuba diving, do it!  It is one of the most amazing and memorable things you will ever do.
I did this back in April 2009 when I was right in the middle of my 6 month backpacking trip throughout Australia and New Zealand.
Initially, I had no desire to scuba dive as I was quite nervous but definitely wanted to snorkel the Great Barrier Reef.
I was with my cousin Jeff at the time and we were looking at different day tours that would allow us to snorkel the reef. Luckily, one of them included a free 20 minute intro to scuba diving course. I'm so happy we came across this tour because this intro opened me up to the deep water world. I'm also lucky it was introduced to me on this trip because this was the one trip that opened me up to extreme and adventurous activities (more in later posts).
As a beginners test for the first little dive, you have to put your head under the water to practice blowing bubbles instead of holding your breath (holding your breath under water is a major no-no). For some reason, I couldn't do this at first and had to hang back and go snorkeling. I was super disappointed.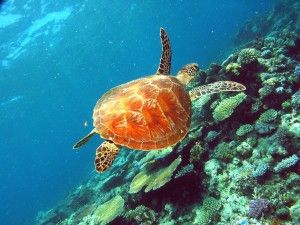 When the instructor returned, he asked if I wanted to try it again. This time it worked! Best of all, I had him all to myself this time! A personal dive coach for free!
So down we go. We only sunk about 10 meters and it's very odd at first. You experience weightlessness and breathing under water at the same time. All you can hear is the air that you inhale and exhale through the tank and you get to learn some hand communication techniques since you can't speak to anyone.
Once I had it somewhat figured out, I followed him though little taverns of coral. The colors and life under water are simply amazing and far to beautiful for words to describe. I even saw a couple little reef sharks but unlike most of the fish, they were quick to disappear.
When I returned to the boat, I was ecstatic that I got to dive. When my cousin left Australia, I stayed behind in Cairns and worked at a bar, saving up $700 to take my open water diving course. This may seem expensive but it included 2 school days, and 2 nights and 3 days living aboard a boat on the Great Barrier Reef. It also included 9 ocean dives total with one night dive and four dives without instructors.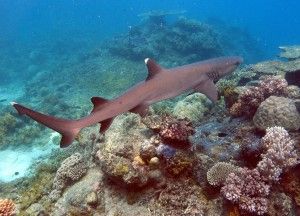 Learning Scuba was such an incredible experience. I found it quite difficult the first day in the pool (not the best swimmer) but after awhile, I was cool with it. Once we made it out to the reef, the true fun began. The first 4 dives are training dives where you learn how to achieve buoyency, underwater communication signals, taking your mask off underwater, replacing the mask while clearing out excess water, and soooo much more.
We then got to do our first buddy dive which truly made me feel on top of the world. Without an instructor, it really makes you feel like your a true diver. Me and 2 new friends jumped off the boat and slowly sank ourselves into the ocean. We then did our best to navigate through Corals as we came into contact with schools of parrotfish, stingrays, clown fish, turtles, sharks, sea cucumbers, and hundreds of other bright and colorful sea life. You have to really watch where you go as it is very easy to get disoriented and forget where the boat is.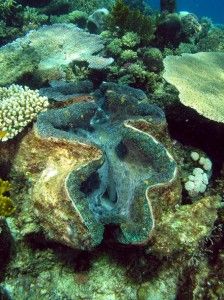 The night dive was really exciting as well but I was a little disappointed I missed all the sharks and the giant turtle we were somewhat promised to see. I did see some sharks in the distance as there silver silhouettes glided through the dark water. What was very cool about the experience was jumping into the ocean in pitch black. We each had a glow stick stuck to our jackets so we didn't lose each other and a flashlight to make sure we didn't bump into coral. We did however bump into each other many times and without instructors, I would have been lost for good.
Overall, it was one of the highlights of my trip along with sky diving, bungee jumping, hang gliding, cave abseiling, and riding scooters throughout Indonesia.
Scuba is a fun way to not only build confidence in yourself, but also to experience the amazing life that exists in the ocean. It really makes you appreciate the ecosystem and gets you in touch with what mankind is doing to destroy this fragile habitat. The confidence you get from diving has exceeded most business and human relation courses I have taken and was much more fun! Once you sink yourself 18 meters below the ocean with a friend on your side as you navigate amongst sharks and fish, you really feel like you can tackle the fear of anything else that stands in your way.
Bottom line: Get out into the ocean. It really is a majestic world that we know nothing about. It covers more than 70% of the earth and yet we know more about the moon. Once you see it with your own eyes and learn about the unique ecosystem, you will have a new outlook on life. You'll appreciate water management more and keeping the ocean and waterways clean. I'm definitely hooked and can't wait to go again.
To check out local dive shops, simply google it or visit PADI (paperwork and diving in-between *diving joke*)
If your in Cairns, Australia and want to take the same course as I did, check out PRO DIVE.
As always, I love and appreciate any comments or questions you have. Just write them below and I will answer them. And if you liked this post or any others, please subscribe to the right and show me the love 🙂