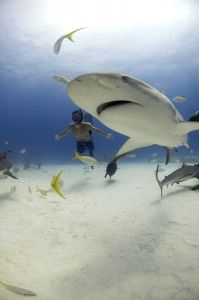 I get inspired by documentaries all the time. They are an essential tool for becoming educated in what is really happening in the world around us. After a year of wanting to see this impressive film, I finally got the chance. It's called Sharkwater and was filmed by a Canadian who has an immense love for sharks. The initial reason for the film was to show people that sharks are not our enemies and are not as dangerous toward humans as we think they are.
What it brought to the surface however, was the disturbing industry of shark finning. This involved the murder of sharks for their fins. That's it. Fins. The rest of the shark is thrown back in the water to drown. Almost as profitable as drug trafficking, shark finning is hard to stop. Most of the profit comes from China, where shark fin soup is a very expensive delicacy. Considering the species that has survived prior mass extinctions, it's a sin that 90% of sharks have already been wiped off the planet due to human greed.
You might not care about sharks but consider taking the world's top predator out of the food chain and what happens next. The ocean is essential to our life on earth and we have no right to kill off a species for such stupid and inhumane reasons.
Do yourself a favor and watch this impressive documentary. It has won 31 international awards and is striving for donations to end this horrific crime once and for all.
Go to www.sharkwater.com to learn more.