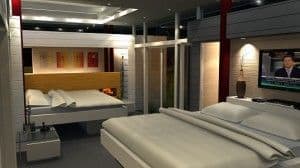 I'm not sure if I could live with four people in a 200 square foot house but I must say, thehouse looks amazing. Claimed as the "World's smallest sustainable house that can accommodate a family of four", this beautifully designed house comes with built-in furniture, roof-top solar panels to give you all electricity you need without being tied to the grid, a green roof, water catchment, and more sustainable features that make it extremely environmentally efficient.

The company behind the design is U.S based Bridge Development Corp. The houses are built with prefabricated metal and are capable of supporting structures 2-4 stories high. They are extremely well insulated, though not very thick. They come ready to the site so all you need to do is move in.
Each house has everything you need including 2 king size beds that come down from the ceiling to lay on the kitchen and coffee tables. They are designed with feng shui accents and look like designer homes outside and in. I personally like the one-bedroom model as it's a tad bigger at 325 square feet and has a separate bedroom for added privacy.
I love the idea of sustainability and being able to live self-sufficiently and this is one step in the right direction. Again, it may be to small for some people, but no one needs a 2000 square foot home.
For more info, visit www.inhabitat.com.