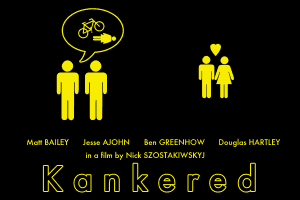 Okay. Me becoming a movie star might be a bit of an exaggeration but I did make it into a full length student film as a leading character. It was an awesome experience. I met some cool new people, got to live out a dream of acting in a comedy movie, and literally had to push all the girls off me. Okay, the last part isn't true but everything else is.
And it all started by pushing my boundaries and stepping outside my comfort zone.
I've always had an interest in acting, probably due to being a Leo who likes the spotlight, but haven't really given it much attention besides acting as an extra in some productions a few years back. Then one day I found myself looking through "Acting" ads on kijiji. Most were garbage but I stumbled across one that was asking for a lead actor in a full length student movie. I immediately began to imagine what a great experience this would be. It was a chance to have a lot of lines in a movie and gain some experience.
There was one problem though. I needed to audition. I had never auditioned before and it made me nervous to go into a room with people and act out lines from a script with no acting experience behind me. I knew it wasn't going to be as "hard-core" with students as it would be with a professional shoot but I still didn't want to look stupid.
I told myself I had to do it. What were my chances of ever seeing an opportunity like this again. It could be my last chance. I had spoke in front of 50 people before. I had jumped out of a plane and leaped off a bridge. I managed to travel 5 months solo throughout Australia and Indonesia.
I had to do it. I sent them an email and told them I would come audition. Next thing you know, I'm "Alex" in the movie "Kankered".
Despite some mishaps (like continuously losing actors who weren't taking it seriously), it took about a month (30 days of acting) to get all the shots done before it moved on to the voiceover and editing phases. We had a blast taking outdoor shots while trying to avoid the police, spending a day in the woods with werewolves and ninjas, partying at fake parties, breaking into a house, and joining a hot tub party where a friend was kidnapped by a hot girl who wanted his baby.
The director, Nick, is now in Vancouver Film School having "Kankered" edited and ready for film festivals. Despite its lack of budget, it came out looking really good. It's got a ton of coarse language and immature sexual innuendoes so it's only for those who like "R" rated Superbad-type movies, which means grandmothers may not approve.
Check out the trailer below. [Read more…] about How I Became a Movie Star (and How You Can too)