The Live Limitless Podcast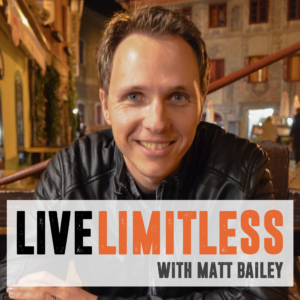 The Live Limitless Podcast is a bi-weekly one-on-one, one-hour interview, featuring an array of different personalities who have gone or are going from ordinary to extraordinary. Folks who are exploring life's possibilities, chasing and realizing dreams, crushing fears and living limitless. From digital entrepreneurs to authors, photographers, film makers, world travellers, artists and other accomplished individuals who are doing cool things with their lives. We discuss a variety of topics, focusing on perspective and experience and tend to interview people who are still in the trenches versus already "at the top". This show will inspire you to go after your dreams and re-invent your life on your own terms while giving you tips, tools, and insight for making it happen.
Some of them have been traveling the world working from a laptop for 13 years straight. Some started cross-country tours to promote social change. Some did complete 180's with their careers. The list goes on.
The Live Limitless community is extremely diverse and always inspiring.
Click here to subscribe via iTunes
Also, please please please leave me an honest review and rating on iTunes. It will help Live Limitless grow and be known. I would really appreciate this! Enjoy the show!
Every now and then, I also do a special episode that I like to call a "workshop" episode. What this means is that I pick a topic and rather than doing a pure interview style show, we dig deeper into the specialty of the interviewee. For example, in episode 19, I interview Tom Morkes who specialized in book marketing. Since I plan to re-write Limitless Travel (an eBook I wrote last year), we go over a marketing plan for the book, allowing listeners to see what exactly goes into a book launch. This is just one example of what's to come!
Check out all the past interviews below or go to iTunes and subscribe!
Live Limitless Interviews
LL 001: An interview with Jacob Sokol of Sensophy.com
LL 002: An interview with Greg and Rachel Denning of DiscoverShareInspire.com
LL 003: An interview with Niall Doherty of NDoherty.com
LL 004: An interview with Wandering Earl of Wanderingearl.com
LL 005: An interview with Tyler Tervooren of AdvancedRiskology.com
LL 006: An interview with Nora Dunn of theprofessionalhobo.com
LL 007: An interview with Mike Hrostoski of Hrostoski.com
LL 008: An interview with John Bardos of JetSetCitizen.com
LL 009: An interview with Srinivas Rao of BlogCastFM
LL 010: An interview with Colin Wright of ExileLifestyle.com
LL 011: An interview with Quinn and Jonathan from Life Out of the Box
LL 012: An interview with the Joe Magnotti and Justin Cooke of the Empire Flippers
LL 013: Scott Brills: A Digital Nomad Starting an African Safari Company
LL 014: Andrew Szeto: Building a Freelancing Business while Working Full-time
LL 015: Greg Denning: Traveling Around the World with a Huge Family
LL 016: Steven Li: From Engineer to Photographer
LL 017: Brad Hussey: Family and Freedom Through Freelancing
LL 018: Jennifer Underwood: Just Say Hello
LL 019: Tom Morkes: Book Marketing 101 (a case study for Limitless Travel)
LL 020: Turning a Passion into a Business with Sam Hunter
LL 021: Heroic Fatherhood with Charlie King
LL 022: Self-Publishing and Living in Castles with Derek Murphy
LL 023: The Art of Adventure with Lord Derek Loudermilk
LL 024: Exploring Nature and Instagram with Dax Justin
LL 025: Clean Energy and Sustainability with Kali Taylor
***
You can also find me on Stitcher: http://www.stitcher.com/podcast/live-limitless
I hope you enjoy the show and please please please leave me a review in iTunes so more people can find the show!
Live Limitless!
-Matt