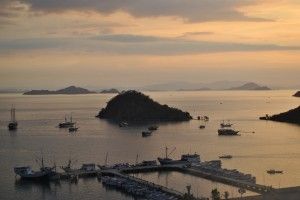 Okay, it's not quite the same as Italy but we did feel a little Mediterranean when we were in Labuanbajo, Indonesia earlier this year. Situated on the west coast of Flores Island, the Komodo National Park harbour town is charming to say the least. The most charming feature of the town is that most of the accommodation is built on hills overlooking the town's harbour and although climbs to reach the rooms can be painful and daunting, the rewards of a breathtaking view over the Komodo Archipelago more than make up for it.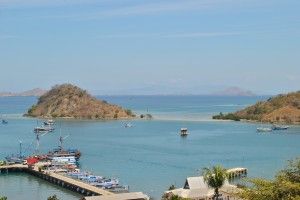 One of the best views in town comes from Bayview Gardens, a place we called home for a couple of nights. Once we found it, we fell in love with the stone pathways that led us past an array of plants and flowers before making it to our room. Once inside, I couldn't help but gawk out of the bedroom's panoramic windows to watch the sun set over an array of sailboats parked in the harbour. Once I could peel my eyes away from the stupendous view and finally enjoy a nice hot shower, we walked down the big hill using the immense amount of steps (though you can always hire a motorbike taxi) to reach a fairly new Italian restaurant, which easily became our new favourite place to fill our tummies.
(Please note: This video was just a simple one I took to show the walk to reach the hotel. You can also take taxi but I like walking. It's a bit shaky as it was simply taken with a point and shoot camera.)
Delicious traditional Italian pizza, breads, and pastas were a refreshing twist after months of rice and curries. We were overjoyed to see a traditional wood burning oven, and even more overjoyed to eat the pizza that came out of it. The free Italian appetizers were also delicious and the cold Bintang beer washed it all down. It was certainly a carb overload but a tasty one indeed. The Italian owners have created quite the romantic atmosphere for those visiting Labuanbajo. This, along with other Mediterranean grills in the area and the hilly surroundings really gave this Indonesian town a different feel. Besides diving and visiting nearby waterfalls and villages, there's not much else to do but soak up the local food and relax in the hotel overlooking a spectacular sunset.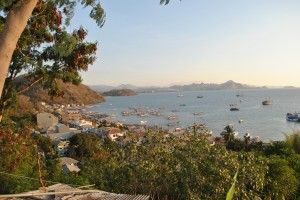 After our sumptuous dinner, we walked back to our hotel quickly so we wouldn't miss the orange globe on its descent. We also wanted to talk to Adrian Laarhoven, the friendly owner of Bayview Gardens. He happily arranged us a diving trip the next day to try our luck at finding some manta rays. Adrian knows a lot about the area and has very good english, making him a great person for help in planning your trip. After another beautiful night, we woke to our included breakfast of chocolate pancakes and eggs before setting out on our adventure into the depths of the sea.
And as a teaser for a future post, we did see a Manta Ray in the morning. AMAZING!