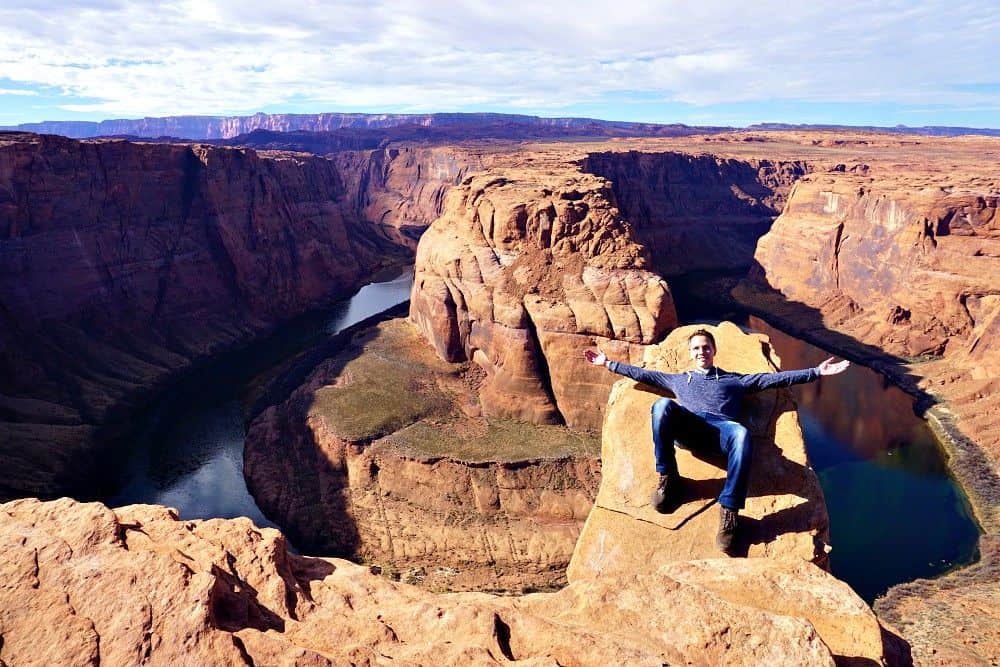 A few weeks ago, we got invited to Phoenix to meet up with a public relations company that manages various brands. We were excited to learn more about the company we had been working with and discuss various ideas for marketing in the age of video and social media. We had also never been to Phoenix and we're excited to see the city that so many people visit each and every year.
However, Phoenix itself wasn't a dream trip for us. Sure, we were excited to meet the people we had previously only known through email and yes, Phoenix is a pretty cool city, but it wasn't a trip we would have made if not for the meeting we had been invited to.
But, whenever we do anything, I always try to maximize the experience and turn it into something amazing. In this case, we didn't have a lot of time because we had to come back and shoot some winter videos for our Must Do Canada YouTube channel. We were also on our way home from both Cuba and Mexico and we're kind of excited to return home for a change. Despite the lack of time, we still had four additional nights we could make use of, so I began looking at the map. Google Maps in this case.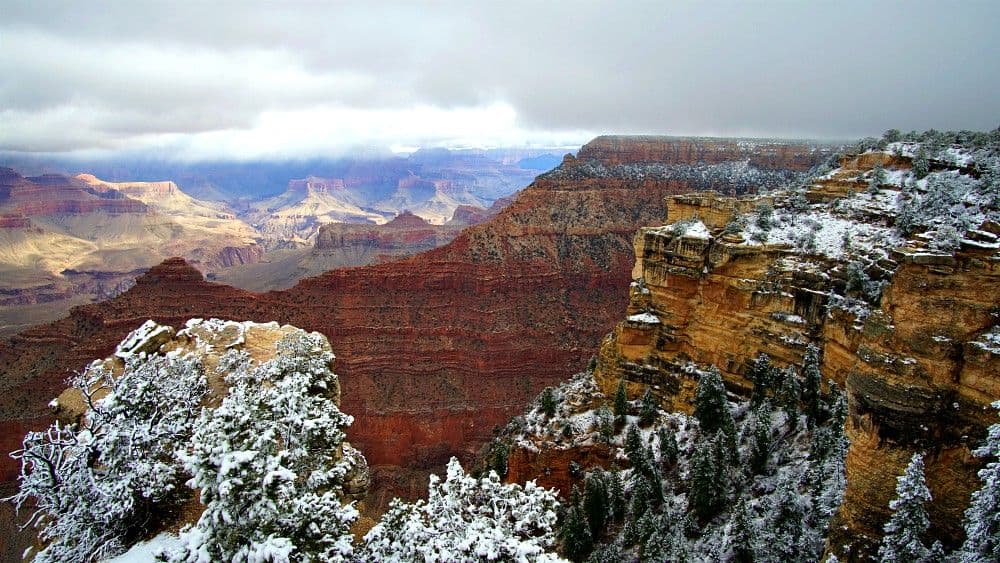 The first iconic park that came to mind was the Grand Canyon. Karla and I had visited the Grand Canyon many years ago during the summer but we had never seen it in the winter. As a photographer, being able to see the Grand Canyon surrounded by snow seemed like a magical experience. Located just five hours north of Phoenix, the Grand Canyon became our main point of interest. I then continued looking at areas around it and remembered a place called Antelope Canyon, which just so happened to be two hours from the east side of the Grand Canyon. Antelope Canyon is another incredible work of mother nature that I've been wanting to visit ever since I saw a photo in a Las Vegas art gallery. Check, Antelope Canyon added to the list. Then, all this red rock scenery got me thinking about another place called Monument Valley. This is another area I've always wanted to visit and it's only 2 hours from Antelope Canyon! Check again!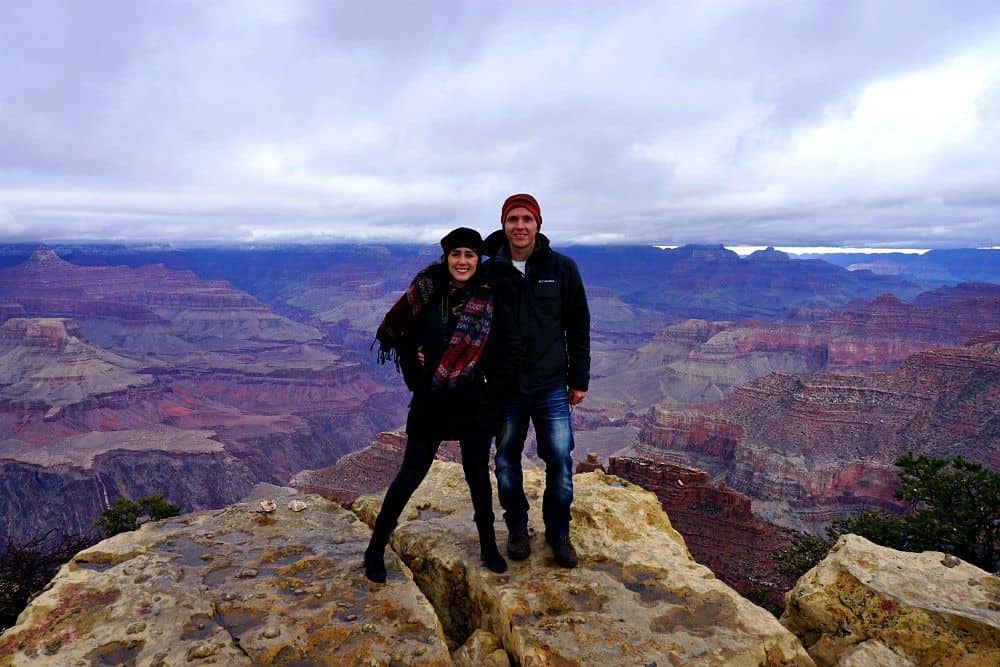 Our trip was planned. After three days in Phoenix, we would travel to the Grand Canyon for one night, Page for one night (Antelope Canyon), and Monument Valley for a night, before returning to Phoenix for one last night before flying back to Canada. I especially love road trips and this seemed like a cool place to take a road trip, so we rented a small car (just $25 per day, including all taxes) and put on the best road trip songs, booked our accommodation, and prepared for what we knew would be an incredible adventure.
Driving to the Grand Canyon in the Winter
After three days in Phoenix, playing golf, and meeting a bunch of really cool people, we began our drive to the Grand Canyon. We rented a simple Mazda3 and drove the scenic route through Sedona, stopping only to take photos of the reddish landscapes. Northern Arizona is spectacular. There are deserts, canyons, and mountains – all made up of vivid red rock and sand. It's a really stunning place to explore and photograph.
Although we were expecting snow, it didn't look like it was going to happen. The weather was quite sunny and with the windows up, you'd never know it was January. But then we got lucky. After spending one night at the Grand Canyon, we woke up to snow! Lots of snow! It reminded me of home as I looked out of our hotel window to a backdrop of white powder. The only downside was that it was windy and cold and the sky was covered in clouds. This didn't stop us from experiencing the Grand Canyon though. We packed up our bags, loaded the car, threw on our toques, and drove to all of the amazing lookout points, including Hermit's Rest, which is closed to public traffic in the summer. As I mentioned, the clouds and fog hindered our views for much of the day but we persisted until the fog lifted, unveiling jaw-dropping views surrounded by snow-covered canyon walls. I don't know what it is about the Grand Canyon but when I'm there, I simply don't want to take my eyes off of it. It's truly mesmerizing. I could spend an entire day just looking deep into the canyon and all the fascinating aspects of it. layer upon layer, I can easily see why so many people love it here.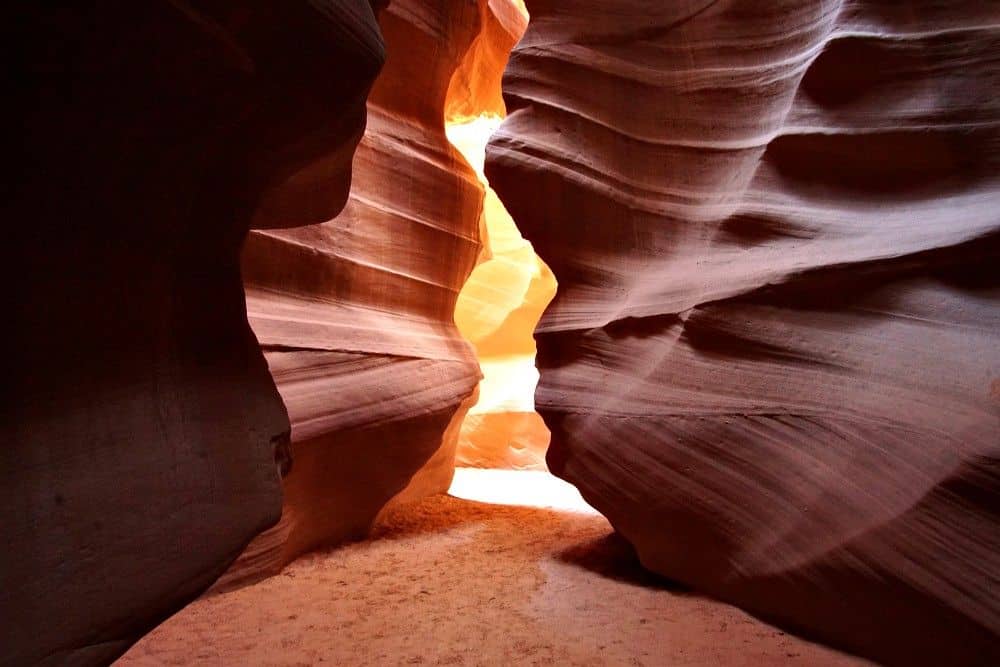 Exploring Antelope Canyon
It was hard to leave but with sunset approaching, we jumped back in the car and drove to Page, Arizona. Our plan was to go on a photographic tour of the upper portion of Antelope Canyon and then drive to Monument Valley. This didn't happen. After taking in the beauty of Upper Canyon in the morning, we were inspired to sign up for another tour of the lower canyon. Both sections of Antelope Canyon are simply astounding. The way water and time have carved themselves into these red canyon walls is truly breathtaking. It's no wonder that people from all over the world come here to see it and to photograph it. That's why there's a photographer's tour. With all the hordes of people coming every single day to see the Upper Canyon, any hope for a photographer needing the time to capture the moment is lost. That's why companies like Antelope Canyon Tours have organized tours specifically for photographers. On these tours, you get much more time (about 2 hours) and have much fewer people to contend with. This gives you enough time to set up your tripod and capture what you need to capture.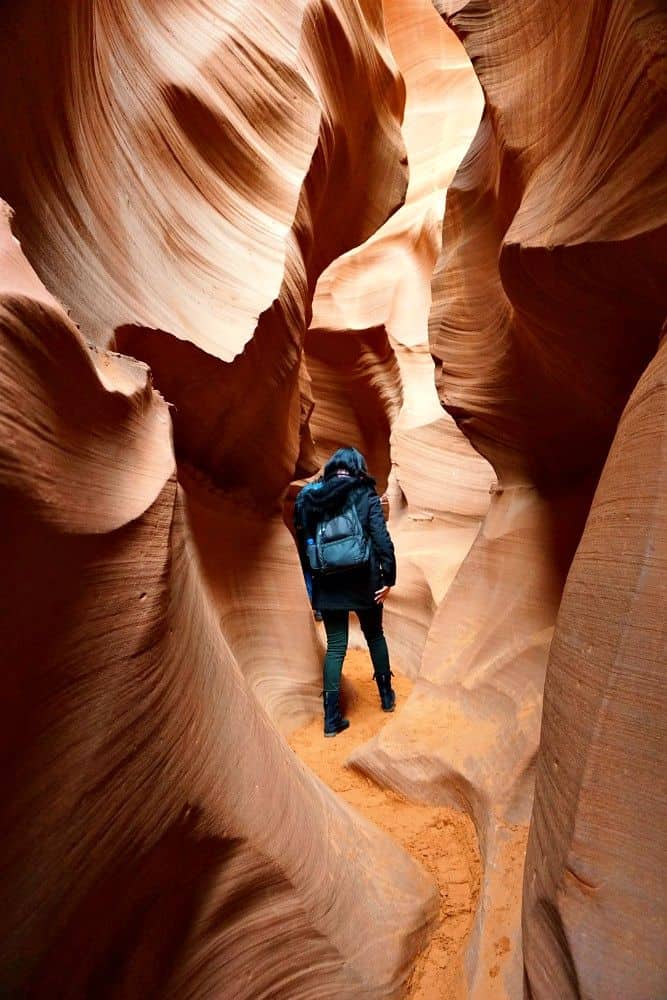 However, as much as we loved the Upper Canyon, our favourite part of the day was exploring the Lower Canyon. It might be due to the fact that we were the last tour of the day and had the guide to ourselves but the Lower Canyon seemed far less busy and we got to walk along the bottom of it for almost an hour. Also, instead of being focused on the camera, we took more time to just enjoy the surroundings. The main difference between the two portions of the canyon is that with the upper canyon, you walk in from ground level. The bottom is wide and the top is narrow. This allows less light to enter. The lower canyon, on the other hand, is narrow at the bottom and wide at the top, allowing much more light to enter. With the lower canyon, you have to climb down via stairs or ladders, walk along the canyon floor, and then climb back out. The lower canyon is also cheaper but the upper canyon is where the most famous photographs have been taken. Either way, both are beautiful and if you have the chance, do them both.
In between both tours, we also found out about a place called Horseshoe Bend. I didn't even realize that we were so close to Horseshoe Bend but I'm glad we did because this was another place I've always wanted to see. Arizona truly is a dream trip and a really cool place to do a road trip.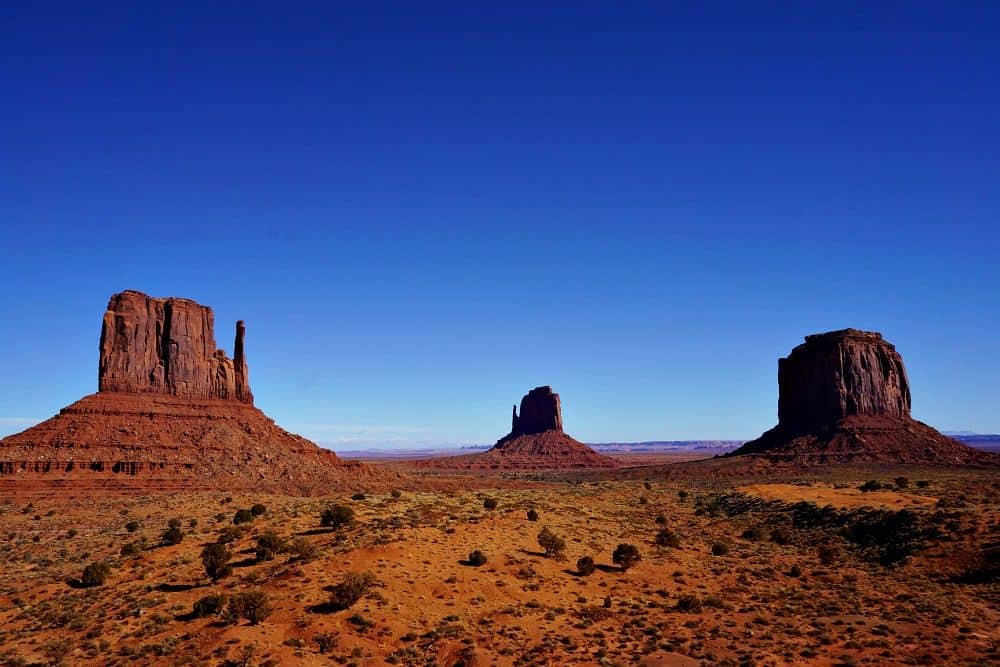 Experiencing Monument Valley
Luckily, we managed to leave Page with just enough time to get to Monument Valley before sunset. I was so excited to see Monument Valley, not only because it's a place I've always wanted to visit but also because we had booked ourselves into The View Hotel, which is the only hotel inside the park. Each room has incredible views of the three famous rocks and it was such a joy to wake up for sunrise and not have to leave our room. At night, we witnessed stars light up the sky and in the morning we saw the sunrise on the horizon, finally casting light on the masterpiece of Monument Valley. All of this without leaving our room! After a filling breakfast, we loaded the car once again and drove the Monument Valley loop, which took us to a variety of scenic lookout points. Being January, we almost had the place to ourselves and yet, it was nice and warm outside. These are the benefits of travelling in the off-season.
The drive takes anywhere from 2-3 hours and we used all the time we had to take a lot of photos and videos of the place. If you want to go off the beaten track, however, you'll have to join a tour with local Navajo guides. Regardless of what you do, I highly recommend The View Hotel. For those who don't know me, I live for incredible views and when it comes to hotels, if it adds to the experience of the place, I'm all for it.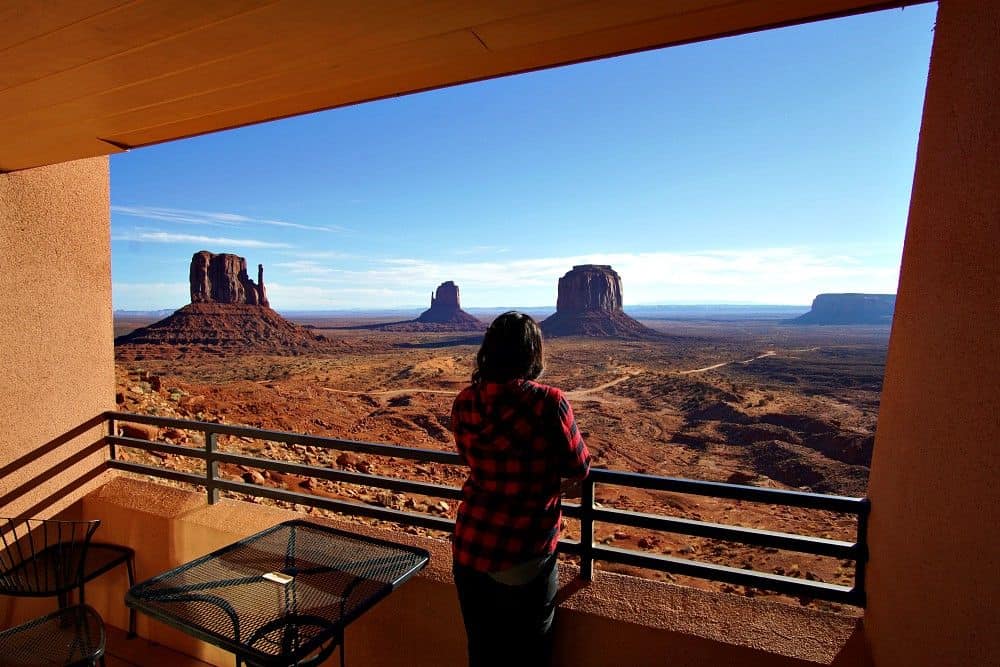 The End of an Incredible Road Trip
Eventually, it was time to leave this majestic dreamland. We had a six-hour drive back to Phoenix and didn't want to drive too much at night. We had an unforgettable three days exploring the Grand Canyon, Antelope Canyon, and Monument Valley. We packed our days full of eye-candy landscapes with just enough time for a meal and a good sleep each evening.
For anyone looking for awesome landscapes and a really cool unforgettable road trip, I highly recommend Arizona and Utah. There are so many parks in this area and all of them are postcard-perfect. I really don't know what else to say. Arizona and Utah are probably my two favourite U.S. states. They are also great states to visit year-round. However, I'd probably avoid the extremely hot and busy summer and make this USA spring getaway or even a fall trip.
Turning a Normal Trip into a Dream Trip
Obviously, any planning you do will revolve around the time you have, but as you can see above, you can utilize a work trip you're going on and try turning it into a dream trip you'll never forget.
Next time you have to go somewhere, whether it's a cool city like Phoenix or a boring place you'd rather not be, try digging a little deeper and finding possible adventures you could go. You never know what you could find.
###
Have you ever turned an ordinary trip into a dream trip?