One of the major powers of travel hacking comes from high-value redemptions and I decided to get really creative with our (my wife and I) points for our upcoming five-month trip to Mexico and South America.
After racking up a little more than 500,000 frequent flyer miles in 2013, I had to start putting them to good use. Since we were already planning to go to Mexico for our wedding, we decided to continue south and backpack through a good part of South America.
Using Aeroplan, the cost for a return-trip to Mexico City in economy class is 40,000 points. However, it's only 50,000 points to go to Colombia, Ecuador or Bolivia. Peru is 60,000. Because the flight is international, Aeroplan allows one free stopover and one free open-jaw. Another bonus, though they won't tell you this, is that you can have a couple of layovers in cities on route as well.
Let the travel hacking begin.
I did all the research I could do online via Aeroplan.com but because the trip involves an open-jaw, I had to call in and book through an agent, which costs $30 per person. No biggie.
I told the agent where we wanted to go and had them research the same itinerary that I had already researched online. We wanted to fly to Cartagena, Colombia with a six week stopover in Mexico City. From Cartagena, we wanted to do an open-jaw and fly back to Canada from Bolivia rather than Colombia. This would give us almost four months to backpack down through Colombia, Ecuador, Peru and Bolivia without the need to come all the way back to Colombia.
As I had already researched this part, I knew it was viable. We didn't have many options for the return date from La Paz, Bolivia but we made it work. I'm not sure why Bolivia is less points than Peru but I'll take it!
After getting the itinerary sorted out, I noticed that the return flight from Bolivia had a connection in Mexico City. Thinking it would be nice to see my family-in-law one more time before heading back to Canada, I asked for a 21-hour layover in Mexico City on the way home. When I made the request, the agent told me I would lose my stopover. Luckily I knew this wasn't true and I was able to tell her that this wasn't the case.
I explained that a layover is less than 24 hours and thus, not considered a stopover. I also told her that I did this before with a 23-hour 57-minute layover in Chicago on a previous trip.
Suddenly, it became possible and we had our 21-hour layover in Mexico City on the way back.
It was settled.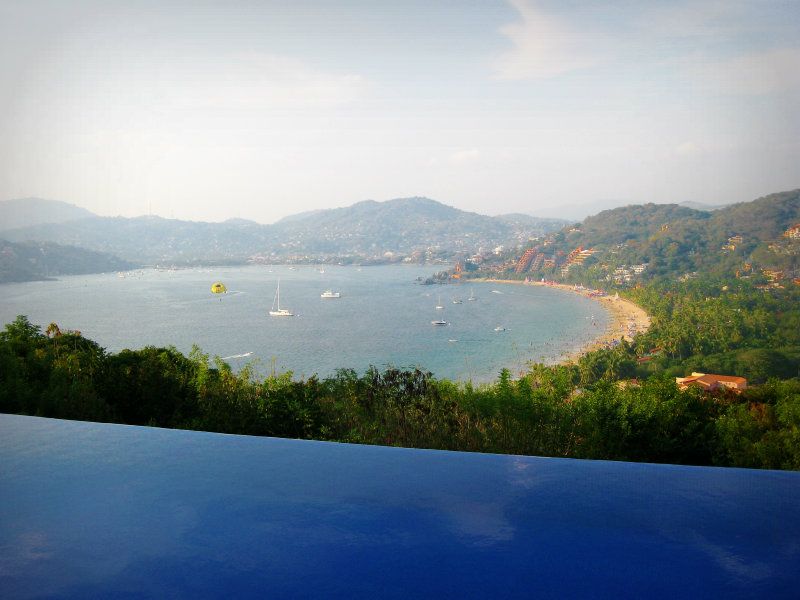 We booked the flight departing from Calgary, Alberta to Mexico City where we would stay for six weeks. During this time, we will visit family and drive to the coast to get married on the beach. We will then leave Mexico City and fly to Cartagena, Colombia where we will then spend almost four months backpacking through Colombia, Ecuador, Peru and Bolivia before flying back to Calgary from La Paz, Bolivia in late June. To sweeten the deal, we were also going to be taking a 21-hour layover in Mexico City on the way home, which was enough time to say hi and bye again to my family-in-law and pick up anything we left behind. We're pretty excited about this trip. We'll be hiking to Macchu Picchu and eating delicious Peruvian food, hiking to the lost city of Colombia, scuba diving in the Galapagos, and volunteering at an animal refuge in Bolivia. This is going to be a trip of epic properotions.
The total cost for myself was 50,000 points + $327 in taxes and fees. I used 50,000 points from my Aeroplan account and then paid the $327 with a Scotiabank American Express I received a few weeks before. What was cool about this particular American Express is that it came with a $300 statement credit after spending just $100 on a travel-related expense. It also included 15,000 "Scotia" points, which were worth another $150 in travel credit.
Since taxes and fees from a flight is travel-related, I passed the $100 threshold and then called to have the $300 statement credit used towards the bill.
$327 – $300 statement credit = $27 out of my pocket.
That same card also came with 15,000 points, which in this particular case were worth $150 in statement credit. I used this credit to help pay for my $27 and the rest towards Karla's ticket.
All in all, I used an array of credit card bonuses and travel hacking to get this incredible trip for just $27. Actually, with the bonus points, my flight was not only 100% free but I had $123 leftover for my wife's taxes.
I'm writing this post from Mexico City at the moment. Next weekend, we'll take a road trip to the beautiful beach area of Ixtapa, which is where we are getting married. After that, we'll come back to Mexico City and probably drive down to Oaxaca to see another amazing city in Mexico before heading to Colombia and continuing on our South American journey.
That's it!
Have you ever travel hacked your way to a cool destination? Let me know about it in the comments below.
If you're from Canada, I've created a membership site just for you that not only teaches you everything there is to know about travel hacking but also sends you all the deals for earning points so you don't have to do any research whatsoever. It's been featured in the Toronto Star and the Globe and Mail. Check out Canadian Free Flyers by clicking here.
If you're from the U.S.A, I'm currently working on a guide that will teach you everything there is to know about travel hacking from America. Click here to sign up so you can be notified when it's ready and get an exclusive discount for being first in line.
***
If you liked this post, you'll probably like: