The Ultimate Guide to the Galapagos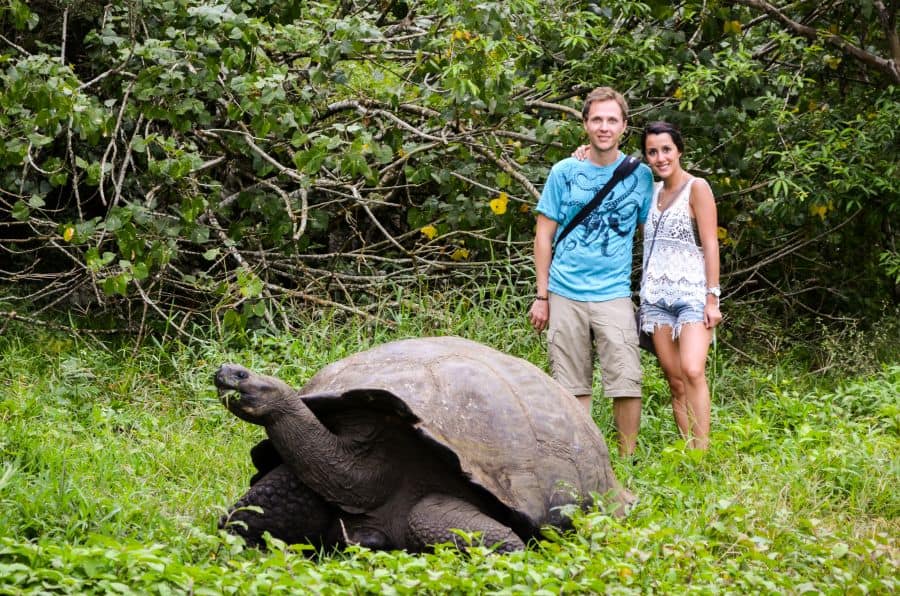 The Galapagos are a bucket list destination for many people and it's no wonder why; tropical beauty, unique wildlife, and the place where Charles Darwin developed his theory of evolution. Ever since I had watched documentaries, often narrated by sir David Attenborough, about the unique creatures and exotic scenery, I dreamed of visiting.
Then it happened.
During a three month adventure honeymoon throughout South America, my wife and I took a flight from Quito, Ecuador to Santa Cruz in the Galapagos. We had just over two weeks to explore the fabled islands, which was divided into two halves; One week scuba diving and one week exploring the land.
As independent travellers, we didn't book any accommodation in advance. The only thing we booked in advance was our live-aboard diving trip, which is mandatory due to popularity. We're nature lovers (why else would you visit the Galapagos?) and so our whole trip centred around natural landscapes and wildlife encounters.
If you've always dreamed of visiting the Galapagos, below is a guide for not only making it happen but for doing it right.
If you'd like to read stories about our time in the Galapagos, you can find them here;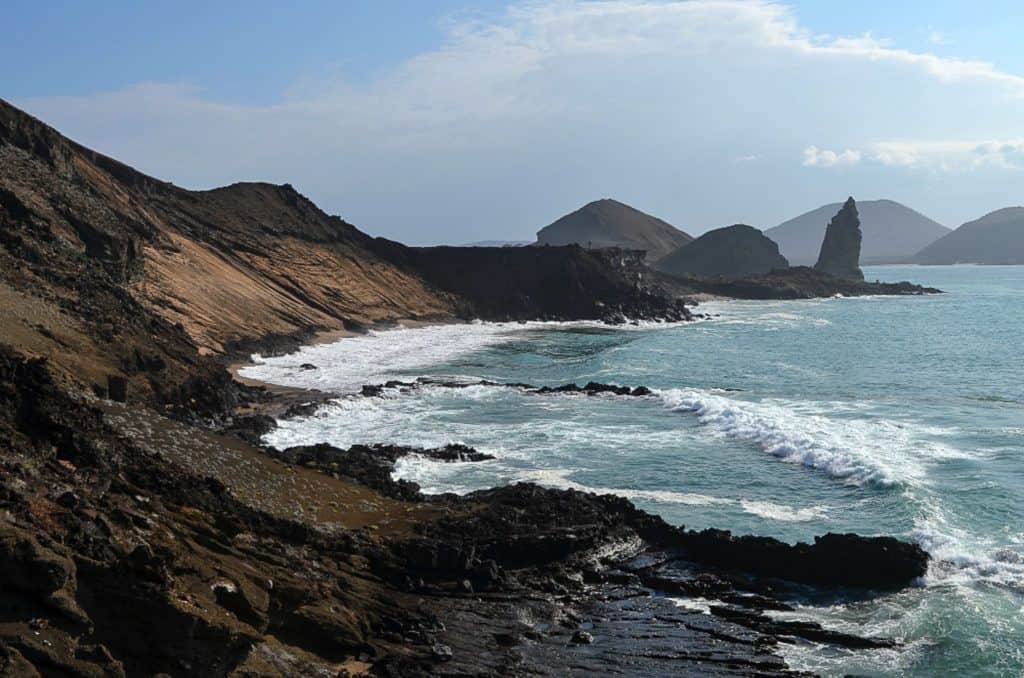 Exploring the Land
There are three main islands where you'll find accommodation. These are the easiest islands to explore independently and all three offer ample opportunities for wildlife encounters and incredible scenery. The other islands are only accessible via tours and are completely void of human habitat.
The three main islands are;
Santa Cruz (the main island where most flights arrive)
San Cristobal (the "local" island and home to the second airport)
Isabela (the largest island but with very little accommodation. Much more rustic)
If you're on a budget, there are an incredible amount of things you can see on the three main islands. The other uninhabited islands require day tours that usually cost $150 USD or more. However, if you really want to explore the other islands, the best way to economically do so is by joining a multi-day boat tour.
You can travel between the islands by a sometimes bumpy speed boat for a cost of approximately $30 one-way or $50 both ways with an open return date. The other option is flying, which is considerably more expensive but probably scenic as well.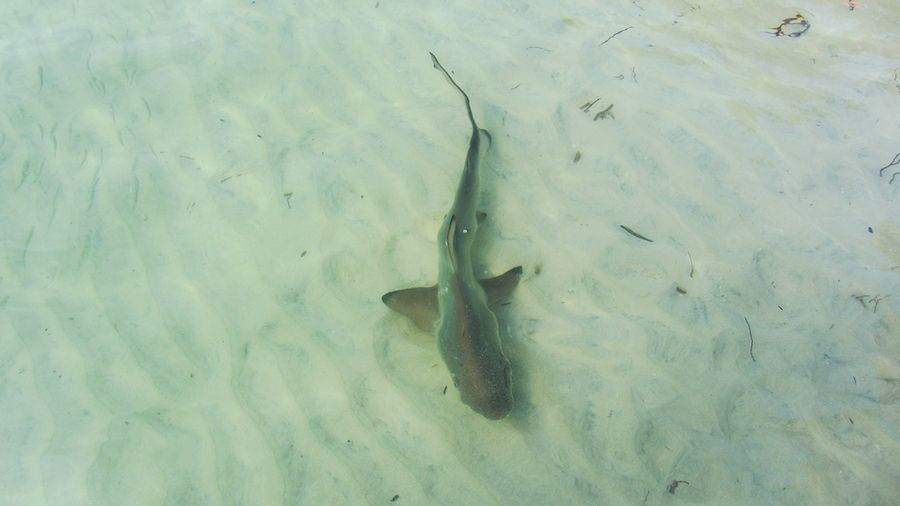 Things to Do in Santa Cruz
Santa Cruz is the main island where you will likely arrive. Puerto Ayora is the main town on the island. The airport is actually on a small island called Baltra, which is connected by bridge to Santa Cruz. Puerto Ayora has the highest amount of accommodation and restaurants. When we were there, we easily found budget accommodation with air conditioning (a must) for $25 USD per night. We were there in the low season so please do some research depending on the month you visit. A decent meal will cost you $6 and up. Meals and groceries tend to be more expensive due to the remoteness of the island. There are a number of luxury restaurants and hotels as well.
However, this article is not focused on accommodation or restaurants. It is focused on the best things to do in the Galapagos, which is really what makes the trip memorable.
Swim with Baby Sharks
Walking distance from the main area is a place called Tortuga Bay. This is a beautiful beach with a strong undertow. You'll likely see surfers here as well as marine iguanas. There's not a lot of shade but it's truly a beautiful place. However, if you keep walking down the beach, you'll end up at a mangrove. Here you'll find calm waters where baby sharks are often seen swimming around. I love sharks so this was one of my favourite places of all time. However, please do not try to touch the sharks. They are cute but our oils are not good for them and we don't want to traumatize them. Just look, smile, and enjoy.
Note: While the beaches around the Galapagos are beautiful, there's very little shade if any. If you're going to spend some time on a beach, you might want to invest in a beach umbrella.
Lava Tunnels
As someone who loves volcanoes and lava, these tunnels blew my mind. There are a couple of these on the island. One of them is on private land with a cost of approx $5 and the other is free but further away. We paid a fee so I'm assuming we went to the private one. Either way, it was a cool experience to independently roam a 3KM tunnel created by lava thousands of years ago. The farm provided us with flashlights as well, which YOU WILL NEED. Simply ask your guesthouse how to get there. We paid $2 for a taxi to bring us there from the main area.
Charles Darwin Station
The Galapagos is the place where Charles Darwin formed his theory of evolution and one of the reasons the islands are so famous. Just 1.5 km west of Puerto Ayora is the Charles Darwin Station, which is home to a turtle breeding centre. Not only is it free but it's incredibly interesting and highly worthwhile.
Los Gemelos Volcanic Craters
Situated in a cloud forest on the island of Santa Cruz lies two sunken volcanic craters, which offer a great place to see vermillion Flycatchers, woodpecker finch and short eared owls. Plus, they are just cool to see. If you've seen crater holes before, consider it optional.
El Chato Tortoise Reserve
This reserve is the best place to see the gigantic tortoises, which are unique to the Galapagos. They are absolutely incredible creatures and should definitely be a mandatory part of your visit.
If you have more time to explore this island, there are other things to see as well such as Gerrapatero Beach, which is about 40 minutes out of town, and Las Grietas, which is popular for cliff jumping and snorkelling.
North Seymour Island
This island is near Santa Cruz and is famous for bird watchers. It is accessible via one-day organized tours. A day tour is quite expensive and includes lunch and a beach visit. You'll spend a little over an hour on the island. Despite tours being SOLD OUT on the island, we contacted www.galapagosunlimitedtravel.com and they made it happen! I was really impressed by the "magic" they pulled. They also offer a wide variety of other tours and I encourage you to check out their website or email them at info@galapagosunlimitedtravel.com. You can also book from any tour agency on the island but as I mention above, your mileage may vary. Other day trips include South Plazas, Santa Fe and Bartolome.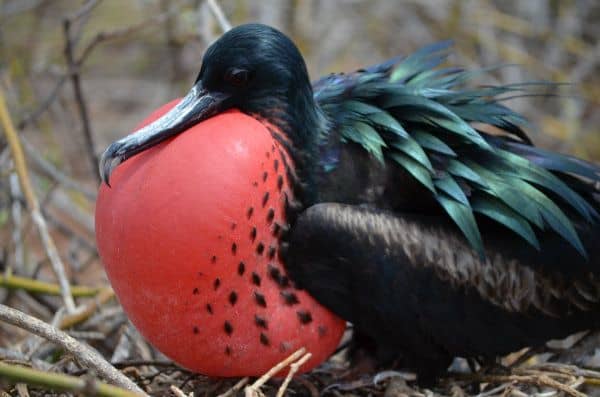 Things to Do in San Cristobal
San Cristobal is the 2nd most populated island in the Galapagos. It's one of two islands with an airport. The main town in San Cristobal is Puerto Baquerizo Moreno. San Cristobal Island is made up of 3 or 4 fused volcanoes, which are all extinct. It is also home to the oldest permanent settlement of the islands and is the island where Darwin first went ashore back in 1835. It's also the export center for the island's products including sugar, coffee, cassava, cattle, fish and lime. This is a beautiful island and slightly less touristy than Santa Cruz.
Interpretation Center
This FREE activity is a highly informative and education experience. Here you'll learn about the history of the Galápagos as well as the effects of tourism and what's being done to conserve the area. The center is on the Western edge of town near the university. This is a great place to do some mild hiking as well with trails winding their way to a variety of hidden beaches. Highly recommended!
Playa Mann
This little local beach is a great place to see Sea-lions. You can also snorkel here and if you're lucky, you might see a ray or a turtle as well. This is a nice place to see the sun set or to find reasonably priced street food.
Cerro Tijeretas (Frigatebird hill)
This is a great lookout for views of the bay. You may also find nesting frigate birds. If you hike down to the bay, you can also snorkel with rays, turtles, and sea-lions if lucky enough. Plus, you can get a picture of the big Charles Darwin statue as well. Great little hike.
La Loberia
This is a rock beach where you'll likely find marine iguanas, yellow canaries, blue-footed boobies, and a large sea-lion colony. Some people also snorkel here. This beach is near the airport.
Puerto Chino
This is a small beach where it's possible to camp. It is quite far from the main area but there is a public bus some times. You'll likely need to hire a taxi, which can be expensive. Parking permits need to be made 24 hours or more in advance and cost $10 USD per person.
Kicker Rock
This place is famous for scuba diving and snorkelling but can only be accessed by guided tour. This is the iconic image of San Cristobal Island due to the beauty of the natural cathedral rising out of the water. We did not visit because we had already spent 7 days scuba diving but this place is typically known for seeing Hammerhead sharks, schools of Galapagos sharks, turtles, and rays if there's good visibility. If you do hire a tour to come here, you'll likely get to stop at a beautiful beach as well.
Other Areas 
There are a number of other areas to see wildlife but are only accessibly via boat and/or with a guide including Cerro Brujo, Punta Pitt, and Galapaguera de Cerro Colorado. In the Galapagos, it's normally more cost effective to take a tour if you want to see places like this.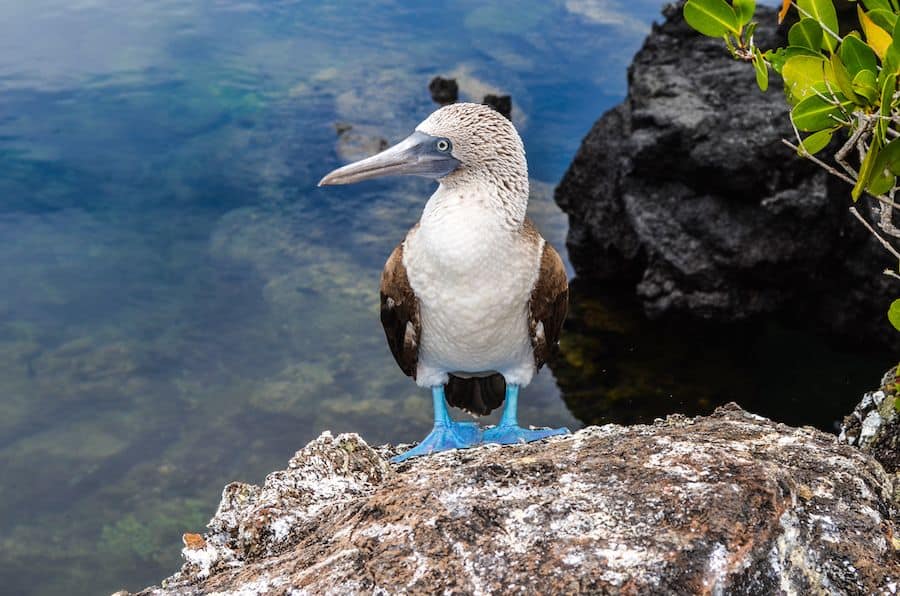 Things to Do in Isabela
Isabela is the largest island in the Galapagos and from a distance, it actually looks like a seahorse. Although it does have a town, this is the most rustic of the three inhabited islands. This is also one of the most volcanically active places on Earth and is home to Sierra Negra, which despite being highly active, is a popular place to go hiking with a tour guide. The main town is called Puerto Villamil. There are very few restaurants in the area and your choice will be much more limited compared to Santa Cruz. Prices are also slightly higher.
Sierra Negra Volcano and Vulcan Chico
This was one of the most memorable things we did on Isabela. Sierra Negra is one of five volcanoes on the island and has the second largest crater in the world! There's not much wildlife but the landscape is incredible. This is the type of volcano you imagine as a kid, but without the spewing lava. You'll need to take a tour, which cost about $40 USD +. The 16-km hike goes through a small rain forest to a hot and dry volcanic landscape. You really should bring sunblock, a hat, decent shoes, and lots of water.
Los Tuneles
This place is beautiful and reminded me of the movie "The Land Before Time". It's basically a series of canals with bridges and caves carved out of lava rock. Cactus grows off of the rocks and you'll likely see big turtles, rays, and fish swimming in the clear shallow waters beneath you. This tour is part of a snorkelling tour where you might see penguins and humungous sea turtles. The only unfortunate thing is the high cost, which usually runs around $70 USD per person. I found the snorkelling very subpar. However, I did see the biggest turtle I've ever seen and "Los Tuneles" themselves is quite beautiful. However, you only get about 20 minutes there.
Las Tintoreras
We didn't make it here but I've heard white tip sharks can be seen here from the trail. You're not allowed in the lagoon but there's good snorkelling at the beach behind the lagoon.
Iguana Crossing
This is quite comical. This is the only controlled intersection in Puerto Villamil. After all, it's very small and secluded. And yes, iguanas really cross here and even the police stop to let them do their business.
Giant Tortoise Breeding Center
Giant tortoises are bred and raised here before being released to the wild. On weekdays, you can go visit. Follow the boardwalk just past the Iguana Crossing hotel. On the way there, you may also see flamingos in the nearby lagoon.
Concha de Perla
A decent natural pool that offers a chance to snorkel with sea lions.
La Playita
A small beach near the main beach where you might be able to swim with penguins.
Wall of Tears
This is another popular activity we missed out on. We just had no time left. This is a 2.5 hour (return trip) hike where you'll likely see flamingos, iguanas, sea lions, giant tortoises, beach landscapes and beautiful views. Again, you should bring sunscreen, a hat, and water. The Wall of Tears is a historical site, constructed by prisoners from 1945 to 1959. Many deaths were caused here, hence the name.
Camino de Tortugas
Here you can see giant tortoises in the wild. If you continue to Muro de los Lagrimas, you'll find a huge wall built out of volcanic stones by the same prisoners mentioned above.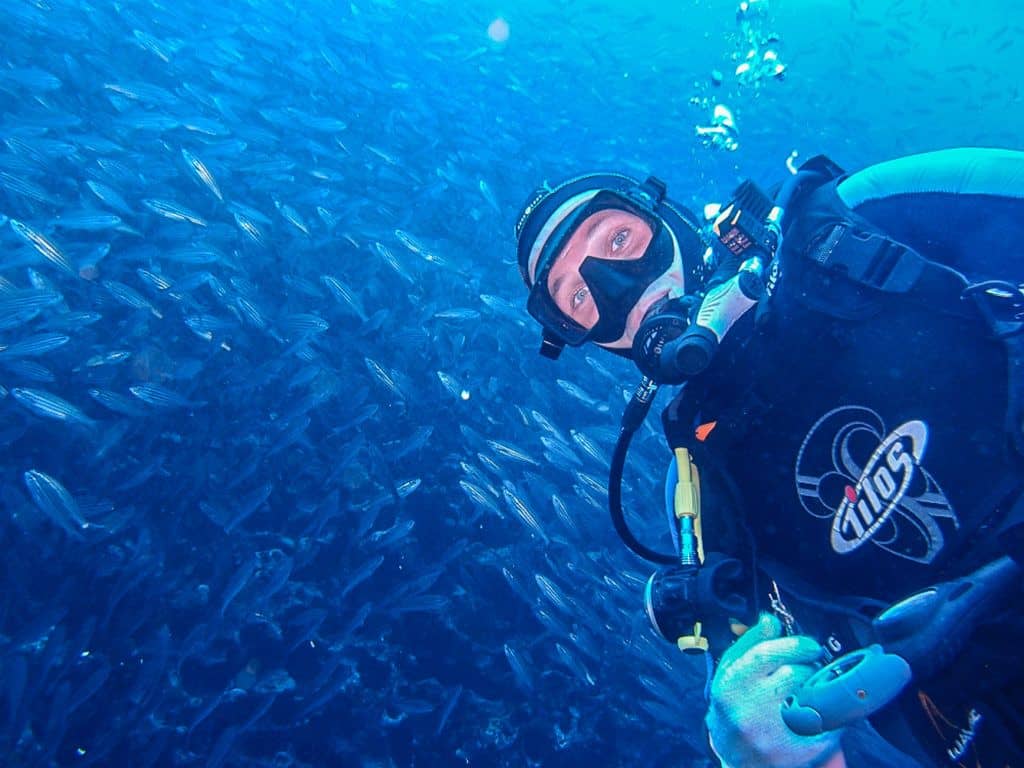 Scuba Diving the Galapagos
For those unfamiliar with the world of diving, the Galapagos is one of the best dive locations on Earth. All scuba divers dream of diving this volcanic archipelago. How could you not want to explore the waters of the Galapagos? It's the only place on Earth were you can dive with seals, marine iguanas, penguins, manta rays, hammerhead sharks, whale sharks, dolphins, and giant seahorses, to name a few. The marine iguanas are found nowhere else on Earth. Only in the Galapagos have they evolved to dive the waters and eat age off the bottom. It's really incredible.
And then there's the hammerhead sharks. Not one or two or three but schools of them. Sometimes 20, sometimes 200. In between manta rays swimming by and dolphins squealing in the distance, I'd have friendly seals nibbling at my fins like a friendly dog. When I'd look back , the seals would swim under a rock and look back at me with cute puppy-dog-like eyes. It was an experience like no other.
There are two ways to dive the Galapagos. You can dive from land (taking a boat out each day) or you can dive from a live-aboard. For the best diving, you'll need a live-aboard as it allows you to travel further distances. However, even the land-based diving is incredible from what I've heard. We did a live-aboard, which I'll explain below.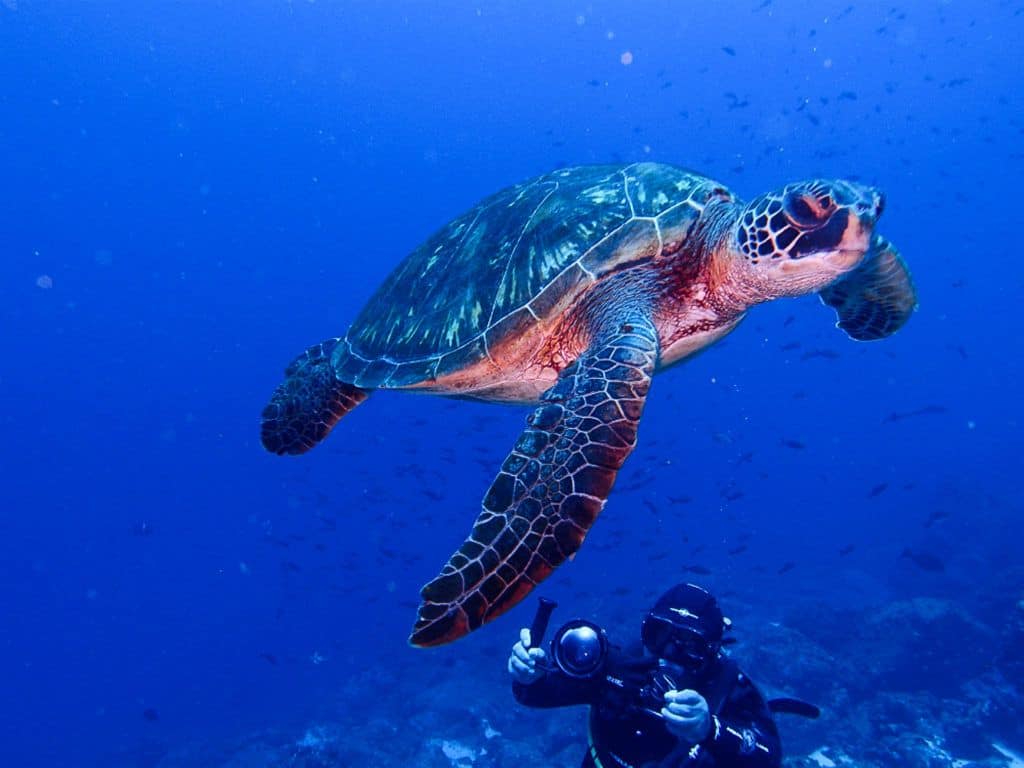 Live-aboard Diving in the Galapagos
If you want to explore the furthest depths of the Galapagos, live-aboard is the only way to go. The famous Darwin's arch for example is 24-hours from the main island. This is where massive schools of hammerhead sharks are commonly found. The other benefits of a live-aboard boat is that you'll be spending much more time diving, often as much as 4-5 times per day. All your meals are catered and so the only thing you have to worry about is diving and figuring out what to do with your free time. How awesome is that?
Note: The Galapagos can be quite difficult diving conditions. Expect stronger currents, less visibility, and more surges than many other tropical destinations. Also, the waters are quite cold in the Galapagos and you'll need a 7mm wetsuit as well as a hood.
We went with Aggressor, which you can read more about by clicking here. We had a great time with them and completed our Nitrox certification at the same time. Nitrox is great to have in the Galapagos as you'll likely be spending more time in the water than usual.
There are six live-aboard companies;
Galapagos Sky
Humboldt Explorer
The Galapagos Master
Nortada
Astrea
I can only comment on the Aggressor, which is a luxury dive boat and therefore quite expensive. Live-aboards in general are expensive but please do your research to determine the best option for you.
There are also two seasons. The wet season (January to June), which brings calmer and warmer waters. However, you won't see whale sharks at this time and the sheer numbers of sea life is less. Availability is easier though and this is the season you might find deals. The dry season (June- December) brings colder and rougher waters but much more sea life as well, including schools of whale sharks. This is also the most popular time and you may need to book months in advance. We went during the wet season (low season) and still had a great time. We didn't see schools of 200 hammerheads but we did see schools of 20-30. Plus, I'm not sure I could handle stronger currents than what we experienced. It was intense enough!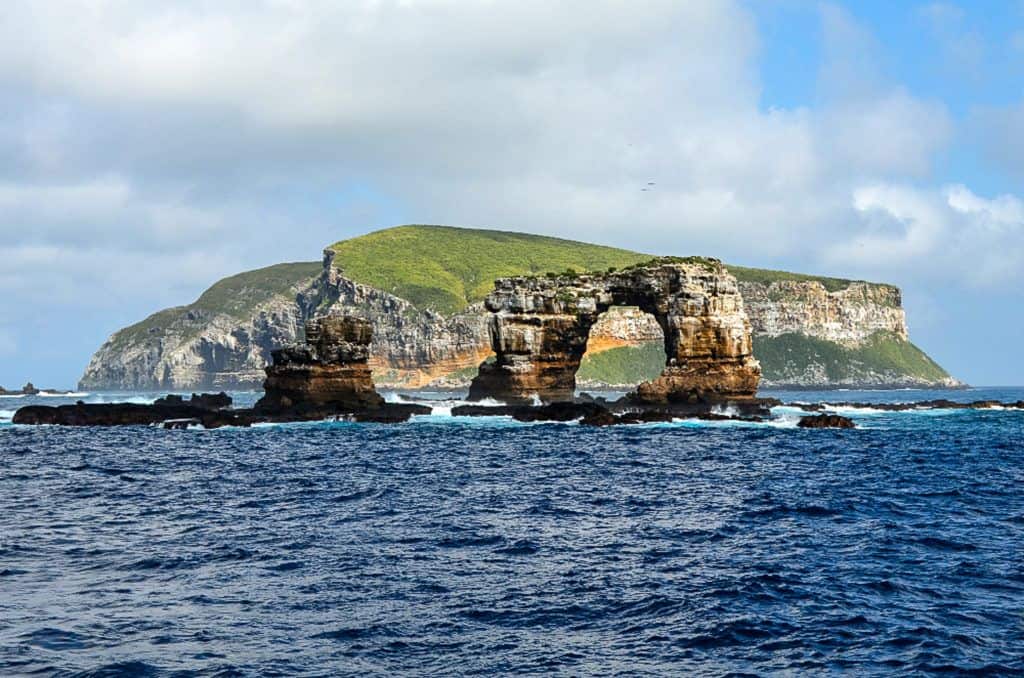 Land-based Scuba Diving
For those not wanting to live on a boat or without the budget required, land-based is another great option. There are diving centres on each of the three main islands. While I did not get to experience land-based diving, I've heard it's quite good. Not only will you save huge amounts of money but you'll also get to stay on firm land and choose from a variety of restaurants in your free time. You may not see "as much" as you would from a live-aboard but you'll likely see all the main sea-life you came to see.
There are a variety of scuba diving companies based on each of the three inhabited islands.
Santa Cruz 
Academy Bay Diving
Tip-Top Diving
Red Mangrove
Scuba Iguana
San Cristobal 
Wreck Bay Diving
Scuba Iguana
Dive Surf Club
Isabela 
Scuba Galapagos Dive Center
Scuba Dragon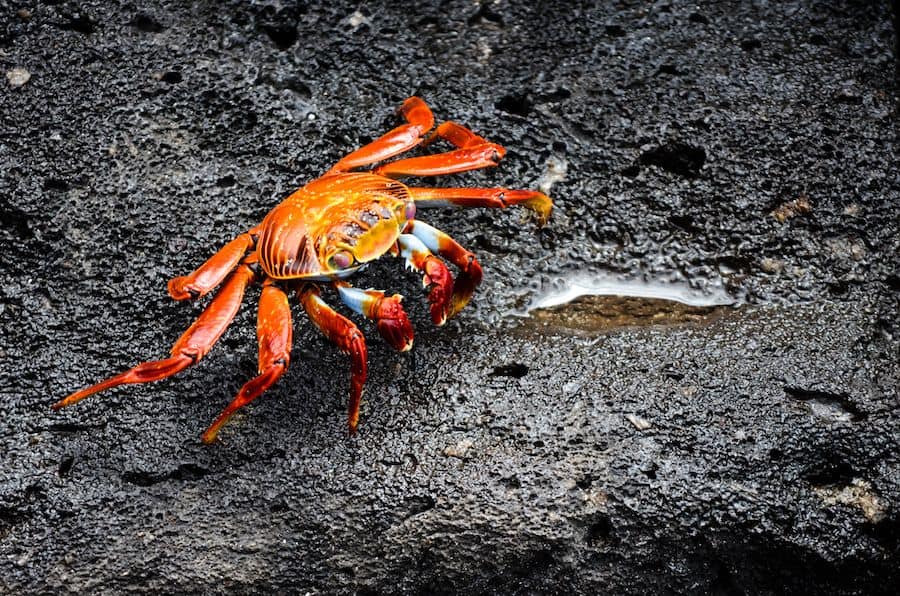 Non-Diving Tours of the Galapagos 
While live-aboard tours are commonly associated with scuba diving, there's also many live-aboard tours that don't involved scuba diving at all. As I mentioned above, the only way to see the un-inhabited islands of the Galapagos is by tour. Depending how far the islands are, you may have to do a live-aboard tour, which can be anywhere from 3-10 days or more. For closer islands, a day tour will suffice.
Most people who do live-aboard do so to see wildlife. In my experience, the faraway islands don't offer additional scenery compared to the easy-to-reach ones but in terms of certain wildlife, you may have a better chance. Depending on your interests, you'll have to do some research to determine if a tour is worth the cost.
Although it's possible to book last-minute tours directly in the Galapagos, it's also a chance you take depending on availability, quality, and the islands you visit. If you're going during the high season, you should definitely book as far in advance as possible. Tours also DO NOT run every day. When we were there, tours to North Seymour only ran every second or third day and were often full.
Tour companies include:
Budget
Galapagos Cruise Links
Galasam Cruises
The Galapagos Tours
Galapagos Last Minute Deals
Mid-range
Dive the Galapagos
Samba Galapagos
Galapagos Legend

Galapagos Unbound 
Luxury
Cheeseman's Ecology Safaris

Galapagos Luxury Charters 

Epicurean Galapagos 

Natural Habitat Adventures 

Galapagos Boat

Galapagos Odyssey yacht
Nina and Athala Catamarans

Galapagos Travel 

Galapagos Travel (Ecuador-based)

INCA

 (

International Nature & Cultural Adventures

)

SunWind Travel (Ecuadorian company)

Steppes Travel

Anahi Galapagos Catamaran (Ecuador-based)

Treasure of Galapagos Catamaran
Articles I've written about our time in the Galapagos

Conclusion
My wife and I loved every minute of our two weeks in the Galapagos. Both the diving and the land-based activities were incredible. We're nature and animal lovers so being able to see and dive with sea lions, marine iguanas, turtles, hammerhead sharks, and penguins was an incredible experience. It truly is a world wonder.
This is not the place to go if you're simply looking for a decent beach. Go only if you're truly interested in the wildlife and the habitat. In addition, the scuba diving is world-class and will definitely add to your trip. If you're a non scuba-diver, please go snorkelling. It's truly a delight.
Do you have anything you'd like me to add above?
Would you like me to book and/or organize a once-in-a-lifetime trip for you?
Contact me by clicking here or sending me an email to matt (at) livelimitless (dot) com.
Happy Travels!
-Matt