Although travel has been a passion of mine for many years now, luxury was never really part of the equation. Sure, I like a little bit of bling now and then but I'm the kind of guy who'd rather be sleeping in a tent in the mountains than living it up in a 5-star hotel (most of the time, anyway). So it was somewhat odd to recently find myself sitting first class on an Emirates flight from Dubai to Houston. Not just any Emirates flight either – the A380. The Cream of the crop. The golden goose of travel hacking.
After a couple of days of exploring Dubai, we woke up for an early breakfast in the Emirates first-class lounge (included with the flight), my wife and I both boarded the luxurious aircraft for a 17-hour trans-Atlantic flight. It's a long haul flying over the Middle East, Europe, the Atlantic Ocean, and most of the US in one jaunt but it was made all the better by sitting in pure luxury.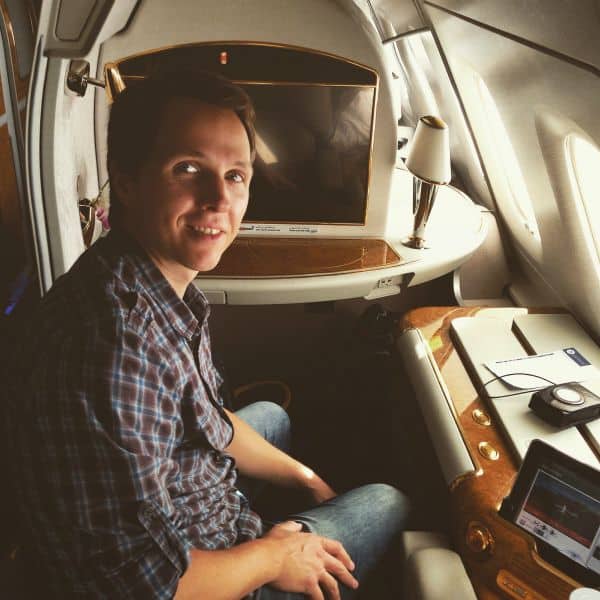 Although the lounge was nothing short of spectacular, the fun really began when I was shown to my private suite. It was very flashy with wood and gold trimming surrounding the interior, which fits perfectly with the Emirates style. After settling into my extremely spacious suite, I began to look around at all the amenities and gadgets I had within reach; My own little electronically controlled min-bar that could be hidden when unwanted, a vanity mirror, high quality creams and lotions, a writing kit, and best of all; a 27 inch flat-screen TV. 27 inches! Incredible.
As I began to play around with all my findings, I found the button for the window blinds. Not only did I have three of my own windows for looking out over the clouds but they also had an electronic shade system rather than the normal pull-down plastic ones. I just had to click a button and they would – very beautifully I might add – open and close. It's difficult to describe but you can watch the video. I love small details like this. Then the flight attendant came by with my free travel kit, which included a handsome leather Bvlgari case, Bvlgari cologne and creams, underarm deodorant, slippers and a complete set of pyjamas. It was a 17-hour flight I wish had been longer.
But that's not all. There was also a massive bathroom with a shower spa. I didn't even know it was possible to shower at 40,000 feet but I was certainly happy to try it out. Showers are always refreshing but there's something magical about having one 40,000 feet in the air and three hours before arriving in a new country. After watching a movie and enjoying some first-class meals such as caviar, traditional Arabic mezze, and roast beef fillet, I put my pyjamas on and went to the bar. Yes, an onboard bar. Since all drinks are free, I tried some Dom Pérignon, Hennessy, and a classic mojito while mingling with other people from all over the world. When in Rome, right?
But how did a backpacker-style adventure traveller like myself land himself in Emirates first class?
Easy. Travel hacking.
As many of you know by now (if you're regular readers of Live Limitless that is), I'm a hardcore travel hacker. For years, I've put a priority on frequent flyer miles by learning how to earn large quantities of them quickly, and more importantly, how to redeem them for maximum value.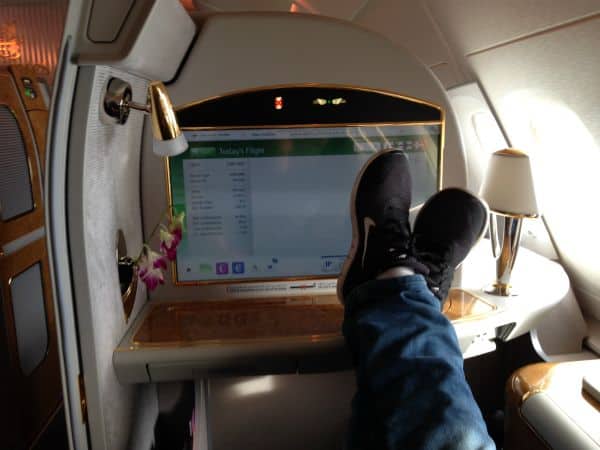 In the case above, I used Alaska miles. Alaska Airlines Mileage Plan is a very special mileage program because although they don't officially belong to a major alliance, they are partners with many airlines around the world such as Emirates. Normally, I would be using Aeroplan for a trip like this but since we were going to be in India (relatively close to Dubai), I looked into Emirates flights via Alaska Airlines and found that for just 90,000 Alaska miles and $89 in taxes, I could fly first class from Kolkata to Dubai, enjoy a "free" 4-day stopover in the luxurious city, and then fly first class on the incredible A380 from Dubai to Houston before flying first class again on Alaska Airlines from Houston back to Canada.
Since I'm always collecting as many points as I can, I began building up my Alaska mile balance over the last couple of years by applying for Alaska-affiliated credit cards (a new card usually comes with 25,000 points just for signing up) and allotting my everyday spending to those cards. At the time of booking, however, I had only 80,000 points in my account so I took advantage of their 30% sale on purchasing miles and paid approximately $250 for the last 10,000 miles that I needed. The taxes were only $89.
Not bad for a $15,000 one-way flight.
Since going to a new country is what excites me most, I'm more than happy to fly in economy but since I earn hundreds of thousands of miles each and every year, I thought I'd see what the front of the plane looks like. I've now flown business class around the world for $750 (literally, around the world), business class throughout the South Pacific, and now, first-class from the Middle East.
What do I want to do next in terms of travel hacking? Well, I've been hearing a lot lately about Emirates VS Etihad, so perhaps I need to fly first-class on Etihad via their famous "apartments" class. Now that sounds epic.
Happy travels,
-Matt
***
All pictures above were taken by me. You can follow me on Instagram. www.Instagram.com/MatthewGBailey
If you're Canadian, I also run the #1 travel hacking site in Canada; CanadianFreeFlyers.com.