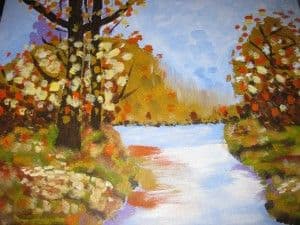 A couple days ago I was sitting in a coffee shop writing out some thoughts and killing time before heading to an acting class I had that night. It was about 4:30 p.m. and the class started at 6. I was at a coffee shop far off the beaten path of where I needed to go which I had found after buying a coupon from Groupon weeks before.
It was the type of cafe I was looking for. A place with a big open space with tables for me to write at. Cool paintings and pictures aligning the walls that are made by local artists in which you can purchase. They have open mic nights, philosophy nights, board game nights, and so forth. They also make the best Cappuccino I have ever had.
As I sat writing up some potential future blog posts, I noticed a sign on one of the doors that read "Learn how to paint on canvas. Third tuesday of every month at 7 p.m.. Just $15".
It just so happened it was the third tuesday of the month. [Read more…] about A Cappuccino, a Painting, and Some Spontaneity