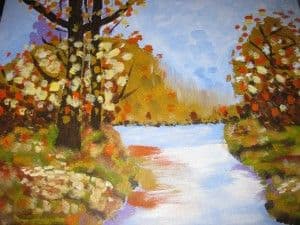 A couple days ago I was sitting in a coffee shop writing out some thoughts and killing time before heading to an acting class I had that night. It was about 4:30 p.m. and the class started at 6. I was at a coffee shop far off the beaten path of where I needed to go which I had found after buying a coupon from Groupon weeks before.
It was the type of cafe I was looking for. A place with a big open space with tables for me to write at. Cool paintings and pictures aligning the walls that are made by local artists in which you can purchase. They have open mic nights, philosophy nights, board game nights, and so forth. They also make the best Cappuccino I have ever had.
As I sat writing up some potential future blog posts, I noticed a sign on one of the doors that read "Learn how to paint on canvas. Third tuesday of every month at 7 p.m.. Just $15".
It just so happened it was the third tuesday of the month.
This was pretty amazing considering I was given a painting kit for christmas and wanted to learn some of the basics. $15 was an amazing price and by the end of the night, I would have a landscape painting to take home.
I thought about it, nodded to myself, skipped my class for that night, and signed up for the painting course. What were the chances I would be there on the third tuesday of February and notice the class for the first time.
While I was waiting for 7 p.m. to roll around, I decided to make it more special by calling my girlfriend who just moved here from Mexico so she could come and join me.
It was a great experience. I went from thinking I would be in class listening to a lecture to my first time ever painting on canvas. We started by penciling in a drawing of a couple trees, a river, and a background of sky and shrubs. We were guided as to what types of colors to mix in order to make it look real as well as different brush strokes to make the painting come alive. Painting made me feel so calm and relaxed.
It was funny to hear so many people talk about how bad they thought their paintings were and yet, all of them were pretty good. Also interesting was the fact that everyone's pictures came out quite different even though we were all painting the same landscape. After two and a half hours and several hundred brush strokes, I had a finished product to take home with me. It doesn't look to bad for my first time, right?
It was a spontaneous decision and it ended up becoming an awesome night that both of us will remember for a long time.
What's something you have done spontaneously that ended up being an awesome experience?
What's a skill you've always wanted to learn?
Make this week the week you get started on it.
Oh, and if your in Calgary and near the deep SW, the coffee shop is called Caffe Crema.
____________________________________