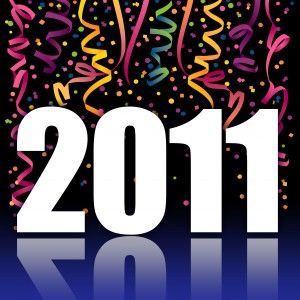 HAPPY NEW YEAR!!!!!
Okay first off I should warn you that this post is around 1700 words. I seem to be writing longer posts than usual over the holidays. I like it but I don't know if you like it. I wrote a guest post for another site the other day and it was around 1900 words! This post is basically a summary of accomplishments from 2010 and a summary of what I want to accomplish in 2011. I'd also like to hear what some of your goals are in the comments. It's good to lay them out for others to read. It makes one feel a little more accountable.
So before we launch into the New Year with resolutions a blazin', it's a good idea to sit back and reflect on the year past. Review all the accomplishments you've had and go over what went good and what didn't.
Congratulate yourself on all the things you feel you accomplished and most importantly, learn from the mistakes. Have some long-term goals in mind as well so you know what each little accomplishment is really working up to.
Consider writing down a lifestyle change you wish to make on top of the specific goals. For example, rather than just writing "quit smoking", write about become a healthier person and living a healthy lifestyle. This means quitting smoking, becoming more active, and eating healthy.
Now to reflect on 2010. [Read more…] about A Year in Reflection + Goal Setting for 2011