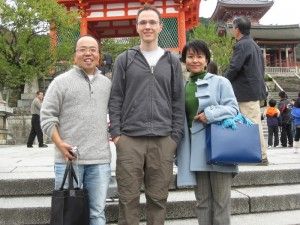 Back in September 2010, I enrolled myself in Unique Genius, a course aimed at helping people find their passions, build them into a business, and make money doing what they love. Before I enrolled, I actually met the founder, Aaron Ross, while traveling to Los Angeles for a JCI (Junior Chamber International) conference. Aaron lives in Santa Monica and after learning about his business through Jonathan Mead, I sent him an email asking if he would be down for meeting up when I was there. Aaron agreed and after figuring out the mess that is L.A. transit, I wound up in Santa Monica sipping hot chocolate and Cappuccinos at a local cafe while talking to Aaron about my plans for online business.
A couple months into the program, I was also planning a trip to Japan to attend the JCI World Congress which featured more than 100 countries and 11,000+ inspiring people from all over the world. While planning my trip, I was scanning the forums in Unique Genius and came across a message from a guy in Japan. I immediately replied and told him that I was going to be visiting Japan and could potentially meet up. Wakato (the guy who had wrote the message) quickly replied back saying he would love to meet.
But it wasn't just an email from Wakato I received. I also received another email from a guy in Tokyo who noticed our conversation in the forum. He wanted to meet up as well. Awesome! I now had 2 people I could meet while in Japan. Wakato was living near Okayama and Trond (the other person) was living right in Tokyo. I told them that I had 6 days to myself and would figure out a way to meet both of them.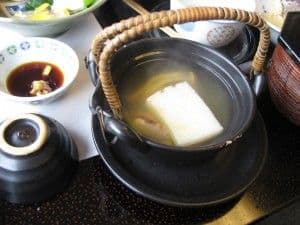 I still remember leaving Hiroshima to Okayama and meeting Wakato and his wife Keiko. With such friendly enthusiasm, they brought me to the ancient city of Kyoto. I couldn't believe how friendly, generous, and accommodating they were. Not only did they escort me around Kyoto and beautiful ancient temples, they also treated me to a huge traditional Japanese dinner and dessert. It was definitely the best and most unusual meal I had while in Japan. I remember one of the soups having a special mushroom that costs $80 per mushroom! This explains why my soup had just a tiny piece of one. We got to talk about the Unique Genius program and how Wakato spent 4 years at a New York University. No wonder his english was so good! After this, we walked around a fish market looking at all the odd creatures available to eat. I remember walking by one stand that had baby octopus lollipops. Boiled baby octopus stuck on a stick. I thought it looked gross (and funny) so I just walked by. But as I began walking around, the temptation to put myself out there and try this rare looking food made me go back. I had never seen anything that looked so odd. A baby octopus lollipop. Wakato brought me back and both of us ate one for the first time. It actually wasn't to bad. A little rubbery but overall, not bad at all.
After bidding farewelll, I made my way to the north. But before going to Tokyo, I stopped near Mt.Fuji to spend 2 nights with Mochan, a guy I had met through couchsurfing.org (more on that in another post). After 2 amazing nights with people from all over the planet, I finally made it to Tokyo for one short night. I was greeted by a tall businessman just outside the train station who happened to be Trond. Trond was actually from Norway but had been living and working in Tokyo for 15 years. He was also the president of a recycling company trying to break into Japan. Impressive.
Just getting off work, Trond treated me to a really fancy Japanese dinner at a local place where the likes of past-president Kennedy would eat when he came to Tokyo. As if this wasn't enough already, Trond also pulled out a couple gifts he had bought for me. One was a book on the crazy new-age Tokyo culture, and the other was a book on the more traditional zen culture of Japan. He then brought me to an Indian restaurant owned by one of his friends. We ended up having a second dinner while Trond explained his new online business plan to me. Other then trying to stop by stomach from exploding, I was super inspired by the business model Trond unfolded before me and also impressed with the amazing naan bread and curry I had just gobbled down.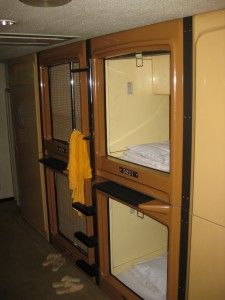 It was now getting late and Trond had to get back to his family. Before heading back, he quickly brought me to Tokyo's famous human intersection and to the train station that would take me to the capsule hotel I was so excited about. Trond then offered to pay for a hotel (he thought I would be more comfortable) which I had to kindly decline. Not only was I stuck on the experience of a capsule hotel but I felt almost bad for receiving such a gift. I just couldn't believe the kindness and generosity Trond showed me. And just moments after, when I thought Trond couldn't be any more generous then he already had, I mentioned to him that I only had credit cards on me. Uh oh, this is a problem in Japan. Trond told me credit cards are very rarely accepted in Japan and I could only get cash from machines at 7/11. Rather than send me searching at midnight, Trond gave me $100 to get me through a couple of days until I found an international bank machine. I was so thankful and told him I would send it back to him via paypal as soon as I could.
I then said bye, sat down on the train, and thought about the amazing person that I just met. I was truly astonished by the kindness I was shown, both from Trond and Wakato (and Keiko). I was just a stranger who said "hello" via email. Next thing you know, I'm eating a fancy dinner in Tokyo with the president of a company and eating a traditional Japanese meal next to an ancient temple with a Japanese local.
Wow.
After 30 minutes, I arrived at my capsule hotel, excited to see one for my first time and also excited to sleep. I awkwardly stumbled my way through the check-in process and found my "coffin-in-a-wall" that would be my bed. It actually wasn't bad at all. It had its own T.V. (which I didn't watch), a built-in alarm clock and radio, and a little curtain at your feet for extra privacy. I pulled out my trusty earplugs, nestled into the blankets, thought about the inspiring people I met over the last 6 days, and went to sleep.
Japan was such a great trip. I met these wonderful people above, some awesome people via couchsurfing, and partied with 11,000 people from over 100 countries during the JCI World Congress. Japan became yet another addition to my memories of a lifetime and continued to remind me why I love travel, love meeting people, and why I will continue chasing adventure for the rest of my life.
It also reminded me of why I absolutely love saying "hello" to new people and why it really is the most important word in the world. It opens up all the possibilities in the world.