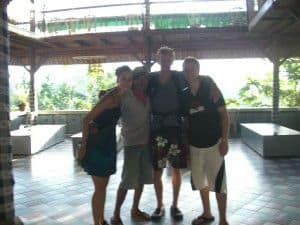 I'm so excited for this series to start.
It all began with a post I wrote a few weeks back about a time when I said "hello" to strangers in Indonesia and ended up having a great adventure with them. Lots of people said that they loved that post and I started to think of all the times I've had adventures from simply greeting other travelers. I wanted to inspire people to open themselves up to meeting new people and forming new relationships and potential adventures. Then I thought, how cool would it be to gather stories from other bloggers and travelers who have experienced this as well.
I wanted to hear all the amazing stories that people have from when they stepped out of the box and met some new friends.
I reached out to 7 awesome people to get the ball rolling. Each of them enthusiastically agreed to participate and thought it was a great idea.
The series was born. It starts this friday!
Each blogger will post their story on their blog at certain times over the next week or two. Each story will be about a time when they said "hello" to a stranger which then turned into an awesome adventure or a great friendship.
If you want to read these inspiring stories, just follow along by watching the "series page" or following me on twitter. Each time someone posts their story, I will link to it on the series page and tweet it over twitter. You can also like A World of Inspiration on Facebook and watch the wall, or subscribe to A World of Inspiration so you can stay updated all the time.
The following bloggers are part of this series:
Earl Baron of Wandering Earl
Matt Koenig of 1 Year Sabbatical
Rob Nights of Beyond Norms
Amy Scott of Nomadtopia
Niall Doherty of Disrupting the Rabblement
Robyn James of The Dropout Diaries
Steve Bloom of Do Something Cool
and of course, yours truly.
I can't wait to read these great stories. Thanks to everyone involved and I hope you all feel the inspiration from the amazing stories we're sure to read.
Do you have a great story of a time when you said "hello" to a stranger and it turned into a wicked adventure or a great friendship?