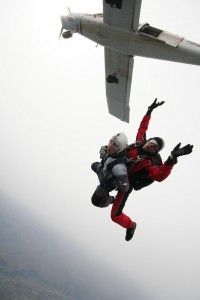 I can't believe you jumped out of a plane!
This was one of the many reactions I received upon returning from my 6-month adventure through New Zealand and Australia.
I couldn't really believe it either. It seemed like just a few years ago I was too nervous to get on the rollercoaster in West Edmonton Mall because it went upside down. I never would of thought that I would be scuba diving in the ocean at nighttime or jumping off bridges in New Zealand.
When I look back on life as a kid and as a teenager I can definitely see little bits of the adventurous soul in me but nothing compared to what it is today.
One of the biggest leaps I made that began my journey of self-discovery was packing up my things and moving to another city. I was 20 at the time and was growing tired of the town I had grown up in. It was a rich town where everyone made heaps of money working in the oil industry but for some reason I just didn't want anything to do with it. I had all these dreams bottled up inside of me of adventure and mystery. I wanted to explore the world and all the amazing things that exist beyond the place I grew up in. I decided to take a leap and move. It was an exciting time leaving home and living on my own in a much bigger city. I enrolled in business school and rented a place right across the street. Life was great. [Read more…] about Tearing My Box to Shreds!