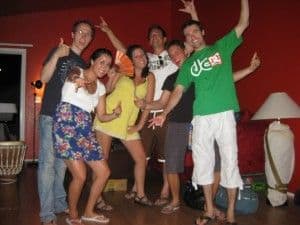 Who says we can't be inspired while lying on a couch! I know I was.
I was sitting there before pulling the couch out into a bed, amazed by the kindness and openness of the people we were staying with. We didn't know them at all. My girlfriend and I had arrived in another country in a new city and had simply contacted this couple via couchsurfing. We told them about our trip and they told us we could spend a night at their place. We arrived, bags in hand, to a hearty welcome and a home cooked meal. We sat at their table like we already knew each other, yet we were just like strangers sitting at the same table in a bar. They passed me a beer and we talked about travel stories, insights, experiences, and where we should go for a good sweet breakfast.
It was truly inspiring to meet such open-minded welcoming human beings. And what's even cooler is that this was just one of several couchsurfing experiences we had on our 40-day U.S.A road trip. We spent roughly 4 nights in hotels, 4 nights camping, and about 32 nights in the homes of welcoming people whom we had contacted via the internet.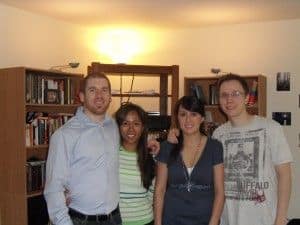 We stayed with a sweet couple in Kelowna who welcomed us to chocolate crepes, another awesome couple in Seattle who welcomed us with beer and a home-cooked meal, a really cool guy and his dog in Portland who gave us the keys to his amazing loft studio, a lady in Oregon City who took us in at 11 pm and made us breakfast in the morning, another lady who let us stay with her near San Francisco, a family in Anaheim who welcomed us at 1 in the morning after a long day at Disneyland, a couple in Los Angeles who let us come and go for 3 days, a down-to-earth couple in San Diego who shared food and wine with us in their industrial pad, a really cool guy who let us and other surfers from Germany stay at his house in Las Vegas while getting us into jam-packed night clubs, and a Brazilian dude who welcomed us into his home in Salt Lake City and talked to us about Brazil over a cool glass of wine as we made our way towards Canada.
It's so inspiring that so many people of all different shapes and sizes, age and ethnicity, gender and background, are willing to let 2 strangers stay under their roof and make them feel welcomed into a new city and new experience.
If you haven't tried it yet, I highly recommend couchsurfing on your necxt trip. You can start a free account and start by couchsurfing yourself or by hosting others on their adventures.
Maybe this world ain't so big after all!