[video_player type="youtube" style="1″ dimensions="853×480″ width="853″ height="480″ align="center" margin_top="0″ margin_bottom="20″ ipad_color="black"]aHR0cHM6Ly95b3V0dS5iZS8xQnhTVlpnMGxabw==[/video_player]
Dream Trip Complete: Driving to Canada's Arctic
I love a good road trip and Canada has plenty of them from an East coast Canada road trip or driving to the Northwest territories. There are so many beautiful places in Canada. There's something about having a vehicle and being able to drive it where I want to go and about being able to comfortably pack my things and have them with me at all times. One of my bucket-list goals was to drive the infamous Dempster Highway all the way to Inuvik, Canada and then take the new highway to Tuktoyaktuk, Canada's first road to the Arctic Ocean!
There was only one problem – The new highway wasn't open yet. Luckily, however, I had a way to get around that. Back in 2017, I came up with the idea to travel across Canada for 150 days, creating a web series about Canada in celebration of Canada's 150th birthday. This project allowed me to get special permission for a variety of things, one of them being access to the new Mackenzie-Delta Highway, the highway connecting Inuvik with Tuktoyaktuk in Canada's Northwest Territories.
Yup, that's right. I was literally allowed to drive the highway before it was opened to the public. I even had a construction crew join me! But first, back to the story.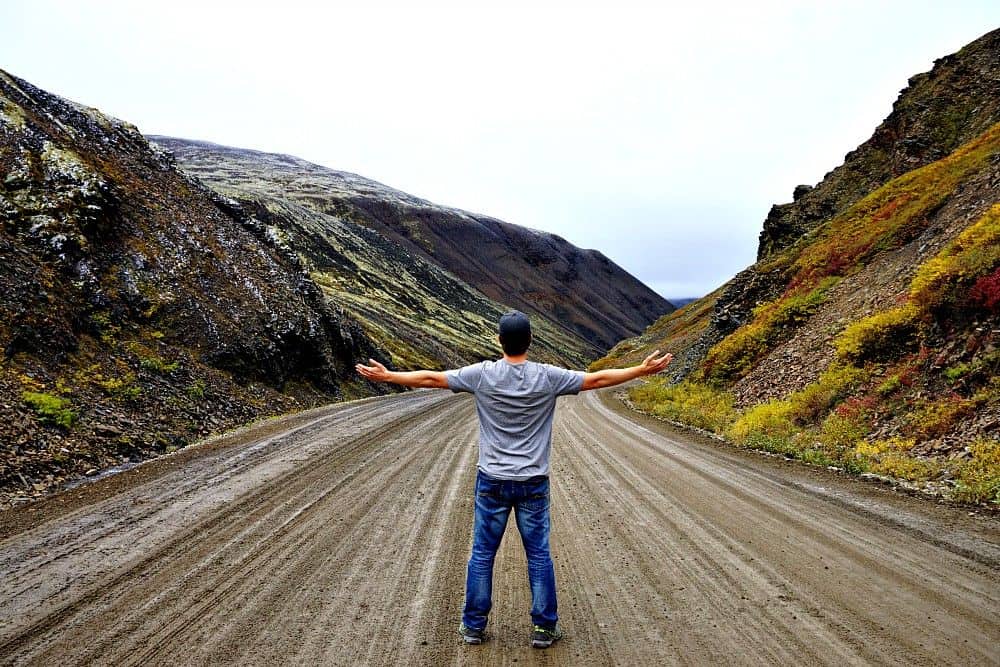 Driving the Infamous Dempster Highway
First things first, the Dempster Highway. This 738 km dirt road connects Dawson, YT with Inuvik, NT. Any true road warrior will know what it is and will either want to do it or has done it already. Not only is it known for its epic beauty but it's also known for being quite off the beaten track. After all, there's literally only one place to stay in the middle of it all (Eagle Plains) and this is also the only place to get gas, food, and any vehicle repairs you might need after being on the bumpy road.
Just getting to the Dempster Highway is an adventure in and of itself. First, you have to drive all the way to Whitehorse, Yukon. Then you have to drive another 8-hours north to the wild-west town of Dawson. Dawson is one of the highlights. This has to be one of the coolest towns in the entire world. Here you'll find old saloons, Canada's first casino, CanCan girls, and gold panning. We experienced all of it before heading up the long road North.
There's a lot of preparation to be done before driving the Dempster Highway and we did none of it. Okay, I'm kidding. We did do some of it but I'd say it was the bare minimum. The biggest things to worry about are flat tires and broken windshields. There's also no reception so if you want any communication on the road, you'll need to buy or rent a satellite phone. Since it's unlikely you'll be completely alone on the Dempster Highway, we chose to rely on truckers and other travellers in the case of an incident. We just didn't have the time to get a satellite phone and we figured the chances of breaking down were slim. We did, however, pack extra food and water. For maximum safety, you'll also want a full-size spare tire. Again, we didn't bother. Instead, we relied on buying Slime (a substance you put in your tires should you get a flat), and our non-full-size spare tire, which was underneath the vehicle. Perhaps we took some chances but after talking about it with locals, many said we'd be fine as long as we didn't drive like maniacs.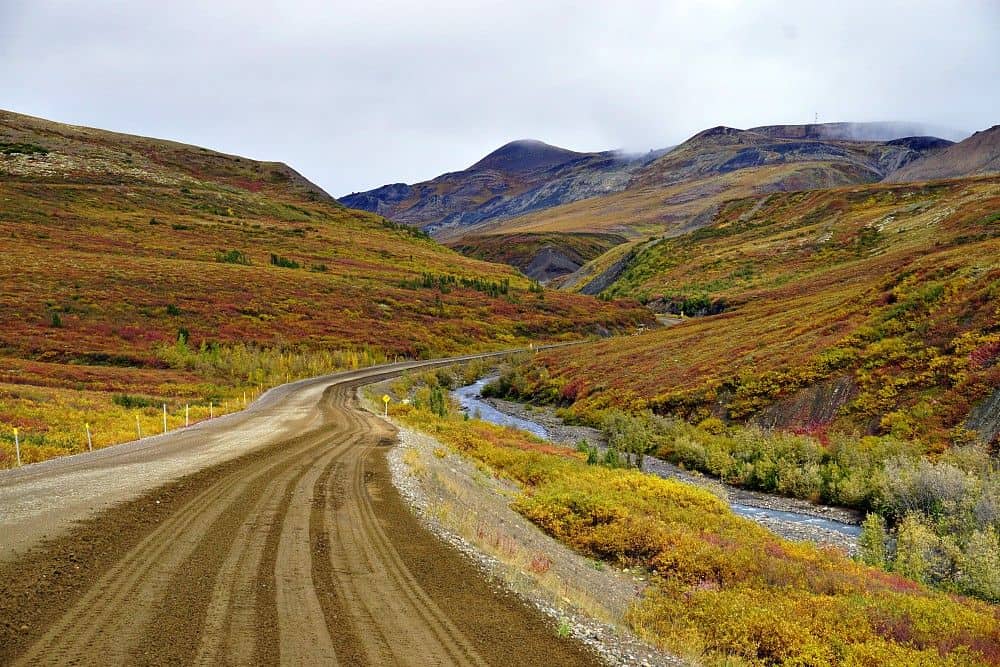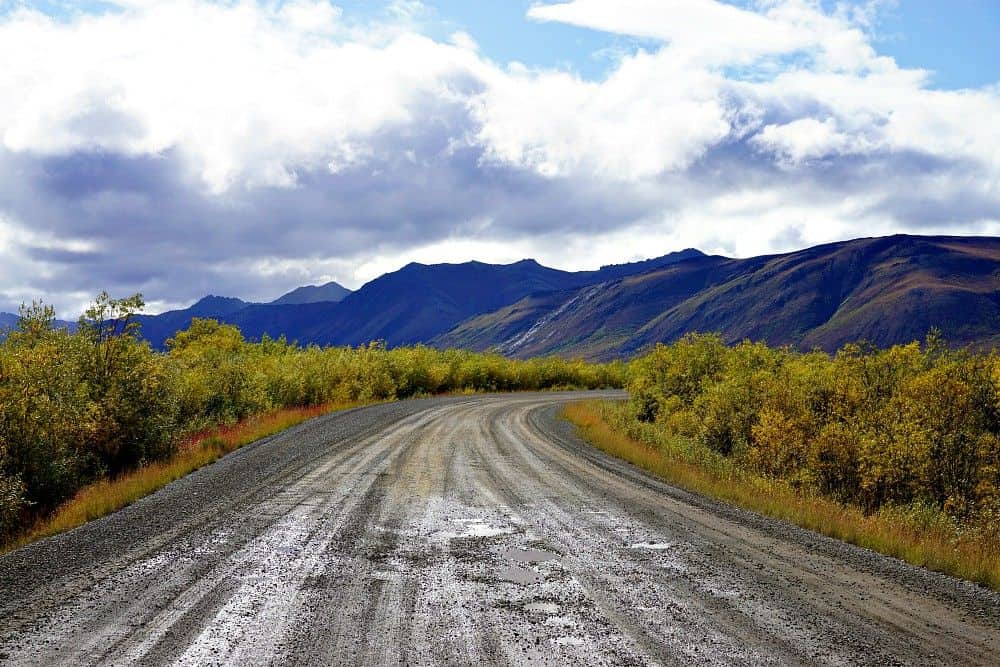 Off we go.
Thanks to my trip planning skills, I timed it perfectly, making it up there just in time for the fall colours, which come early due to the Northern climate. After taking a photo of the Dempster Highway sign, we proceeded North, making our way towards Eagle Plains (population: 9), the place we'd be spending the night. We had approximately 450 km to go and all of it was beautiful. Perhaps the most stunning landscapes were found in Tombstone Territorial Park, which is just 150 km north of Dawson. This place features jagged mountain peaks, lakes, and Arctic tundra. There's also a park office, which can help you plan your time there.
Over the next 300+ km, we drove by a seemingly endless array of natural beauty, finally ending up at Eagle Plains close to sunset. Eagle Plains is an interesting place. It's basically located in the middle of nowhere and yet, they have everything you could need. They have a restaurant, a hotel, a bar with a pool table and TV's, a campground, a gas station, and a mechanical shop. They even have WiFi, albeit not very fast. Actually, it's incredibly slow.
It was a nice break from the road and I'd highly recommend staying here, whether it's in the hotel or in the campground. Some people opt for making the whole trip in a day but not only is that really long, it also increases the chances of something bad happening, because if you break down, it will likely be dark. However, depending on the time of year, you may have daylight for a long time and so it will be up to you to make that decision. There's also a ferry crossing further north and if you don't make that, you'll be sleeping in your vehicle.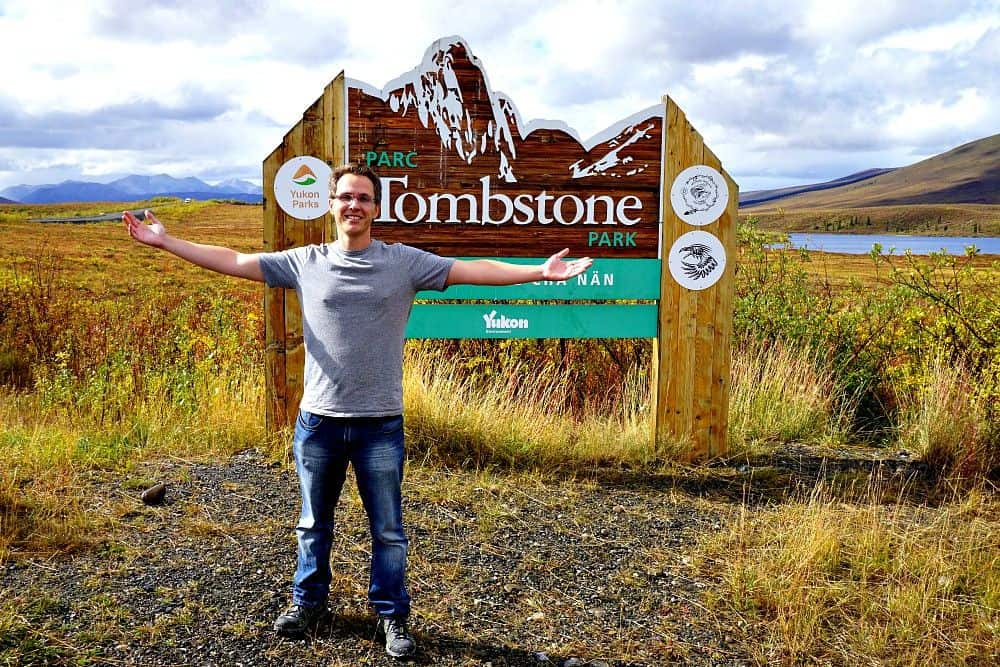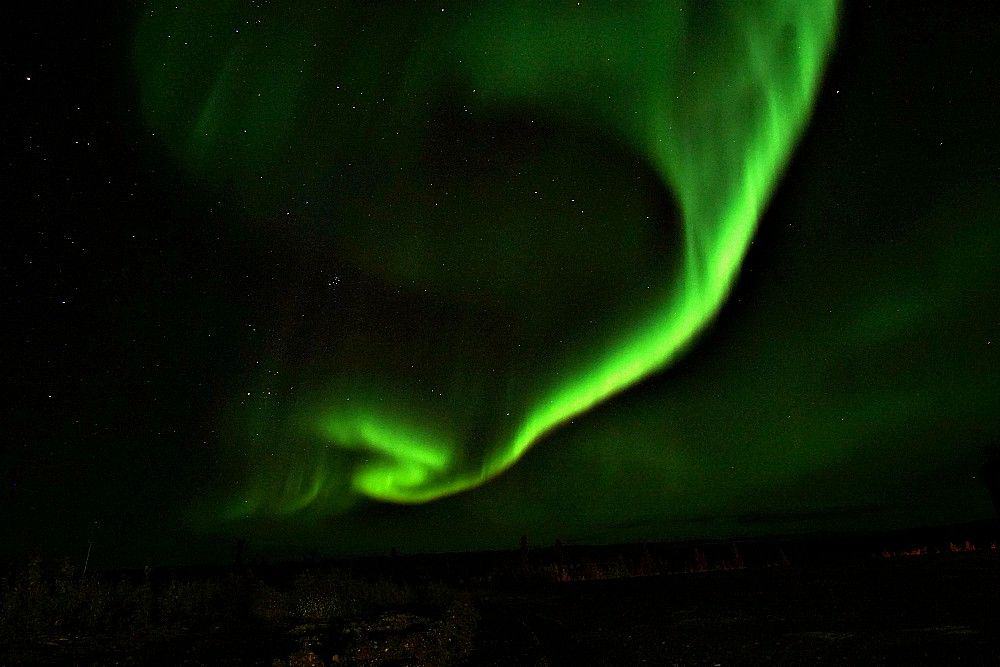 Anyways, we loved getting out of the vehicle after such a rough road. Since we had our own food to eat, we ended up getting out our camper stove and cooking up some pasta. With hot food prepared in the restaurant, this was a hard decision but due to our budget and wanting to get rid of some of the food we had bought, we decided to make our own. We then relaxed and set our phone alarms for 1 AM, just in case the Northern Lights were out. Luckily we did because as horrible as it is to wake up at 1 AM, we woke up to an incredible display of Aurora Borealis, dancing across the sky like green and pink ribbons. I grew up in Northern Alberta and saw my fair share of Northern Lights but this was the best I had seen since that time. The only downfall to the experience was all of the truckers leaving their truck engines running. It wasn't the best atmosphere with all the noise and lights from the hotel but it was still very impressive.
The next day, we opted for a hot breakfast at the restaurant, which was a surprisingly good value. After all, this place is truly far from everything and I expected the prices to reflect that. Instead, It was less than $10 for bacon, eggs, hashbrowns, and toast. It was also much better than hooking up the propane to our little stove and making instant oatmeal. It was very nice to have a break before getting back into the vehicle for another 365 km drive to Inuvik.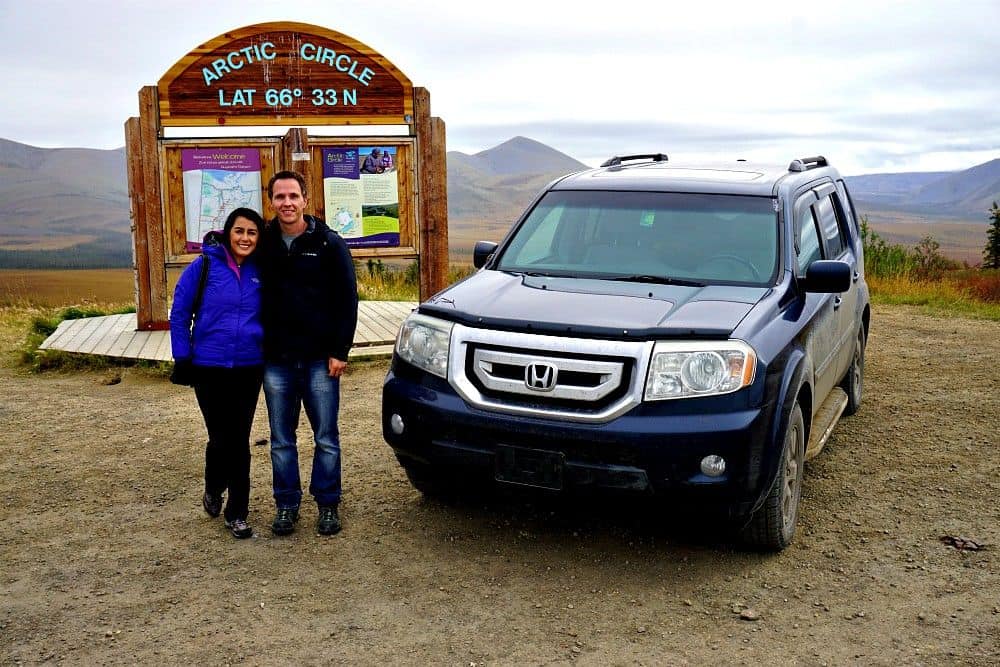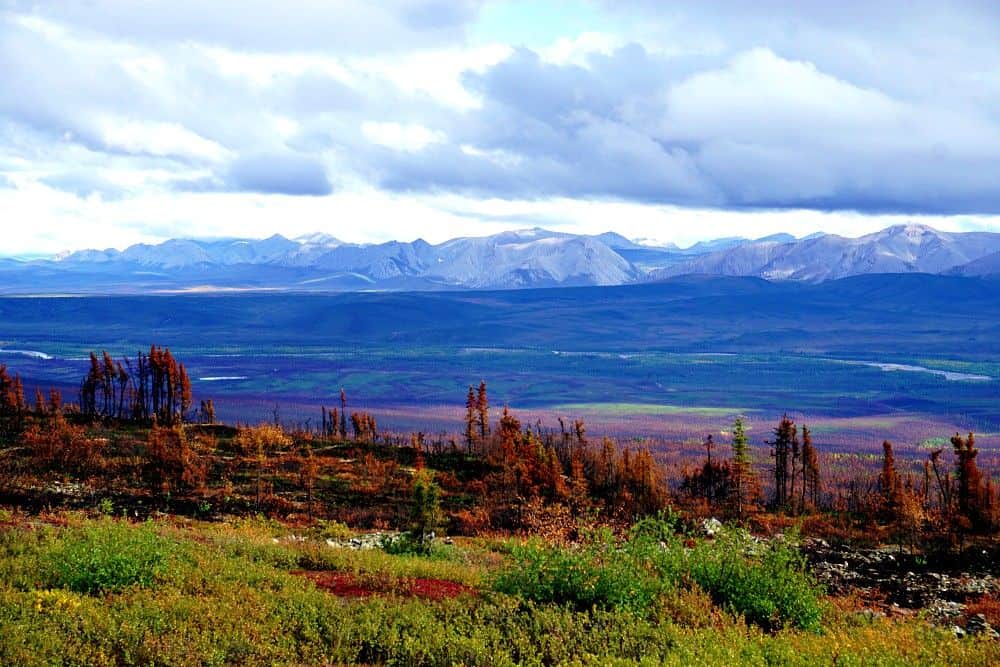 Not long after leaving Eagle Plains, we crossed the Arctic Circle, taking some time to take photos by the sign and get some drone footage. We also met some interesting people here, including one guy from my home city and another who was on assignment for Canadian Geographic. All adventures, that's for sure! You won't find anyone but adventurers driving this far north.
Click here to read part two: Driving to Canada's Arctic.