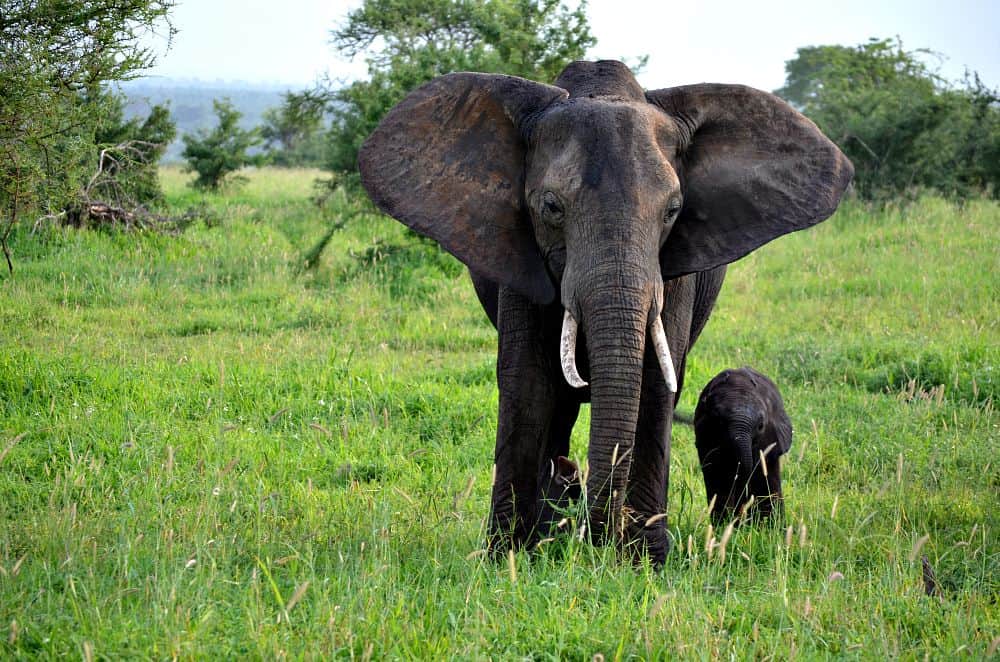 When one thinks of an African safari, thoughts of wild plains filled with giraffes, lion's and elephants likely come to mind. After all, it's one of the best places on Earth for wildlife encounters. A safari was something I had always dreamed of doing but due to the high cost, I had no immediate plans of making it happen. Then, an email arrived in my inbox.
The email came from an African safari company in Arusha, Tanzania called Tan-Pride. According to the email, I was talking to the co-owner, Greyson, who was interested in expanding internationally. He read my blog and wanted me to be their Canadian partner. I was intrigued by the offer but my "scam radar" went on high alert. I had to do some research to make sure it was a legitimate company.
I started with their website, which was very dull. Most links didn't work and it certainly didn't bode well for a company offering $4,000+ tours. I couldn't find any reviews online, which also seemed odd. At this point, I would have turned down the offer but then I found a woman in one of my travel-related Facebook groups who also operate a safari company out of Arusha. After explaining the situation, she had her husband look into the company for me. After a few days, he confirmed that Tan-Pride was real. He confirmed that they had an office and a fleet of vehicles, although he also mentioned that the vehicles were not maintained to his standards.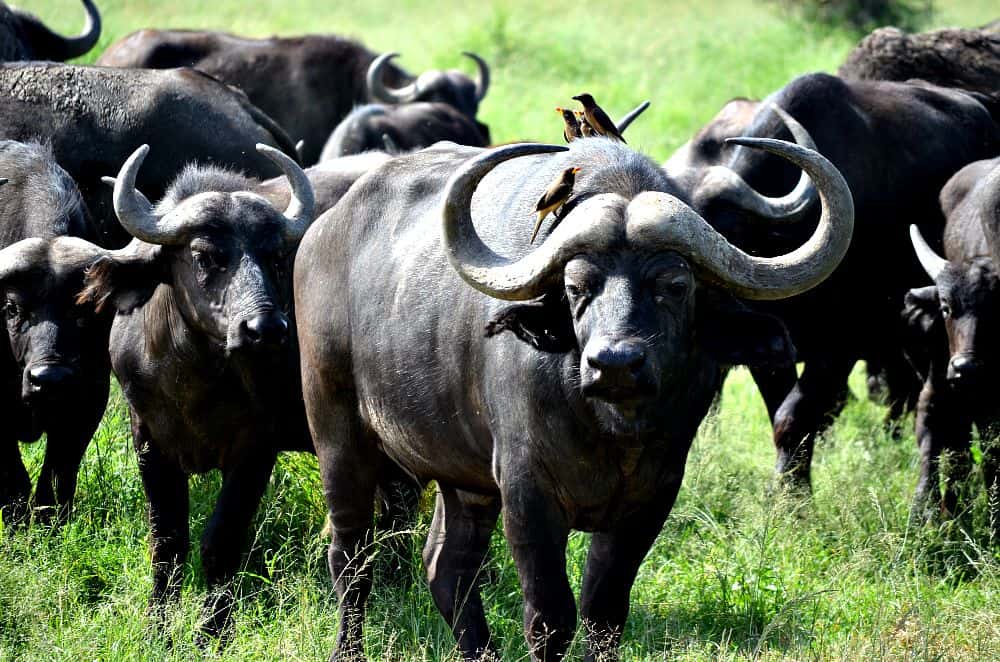 I told the company that they would have to offer us a free safari so that we could make sure the company was a good fit for us. I didn't bother asking for the flights because I was excited to use my travel hacking skills to fly business class around the world. That way, we could also add other countries to our trip, like Ethiopia and Japan. They agreed to the offer but instead of a free seven-day safari, they offered us a 20-day heavily discounted tour. The itinerary consisted of all the major parks such as Tarangire, Lake Manyara, Serengeti, and Ngorongoro Crater. It also consisted of a return flight to Zanzibar for a four-day trip around the island and seven single-day trips around Arusha to see Mount Kilimanjaro, waterfalls, and other small attractions. It sounded like a great offer. He then asked me if I wanted to invite some friends for a discounted price (more than what we were paying but cheaper than the regular price) and I thought it was a good opportunity to make someone else's dream trip happen. I spread the word and two people joined us. I still wasn't fully comfortable with the situation so I paid a small portion of the fee upfront and carried the rest of the cash on the plane with me. It was the most money I've ever had in my pocket.
Let the journey begin.
The four of us ended up on the same flight from Istanbul to Kilimanjaro, arriving at 2 AM on January 18th, 2015. Our driver was supposed to be there with our names on a sign but we couldn't find him, which began to worry us. Did we get scammed? As 3 AM approached, we got nervous and grabbed one of the last remaining taxis to take us to the hotel that Tan-Pride had booked us into. As we drove through the night, I couldn't help but worry about what I had done. Luckily, Greyson ended up calling the taxi driver and asked to speak to me. He told me that his driver was at the airport but had fallen asleep in the car. He apologized and told me that he would pay for the taxi when we arrived at the hotel. It was a breath of fresh air.
After about 45 minutes of driving, we finally reached the hotel. There, we met the guys  (including the driver who had fallen asleep), had a quick snack, and went to bed. The next day was when the real shit show began.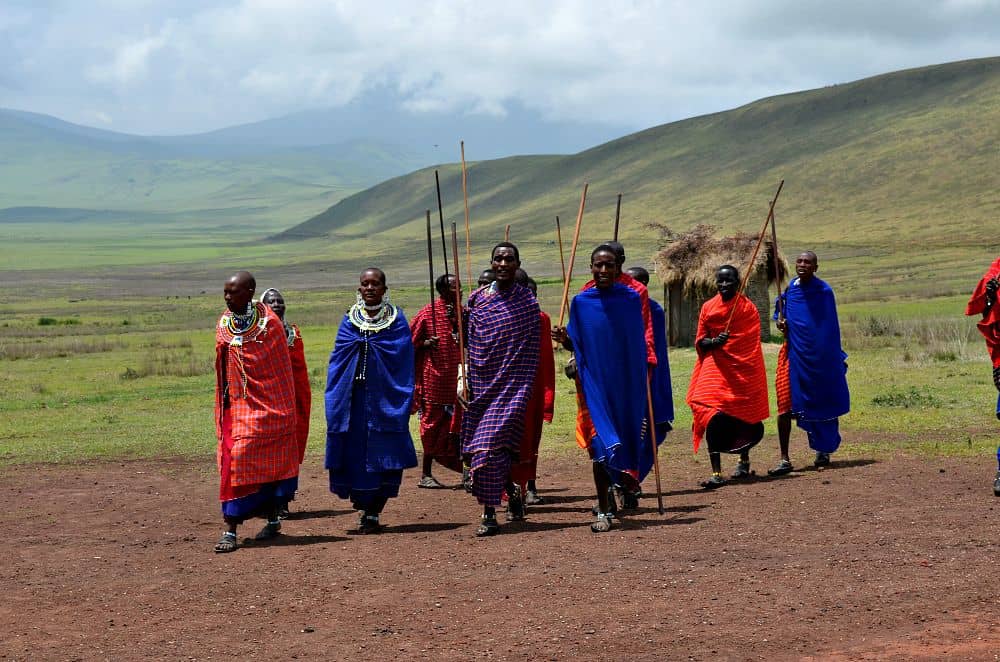 Day 1: The Day to Pay
This was the day where we were supposed to pay the remaining balance. But before doing so, Greyson asked us to pay for our flights to Zanzibar. I told him that the itinerary stated that the flights were included and that he can't change an itinerary once it's been sold. He said it was a mistake and that it wasn't included in the offer but my wife and I refused to pay. We weren't about to fork out another $600 for flights plus ask my friends for another $600 as well. After a couple of hours, we didn't really agree on anything so we just went to the office to pay the rest of the fees without the added flights. This was one of my dumber moments in life because I should have clarified the flight scenario before paying the remaining balance. However, I felt I was in an odd position. Here I was in Tanzania with three other people for a planned safari. We had already paid half. What would we do if the trip was canceled?
So I paid the balance, including an additional $2,000 for an added week-long trip to Uganda for my wife and I. He seemed iffy on giving a receipt but after much insistence, he called his accountant to come over and issue a receipt. Talk about multiple red flags. Even the receipt was informal, which is pretty bad for a trip costing thousands of dollars.
(Don't forget Binoculars when going on a safari! You'll need them to see the animals better. Click here for a list of the best travel binoculars)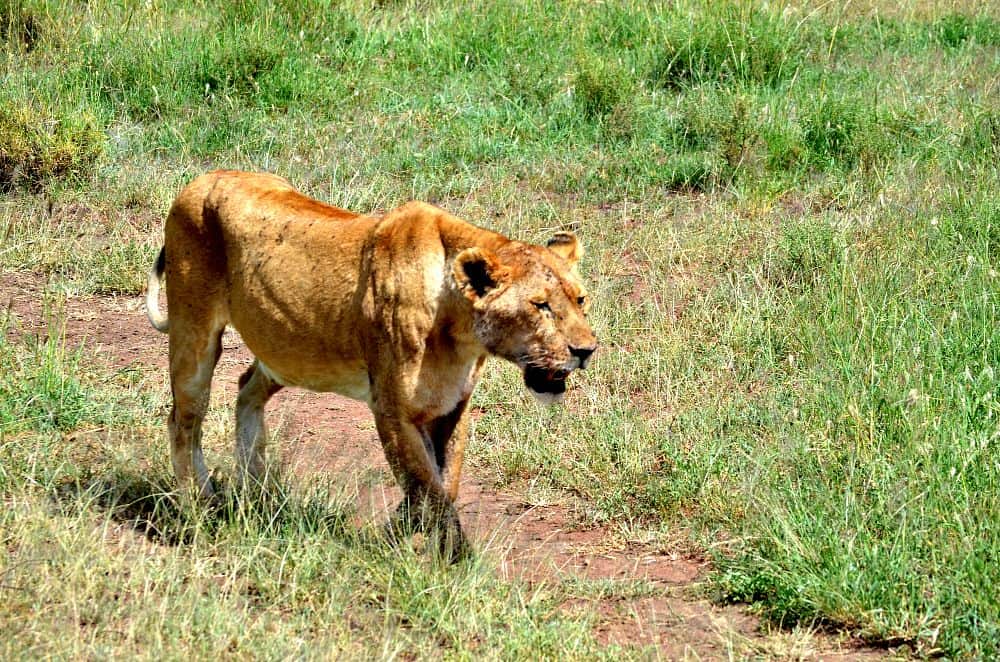 Day 2-7: The Safari Begins
After an awkward arrival and a day of partial rest and uncertainty, our eight-day safari began, or so we thought. As we left, Greyson mentioned that he would see us in a week, which sounded right. Unfortunately, after enjoying the first park, we began to see that the itinerary he gave the driver was much different than the one he had sold us. Our eight-day trip had now become a five-day trip.
Our first part of the tour was supposed to be as follows:
Tarangire National Park: Evening game drive + night in the park + morning game drive + night in the park (Two nights total).
Lake Manyara: Full day game drive + night in the park.
Ngorongoro Crater: Full game drive + night in the park.
Serengeti National Park: Four nights in the park and full game drives each day.
As you can see, the itinerary had eight nights of accommodation. What happened instead was this:
We did one afternoon drive at Tarangire National Park and then drove a whopping 80-km away from the park to a hotel that was relatively close to Ngorongoro crater but outside of the park. The lodge was nice but getting there in the dark didn't allow us to enjoy it anyway. We didn't stay in Tarangire National Park at all, which meant that we missed multiple game drives and that we skipped Lake Manyara altogether. After getting into a heated argument on the phone with him, we chose to just enjoy what he had of the trip because there wasn't anything we could do from where we were.
The next day, we did the game drive in Ngorongoro crater, which was nice. We saw heaps of animals, including all of the "big five". In fact, we even saw a lone Rhino. However, instead of staying in the park, we drove 30-km out of the park to a very fancy hotel called the Manor. This place was gorgeous and at a rack rate of $1500/night, it was very luxurious. But while the lodge was great, the itinerary was changed once again. We didn't stay in the park, which meant that we lost valuable time with the animals.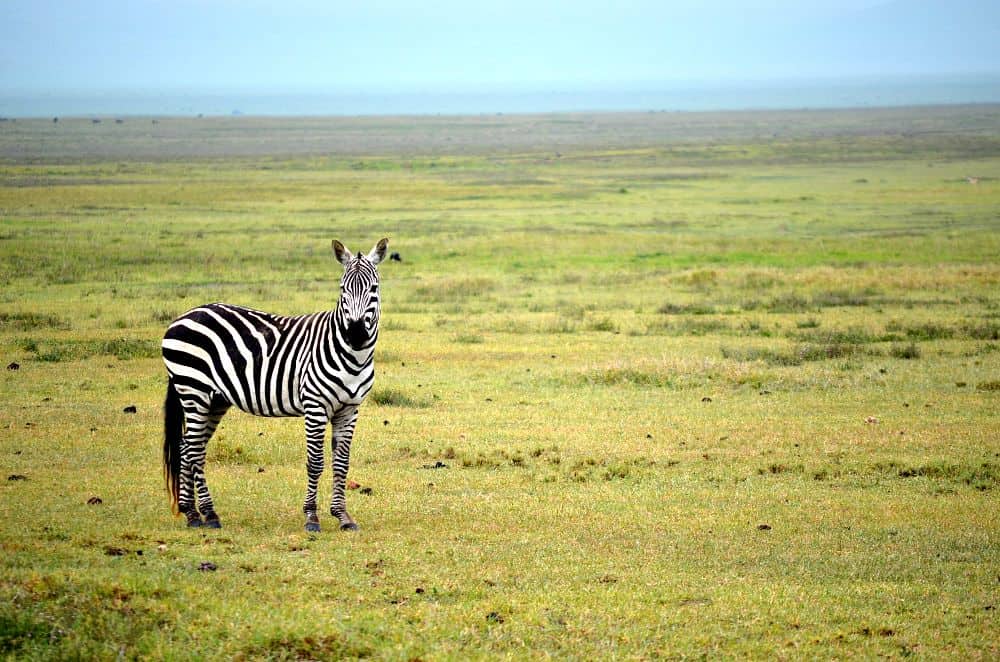 The next day, we drove to Serengeti National Park. We stayed at the wonderful Soroi Lodge but only for three nights instead of four. Even worse though was that Greyson didn't book our flights from Serengeti National Park to Zanzibar as promised, which meant that we had to drive all the way back to Arusha, a distance of roughly 350-km. On the way home, we also blew a tire while driving faster than 120 km/h, which was a terrifying experience.
After making it back to the hotel around midnight, we were so exhausted and stressed that we went right to sleep, not looking forward to the next day. Instead of having three days left on our "eight-day safari", we were waking up in our crappy hotel in Arusha, getting ready for an angry meeting with Greyson. At this point, everyone was seriously upset. I was practically shaking from anger, while both of the ladies had been crying. Having people join the trip for a higher price was adding to my stress.
We should have been on the safari for another three days. We also should have flown from the Serengeti to Zanzibar as noted on the itinerary, which would have saved us a full day drive. What a mess.
Day 8: We Need to Fly to Zanzibar
After a full day of arguing and stress, I agreed to pay for our flights (Karla and myself) but not for the others. Greyson agreed to pay for theirs. I had to do something so that we could get to Zanzibar. Greyson took us to an ATM and we got the cash. He then booked our tickets but decided to book them for a flight departing in less than two hours. Considering that the airport is a one-hour drive from the hotel, I told him that it was a stupid idea. He proceeded to tell me that there was nothing to worry about and even took his sweet time in printing out our flight itinerary.
Finally, we left with the driver who was frantically trying to drive us to the airport as fast as possible. When we got to the airport – you guessed it – we missed the flight. Actually, it was still there but we were too late for check-in. Rules are rules and they wouldn't let us in. We called Greyson who then blamed us and the driver for missing the flight. He told us that WE would have to buy the new tickets ourselves. As you can imagine, our blood was boiling. The girls were crying and so my wife and I decided to become very serious. I called Greyson and threatened legal action. We argued and argued. Then he and my wife argued and argued. We told him that another plane was leaving soon and that he had to pay for it. He told us to wait. Four hours later, he called and told the driver to bring us back to Arusha where we would be staying at another hotel.
Another wasted day of stress and anger.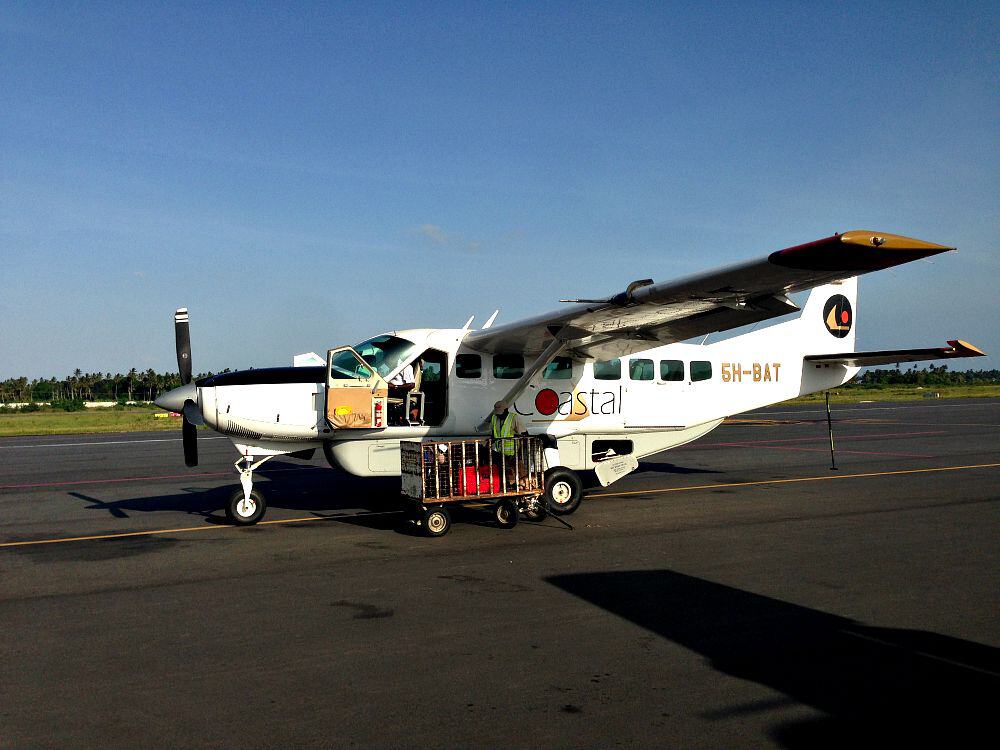 Day 9: We Still Need to Get to Zanzibar
Out of embarrassment (assuming), Greyson booked us into a different hotel in Arusha instead of the one we had been staying at since we had arrived. He also booked us on another flight for the next day but instead of being a normal person and booking us a direct flight, he broke it up with a stop in Dar es Salaam. This is where we had to meet a lady and pay for our second flight! Imagine that. He booked us a one-way to a different area and then made us meet some agent and pay her for our next flight to Zanzibar. Instead of a two-hour flight, it took a full day.
However, booking us into a different hotel in Arusha was a silver lining. The management of the new hotel could tell that something was wrong. It turns out that this guy had worked for Tan-Pride in the past and knew other people in the organization. He then called the operation manager of Tan-Pride who came and met us at the hotel. This guy seemed much more professional and assured us that he would fix the problem. At this point, we had no idea if anything positive would happen but it made us feel a little better. The next day, we began the flight to Zanzibar.
Day 10 – 15: Zanzibar, We Have Arrived!
After a long day of meeting random people to pay for flights, we finally arrived on Zanzibar island. An agent met us at the airport and transported us to our hotel. Once again, problems, problems, and more problems. So, let's start here. The itinerary called for four nights in Zanzibar. We were booked into a nice hotel on one of the beaches. Our itinerary was also to include all of our local tours (visiting a spice farm, etc). However, when we got to the hotel, the hotel management said that only two nights were booked and that nothing else was included. Back on the phone with Greyson we went. After more arguing, we got our four nights. We didn't even bother arguing about the tours. We also decided to stay an additional two nights in the city and pay for that ourselves. After all, the last thing we wanted was to fly back to Arusha.
Overall, our stay was quite nice. We stayed in a beachside hotel that had a beautiful pool overlooking the sea. We even made use of the in-house dive shop and explored the ocean on a couple of dives. The hotel's restaurant was very good and it was nice to finally relax and not worry about what was going to happen each day. We ended up paying for our own tours, which wasn't a big deal at this point. We just didn't want any more trouble.
However, when the time came to check out of the hotel, we realized the game that Greyson had been playing this whole time. As we checked out, the owner of the hotel asked to speak to me. He asked about our stay and if we enjoyed the amenities. He then asked about how many tourists I'd be sending his way, considering that I was a massive tour agent in Canada. Uhhh, what? At this moment, I realized that Greyson must have lied about our visit. Yes, I'm a travel writer but no, I am not an agent ready to send hundreds of people to Zanzibar. I told the owner what was happening and that I'd certainly recommend his hotel to my readers (after all, it was very beautiful), but that I wasn't a tour agent who'd be booking people into his hotel directly. Long story short, he said that he was happy that I told him the truth and that he would never do business with Greyson again. Looks like I wasn't the only one tired of Greyson.
Before flying back to Arusha, we stayed in the city for two nights and just explored at our own pace.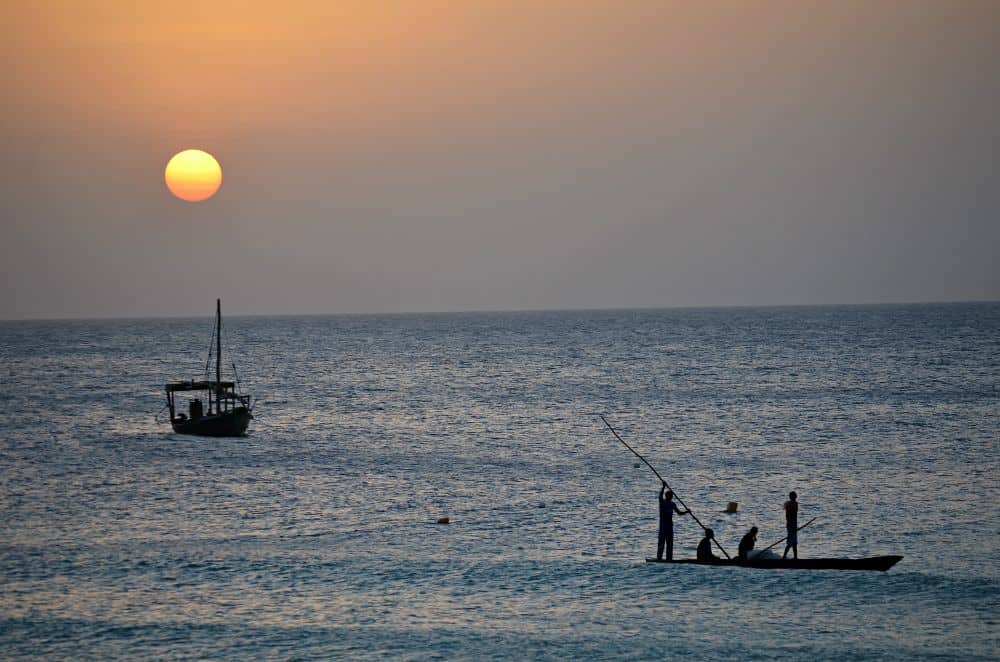 Day 16: A Talking Safari
We landed in Arusha and were picked up by a new driver. By now, we just wanted the trip to be over. At the same time, we wanted more activities added for the money we had paid or a refund. Once again, we sat down with Greyson and talked about fixing what was left of the trip. This took another day.
Day 17-18: Added Activities
Over the next few days, we visited some small local attractions and parks as the company struggled to fill our "20-day" safari. We did some cool things such as visiting an oasis in the middle of a desert. It was okay but nothing special. At the same time, the operations manager has promised to send us back to Tarangire National Park and Lake Manyara. This was certainly nice of him, although it certainly didn't repair the many lost game drives missed along the way.
Before I continue, I want to remind you that two out of the four of us had paid almost full price for a tour that was completely broken, filled with lies, and full of stress.
Day 19: We Demand a Refund
By now, we had enough. Our trip was broken beyond repair. We spent just as many days arguing as we had on the safari. It was literally the worst trip of our lives and that says a lot considering I had been to over 30 countries by that point. We knew it would be hard to get money back from the actual tour but we definitely wanted our money back for the flights to Zanzibar and for our the one-week tour to Uganda we were supposed to go on next. Obviously, we no longer wanted this tour. Of course, Greyson resisted. Thankfully, our Facebook friend who also owns a safari company Arusha, came to our rescue. They picked us up and brought us to the tourist office, which is sort of like a court system for travellers having problems with tour companies.
We met with the director and told him what had happened. He then set up a meeting with Greyson and the president of Tan-Pride. After a lot of arguing back and forth, our flights to Zanzibar and the $2,000 "Uganda tour) deposit was returned to us. Then, on our awkward drive back to the hotel, the management from Tan-Pride had the nerve to ask;
"So when can we do business?"
I must have looked like a deer in headlights. Could they be serious? Did they really think that I would send people from Canada on this tour after the experience we had? I was so baffled by this comment that I barely answered back.
But wait, it's not over!
The management of Tan-Pride asked us to meet them in the lobby of the hotel. We figured that they probably wanted to apologize. Nope. Instead, they asked us to give a tip to the driver. We liked our driver a lot and after talking it over with the others, we decided to give him $300 USD. Instead of saying thank you, he got extremely angry and declined. He said that $300 was nothing and that we should be giving him $1,200. We were all baffled once again. Since when is a tip a certain amount? Not to mention all the problems we had. After more arguing, it was revealed to us that once again, this was a problem caused by Greyson. It turns out that Tan-Pride wasn't paying the driver a salary because he told the driver that WE would be paying him his salary plus tips. I then pulled out our contract, which said that the salary and all other drivers fees were to be paid by Tan-Pride. Yet, even with this proof, the driver was mad at us. We couldn't believe he was mad at us. We gave him the $300 USD and walked out.
I couldn't believe what was happening.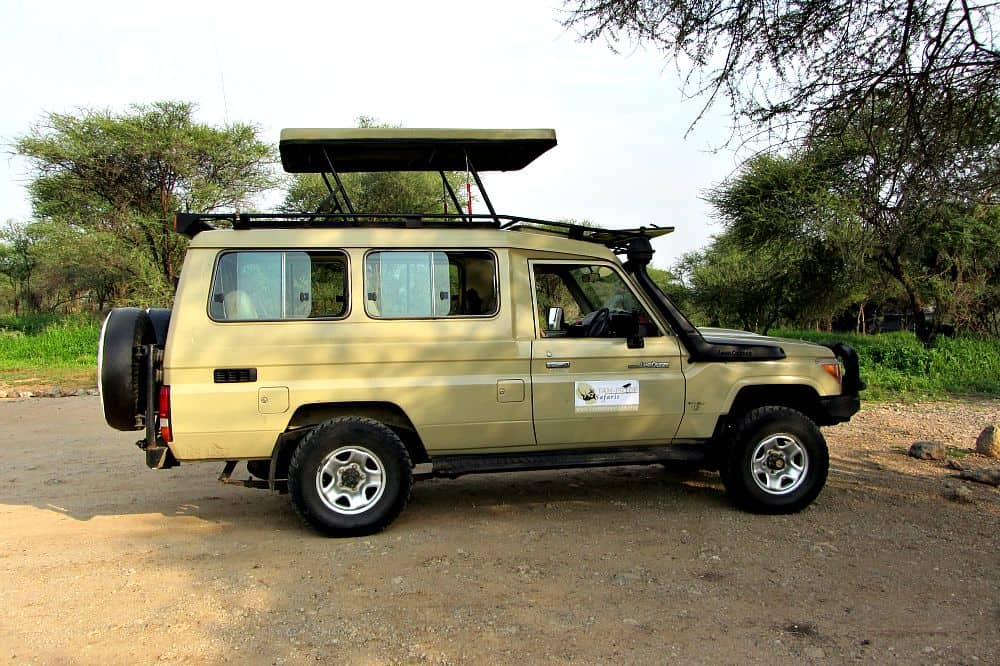 Day 20: It's Finally Over…Sort Of
Finally, Day 20 arrived and our friends left for Europe. We, on the other hand, decided to hang out with our new friends from Facebook. They had offered to take us to their farmhouse for a couple of nights, which we were excited for. But just when we thought the madness was over, something else happened. As we waited outside of our Arusha hotel, excited to never see Tan-Pride again, the operations manager came out to talk to us. Now, this guy we actually liked. We weren't sure if we could trust him but he's the one who tried to help. Again, we thought he was coming to apologize. Instead, he talked about doing business again (as if) annnnnnnnd, wait for it, wait for it…that there was a piece of our bed broken.
What?
We certainly didn't notice anything wrong with the bed but we decided to follow him up to the bedroom anyway. Some little wooden piece under the bed was broken. however, we didn't do it and we didn't even notice it. We had just been sleeping like normal people. Actually, I didn't even sleep half the time thanks to all the stress. He seemed embarrassed but still asked for $30 to fix it. We declined, obviously. He agreed with us and went back inside the hotel.
Karla and I looked at each other dumbfounded. Imagine this. After causing SO MUCH TROUBLE over 20 days and having us take them to tourism court for our money back, and dealing with our driver complaining about his tip…. now they have the nerve to ask us for $30 to fix something we didn't' break? What a joke.
At the same time, it was the perfect ending to such a F$%&ed up trip. At painful as it was, I knew it would make a good story, albeit a long one. Finally, after an awkward wait outside the hotel, our new local friends came and took us to their lovely farmhouse near Mount Kilimanjaro where we had some great local food and great conversation. I'm not sure what we would have done without their help as it felt so nice to not feel alone.
Despite all of these problems, we loved the experiences we did manage to have. Showering on a deck overlooking the Serengeti, watching Lion's scratch themselves on our truck in Ngorongoro Crater, and walking the old streets of Zanzibar are just some of the highlights. However, this experience did make me realize the most important aspect of a proper tour company, which is the organization of it all. I came up with an analogy, which I really like.
"Think of a tour like a gemstone necklace. All of the little gemstones are the actual experiences. The thread is the tour company. The thread keeps the gemstones together in a pretty, organized fashion. When the necklace is broken, the gemstones are all over the place. Individually, the gemstones are still pretty, but can't be fully appreciated when they're all over the place." – Matt Bailey.
Our necklace was broken.
***
I hope you liked this story. It took me a while to write it because there were so many pieces to the story and I didn't know how to frame it into one single blog post. I hope this sufficed.
The good news is, is that having experienced this, I did find some very reputable African safari companies in Tanzania. If you're interested in a safari and want to go with a small family-owned operation, send me an email to matt (at) livelimitless (dot) net and I'll help you find a good one.
Happy Travels!
Matt