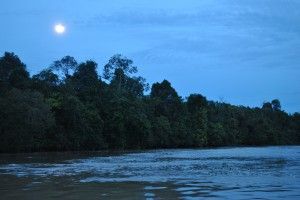 It was 7 AM, and although I was exhausted from our elephant encounter the night before, I found myself on a big boat headed down the river for Abai Jungle Resort. The cool thing about the Abai Jungle Resort is that its accessed only by river, giving it a much more secluded and peaceful feel. It's also the only lodge in the area so there's no need to share animal sightings with many other boats.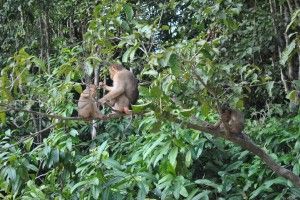 Before we even arrived at the lodge via river boat, we had a big surprise. We were greeted by a male and female orangutan sitting on some branches in a nearby tree. I had never seen a male orangutan before so this was really incredible. Using the guides binoculars, I was able to see its massive body, huge head, and human-like goatee. This big creature is 4x stronger than a human and can rip one of us in half. This is when it's nice to be in a boat. The female was in the next tree watching us stare at her man. You really never know what you'll see on the Kinabantangan river.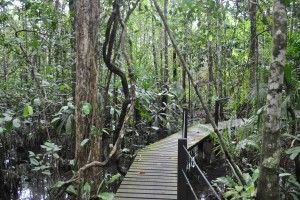 As we arrived to the Abai Jungle Lodge, I was greeted by our new guide and shown to our chalet. Owned by the same company as Kinabatangan Riverside Lodge, it too had a beautiful raised walkway going throughout the swampy jungle connecting it to various viewing platforms and sundecks.  It also had a walk-way of beautiful flowers for couples to stroll through.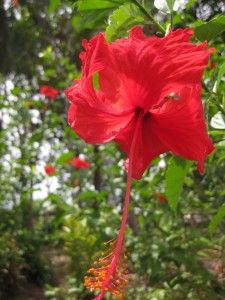 After breakfast, we went to the other side of the river for a tour of the local village. Our guide explained to us about some of the local fauna and flora, and how the past generations used them for many things such as natural hair dye and cloth coloring. After seeing the big school and some local houses, we got to plant a tree. Although this doesn't sound like a big deal, it's nice to see the government working with the locals to replant what has been torn down. We also had the rare chance of witnessing the unique water-propelled mini-speed boats that just so happened to be getting raced that day. Right before our delicious lunch, we watched these mini-speed boats race up and down the river with one guy availing as the victor every time.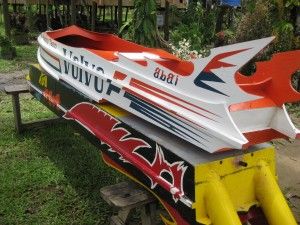 Our afternoon cruise proved very good as well. Different than the other river cruises we had previously taken, this one started later so that it ends after sunset, giving you the chance to experience nightfall on the boat. We saw plenty more macaques, probiscus monkeys, tropical birds, and even a huge crocodile, with his dinosaur- like tail lurking out of the water.
As the sun went down, we had a bright full moon luminate the river. We turned off the engine and had some tea and biscuits. Coasting with the current under a full moon while listening to the sounds of the jungle was very soothing to the soul. After finishing our tea, we made way to check out the local firefly trees that are covered in what looks like twinkling Christmas lights. We also dropped in on some sleeping birds and another crocodile before going back to the lodge for another big meal.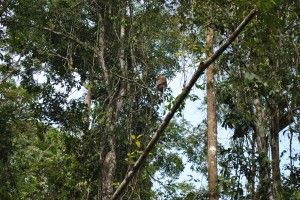 But even though it was 8 PM, the adventure wasn't over yet. It was time for our guided night walk that took place over the raised wooden pathway, stilted over a swampy jungle. We saw beautiful lantern bugs (yes, I said beautiful), stick bugs, massive crickets, scorpions, spiders almost the size of my hand, owls, and little sleeping angry birds nestled on branches underneath single leaves to protect them from the rain. When we got back to the room, there was a huge wild pig outside. We watched him from the raised walkway as the staff fed him lots of food. I'm pretty sure this is his home now.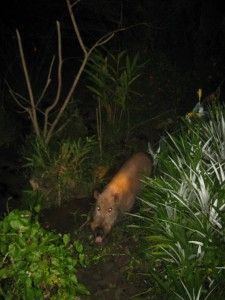 All in all, the Abai Jungle Resort was an amazing experience. Situated right in the jungle, we saw wild orangutans and Proboscis monkeys right from our room. No boat necessary. There was also a snake on the ceiling of the living room one of the nights and an owl crying out from a nieghboring tree. We got to see beautiful fireflies and a wide range of insects (my favorite being the lantern bug). The staff were incredibly friendly and helpful and the lodge even had Wifi for those who really need to "connect".
Ahh, Now I'm starting to wonder why I left…
***
Want to spend a night in Abai?
It's easily accessible by Sandakan (Sabah, Borneo) on a 1.5 hour boat ride. Alternatively, you can combine your trip with a night at their Kinabatangan Riverside Lodge in Sukao, allowing you to see two beautiful places and giving you more time for wildlife spottings. Definitely a highlight of Sabah tourism and our trip to Borneo.
Simply contact S.I.TOURS to find out information and book the trip. If your interested in anything about this trip, please contact them.
Bring binoculars if you can but some guides have some to lend you when animals pop up.