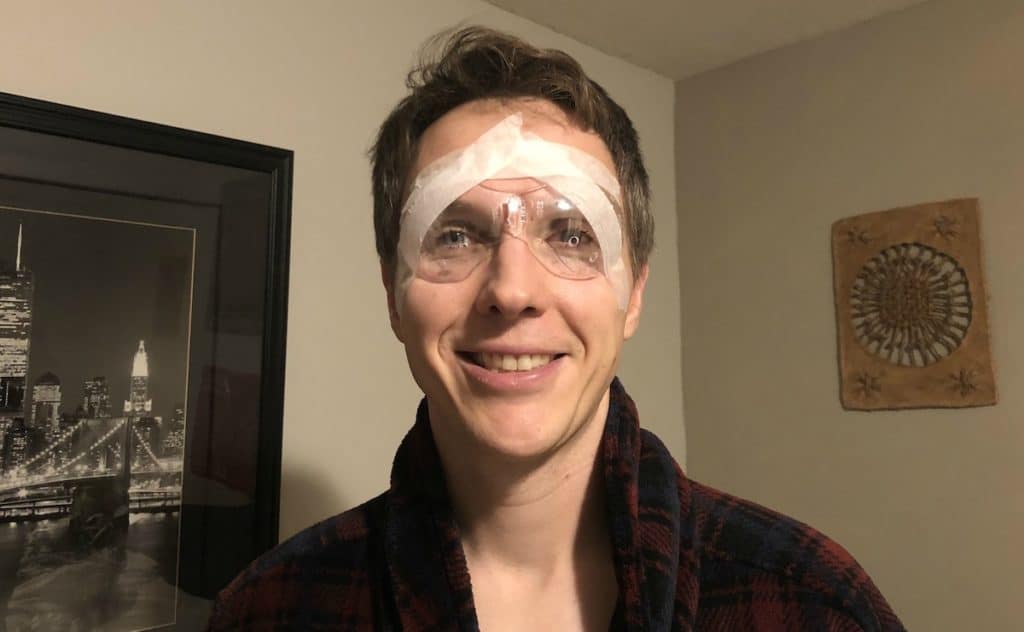 (Disclaimer: This is my personal experience with having PRK/TSA eye surgery done in Calgary, Alberta. I am in no way a doctor nor am I recommending you get the surgery. This is a very personal decision and you should absolutely seek the advice of a professional before making any decisions.) 
For as long as I can remember, I've worn glasses. I'm not sure exactly when I was prescribed glasses but it was definitely in the early years of elementary school. They started off as big ugly things. Big glasses that stand out in pictures and make me cringe when I see those photos now. Slowly, they became smaller and smaller, but still relatively ugly. Eventually, I also tried out contacts, but due to my strong astigmatism, they were expensive and not very comfortable.
Eventually, as I got into high school, college, and university, my glasses got more stylish. I didn't love them but I didn't mind them too much. I guess I just grew into them. However, the one thing I always hated about glasses is that they got in the way of everything I did.
Playing hockey, I never had full vision. I didn't like contacts and I couldn't wear glasses under my helmet.
Scuba diving, I never had full vision. Contacts were a pain and very expensive.
Kissing my wife, they were always in the way. They'd jab into her head or the lenses would get mucked up.
It didn't matter what it was, they were in the way. They'd get dirty. They might get bent or break. I really hated having to wear them and contacts were even worse because they made my eyes so dry.
Bring on PRK Surgery – Part 1
For years and years, I asked about Lasik eye surgery but due to my strong astigmatism, it wasn't an option. Eventually, I gave up on asking and succumbed to the glasses. Then in 2017, I bumped into someone who was telling me about their experience with PRK surgery. This is a bit different than Lasik surgery but typically done by the same doctors. This guy was telling me that he had the surgery done despite his strong astigmatism. I was intrigued.
Has technology improved? Maybe I could finally get laser surgery!
I immediately did some research for Lasik eye doctors in my home city. One of them offered a free consultation, which means they give you all the eye tests to determine if you're a candidate, free of charge.
Sounds like a great deal to me!
So, I booked myself in and went for my appointment. After a couple of hours of various tests, I was told that I was indeed a candidate for Lasik eye surgery. I asked if PRK surgery would be a better fit and they said no. Since PRK surgery has a much longer recovery time, they told me not to bother with it. I agreed and signed up for the surgery.
Then I backed out…
The day of surgery came. I was so nervous that I didn't even sleep the night before. After all, frikkin laser beams were going to go into my eyeballs. It's kind of scary and sight is so important to living an amazing life.
But it wasn't the fear that caused me to back out. It was because, on the morning of the surgery, the nurse who was seeing me beforehand told me something different than what I was told in my initial consultation. Basically, the vision I was going to get wasn't as good as I was told. This made me nervous. Why would the tests reveal different things? Maybe my eyes were dry from lack of sleep. Either way, I wasn't sold anymore. Plus, I had a 150-day Canada road trip coming up and I didn't want to have problems with that.
Flash forward to 2018.
After a successful multi-media road trip to experience the best things to do in Canada, I came back wanting the surgery even more. This time, however, I sought out a smaller clinic that had all 5-star reviews. I put hours and hours of research into the surgery, the clinic, and even the doctor who would be performing the surgery itself.
I went in for another free consultation and this time I felt much better. I was told my eyesight would actually be better than I was told the first time.
And this time, they mentioned PRK/TSA (I'll explain what TSA is at the bottom of this article). They didn't say PRK was mandatory for me, but they did say it might be the slightly safer option. It was also $1,000 cheaper.
PRK Eye Surgery – Part 2
I got the surgery on February 8th, 2018. This time, I didn't feel as nervous. It was still scary, but I felt much more at ease. I also emailed the clinic dozens of times asking various questions to ease my anxious mind prior to the big day.
I went into the clinic early in the morning and went through the eye tests again to make sure nothing had changed. This time, all was good. Eventually, I was brought into the operating room where I was laid down onto a bed with the laser machine over my head.
The doctor came in and explained what the procedure would entail before putting some numbing drops into my eyes. Once they were numb, he took a cloth to clean my eyes. Everything about laser eye surgery is clean. Obviously, no one wants an eye infection! I remember this part of the surgery so well because it was like my eyes had become windows. As the doctor rubbed away any excess dirt with this cloth, I couldn't feel anything. I could literally see the cloth rubbing my eyes the same way someone washes a window. Yet, I couldn't feel anything. It was so strange.
Finally, he started up the laser and began the procedure. From what I understand, PRK surgery is quite different from Lasik surgery when it comes to the laser. For my mom, for example, she had Lasik surgery and said that once her flap was opened, everything went black and it felt like she was blind. That sounds terrifying. For me, that didn't happen at all. I just looked at this laser over my eye, watching it make weird designs. I could smell the burning of flesh. Supposedly, this is the smell of the laser itself. I don't know. It just smelt like burning. Either way, I didn't feel anything and after just two minutes and four seconds, my life was changed.
Imagine that. 62 seconds per eye. That's it.
I was amazed when the doctor said it was all over.
Really? That's it?
I was then moved to another room where a nurse and the doctor would come to check up on me. Once I was approved to go, I had to slip on dark sunglasses, which I would need to get back home. Obviously, I wasn't able to drive, so my parents picked me up.
What is PRK?  PRK VS LASIK
Basically, Lasik surgery cuts a flap in the outermost layer of your eye. Once the flap is lifted, the laser corrects the cornea. Then the flap is placed back down, and within a day, you typically have full vision. With PRK/TSA, the outermost layer of the eye is removed entirely by laser. Then the correction is made. And then glass contacts are put in your eyes to protect them from the elements while the outermost layer grows back on its town. This takes 7-10 days, which is why the recovery is much longer.
In addition, PRK doesn't cut as deep into that outermost layer, which allows for further surgeries down the road if needed. I don't know if there's an exact number but typically with Lasik, you can get one additional surgery down the road, and with PRK/TSA, you can get three. Also, once healed, PRK is much more stable than Lasik surgery because there is no flap. The downside is a full 7-10 days of little vision. Plus, some people have a lot of discomfort over that week, requiring painkillers and other medications.
Still, after all the research I had done, I decided to go with PRK surgery, especially due to the new advanced TSA procedure. I figured the 7-10 recovery time was worth it for the safety of it all. Plus, I had dealt with glasses for more than 20 years. 7-10 days? Piece of cake.
What is TSA? 
The PRK surgery I had is called TSA. (You can learn more about it here.) It's an advanced form of PRK and might be the reason I had very few problems afterward. TSA stands for Touchless Surface Ablation. This is the most advanced and proven form of PRK laser eye surgery treatment. What happens is the outermost layer of the cornea is removed using a unique laser algorithm before reshaping the cornea with an excimer laser. For me, this was done using the Schwind Smart SurfACE. This offers a faster technique and a quicker healing response.
From what I understand, it was the most advanced eye surgery I could have had done and when it comes to your eyes, only go for the best!
PRK Recovery Time
With Lasik surgery, most people are back at work the next day. For PRK surgery, you need at least one week, if not more. For seven days or more, you literally can't see very much. My vision was incredibly blurry, like looking through an oily glass. I wasn't able to be around any bright lights, including the outdoor sun and the indoor TV. At nighttime, I had to tape plastic shields to each eye to make sure my fingers didn't scratch my eyes while I slept. I had to put multiple drops in my eyes every 15 minutes. It really is a lot of work and life is really boring when you have no vision. It really makes you appreciate being able to see.
I wasn't able to read. I wasn't able to look at a phone. I wasn't able to go on the computer or watch TV. I wasn't able to go outside. Nada.
All I did was lie around and listen to podcasts and music.
However, I had no pain! No pain or discomfort whatsoever. I didn't even take one Tylenol T3. So, I can't complain! Some people have major headaches for many days after surgery. For me, it was a breeze.
My PRK surgery cost was $4,000 CDN. This includes lifetime treatment if they need to re-do my eyes and all my follow-ups for life. PRK cost is not cheap but it's a life changer. Plus, I don't need to buy glasses anymore or deal with contacts and solution. At the same time, my cost of eye drops has gone up a lot. I've always had dry eyes but nothing like they are now. They aren't terrible but because I buy non-preservative drops, they cost $15 per little bottle. One bottle lasts me one month. For the first six months after surgery, I was using one bottle per week, so it was getting expensive.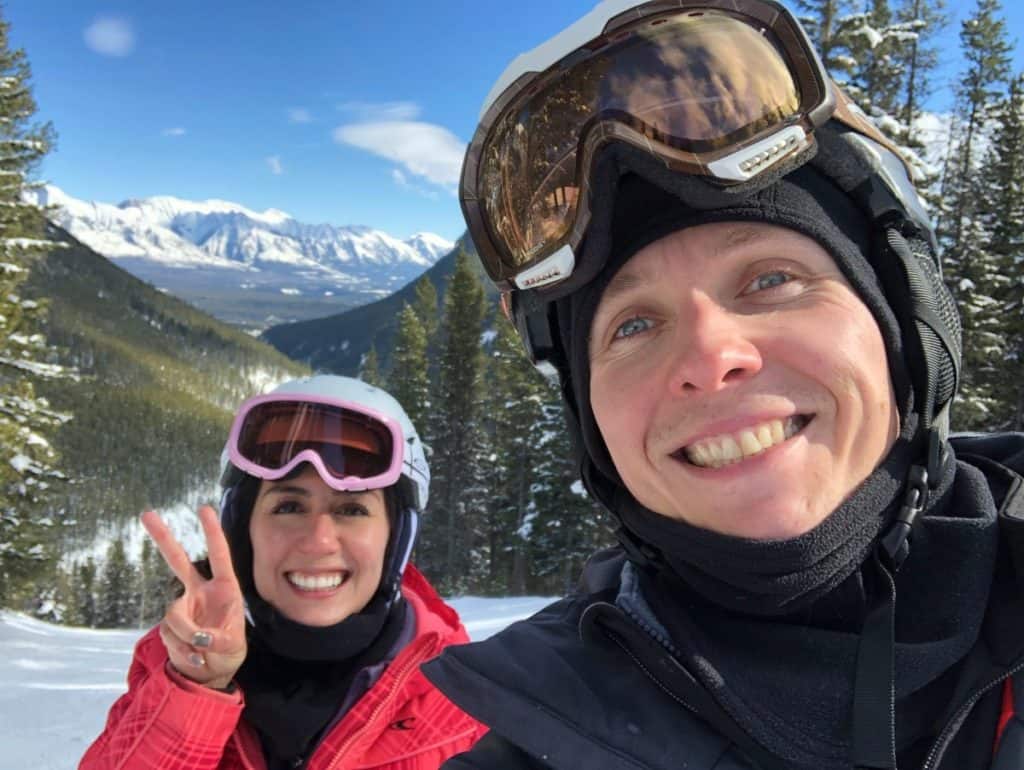 PRK Surgery Recovery
Short details:
Recovery takes 7-10 days with little vision during that time.
You must tape eye shields over your eyes when sleeping.
You must put all sorts of drops in your eyes during the healing period, with some drops going in every 15 minutes!
You must rest and take it easy.
As mentioned above, the general recovery time is 7-10 days. For me, I had no pain but others do have migraines for many days after. However, your vision will not stabilize for approximately six months to one year. For me, my vision would be good one week and blurry the next. It was very, very frustrating and sometimes I questioned my decision. The only discomfort I had was due to the glass contacts you MUST wear for one week. This protects your eye because the first layer has been removed and needs to grow back.
My biggest fear came after month one. I went into an eye doctor and he said I still had some astigmatism and that my vision was close to 20/40, which meant I might need glasses for driving. I was saddened. All that money and all that risk and I'll need glasses already? What a disappointment. However, he said my vision could change and that I should come back again in one more month. When I went back the second time, my eyes had changed shape and I was now seeing 20/20 with one eye and 20/15 with both eyes! Imagine that! My vision was better than 20/20. He said he had never seen that before. I had no astigmatism now!
So you really need to be patient during the first six months. You might have clear vision by month one and blurry vision by month two. It sucks, but they'll tell you this upfront. Just trust the doctor and keep monitoring your eyes at each visit.
My PRK surgery experience was great. It was fast and efficient. My life changed in just over two minutes. No more glasses. No more contacts. I can now wear sunglasses without a prescription. I can play hockey with full vision. I can go skiing with full vision. I can wake up and see right away without having to reach for my glasses. Actually, funny enough, I kept reaching for my glasses for the first few months. Old habits!
Basically, I now say what most people say after having eye surgery. I wish I had done it sooner!
***
Common questions I get about laser eye surgery
Does laser eye surgery hurt?
No, not at all. I can only speak for myself, but I didn't feel anything. The only time I felt some pain was during the first week of recovery when I had to wear glass contacts. But it was minimal.
How long does Lasik take?
My PRK surgery took 62 seconds per eye. That's for the actual surgery part. The visit is a couple of hours in length.
What advice do you have for getting laser eye surgery?
I am not a doctor by any stretch of the imagination. Please do your research, go for free consultations, and even visit an eye specialist. Ask friends and family if they've had it done and then choose only the best operations. Do not go for something that's cheap. Go for the best reviews, the best doctor, and the best treatment centre. This is your eyes!
Are you thinking about getting eye surgery? Have you had it? Let me know in the comments below!