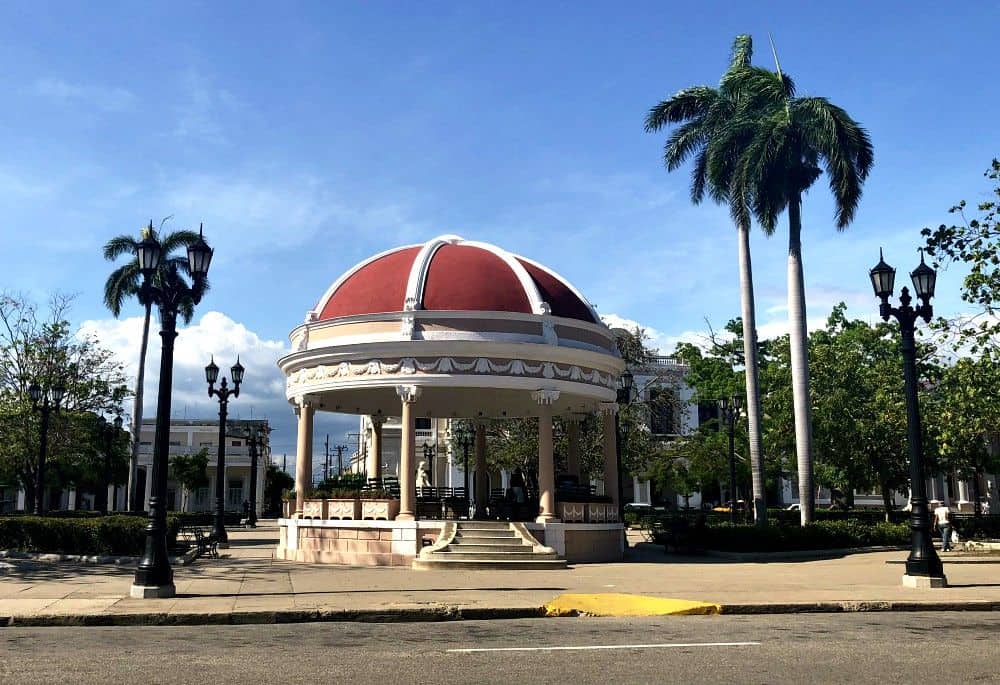 Back in November of 2017, my wife and I went to Cuba, a place I had long wanted to visit. Its uniqueness, history with revolution and communism, and relatively closed-relationship with much of the world had always piqued my interest. I love visiting places that are so different than my home country. We went for just over two weeks, which proved to be a little too long in the end. Maybe its because my wife is from Mexico, or because we've travelled a lot through Latin America, or maybe just due to the overall cost of traveling around Cuba, but we were somewhat disappointed.
We still had a good time. We loved exploring Havana. We loved dancing in Trinidad. We loved meeting locals and hearing their stories, albeit through my wife as I don't know enough Spanish. But it just wasn't a place we fell in love with. Foreigners are charged excessively compared to locals. We felt like $-signs sometimes. The food is very bland and for anything more than bland, the prices are on par with Canada, the USA, and Europe. We enjoyed our time there but had no intentions of returning.
But then we did return, thanks to a street dog we named Cheerio. Cuba is full of street dogs – friendly little animals that have been given up by their so-called owners. Forced to fend for themselves, they tend to cherish foreigners who aren't used to seeing street dogs and therefore show more love and affection than locals do.
Seeing street dogs breaks my heart. After all, it's doubtful that they'll live very long. With dangers such as cars, starvation, disease, and "government control", life on the streets is often short-lived for a canine. I wish I could help them all but just like global hunger and pollution, there's not too much I can do on a large scale. So, in terms of street dogs and cats, we usually try to give them a treat or some water, give them a little love, and then bid them farewell.
That is until we met Cheerio in Cienfuegos, Cuba. As we walked through Parque Jose Marti, this little dog ran up to us, so excited, wagging her whole bum in the process. It was the first time a street dog approached us so cheerfully, looking for some affection.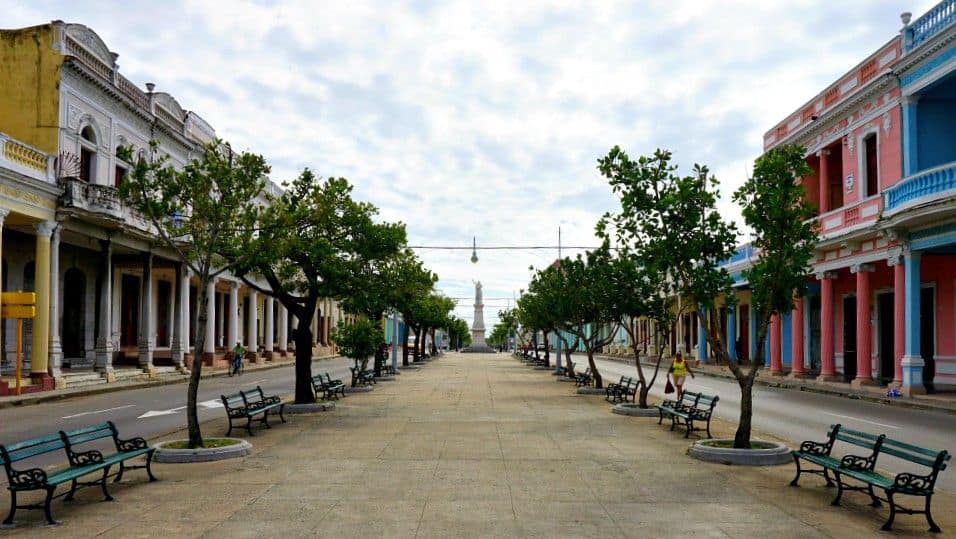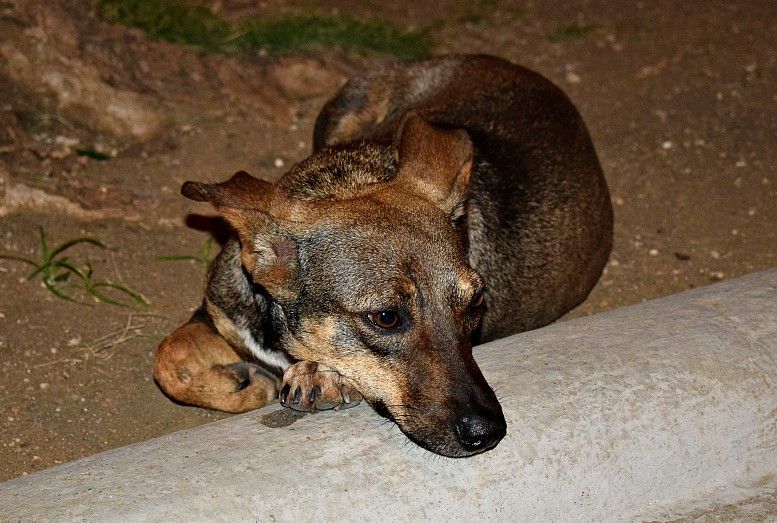 Like others, we gave her some love and then went on with our day. Around 8-10 hours later, while walking around a different part of the city, Cheerio found us again. This time, we both ran to each other. She lied on her back and we petted her belly. We had no food but we gave her some love once again and then walked back to our guesthouse, which was about 10-12 blocks away. This time, however, she followed us all the way back. It was now nighttime, and once she got to the door of our guesthouse, we gave her another pet and then the homeowner shooed her away. She was such an adorable dog, and we felt bad that we couldn't do anything, but our next flight was to Mexico and we were leaving in just a couple of days.
I felt really sad that night knowing that little Cheerio (and all the other dogs we had seen, for that matter) was on the street, neglected by all those around them. The only difference between this and other times is that the sadness didn't go away. In Mexico, I was thinking about her. In Canada, I was thinking about her. As months went by, I couldn't stop thinking about Cheerio.
Finally, roughly four months later, I decided to do something about it. By sheer luck, we had managed to take one single photo of Cheerio lying down in the park where we first found her in. So, we contacted the guesthouse that we had stayed in and ask if she could try and find her. We also contacted a painter that we had bought a small painting off of. His email was on the back of the painting. We also asked him to look for her. At this point, I had no idea what I was going to do when or if they found her, but I had to do something. I even went on to TripAdvisor and found tourists willing to look for her on their next trip to Cienfuegos. Then, I found a group on Facebook that helps rescue street dogs in Cuba. I was then put in touch with a lady in Toronto that helps facilitate pet adoptions in Cuba. She told me that they had never done this before in Cienfuegos but that she knew of an organization there that she could reach out to.
This small organization was started by a foreigner who uses GoFundMe to raise money. He then rescues dogs, treats them, and hopes to find someone to take them. He had approximately 150 of them already but as usual, it's hard to find people who want street dogs, even though they are healthy. I sent the photo I had taken of Cheerio and explained the two areas we had seen her in. He told me that there was a very low chance of finding a dog after four months as they've most likely run off somewhere else or have died due to a variety of causes, the most likely being a government killing squad. Weeks and weeks went by and I had heard nothing.
Then, I got an incredible email. THEY FOUND HER!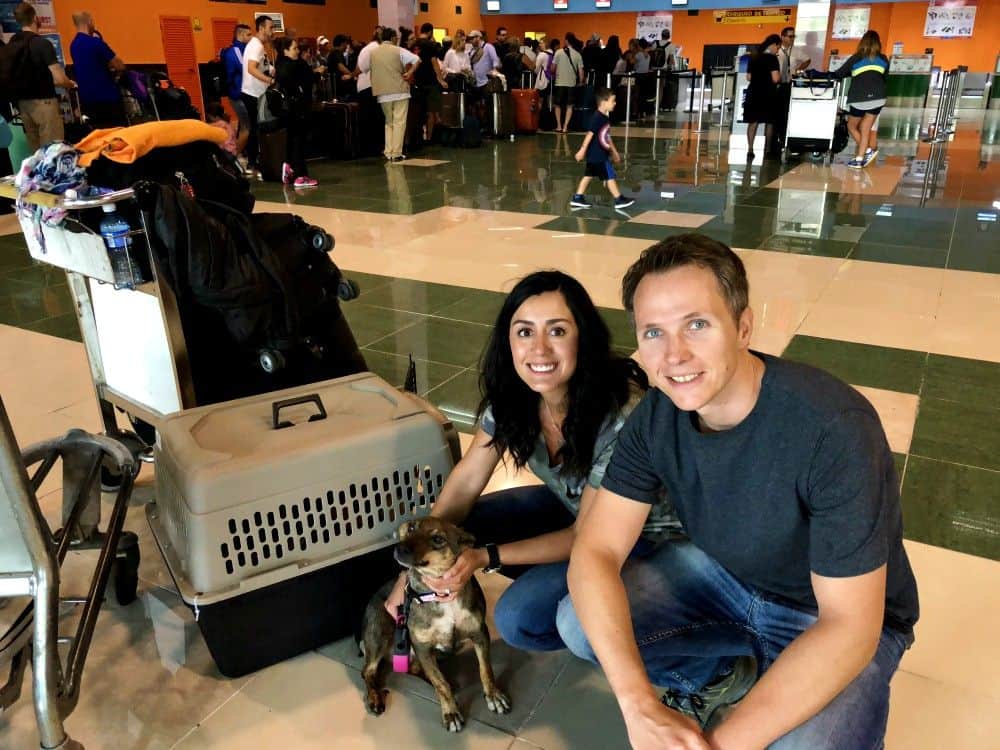 I couldn't believe it. I asked them to send a photo. It was obviously her. It was such a relief to know she was still alive. They checked her health and found that she was not pregnant. She did, however, have a uterus infection that would have killed her very soon. Had we not asked them to find her, she wouldn't have had many days left. They removed her uterus, treated her, and kept her safe. The organization that already had 150 dogs in their possession now had Cheerio as well.
Now, another difficult part. We had to figure out what to do. We had no intentions of having a dog. After all, we travel a lot. But we just couldn't leave this little angel behind. Next, we got an email that the government had found out about this organization, and for no reason whatsoever, expelled the foreigner out of the country. The 150 dogs were now in jeopardy and one of the volunteers took Cheerio to their house. Time was now of the essence.
Next thing you know, my wife, dad, and I were flying to Cuba to bring a little dog back to Canada. Since we had flown all the way to Cuba, we took a week to show my dad some of our favourite areas such as Havana and Trinidad before going to Cienfuegos to get Cheerio.
It was so exciting to see her again. We had just one day to get to know her before giving her a full day of trauma – putting her in a kennel for the first time, having her inside a taxi with us, having her fly all the way to Canada in the bottom of an airplane, and then introducing her to a new country. Surprisingly, she did quite well. She's just such a lovely dog. In fact, it's her calm demeanor and cheerful attitude that captured our hearts in the first place.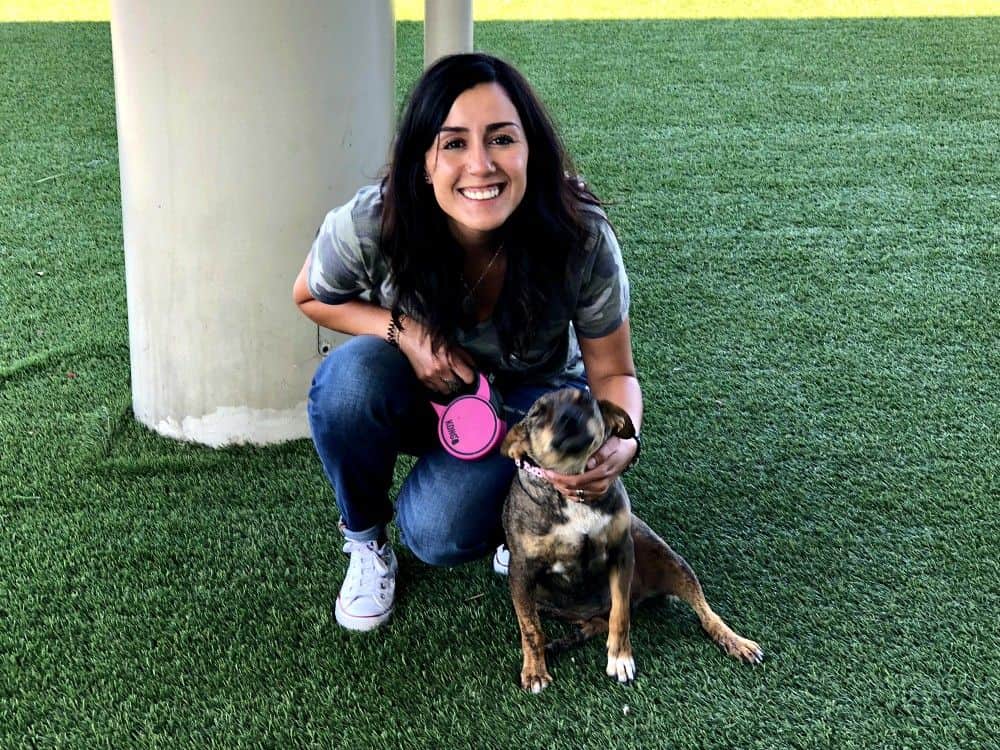 We've since given her a grooming, had a vet give her the needed shots and bought her her very first bed. She loved it so much that she immediately dug her head right into the corner of it. Even as I write this post, she is lying in her bed. She knows it's hers and she appreciates it greatly.
We've also changed her name to Maya. It was a tough choice as I loved the name Cheerio as well but it seems my wife and others like the shorter name of Maya more. She's a very timid dog. It's obvious that she was abused as she often cowards when approaching her. At first, she also peed when we'd hook her up to a leash or pick her up. But since then, she has gotten used to a lot of things. Now she loves her walks around the neighborhood and adores going out into the backyard and lazing in the sun. My entire family has fallen in love with her and she continues to be the sweet, cheerful, calm little dog that we found on the streets of Cuba back in November. Now she's in Canada, more than 4,000 km from her original home city of Cienfuegos. I often wonder what she thinks. Does she realize she's somewhere totally different?
It's easy to forget but sometimes when I look into her cute little eyes, I'm reminded of the connection we felt with her back in Cuba. I'm reminded of all the work it took to find someone who could find her. I'm reminded of the sheer luck it took to actually find her once again and the expense of getting her back to Canada. But most of all, I'm reminded that when you really want something – when you really want to make a difference – all it takes is courage. The courage to make it happen.
A very special thanks to Cuban Dog Tales Rescue (The Canadian organization), Proyecto Nueva Vida Animal in Cuba (The organization in Cienfuegos), to Air Canada for waiving the pet transport fees for "Cheerio", and to my family for welcoming her in.
You can donate to either of those organizations by clicking on the links above.
What's something inspiring you've done? I'd love to hear about it in the comments below…