I must admit, my first cliff jump was not that crazy. It was only about three or four metres. However, it had a profound impact on my life.
It was only my second time out of Canada – a one-week trip to Cancun with my girlfriend at the time. Up until then, I hadn't been a very adventurous guy but one day when we were tubing down a river at Xel-Ha Park, I noticed a cliff-jump and summoned up the courage to give it a try.
I climbed off my tube, swam to the shore, and climbed up to the platform. From there, I walked to the edge, looked down, and froze. It looked so high and although I knew I couldn't back out and do the walk of shame, I just couldn't make the jump. Then a little girl, maybe 8-years-old, ran by me and jumped off the cliff with no fear at all.
Now I really had to do it.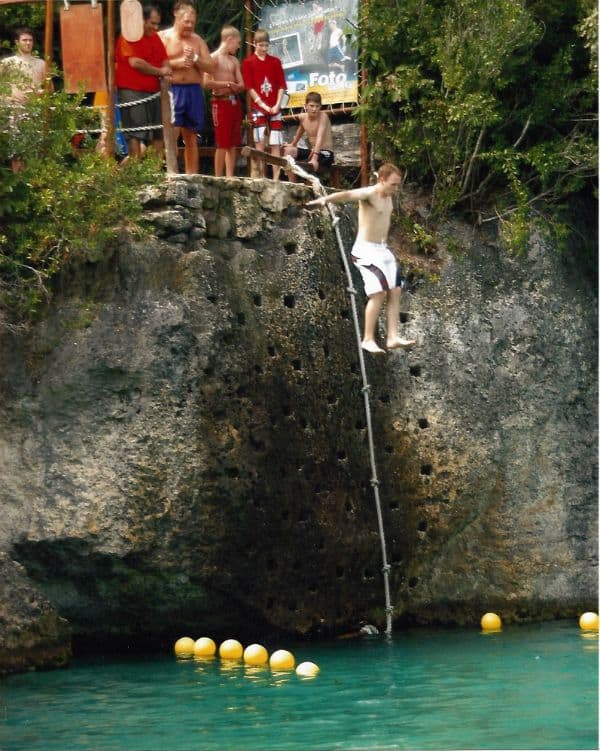 I told myself not to think about it and just jump off the cliff on the count of three. I did the count in my head and then jumped. The free-fall couldn't have been more than one or two seconds and then I hit the water, swam back to the surface, and climbed back on to my tube.
It was something so small and yet I felt like I had accomplished something so big.
I felt alive, buzzing with excitement and filled with courage to jump into many more things that would come my way.
As I write this, it's now 2016 and it's been roughly eight or nine years since making this jump. I've since jumped off many more cliffs as well as out of airplanes at 15,000 feet. When I look at this picture, I can't believe how far I've come and how insignificant this looks now.
But that's the thing. Something might seem scary to you today. It might seem easy to someone else. What's important is that you face your fears and build up your courage one step at a time. With every small success, you'll re-invent yourself into the man or woman you wish to be.
***
I've now completed 100 items on my bucket list. From acting in a movie to attending a Hollywood premiere, I made them all happen and this cliff jump was one of the first. Click here to see the list.