"Welcome to the Perhentian islands"…
I thought to myself as we stepped off the ferry, tired from an all-night bus we took from Penang. However, the arrival of crystal clear turquoise waters mixed with the sound of rolling waves eased the tired brain.
The first task was an easy stroll through the jungle to reach long beach, the main backpacker area with a few guesthouses, dive shops, and a couple jungle bars.
The sea was stunning to say the least. Different shades of blue and turquoise colors clashed with clear water and sun-ray reflections. We quickly found a cheap but not-very-well maintained chalet called chempaka to drop our bags off and quickly make way for the ocean. The soft sand was perfect for splashing around in the ensuing waves. The day was filled with ocean, Frisbee, and plenty of sun bathing .
The next day, we organized a snorkeling trip for 18 of the international students who joined us on the island. After checking out a few places, we ended up going with a fancy hotel on Coral Bay because they offered a free morning buffet which included eggs, toast, fish, curry, rice, noodles, veggies, fruit, and cereal; easily our best breakfast of the trip.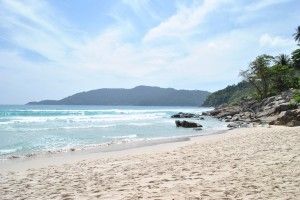 For $12USD, breakfast and a 5 hour snorkeling trip is not to bad a deal. Due to the large amount of people however, the shop ran out of gear, leaving a couple of us to rent some nearby. Eventually though, after many delays, we made way to the boat and our first destination called fish point. This was probably the best spot of the day since it had a variety of life including clown fish, barracuda, and a few other colorful tropical swimmers.
Our second spot was shark point which unfortunately had no sharks for us to stare at. The corals were pretty though and we enjoyed the variety of fish here as well. The third stop was called turtle point and although we noticed a turtle swimming by, it was quickly scared away when 25 people rushed to jump in the water. Half of us missed him and I really question this being safe for the turtles as they must get very scared with the frantic splashing from snorkelers jumping in the water.
The next stops are barely worth mentioning but had some cool merits of their own. But first, we stopped for lunch at fisherman's village. This was practically useless since the staff were not prepared to take after all their guests. Some of us waited 1.5 hours before getting fed while others, like me, never got the meal at all. In fact, some were told 2 hours later that the meal they ordered was no longer available. Fail.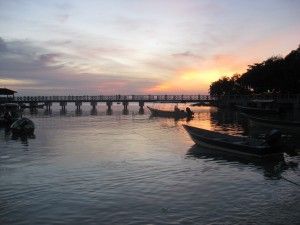 The rest of us cancelled our meal and made way for the boat. Our next stop was the lighthouse. Stationed out in the China Sea, this place had cool corals but a very strong current that no one could comfortably swim in. So instead, I walked up to the top of the lighthouse, roughly 8m above the ocean, and jumped off. It reminded me of the first "jump" I did in Cancun 6 years ago. It was that jump that awakened the adventurous soul within me and kicked off the incredible adventures I've been having over the last few years.
Standing 20-odd feet above the ocean was still a little scary at first but as I've learned in the past, the best thing to do is just jump without thinking about it too much. Plus, other locals were doing it so I felt safe about not hitting the coral below. The jump was great and became one of my highlights for the day.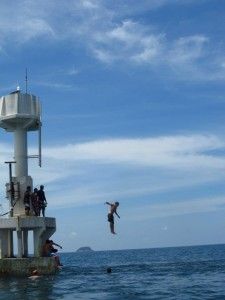 Our last stop was very disappointing to say the least. The place was called Romantic beach and although it has the potential to be magnificent, the garbage floating around ruins the effect. The waters were quite clear but snorkeling into plastic bags, cans, and other gross things made for an unattractive visit.
Its really the main problem I've noticed with most of Asia so far. There seems to be a lot of trash everywhere. In Cambodia, people would throw garbage bags right onto the highway. Unfortunate for such beautiful destinations.
Besides beach Frisbee, swimming, hanging out at beach bars,and  getting burned to a crisp, I was craving a scuba dive. It had been three years since my last coean dive and I was a little nervous. I wanted to do a wreck dive but since most warned me about the dangers in place or were just trying to sell me a "refresher" course, I opted for something else.
I found a quiet not-so-little dive shop on the upper part of the beach called Turtle Bay Divers. They seemed very chilled and best of all, offered to bring me to the Temple of the Sea, the best dive site in the Perhentian Islands. Since I didn't have to take a refresher course, I was eager to go. Due to the small group, I had my very own divemaster who gave me a quick rundown of everything I had forgotten over the years. Before I knew it, I was rolling backwards off the boat and into the dark blue ocean.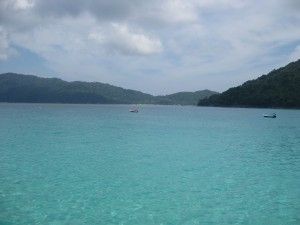 It was strange and exciting to be back in the ocean after such a long time. Suddenly, I found myself releasing the air in my vest and sinking slowly into the depths of the sea. It felt funny at first but after a few minutes, I remembered most of my prior training. At a maximum depth of 18m, we glided weightlessly through the water passing by clown fish, barracuda, puffer fish, trigger fish, blue-spotted sting rays, moray eels, box fish, schools of trevally, and beautiful coral gardens. I was quickly gaining back my scuba confidence and was really happy I woke up so early to make this fantastic adventure a memory.
They call it Temple of the Sea because almost every fish species around the Perhentians can be found at this one location. After 38 minutes of circling the amazing ocean (We'll, technically a sea) pinnacle, and my divemaster getting a few nibbles on his head, we started or ascend back to the surface. I took off my vest, threw it onto the boat, and then flapped my fins to launch myself into the vessel. My divemaster told me I didn't need a refresher dive (which was good news to me) and after waiting for the others to join us, headed back to land.
It was a great way to end the visit to the Perhentian Islands and it quickly restored my scuba diving confidence. This will come in handy for our 3-week Philippine trip coming up.
It was hard to say bye to the Crusoe-esque beaches but as I seem to say often… "the adventure must continue". We boarded the ferry and made way to our midnight bus that would bring us back to Penang.
When you visit the Perhentian Islands, I recommend…
Staying at Chempaka if you need to save money OR staying at Panorama if a little more money isn't a big deal. It's nicer and has great social life and restaurant.
Doing a snorkeling trip but organizing it on Coral Bay. The fancy hotel off the pier includes a hearty breakfast worth more than the trip (if booked separately).
Do a dive. I went with Turtle Bay Divers located on Long beach besides Panorama. They were chill and the groups were small. I'm sure any of the dive ops are great though.
Be prepared for pricier food than the rest of Malaysia. If on a budget, bring snacks with you such as tuna, bread, crackers, and what not.
The hikes in the area are kind of cool but are not very easy so to be safe, bring some shoes.
Jump of the lighthouse if you can!