As mentioned in the last post, we decided to find a new hostel for our last 2 nights in Siem Reap. Mostly just for a change of scenery, to satisfy some curiosity, and to be closer to town. I found a great little place called Angkor Wonder, located right next to downtown Siem Reap, and just $8 per night. When we arrived though, the owner told us he had no rooms left even though we had already booked online and paid a deposit. To our luck though, the owner put us up across the street at a 3-star hotel for the same price! It was a "friend's" hotel, and now we had a fancy room, an elevator, and a complete shower for just $8! Awesome way to spend the last 2 nights in the temple capital.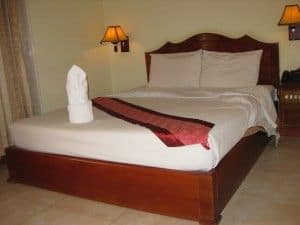 After a short day visiting smaller temples, a relaxing massage by blind people, and an awesome dance performance at Temple Bar and Restaurant, we booked our bus tickets for Battambang. We had spent 8 night in Siem Reap, and while it was fun, we  needed to check another city out. Battambang was about a 4-hour drive away and although the boat trip is popular, we eventually decided the longer 8-hour more expensive journey wasn't worth it.
The bus ended up being on time which is amazing for Cambodia. We even met a couple of swedes on board who were the only non-Cambodians on the bus. We became friends after sharing fried grasshoppers at one of the stops and made way to the same hotel in Battambang. On arrival, our Toronto Maple Leaf Jersey-wearing tuk-tuk driver was there to pick us up.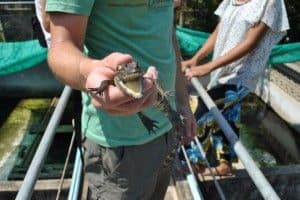 He cheerfully brought us to our hotel which was the cheapest in the city. At just $5 per night, you can't complain about a line of ants marching up and down the wall. After sadly performing mass genocide on the marching ants, we heard about a local circus that is actually supposed to be pretty amazing. So good in fact, that 2 of the kid performers (most are about 12-16 years old) were given scholarships to study with Cirque Du Soleil in Montreal, Canada.
The Swedes tagged along and to our surprise, it actually was very good. These young kids showed great strength, balance, and other tricks I certainly am not able to do. For $8, it was a solid deal and is the TOP thing I recommend if you make it to Battambang. It's the last place I expected a quality circus but that's what makes it extra special.
The next day was also pretty cool. We grabbed the Swedes again and did a day-long tour of a crocodile farm, a small winery, a bamboo train, and the killing caves and bat show. Our first stop was the crocodile farm and besides the chance to hold a baby croc, the place was kind of sad. It was pretty much 600-1800 crocodiles in a little green crap-infested pool piled on top of each other without anywhere to really walk or swim. Some were newly born while others were going on 70 years old. Not a great life, that's for sure.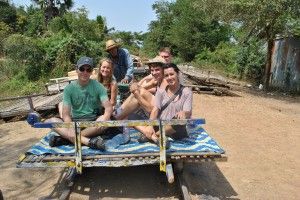 The winery was pretty much nothing so I'll skip ahead to the bamboo train. This popular attraction is pretty much the most famous thing in Battambang which is pretty sad considering the circus is much better. For $5, I suppose it's hard to complain about the bamboo train even though this is crazy expensive by Cambodian standards. The ride pretty much consists of sitting down on a flat piece of bamboo which guns down an abandoned train track by way of a old "Scooter" engine.  The history of the train is amazing since Cambodians came up with the idea in order to transport livestock and other things quicker and more efficiently. The trains no longer use the track because it's in such bad shape but these local people put it to great use. As a ride, it's nothing to special. You simply speed down the track at maybe 20 mph drifting past bushes, farmland, and more bush. After 20 minute or so, you stop at a little "store" in the middle of nowhere where you can buy soda, or small meals. We chatted with the shopkeeper for another 20 minutes or so before heading back down the track.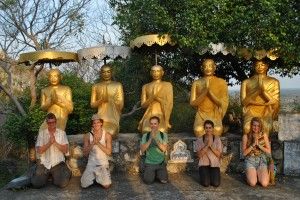 The funny part is that the tracks are only one-way. This means that when you confront another bamboo train headed your way, both of you must stop. Then, the bigger one (who carries more people) gets the right-of-way and the smaller train has to disassemble and let the bigger one go by. They then reassemble back on the track and carry on. This takes about 2 minutes as there isn't much to the train. All in all, it was a cool experience to do if your in Battambang but definitely not worth the trip alone.
Once we left the bamboo train, we made way for the killing fields, another  area where innocent people were slayed. The cave is on a mountain with amazing views of the land beneath it. The best part of the trip though happens at the bottom of the mountain around 6:15pm when millions of bats fly out in formation to look for food. This is amazing to watch as millions of bats form a black ribbon across the sky lasting roughly 45 minutes. You can then drive a little bit south and see them dancing through the sky. This is another must-see when in Battambang or anywhere else in the world where this happens.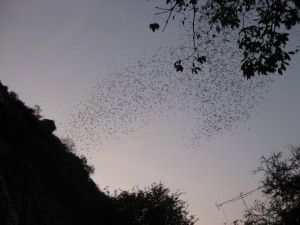 The next night was our last in Cambodia so we took a bus to Phnom Penh. This bus, although just 5-hours, was incredibly annoying. It had a ear-piercing horn that seemed to go off about every 5 minutes when the bus would pass motorcycles or other things on the road. We did arrive though, and funny enough, ran into the Swedes who had also left to Phnom Penh that day. We seemed to run into them at the perfect time to0, since I had just noticed a lady selling all kinds of fried insects on the side of the main road.
I quickly grabbed them and since we met over fried grasshoppers, we had to say bye to each other by sharing in the delight of fried tarantula. I had wanted to do this while in Cambodia, and although I hesitated once holding the furry black creature in my hand, I knew I had to do it. The 4 of us munched down, catching spider legs as they fell off the crisp body. It actually wasn't as bad as it looked. The body pretty much tasted like a fried chicken wing while the bum was a little odd. Maybe the venom gave it an off taste or maybe it was all in my imagination.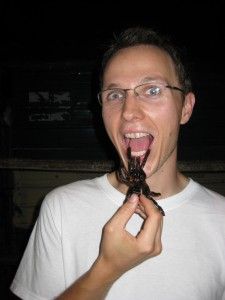 So with fried tarantula in belly, I knew I had completed my trip to Cambodia. I'm real happy I found the insect food stall, as well as our new Swedish friends, our British pal from Siem Reap, our incredible trip to all the temples, and our wonderful time around Battambang and Phnom Penh.
I truly recommend a trip to Cambodia, and if you have time for more than just temples, I'm sure a visit to any other city will be great. The people are friendly, the food is pretty good, and the Asian hospitality is splendid.