As mentioned in the previous post, the temples around Angkor Wat are beautiful. I had no idea how many temples there were around the Angkor area and how impressive each of them are. After having some fun with little monkeys, and taking pictures of many others, we took a ride around Bayon, marveling the magnificent faces that stare at you throughout the visit. Bayon was probably my favorite temple although Bapuon (another favorite) has a very beautiful walkway along with a pyramid like structure that offered grand vistas of it's surroundings.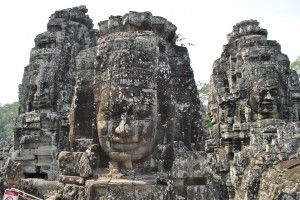 All the temples as you can imagine, have many people trying to sell you things which can get on a persons nerves after awhile. However, sometimes I find it quite sad and wish I could buy from everyone. One lady determined to get me to visit "her" little restaurant ran along-side my bike as I repeatedly told her I already had a restaurant I was going to. I felt bad that she worked that hard to earn a sale but I already had a "familiar" spot I wanted to return to.
After a great meal at Angkor Thom stall #30, we took our rented peddle bikes and tried watching another sunset take place but once we realized the clouds weren't willing to budge, we made the 1-hour trek back to our guesthouse.
Once back at the guest house, I knew I needed to figure out a way to get to Prasat Preah Vihear, another UNESCO site located far north on the border of Thailand and almost the border of Laos. I found out that a car and driver would cost me $120 USD which I didn't want to take on myself. Determined to make this work, I found another guest nearby and told him about the temple that awaited us. The British guy was in and became a friend for the remainder of our trip to Cambodia. We agreed to take one day off and then take the car 4-hours north the day after.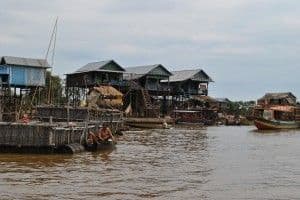 But of course, a day off is rare for me so instead, my fiancee and I went along with a guest house worker to a nearby fishing village on the Tonle Sap. His name was Visnay and was the only reason we decided to make this trek. I had heard many bad things about this "tourist trap" but considering our guide was from there and who's family still lived there, we had to do it.
A short tuk-tuk ride later (actually not that short because it broke down and we had to wait for another), we arrived at the river passage that leads to the Tonle Sap fishing village. We jumped in our boat which is kind of ridiculous considering it could hold about 15-20 people and headed out into the village. The fishing village looks pretty awesome and I can imagine how cool it must look when the water levels are high. We saw many houses on stilts, people getting around with little wooden boats, and pig pens floating around in the water. I snapped some great photos and then stopped to visit Visnay's parents as well as a short stop at a local school.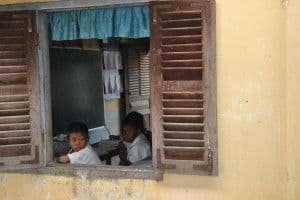 The school was full of adorable children all eager to learn new things. They stopped to greet us and one of the teachers had us tell the class about ourselves. We then asked the kids to ask us questions, but since we could tell they were shy, we bribed them with "Canadian" pencils we had bought in Vancouver. Now we could tell they really wanted to ask questions and some did. It was cute to see how much they struggled to think of something to ask. We answered some easy questions, gave out some pencils, and said our goodbyes. We then went back to the boat and headed into the Tonle Sap, a big filthy lake where most of the fish and shrimp come from in Cambodia. After another quick pass by the floating forest, we went back to the river, got back in the tuk-tuk, and headed home.
The next day, we departed at 4:30am to make way to Prasat Preah Vihear, a UNESCO World Heritage Site 4-hours north of Siem Reap. The ride was dark and uneventful but after 4 boring hours, we arrived near our site. We then paid $20 USD to take a short ride in a 4×4 up the mountain to see the temple. This was a steap climb and a steap fee as well but since most of it goes to the poorly paid army, I figured it was okay.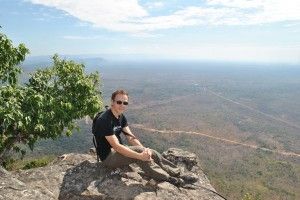 About 20 minutes later, we arrived to the top, pleasantly greeted by much of the army who are present there to protect the site from Thailand. In fact, it was just 1 year before we arrived that Thailand shot missiles, blowing up the temple in some parts and killing many people. The army has lived at this temple for many years and it was now closed to anyone wanting to visit from Thailand. It's a shame that anyone would cause mass destruction to a temple so important and so beautiful.
The most special thing about the temple to the naked eye is that fact that it sits high on a mountain overlooking Cambodia, Thailand, and Laos. The view is breathtaking as is the view we took in the military binoculars as we watched the Thailand side for any mishaps. The military were surprisingly friendly, often asking us questions and telling us much about there home in the temple.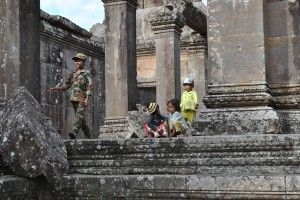 It wasn't just military either. It was also their families. We had 4 cute kids that kept following us around saying "hello" over and over again. When we stopped for a quick bite to eat, we shared with them our bread and jam, and also gave them some pencils. They graciously said thank you and ran off laughing.
Not many people come this far to see one temple that is guarded by the military but I'm really happy we did. The temple is great, massive, and has a very impressive view from the top. The fact that the military lives there makes it extra interesting and if you have a chance to go see, please do.
It was a long day and it was great to finally hit the bed. The next day however, just for curiosity, we decided to switch hostels and create some new adventures.
To be continued in Part 3.