We can honestly say that zoos had never really appealed to us before. We love seeing animals in their natural habitat but just wasn't as comfortable seeing them in a zoo with hordes of other tourists beside us. But since the Singapore Zoo is among the world's best, we had to check it out when we visited the bustling Southeast Asian city.
Situated in the beautiful Singapore nature reserve, the zoo provides a beautiful backdrop for both visitors and animals alike. We instantly felt like we were entering a magnificent zoo before making it to the entrance. It's perfect for adults alone or if you are visiting Singapore with kids. After walking through the turnstiles, we was greeted by a nice wooden bridge taking us over a swamp filled with False Ghavials (something like a alligator) which enhanced the rainforest mood.
After checking out the rare proboscis monkey getting frisky on it's neighbor, we made way to the famous free ranging orangutan exhibit where their daily feeding was about to take place. The cute little "men of the jungle" were climbing their way down tree vines to reach the platform where their keeper would stuff their mouths full of food and drink. This is also where they would stay for people to have pictures with them. One of the orangutans actually fell off the platform and although it looked and sounded painful, he quickly climbed back up and acted like nothing happened. Next, we looked at the mystical white tiger who paced back and forth protecting his other half. Interestingly, all white tigers have the same ancestor, a white tiger named Mohan who was captured in India many years ago.
And as if that's not enough, the zoo also had Malaysian tigers, lions, cougars, and jaguars for us to gawk at. We managed to catch the jaguar feeding as well which was pretty entertaining. Being good divers, their enclosure has a little pond for them to swim in. As the food was tossed into the den, some would fall into the water. The male jaguar was not interested in getting wet so he remained on land while the less-lazy female dove right in and ate everything she could. She must have been hungrier. Other great feeding sessions we managed to see were the Komodo Dragon, the King Cobra, the Chimpanzees, and the Giraffes.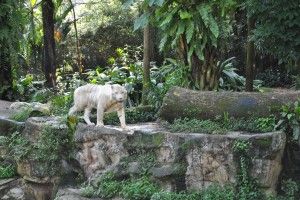 The Komodo dragon fiercely tackled a giant steak while the cobra lunged at his prepared ball of mice and snake. The chimps on the other hand were waving their hands as if to tell their keepers to throw the food to them while the giraffes used their goofy tongue to catch their daily feed of fruit and vegetables.
All of the exhibits were beautifully laid out, letting you feel closer to the animals while still keeping you safe. The animals were much more lively than at any other zoo I have been to and the feeding sessions were a great way to see some action. Different monkeys would "play" with us from their dens by tilting their heads at us and following us as we walked by. Pygmy hippos would swim along fish and turtles while the orchard garden provide a beautiful respite for those looking to take a break.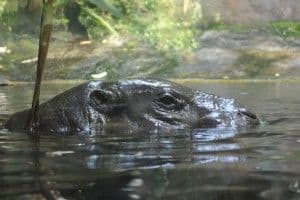 The shows are not to be missed either. The elephant show showcases some amazing talent both for shear power and gentle creativeness. The elephants were so graceful and fun to watch as they acted out plays and moved trees with their powerful legs. The splash safari featured a very special sea lion who not only enjoyed splashing his guests but also catching flying discs thrown by yours truly. That's right, I had waived my hand to go on stage and once there, was given a flying disc that they made me toss from more than a hundred feet away. Thanks to my mad skills :), I made it on the first attempt and didn't have to embarrass myself by throwing again. Karla luckily had an IPhone to capture the quick video.
Not all the creatures at the zoo were big either. We didn't even know that Naked Mole Rats existed before the visit but watching the little pink sharp-toothed mice pile on top of each other was almost as interesting as the Lions den. And although they are tiny, we wouldn't want to put our fingers in as the little critters are capable of chewing through concrete.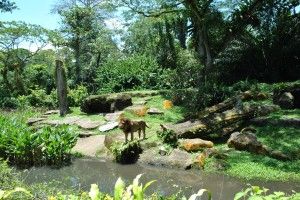 Besides melting away under the hot Singapore sun, the visit was highly entertaining and enjoyable. It's definitely something we highly recommend one do on a visit to Singapore. Young or old, the Singapore Zoo is sure to satisfy your desire to see an amazing array of wildlife from all over the world.
At just $20 SGD, it's a tremendous value for what you get and something you'll always remember. And if you dig the zoo, we can also recommend the Night Safari which is located right next door. If you spend an entire day at the zoo however, you might want to choose a seperate night for the Night Safari as the sun can really drain the energy quickly during the day.
For more information on the Singapore Zoo, check out their fabulous website here.