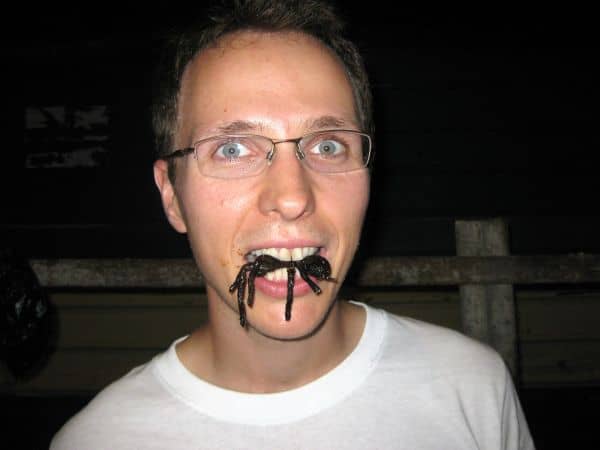 It's not like I grew up wanting to eat a big hairy spider but when I was looking through The Travel Book getting inspired for my trip to Asia, eating a tarantula in Cambodia popped out as something really unique and cool to do. I have a fear of spiders so eating one seemed like a stretch, which is what I love to do.
Cambodia was our first stop on our 10-month Southeast Asia trip we did back in 2012. From day one in Phnom Penh to the next week in Siem Reap and Battambang, I asked everyone if they knew where I could find fried tarantulas. No one had them. There were other fried bugs all over the place (I ate some on a bus trip) but maybe tarantulas weren't in season or something. It seemed like my dream of french-fried-spider-legs was not going to happen.
After two weeks of beautiful temples, bat caves, and floating villages, we were back in Phnom Penh for one more night before flying to Kuala Lumpur. It was already dark outside and we were walking down one of the main roads getting ready to head back to the hostel when I saw a street cart selling many different fried insects including beetles, crickets, cockroaches and yes, you guessed it: Tarantulas! A whole plate of them! Maybe hundreds. At just 50 cents apiece, how could I say no?
I bought one but it wasn't easy to eat. The mental challenge of stuffing an arachnid in my mouth was almost too much to bear. But hey, I like to live limitlessly.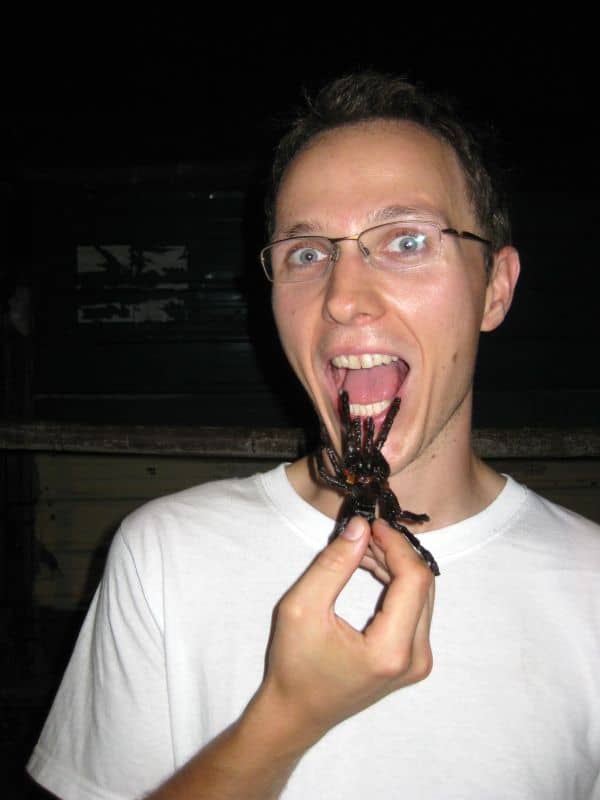 So I did. I munched down on its head, crispy legs, and even the venomous backside. It wasn't that bad really. It reminded me of a fried chicken wing but with more crispy hair. I got some decent photos and even a video despite my greasy face from a day of high humidity but I certainly didn't opt for seconds. Now that I think of it though, I probably should have bought some to bring back to the family. How rude of me.
As the saying goes, When in Rome! So when you're in Cambodia, make sure you find a nice lady selling delicious crispy tarantula. It's finger-licking good!
Cambodia is an incredible place to visit, but if you go, there's some interesting facts about Cambodia that you should know about first.
***
As soon as I read about something as crazy as eating tarantulas, I knew I had to add it to my bucket list. You can see more of my epic bucket list by clicking the purple text to the left.