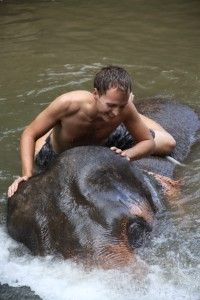 It was raining and misty as we looked upon Northern Thailand's lush surroundings but it added a mystical touch to the surrounding atmosphere of lazy rice fields, luscious trees, and farmers wearing straw pyamid-shaped hats. It was all so beautiful, especially when I realized I was sitting around the neck of an Asian elephant. Not just any elephant either. Her name is Nui and I was her caretaker for the day.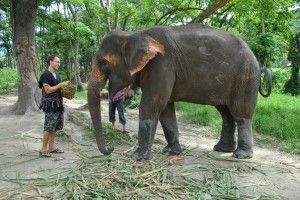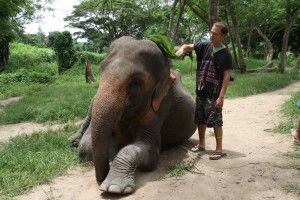 I had already learned how to feed her, wash her, and how to check if she's healthy which consisted of picking up her poop with my bare hands, pulling it apart, examining it, and squeezing it to see how much water came out. Tasty huh? Did you know you can even estimate an elephants age this way? By looking at their poo, you can see if the food has been chewed properly by their teeth. The younger the elephant, the sharper the teeth. If there are many big pieces of leaves that haven't been properly chewed, you know its an older elephant with weaker teeth. This was one of the things I loved about Patara Elephant Farms; Actually learning about elephants.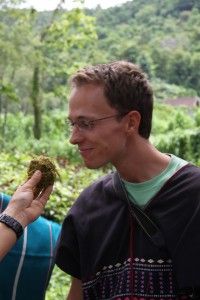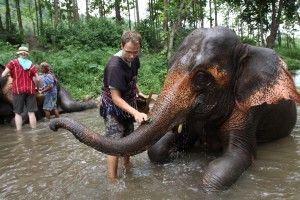 Now I was taking her for a walk, and by walk I mean climbing up her huge body with help from her front leg (thanks Nui), jumping on her back, sliding up around her neck, and hoping she would be kind enough to not toss me off. Thankfully, she was and we had a nice stroll up and down the neighbouring hills while I tried to hang on as she desperately tried to scratch her back on each passing tree. It must be awful to scratch such a big body with no "hands" to help. Between the scratching and the frequent stops to gobble down a tree, we finally made it to our destination; a beautiful river where a waterfall-fed pool awaited us.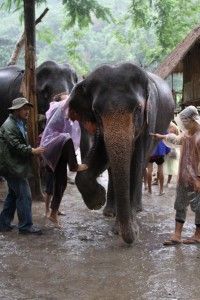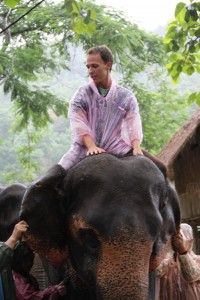 This is where we really had some fun. Elephants love the water and I think deep down they really wanna be fish. As my elephant rolled around while sticking its head under the water, I managed to crawl on top for some great pictures. The baby elephant thought this was a great idea as well and tried to climb on the mothers back with me. Lucky for the mother, she couldn't quite climb on as easily as me and slid back into the water.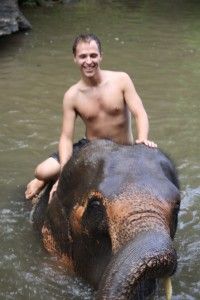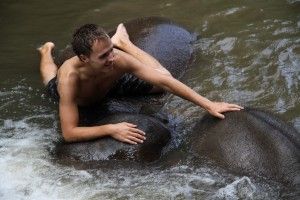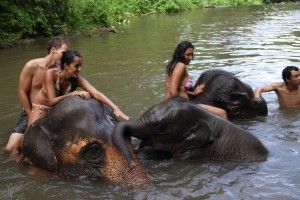 Baby elephants were another special part of our visit to Patara Elephant Farms. They were everywhere. Running around like school children, they'd occasionally hit the side of me, oblivious to their size and power. I would peel a banana (as they can't do it themselves at a young age) and let them grab it from me with their little trunk. You could tell they were so excited to see us and curious as to why we were there. As we received our briefings, the little ones (we'll, little for an elephant) would try to sneak some snacks out of the food baskets. Happy to see all the healthy babies running around, I was also fascinated when the owners told us that elephants have birthing partners. Yes, another female elephant will become best friends with a pregnant elephant and help her through the whole process. Amazing right?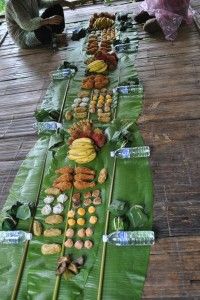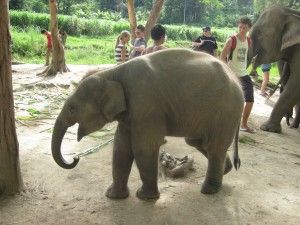 After an hour or so in the water and some delicious local snacks, we rode back to the farm and said bye to our big-eared friends. It's inspiring to ride such a wonderful creature and to also experience a farm that really takes care of them. It's hard for me to describe such a momentous occasion like riding and making friends with an elephant but I strongly urge you to experience this when you can. It wasn't just a simple ride on the elephants back and an opportunity to feed it some bananas. We actually learned a lot about elephants such as how to approach one (make sure it's flapping it's ears first), feed them, bath them the proper way so they don't get skin problems, how to tell if they have been sleeping well, how to check their poop to make sure they are eating properly and that their teeth are healthy, how to check their toenails (where they sweat) to see if they are hidrated, and learning the commands that help control them when your on their back.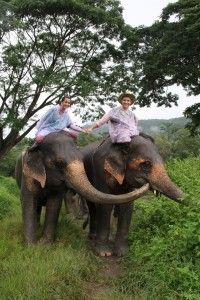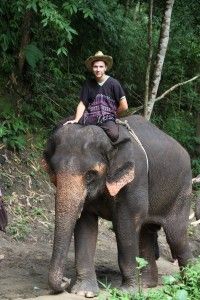 It was an overly inspiring and emotional day to say the least. Elephants truly are a majestic special creature that we must fight to protect. Everyone should take the opportunity to at least experience one up close and to look into their eyes as they look back into yours. Words can't describe the beauty of these creatures but being around them certainly can. Just make sure you choose a place that takes proper care of them. Many don't. Patara Elephant Farms is a great choice if your in Chiang Mai and although it's not cheap ($200), I know you'll have one of the best days of your life.