In the 22nd episode of the Live Limitless podcast, I chat with Derek Murphy of creativeindie.com.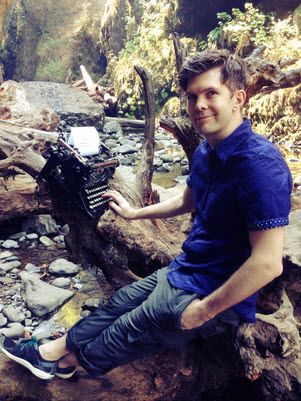 I met Derek in a Facebook group for Kindle authors after he volunteered to create a cool marketing image of my book Limitless Travel. Derek is a philosophy major turned book designer and writer with a Ph.D. in Comparative Literature. He launched CreativeIndie.com to help authors and artists turn their passions into full-time businesses. Derek is also a digital nomad who often lives and writes in the locations of his fictional stories. As we recorded this podcast, he was staying in a castle. Although Derek teaches writers how to build profitable businesses from their work, he also writes and publishes young adult novels at UrbanEpics.com.
Derek also has a goal of buying a castle in the future to host writing workshops of his own.
If you're writing a book, thinking of writing a book, debating whether to self-publish or not, or looking for ways to market your book or online project, this is a GREAT podcast for you!
You can learn more about Derek at CreativeIndie.com.
In this episode, we talk about:
How to become a writer,
How to self-publish a book,
How to blend writing with entrepreneurship,
How to launch a book or online business,
The average cost of launching a self-published book,
How to build a platform,
Recommendations for writing your first book,
How to live in castles,
And MUCH more…
Listen below or download from iTunes by clicking here. (Please note: If you're reading this from email, you may need to visit the site to listen)
Podcast: Play in new window | Download
Subscribe: Apple Podcasts | Google Podcasts | Email | RSS
If you're running short on time;
05:00: We talk about Derek's work as a writer and designer,
06:30: Derek's audience for book cover design,
07:40: We talk about children's books and writing in the self-publishing world,
11:20: We talk about Derek's path to author / entrepreneur,
15:00: Has Derek always been a writer?,
19:00: Why Derek almost always recommends self-publishing,
20:40: We talk about Harry Potter,
23:00: We talk about The Martian,
26:45: We talk about boundaries in creativity,
27:15: We discuss methods and ideas for building a platform,
30:20: We talk about tips for book marketing,
33:55: We discuss ebook / Kindle pricing strategies,
34:20: Derek's process for writing a book,
40:05: More book marketing tips,
43:20: What you'll spend on average for launching a book,
49:00: Why incentivized reviews are risky and why reviews are so important,
53:20: After the exclusivity with KDP, is it recommended to branch out to other platforms,
55:35: Recommendations for writing your first book,
59:10: Recommendations on formatting,
1:03:10: We talk about Derek living in the locations of his fictional stories as well as his goals of buying a castle,
1:08:10: Favourite books, etc…
Links from the show
***
Did you enjoy this interview with Derek Murphy?
Please leave a review on iTunes and share with your friends. This would mean the world to me.
If you have a question for either of us, leave a message in the comments and we'll get back to you.
-Matt