Our trip to the Galapagos was nothing short of spectacular. We scuba dived with sharks, walked by humungous tortoises and hiked by the second largest crater in the world. Everything was incredible but it wouldn't have been complete without our last-minute trip to North Seymour Island.
North Seymour is famous for bird watchers due to it being a nesting ground for blue-footed boobies and for the Frigate bird, which is equally famous for the males inflating their red throat-pouch during mating season.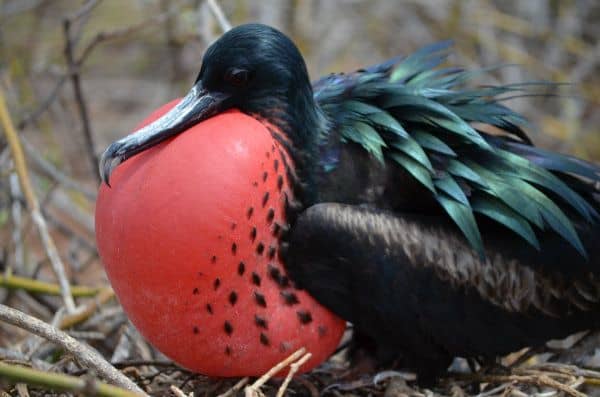 Due to the islands popularity, it can be hard to book on short notice and boats only go there on certain days of the week, which can make things difficult if you're short on time. We asked around at a few tour shops and none of them could get us in when we needed. Luckily I didn't give up and after emailing Galapagos Unlimited Travel, they found us a spot just in time. We never did actually meet them but they arranged everything on their end and we were picked up from our hotel a couple of days later.
After a 45-minute drive to the edge of the island, we got fitted out with life vests and boarded a much nicer boat than we had expected for the short one-hour journey to North Seymour. We quickly made our way to the top deck for some great views as we moved across the water.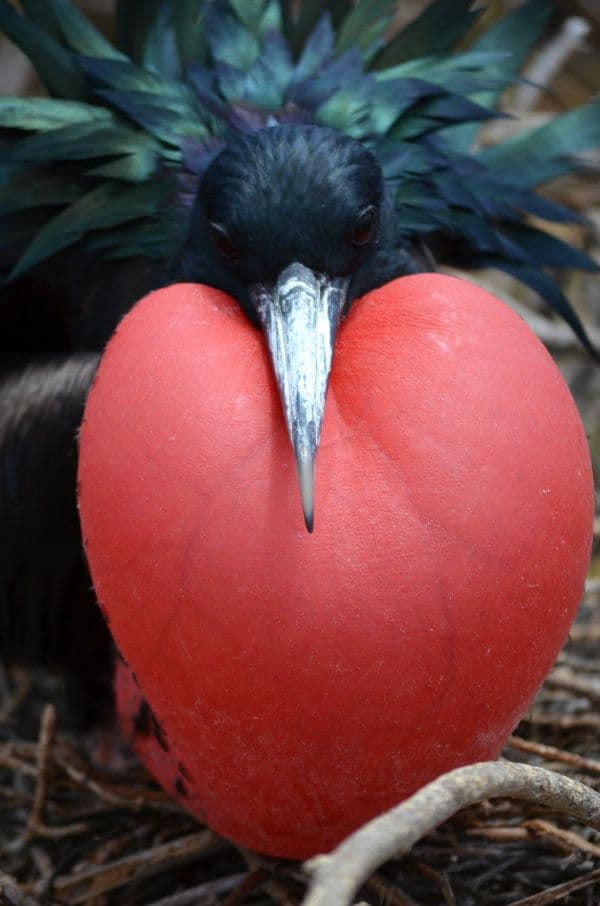 Upon arrival, we were given a 1.5-hour tour throughout the island, following a trail that circumvents the area. While the island is certainly a desert in many ways, it is literally covered with birds, most of which were the Frigate birds. They were literally everywhere, flying above us and nesting in all the trees we walked by. Some of them already had young while others were getting ready to mate. As expected, we saw the male Frigate bird with his inflated throat pouch and it was just as beautiful as we expected. I never would have thought that forcing air into a throat pouch to form a giant red balloon would be attractive to the opposite sex but the Frigate birds have proved that it works. All over the island, males would proudly sit in trees with their giant balloon-like throat and try to attract females to mate with. It's a very impressive site to see and it reminded me of a giant heart. You can even spot some of the feathers at the edge of the sack. I'm sure it's a nice little pillow to rest their heads on as well.
While the birds are certainly the main attraction on the island, we also saw many land iguanas, which have beautiful orange-and-yellow-coloured bodies. There are many interesting characteristics to the Galapagos Land Iguana but the most intriguing to me was that they have evolved to develop a very strong, thick tongue that is used to eat cactus. These iguanas can actually eat prickly cactus and not get hurt. This is how they get most of their water. They also have a symbiotic relationship with the birds, which eat parasites and ticks off of the Iguanas body. The iguana scores a healthy skin and the birds score a delicious meal. Win/Win!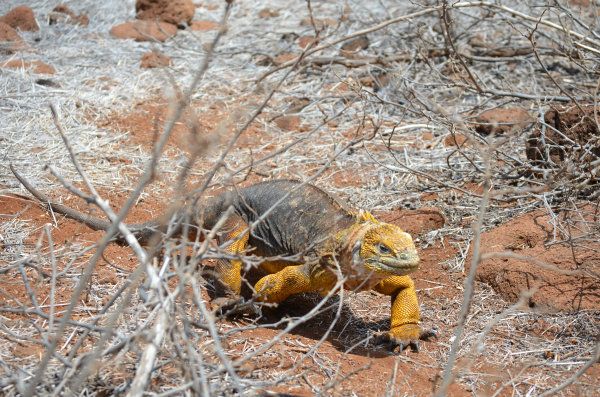 While we did also spot some baby frigate birds, we didn't see any blue-footed boobies. It was unfortunate as I was really hoping to see the famous blue-footed boobie dance but we were happy enough to see both the land iguanas and the amazing red-pouched Frigate birds.
After touring the island, we boarded the boat once again and made way to a nearby white-sand beach for some snorkelling and relaxing. Having already dived the Galapagos, we opted for relaxing on the beach with the occasional dip in the sea. We were having fun watching red crabs emerge from their sand homes but our stay was cut short due to some really bad horse flies. These evil little buggers attacked us over and over again. We tried escaping from their painful bites by going into the water but they simply followed us around and got the part of us that wasn't submerged. They bite really hard, almost like a hornet sting and eventually drove us away from the beach. I think everyone was getting attacked so we all jumped on to the boat and left. It's a pity the bugs were so bad as the beach was absolutely stunning.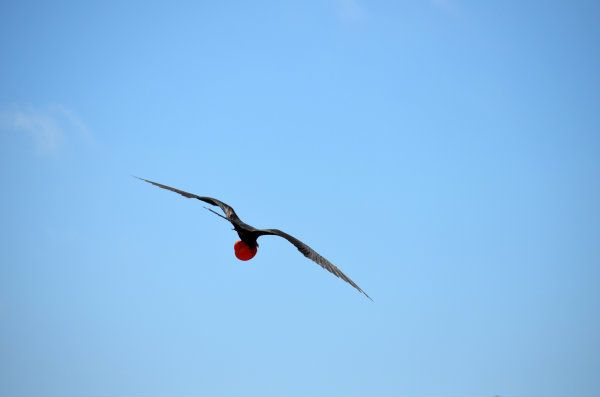 While the tour itself wasn't very long, we really enjoyed seeing the animals up close and personal and snagging some incredible photos. The Galapagos really are an amazing place for wildlife photography. The animals allow you to get so close that you almost don't need a zoom. With one hour to go before we would reach Santa Cruz, we grabbed the top floor and like a land Iguana, basked in the sun.
**
As most tours around the Galapagos, they are all expensive. With North Seymour being the most famous for its bird life, it's also not cheap. We wasted a lot of time walking around to all the tour shops trying to find a deal. Not only did we not find one but we couldn't even find one to accommodate us with our time frame. In the end, we were lucky to stumble upon the website of Galapagos Unlimited Travel.
They don't stop with tours to North Seymour. They offer a wide variety of tours and I encourage you to check out their website at www.galapagosunlimitedtravel.com. You can also send them an email at info@galapagosunlimitedtravel.com.
We would like to thank Galapagos Unlimited Travel for sponsoring us on this unforgettable journey.
**
If you liked this article, you might like:
Have you been to the Galapagos before? Are you dying to go? Share your thoughts in the comments below!