I looked down at my watch. Wait, that's not true. I looked down at my phone. The time was 7 am. We had just reached the bus terminal of Ciudad Valles after a 9-hour evening bus from Mexico City. I had slept maybe 2-hours but was excited to get back into nature and see some awesome friends we hadn't seen since our university exchange in Malaysia back in 2012. After weeks of traffic and concrete in the world's second-most-populous city, it was now time for beautiful waterfalls, turquoise waters, and subtropical rainforest hikes.
Ricky and Andrea, two friends of ours that happen to be bamboo architects, and our friends we had come to visit picked us up to go back to their house for breakfast. They had already booked our first adventure, which was just-so-happened river kayaking at 10 am. We ate breakfast, I grabbed an energy drink and we made way to the first of many beautiful tranquil rivers for the following week.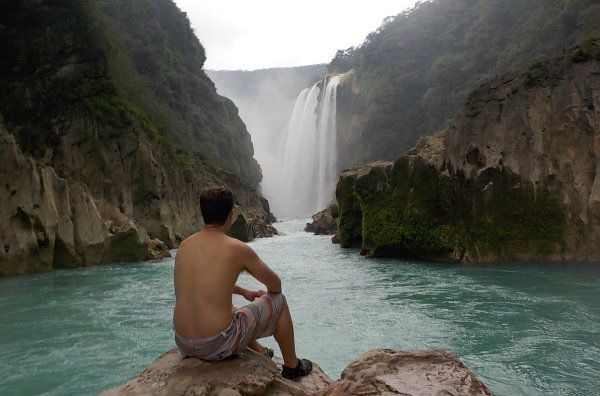 We joined up with some American kayakers who have a business in Mexico during the winter months. They gave us a rundown on how to operate the kayak and told us we'd be going down class-2 rapids. After paddling around one of the biggest waterfalls in the area, we got started. When the first rapid came, we fell off in an embarrassing fashion. Karla got massive scrapes all the way from her bum to the middle of her leg and I got lucky with just a bruise. Nothing big, though her cuts looked horrible. After that, we got the hang of it and only fell out one more time, thankfully in deeper water. We had only kayaked once before in calm waters so this was a completely new experience and a fun one at that.
It was incredibly scenic. The water was a light blue. The sky was blue. The jungle ferns draped over the edges and had an almost "Indiana Jones" feel to it. Mini waterfall after mini waterfall, we made our way down the river for a couple of hours, finally disembarking near someone's farmland, where some other locals had been paid to drop off our vehicles for us.
Success.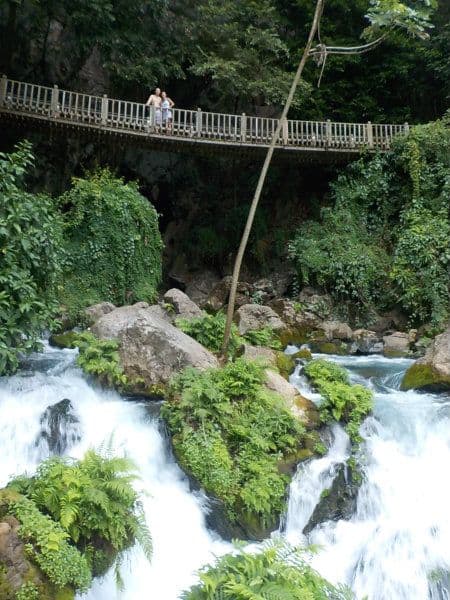 After a delicious but greasy lunch of Mexican gorditas, it was time for another waterfall adventure.
This time we were going to be jumping off of nine different waterfalls, starting from a mere 3-meter drop to the biggest drop of the day at 9 meters. Some of them we could slide down like waterslides and after the last one, we had a big surprise waiting for us. We were able to swim behind the waterfall. Crouching down in a cool, dark cave while looking out from behind a powerful waterfall pour down in front of us was as magical an experience as it gets. I wanted to stay for hours and just be in the moment. This was another first for me and definitely something I'd love to do again. After a good five or ten minutes, we crawled to the left and eventually leaped through the waterfall and back into the cold waters.
Over the next week in Huasteca, we never stopped. It was adventure after adventure. We went paddle-boarding for the first time in small ponds and also upriver to see a massive waterfall towering above us. We took the kayaks again to a different river and also paddled upstream to Tamul waterfall, the biggest waterfall in the area. We then said bye to water activities and went hiking through a magical subtropical rainforest to reach a staggering 200-meter sinkhole in the middle of the mountains. This area is famous for sinkholes with the most notable one being the Cave of Swallows, which was featured in BBC's Planet Earth and many National Geographic articles. We went to the one that almost no one ever sees, which added to the experience of it all.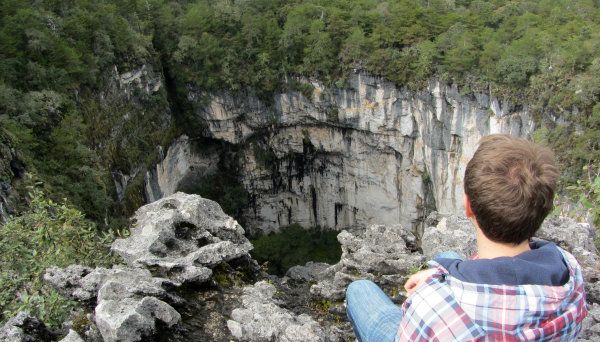 After spending a night in some beautiful cabins in a small tranquil mountain village, we embarked on another new adventure – mountain climbing. The goal was to see an incredible view from the top but the rain caused too much mist for any view to be seen. Though this was disappointing, it was really cool to strap on a harness with real mountain climbers and make our way up a steep mountain. I was told that I was a natural so who knows – maybe I've found a new activity to fall in love with. We then continued on to a surreal castle built by Edward James near the town of Xilitla. This magical place is built into a natural waterfall and was meant to resemble "the Garden of Eden". All Rocky and I could talk about was designing a liveable town just like this. Paradise.
I love trips like this.
While it wasn't a new country (I've spent about six months in Mexico during the last five years), it was a new area and a place that almost no tourists ever see. The only tourists that make it to this area of Mexico are hardcore adventurers like the kayakers we met from the States. Most opt for major cities or beach resorts.
They are missing out and this could be great for visitors from couples to a great family holiday in Mexico.
This place was like walking into a National Geographic documentary. All the locals are super friendly and not-yet-damaged from mass tourism like those from Cancun and Riviera Maya. It actually reminded me of my time in Asia, driving through tiny villages and farmland and witnessing little villages with happy families. There are so many beautiful cities in Mexico, some of which are vastly unexplored.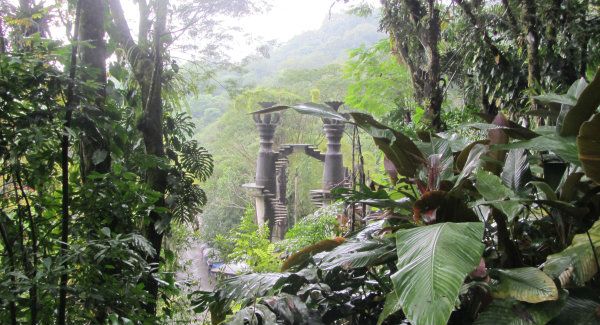 After about five months of work and city life, this adventure was just what I needed. Adventure, thrills, good people and the odd bottle of Victoria beer. I tried some new adventure sports and grew as a person, which is just what travel is about, no?
When was the last time you tried something new or had your heart rate increase from excitement? Let me know in the comments – I'd love to hear about it.
My friend Ricky is building incredible bamboo buildings in the Huasteca region and we're thinking of organizing an adventurous and unique tour in the next year or two. Would you be interested? Leave a comment if you are and you'll be first in line when they happen.
PS: Don't forget. I'm going to be releasing a book in 2015 called Limitless Travel. It's going to be the ultimo travel resource book teaching you how to find the cheapest flights, how to become a travel hacker, all the different modes of transportation, different types of accommodation, best travel gear, and much more. It'll be free for the first 5 days once released so make sure you sign up here and be the first to know about its release.