Back in 2012 when Karla and I were diving from a liveaboard boat in Komodo National Park, our dive-master mentioned his experience with diving the famous cenotes on the Caribbean side of Mexico. Fascinated by his stories of crystal clear water and the thought of the "underworld", we knew we had to do this as soon as we had the opportunity.
Fast forward to 2014 and that opportunity presented itself. Karla and I had just been married on the beaches of Ixtapa and were sitting in her home in Mexico City when I thought, "Let's fly to Cancun for some cenote diving". It certainly wasn't the smartest decision, financially speaking, with a 4-month backpacking trip coming up but I booked the tickets anyway. There are so many things to do in Cancun and cenote diving is definitely one of them to add to your bucket list.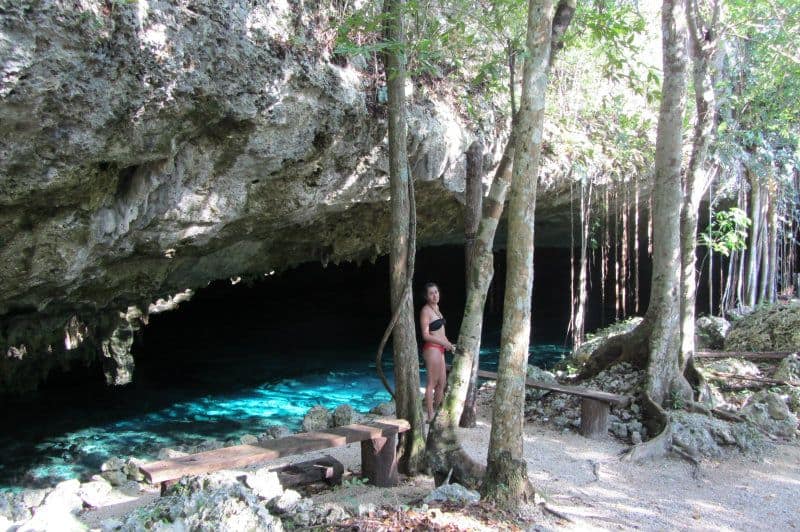 And just like that, we were diving into the underworld of Mexico. There are plenty of cenotes including Cenote Zaci and the Pit. We booked our trip with Scuba Libre, a small outfit known for their safety, which is important when you're diving underground caverns. I was already hooked on diving the Bat Cave but then they recommended a place called the Pit. The Pit is a very deep cenote, which also has a layer of sulphur gas around 38M in depth.
Needless to say, I was in.
DIVING THE PIT
We had just reached a depth of 38 metres, the deepest we have ever been.  Floating into the abyss of the famous Pit dive site, I began to notice a sort of smoke all around me. Imagine wavy smoke hovering around someone who is smoking a cigarette but underwater. It was really strange. It took me a few seconds but I finally realized what it was. We had reached the layer of sulphuric gas we had been told about. Diving through a layer of sulphuric gas made me feel like I was in an almost dreamy state as the smoky waves glided all around us like a cloud drifting through a windy sky. For my wife Karla, she nearly went into a dreamy state as she began to feel the effects of nitrogen narcosis. It was time to start moving up.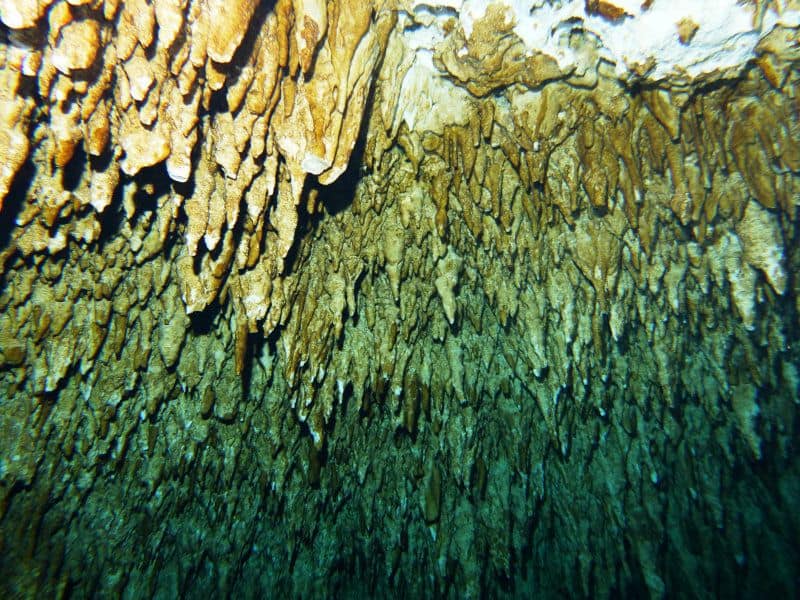 As we began our ascent towards the surface, we passed through a halocline, which is an area where saltwater meets freshwater and causes our eyes to not be able to focus. It's kind of like looking through an oily glass. This effect is really cool to experience but I wouldn't want to be in it for too long as I would be bound to have a headache. Once we reached a depth of around 20 metres as we moved closer to the surface, the immense beauty of the sun-rays began to shine through the opening of the cave. This is often what makes people want to experience the cenotes in the first place. It's mesmerizingly beautiful. In our case, we even had a skin diver making a decent, which added to the experience. It was like a scene out of a sci-fi movie. A female diver hovering in 20 metres of depth, highlighted by the rays of the sun. Stunning.
Unfortunately, my lungs were sucking back oxygen like it was going out of style and so our dive ended about 15 minutes early. I would have loved to stay down a little longer. Being at the surface wasn't so bad though. We took off our scuba gear, climbed up to a 6-metre high ledge and then jumped right back into the Pit. Awesome.
DIVING THE BAT CAVE
After some grub we proceeded to the next amazing site called the Bat Cave. This was my favourite dive because we were able to navigate through tight passageways, which really made it feel like a cave dive. Surrounded by submerged stalactites, we passed through many tunnels and eventually broke the surface into a dark bat cave.
Removing my dive mask, we used the guide's flashlight to spot some little bats trying to sleep on the cave ceiling above us. Every now and then, bats would zip by us with some leaving the cave through a little opening on one of the walls. The bats were probably hoping we would soon leave, considering we were shining flashlights in their faces when they were trying to sleep. If I was one of the bats, I would have taken a poop on one of our heads. Still, watching a bat hang upside down never gets old.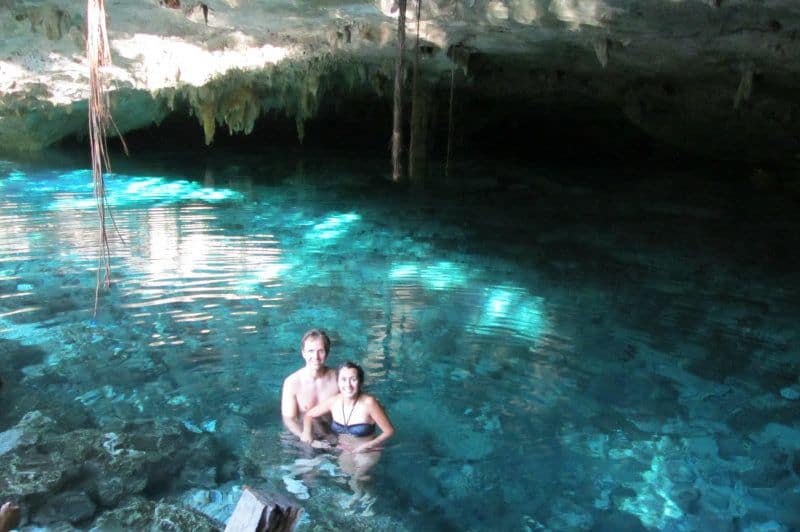 I could have stayed for a long time watching the cute little critters hang upside down but we had some more caverns to explore. We let out the air in our BCD's and descended down into the dark water. After weightlessly exploring more tunnels we came to an area just before reaching the end and turned off our flashlights to explore the last little section with nothing but a small fraction of natural light shining into the water. It was jaw-droppingly beautiful, even dreamy-like to float by humungous stalactites with just enough light to keep me from not bumping into one.
It's hard to describe such a beautiful place. Imagine being in a magnificent speleothem-covered cave that's submerged by crystal clear turquoise blue water. As you swim through the caverns, you spot ancient fossils and little fish. Due to the clarity of the water, it can be hard to tell how far anything is. Something may seem close but is actually very far away. Then, as you approach the cave opening, the rays of the sunbeam into the water, guiding you to the entrance. You never want the dive to end.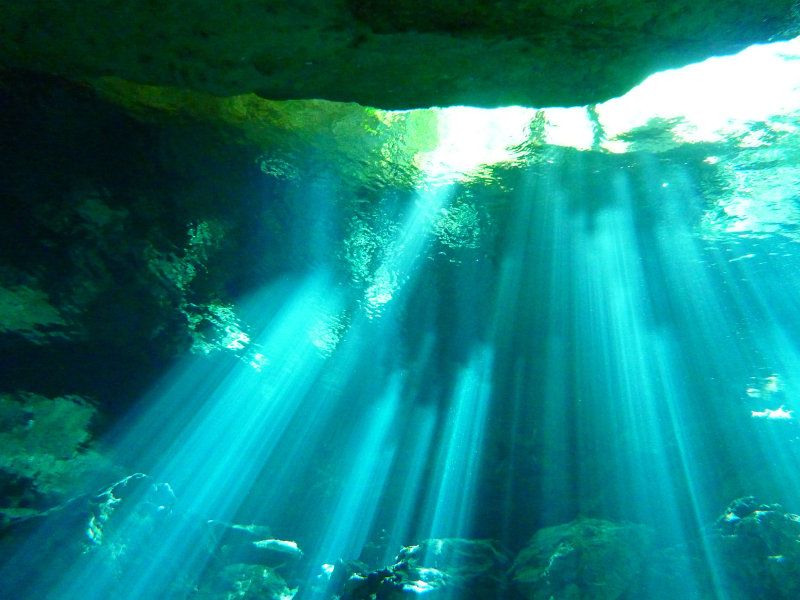 As we rose to the top, we stopped and hovered at a depth of around four metres just to take in the majestic scenery all around us. At times it felt like we were looking into a mirror or marvelling at some sort of mirage. After finally peeling ourselves away from the beautiful cenote, we broke the surface of the water and now marvelled at the lush jungle scenery on land while secretly wishing I was still in the underworld.
HOW TO SEE THE CENOTES
In my opinion, the cenotes are the #1 reason to visit the Caribbean side of Mexico. They are an absolute must-do, even if you just snorkel. It's one of the only places in the world to experience these amazing natural wonders. The caves (or caverns) are magical. Some of them feel like you're diving into the abyss while surfacing is like you're being called up to heaven through the sun's rays.
There are cenotes all around the Caribbean coast of Mexico. Many of the most popular ones for diving and snorkelling are located between Cancun and Tulum. Most of them are easily reached by Collectivo (shared minibus) or car. Most diving companies include transportation.
Another great part about exploring the cenotes is all the other things in the area as well. For example, you could do a road trip up the Yucatan to see both Chichen Itza and sample some of Mexico's best street food!
As mentioned in the article, we booked our tour with Scuba Libre, a small and friendly outfit located near the beach in Playa Del Carmen. Both our guides were friendly and the equipment was good. I highly recommend it.
Scuba Libre contact details
Playa del Carmen
Calle 4 entre 5ta. Av y Z. Fed. Maritima
77710 Playa del Carmen,
Q. Roo, Mexico
Telephone: 00 52 984 803-26-71
E-mail: info@scubalibre.com.mx
Please remember: Your buoyancy skills should be very good before entering the caverns. If not, you will be hitting everything and causing great damage, not to mention lifting sand/sediment and making it murky for everyone else. For the Pit, you will need to have either your advanced/adventure diving certification or at the very least, have been deep diving before. All for your own safety.
That's it. Stay calm and dive on!
**
Do you dive? Have you dived cenotes before or is it on your dream list?
Looking for more ways to get in the water? How about snorkeling with whale sharks in Baja California, one of the best things to do in La Paz, Mexico!