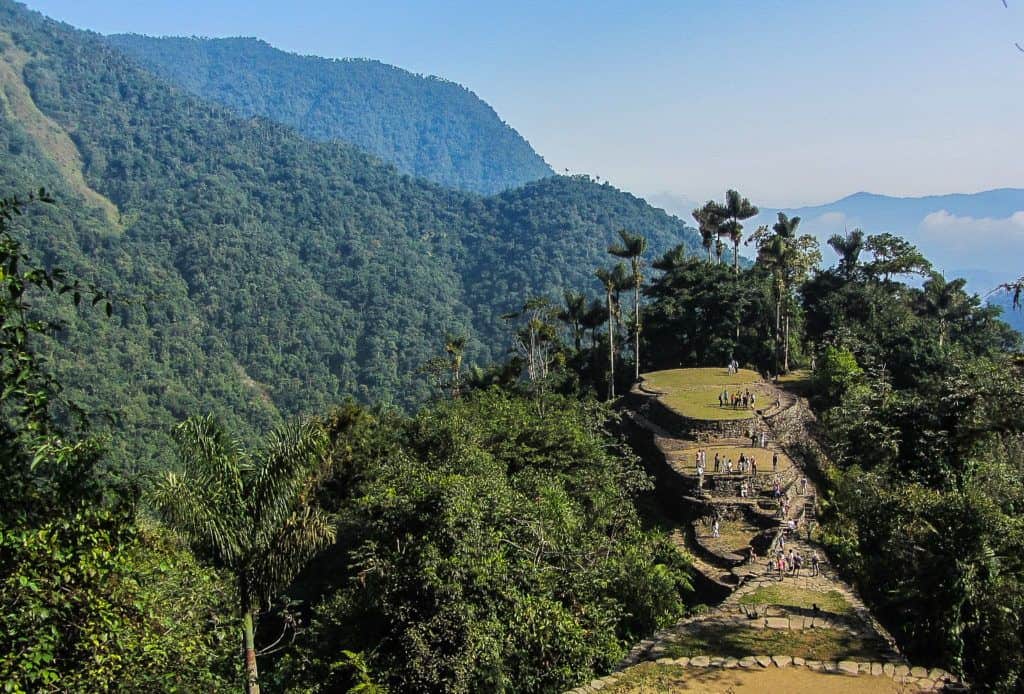 It may not be lost anymore but it certainly felt that way. Like walking through Pandora (you know, the lush habitable moon city in the 2009 movie Avatar); it felt like we were in some forgotten enchanted land.
Surrounded by waterfalls and lush mountains, I stood near the edge of the ruins and watched colourful birds fly to their hanging nests. Bright butterflies glided by me as I was taking pictures and I decided to put away the camera and just be. I wanted my focus to be on the magical jungle surrounding me and to deeply implant that moment into my soul.
Then a helicopter arrived and landed right on the ancient stonewall I was standing on. At first I was annoyed that this loud machine would interrupt nature's sounds all around us but what are the chances that the Colombians' president's son (along with many other rich folk) would be touring the site the same day as we were. Even though helicopter tours were banned many years ago due to the weight of the aircraft causing damage to the city structure, I guess an exception was made for these polo-shirt wearing citizens. It was amusing to see their white clothing, styled hair and overall fresh look clashing with our stinky clothing that we had been wearing for 4 days, our sweaty bodies and overall tired looks.
They certainly missed the highlight though, which is fairly typical for these sorts of people. Sure, the lost city was the final attraction and a beautiful one at that but the trek is what makes it an adventure.
Thick jungle, high humidity, natural swimming pools, waterfalls, indigenous tribes and the camaraderie of our wonderful group and guide is what made this trek one of the top highlights on our entire 4-month South American splendour. It was by far the best thing we did in Colombia.
The 7-8 hour days of hiking through a hot steamy jungle were much easier to manage when we knew we had a cold refreshing river to jump into throughout the way. I cherish those moments. Peeling off my sticky t-shirt (with sweat), throwing off my hot steamy shoes, and dipping my toes in the cold water. After taking a swim for a few minutes, I'd climb up on a big rock and lay in the sun with nothing but nature's hypnotic music to sooth my soul. It was magical.
At one of the campsites, the natural swimming pool had a big waterfall that we were able to sit under and feel its force as it deeply massaged our tired muscles. For my wife, Karla, the pressure was too much, but for me, I wanted to live in that moment as long as possible. Next to the waterfall was an approximately 8 meter high cliff, which needless to say, I jumped off of. It was a rush that proved addicting enough to do it three more times.
While the lodging was fantastic for this kind of trek (hammocks for one night, bunk beds for the rest), It is the people that really made it memorable. Our group consisted of Karla and me, a guy from New Zealand, a guy from the U.S., a gal from Australia and a gal from Holland. Oliver, the guy from New Zealand, became a good friend and totally lived up to his last name; Happy. Ben, who was from San Francisco also became a good friend and was aptly named Gringo for the whole trip, ended up meeting up with us many weeks later in Cuenca, Ecuador.
We really couldn't have landed a better group of people and even our guide, Omar – (who we called Papi for our whole time there) was incredibly awesome. As the only non-spanish speaker in our group, I was lucky to have a translator (aka: my wife) to fill me in on all the goodies.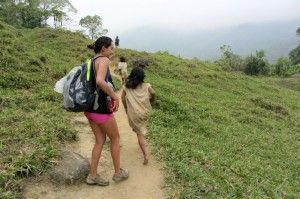 Papi knew a lot and even though he has been hiking the same trail for over 30 years, he had more enthusiasm than all of us put together. His sense of humour and ability to crack jokes throughout the trip really made the hike more enjoyable. He'd stop to pick up oddly-shaped leaves, which he would then stick on his face and act like a monkey, giggling like a school girl the whole time. He shared so much history of the area and let us stay twice as long at the lost city then any other groups we saw. Most groups seemed to arrive and leave within an hour. What's the rush? I could have stayed all day but after 2-3 hours, Papi lead us down a secret trail, which exposed much more of the lost city that hadn't been excavated yet. It was an unreal experience and we even passed the helicopter-travelling rich folk who were on a quick tour with their archeologist.
It was sad to leave and know that our adventure would soon be over. It was an incredible four days; good food, great people, amazing scenery and comfortable lodging. Insects were much scarcer than I had imagined, though we did find one small scorpion in the bathroom, which Papi quickly killed with his machete.
The rivers provided much relief to the hot and humid weather and we had no rain the entire time.
It truly became one of the best activities I've done in all my travelling life. Had I not loved our group so much, I would have parted ways and extended the time and stayed in the jungle for another night or two but finishing with our awesome group made more sense.
While Ciudad Perdida may not be a lost city anymore, it certainly feels that way as you begin the hike up the 700 nearly hidden stairs that bring you to the final destination. It's like an Indian Jones movie where you wipe the dirt from one stone rock and suddenly find it's a staircase leading to a magical enchanted city.
While I'll likely never discover an ancient city for the first time, Ciudad Perdida is as about as close as it gets for the adventure traveller. This is one place I hope to visit again.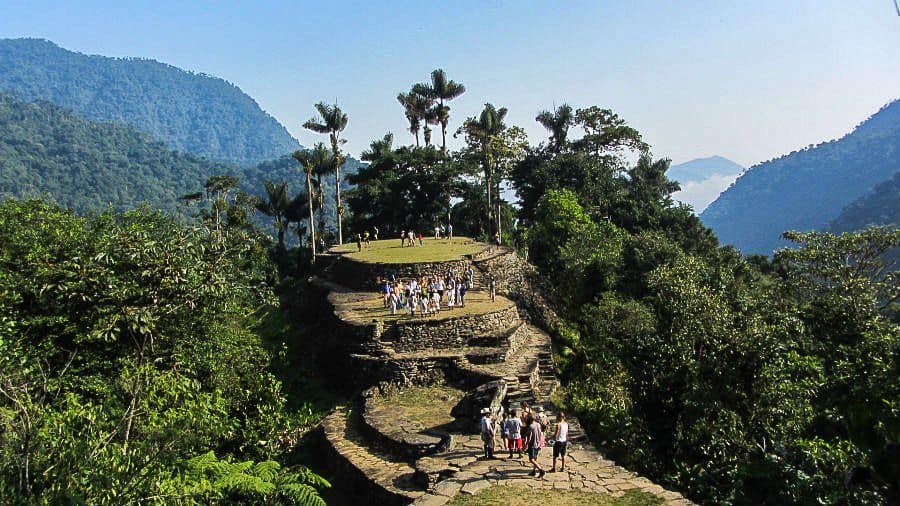 WANT TO VISIT THE LOST CITY?
It's quite simple. First you'll want to book a tour through one of the agencies. If your time is short, you'll want to book in advance but if your schedule is loose, you can probably turn up and book one within a few days.
We booked with Turcol Tourism, which ended up being great. They also run a basic hostel in Taganga. Omar (our guide who we HIGHLY recommend) has been working with this company for over 25 years. I'm sure you'll have a great time with any guide but try to get Omar if you can. He was nothing short of amazing. You can also reserve at reservassantamarta (AT) hotmail (DOT) com. You can also reach them by phone at (5) 421 22 56  –  Cel 310 640 1875 or find them on Twitter @lostcityturcol
For more tips on making the best of your hike to the Lost City, click here.
**
What do you think of this adventure? What hikes would you recommend?
ANY QUESTIONS? PLEASE ASK IN THE COMMENTS!