Things to Do in Palau
From the moment I learned about a lake full of stinger-less Jellyfish, Palau became a dream trip I had to make happen. Nestled next to Micronesia, Palau is the epitome of tropical paradise. Glistening turquoise waters give rise to stunning rock islands covered in a luscious green jungle. If you've always dreamed of visiting a tropical paradise and love scuba diving, Palau should be high on your list.
My wife and I had just one week in Palau, which went very fast. Most of our days were spent scuba diving the incredible reefs but we also took a couple of days to go kayaking and to just relax on the beach.
If you're planning to add Palau to your dream list, this guide should give you a good idea of what to expect and what to do.
–

What to do in Palau
Palau is most famous for scuba diving. In fact, Palau might not be the best destination for people who don't want to scuba dive. Palau is a very small country and although there are other activities such as kayaking, there are no easy-to-access beaches. Most require boat travel or a hefty fee at one of the resorts.
Palau is also the first country in the world to develop a shark sanctuary and is well-known for Jellyfish lake; a lake where you can snorkel with millions, if not billions, of Jellyfish.
Scuba Diving
Sam's Tours (www.samstours.com): This is the company that we used to organize all our scuba diving, our visit to Jellyfish Lake, and our kayaking. They can help book any tour or accommodation on the island as well. Arranging your trip through a tour company is smart in Palau as transportation is often included and you won't be paying a higher price.
Fish n' Fins (www.fishnfins.com): This is also a tour company that can book everything.
Palau Dive Adventures (www.palaudiveadventures.com): This is also a tour company that can book everything.
Jellyfish Lake
Although this is a snorkeling adventure, it can be organized the same tour companies that offer scuba diving. This place is so INCREDIBLE that I had to feature it as its own category. It is simply "out of this world". Check out this video I made of the experience;
–

Kayaking
Paddling Palau (www.paddlingpalau.net): This company also offers camping excursions.
Sam's Tours (www.samstours.com)
Fish n' Fins (www.fishnfins.com)
Palau Dive Adventures (www.palaudiveadventures.com)
Sightseeing Plane Ride
Sightseeing Helicopter Ride
Palau Helicopters (www.palauhelicopters.com): Helicopter rides are substantially more expensive than plane rides but are also an entirely different experience. If you go, I'd love to hear about it!
World War II
In addition to the activities mentioned above, Palau is also a great place for World War history buffs. Any of the companies mentioned above can take you to old WWII relics, both above and under the sea.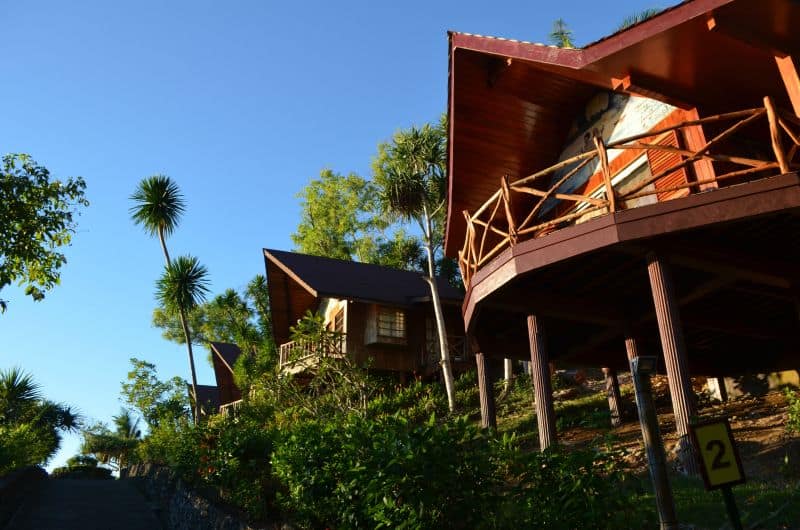 Best Places to Stay in Palau
Normally when I go traveling, I look for budget accommodation in a great location. I go to explore the place and therefore don't care about the beauty of my room. However, Palau doesn't have much budget accommodation and so I looked for a hotel that could truly enhance the visit. This brought us to Carolines Resort. We couldn't have found a better place. Carolines offers private Palau-style bungalows with the best views in the country. We enjoyed the sunrise and sunset right from our balcony while looking out over the extremely beautiful rock island scenery. Carolines is also nearby Palau Pacific, which happens to be the most expensive accommodation in the country. However, if you're looking for an accessible beach/pool, this is where you need to go. Unfortunately, it costs a whopping $99 for a 1-day pass.
Here are a few options;
Carolines Resort (www.carolines-palau.com): This is our recommendation. There's nothing quite like waking up to the best views in the country. Trust me.
Palau Pacific Resort (www.palauppr.com/en): Although it's one of the most expensive hotels in the country, it does have beautiful rooms, stunning grounds, the best private beach in the country, and a gorgeous pool. In fact, they also have rooms built over the water with private balconies.
Palau Plantation Resort (www.palauplantationresort.com): This hotel has an eco-jungle feel to it and is nestled near the mangroves.
Ms. Pinetree's (www.mspinetrees.com): This is a hostel-style guesthouse with rooms costing around $35 per night. Private rooms cost around $65.
Palau Paradise Hotel (www.paradisepalau.com): A good budget option (under $150) that is close to downtown and has kitchenettes available.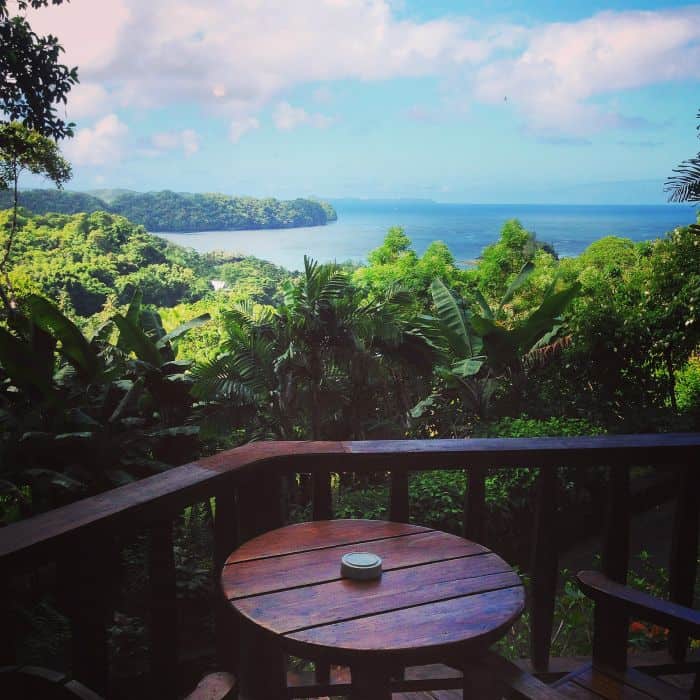 Best Restaurants in Palau
During our visit to Palau, we had the opportunity to try out a variety of restaurants and these are the ones that stood out. Note: Many restaurants offer free pick-up and drop-off from most hotels. This is a great service to save you money on the semi-expensive taxis in the area.
The Taj (http://tajpalau.com): Wow. Just wow. This is one of the best Indian restaurants I've ever eaten at and we were just in India two months before our visit to Palau. The owner, who is originally from Kerala, has truly created a wonderful fusion of Indian and Palauan cuisine. You'll find the usual Western favourites like butter chicken but also some incredible infusions using locally caught crab and lobster. Even the alcoholic drinks were incredible. The owner has truly created a remarkable restaurant with the friendliest service on the island. Highly recommended. We ate here three times during our visit. The owner will often come by the tables and chat. One night, they even brought around free tandoori chicken for everyone. Simply remarkable food!
Elilai (www.elilaipalau.com): This is an upscale restaurant with great views over Koror. In fact, if you stay at Caroline's, this restaurant is walking distance. However, they'll also come and pick you up for free. We tried the decadent local mangrove crabs as well as the Indonesian Nasi Goreng and the Thai Style Shrimp Green Curry. All delicious. In fact, the chef is from L.A. and is the brother of a famous American comedian. The restaurant is beautiful and probably the highest-end restaurant in Palau.
There are also a number of budget restaurants in the area as well with meals averaging $10 USD.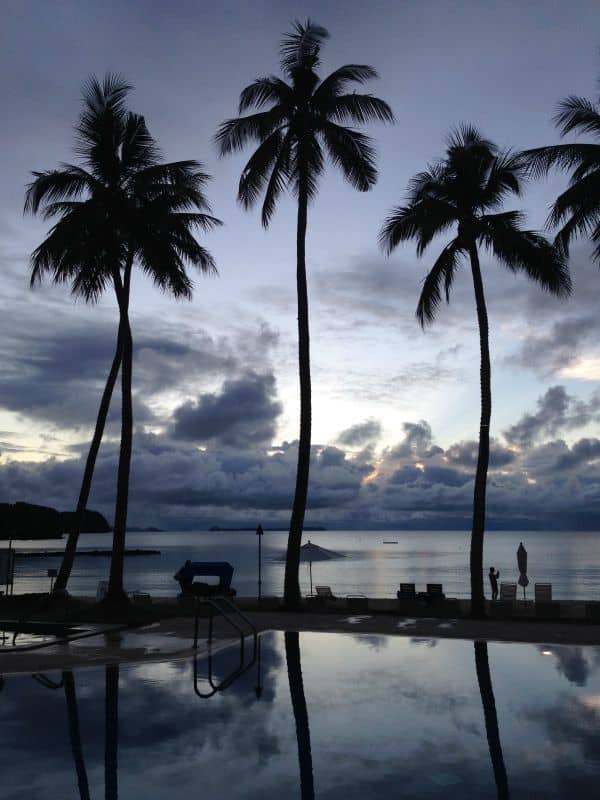 Conclusion
Palau is a country I'd love to re-visit. However, I'm not sure I'd recommend it for those who don't scuba dive. Considering the $100 USD entry fee and it's relative remoteness, you really need a good reason to visit if not for the diving. If you do love scuba diving, Palau is truly world-class and when combined with kayaking, it will likely become one of your favourite laid-back tropical destinations.
If you're like me, Jellyfish Lake alone might be worthy enough of a visit. I love nature, I love the tropics, and I love scuba diving, so Palau is truly the place to be.
Travel Hacking Tip
Palau is not a super easy destination to get to. It's only serviced by a couple of airlines. However, we managed to include Palau as a free stopover en route to Indonesia using Air Canada's Aeroplan program. If you'd like to learn more about travel hacking, take a look at Zero to Dream Trip, a course I've created to help you travel more and spend less. For Canadians, make sure you visit CanadianFreeFlyers.com.