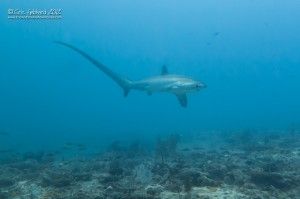 It was still dark, yet warm and humid. The roosters hadn't even made a sound yet but I was getting ready to board a boat heading to Monad Shoal; one of the best (and very few) places on earth to dive with the beautiful Thresher sharks. Normally found only in very deep water, the sharks have chosen Monad Shoal (about 20 minutes boat ride from Malapascua island) as their daily cleaning station. Your chances of seeing them here are quite good, at about 75%.
During the stay, I did the 5:30am Monad Shoal trip twice and witnessed these breathtaking creatures on both occasions. The second time however, proved to be my favorite! Upon descending off the anchor-line and hitting just 12m of depth, we knealed down on the flat bottom and were visited promptly by three large thresher sharks who circled in front of us for close to 20 minutes. Awe-struck by their prehistoric beauty, I had to remember to keep breathing as I found myself trying to breath less so the air bubbles wouldn't distort my grand view. I wanted to soak up the moment as much as possible.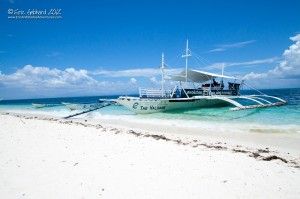 What a truly special moment. I can't find enough words to express the feelings of being able to swim right next to such a magnificent creature. To have them swim within meters and stare at us with curiosity. I had no fear whatsoever. Just pure excitement and graciousness for having this once-in-a-lifetime opportunity.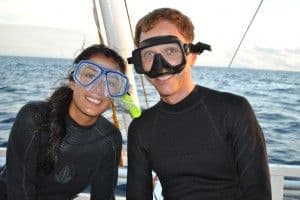 And as if the Thresher sharks aren't special enough to warrant a trip to the tropical island of Malapascua, many other dive sights offered a world-class experience as well. With the exception of witnessing the onslaught of dynamite fishing on one of the days, Gato Island provided an amazing cave dive complete with white-tip reef sharks. The best part is approaching the end of the cave and seeing the sharks circling their silhouettes around the "entrance" with only the blue ocean in the background. A very good picture for those with a great camera. Although it was a little busy with divers, when my trainer and I left to go around a different corner, we were greeted with two big sharks who circled just 1m in front of us. Absolutely amazing!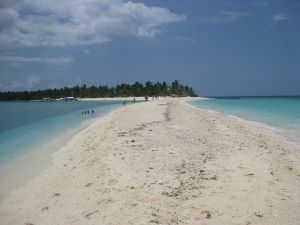 Kallangaman island stole the show though for it's overall beauty and stunning wall dive. Besides being an accommodation-free island (this means unspoiled), it featured a stunning strip of pearly white sand stretching itself a couple hundred feet out into the ocean, causing a double-beach effect and a feeling like your walking on water. The wall dive was my favorite dive ever and I'll never forget the feeling of coming off the wall facing the blue abyss and seeing the unique array of colorful corals, schools of bright neon fish, and plenty of macro life such as the adorable pygmy seahorse. Even the 1.5 hour boat ride home over the teal-green waters was amazing as we had dolphins racing the boat part way home.
Malapascua really is a beautiful dive mecca. Even a visit to the somewhat-boring house reef gave me a glimpse into the life of the goby-shrimp relationship, a look at some baby lion-fish, and a chance to practice my navigation skills which I nailed!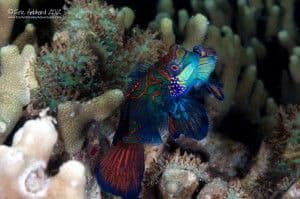 I came out of Malapascua with a new appreciation for scuba diving and my advanced PADI dive certification. Every time I seem to enter the water, life under the sea inspires me to all new levels. The relationships of unique species, the dazzling array of colors presented in jaw-dropping fashion by corals and plants, and even the gentle swim of a Thresher shark are all reasons to continue sinking into the depths of the sea. If your looking for something truly inspirational and an adventure you'll never forget, I highly recommend giving scuba diving a try. It's truly an "out-of-this-world" experience and a whole new look at nature that a picture could never provide.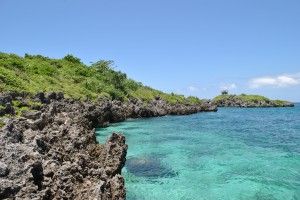 As I write this article, It's hard to say what I'll miss more about Malapascua. Staring at Thresher sharks swimming in front of us, running out onto a slimming strip of white sand surrounded by blue and green sea, dropping off a beautiful wall of coral gardens, swimming through a cave of white-tip sharks, or standing on the edge of the boat watching dolphins show us how fast they are…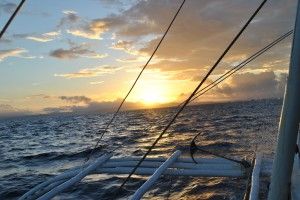 I guess in the end, I can say I'll miss everything. I'm truly happy to have been given the opportunity to see such a beautiful place and I definitely hope to return some time in the future.
What are some tropical islands that have inspired you?
**
Some of the pictures featured here were provided by Eric and Sheila (two divers who joined us at Malapascua). They have extremely awesome cameras so if you want to see some mesmerizing pictures, visit their blog here.