From the Red Sea to the Pyramids – Exploring Egypt Above and Under
Blue ocean to my right. A massive coral wall to my left. Above me, a shark glides near the surface. An Oceanic Whitetip. This is what we've all been waiting for and it's only our third dive of the trip.
Known as a rather "curious" shark, all of us have been briefed on what to do during an encounter with one of these magnificent creatures. The first rule is to stay calm. This is a fairly general rule for most animal encounters. They tend to sense how nervous you are and if you start to flail around, you look injured and like a very easy meal. The second rule is to stay vertical. Perhaps this makes you look bigger. I don't know. The third rule is to keep your limbs in. Don't stick out your arm or wave it around in a panic. Don't give it something easy to bite. You know, things like that.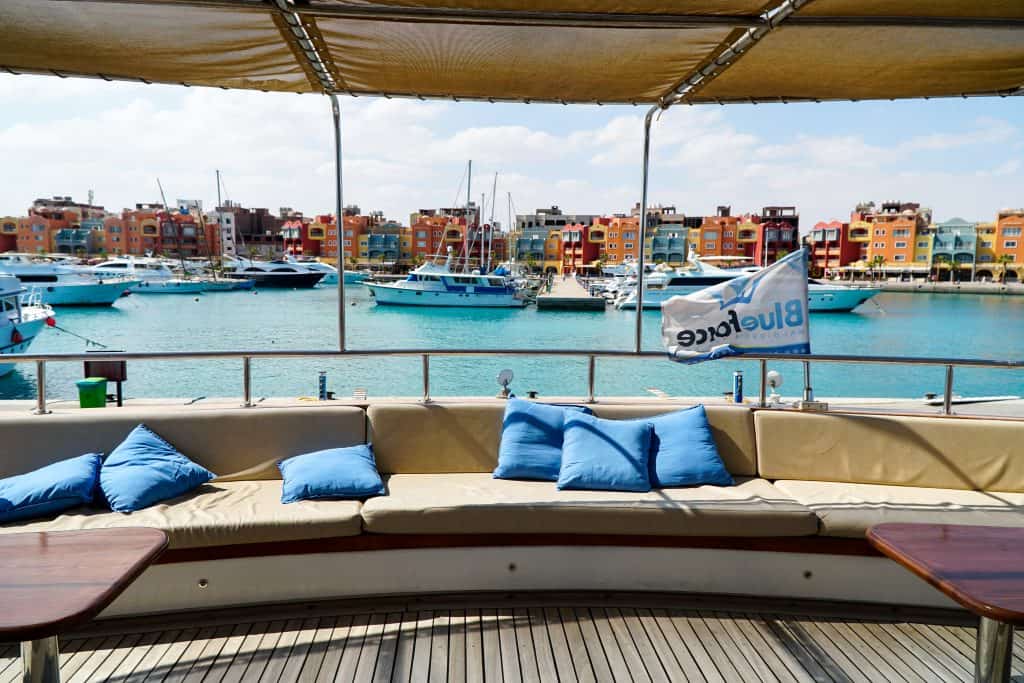 In all honesty, though, I'm quite calm around sharks. I know what they're capable of and I know how vulnerable I am in the water. I respect them tremendously. Yet, I don't feel like they're going to do me any harm. In fact, if you look at statistics, sharks rarely ever cause harm to humans and when they do, it's almost always at the surface of the water, such a surfer. My wife, on the other hand, does get nervous. I know this because as the shark got very close to us, I suddenly got pulled towards her. It was my wife, grabbing tightly to my arm and pulling me close. Meanwhile, I'm trying to stay steady and get some good video. For me, this was an incredible experience. The shark was coasting around us and then began to approach us closely. When the shark was just one meter away, it turned, flickering its muscles and causing a reflection of light to shine off of its back fin. The shark also glided over to another diver and dived down towards his leg, showing us his belly in the process. Perhaps it was thinking about his leg as a free appetizer. Perhaps it was just wondering what the heck we were doing in the ocean. It was an incredible moment to have an apex predator approaching us, swimming back and forth, twitching its muscles with each movement while scanning its environment. It was a very beautiful moment.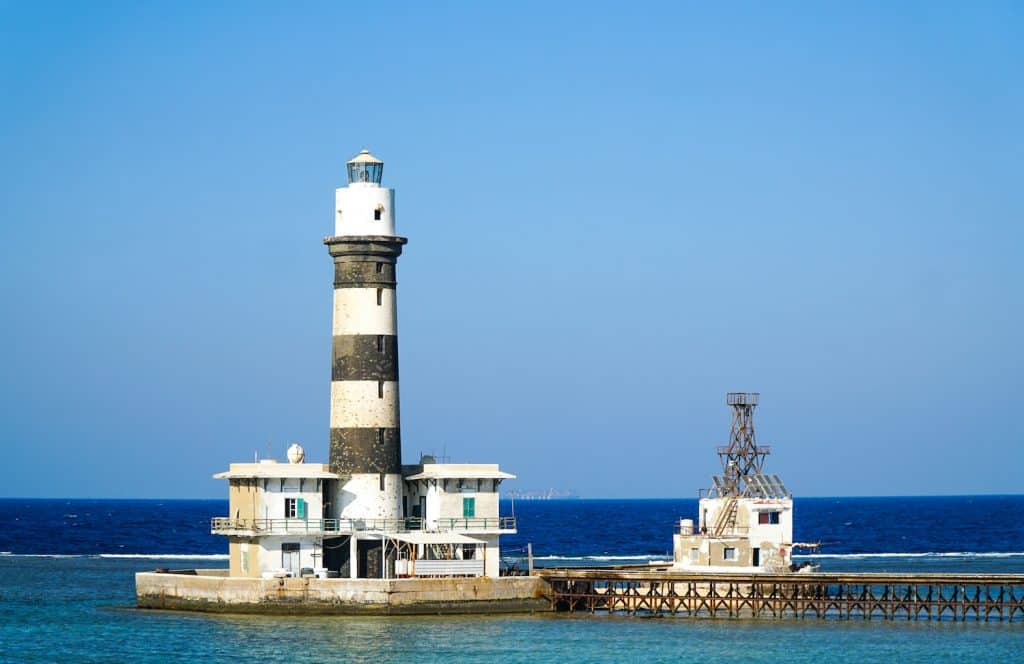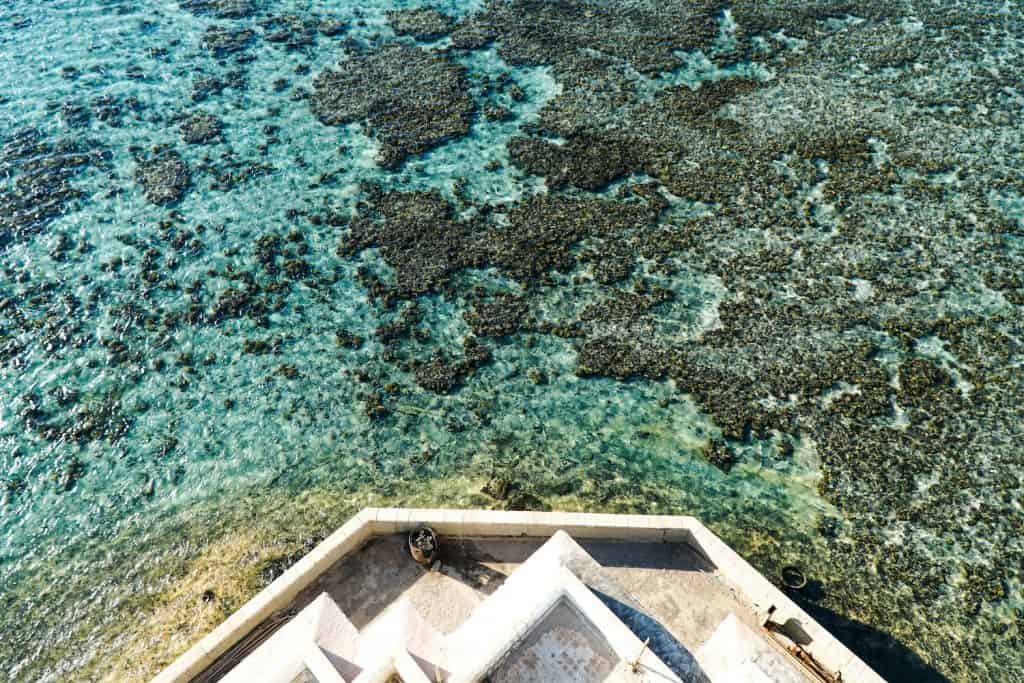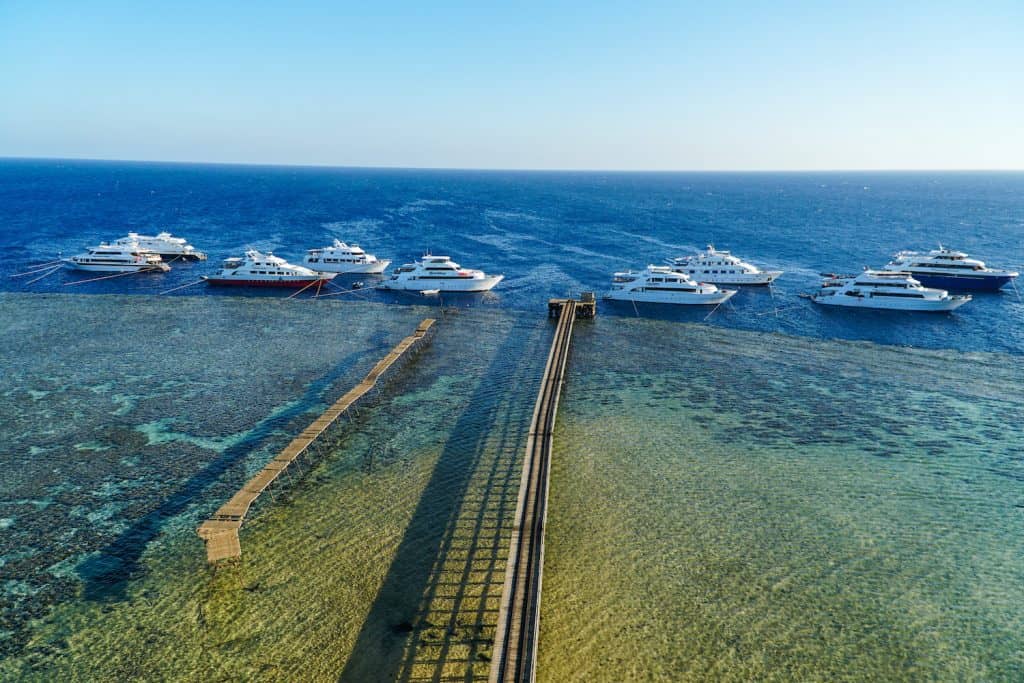 The show was now over. The shark left us to visit other divers and we continued on, marveling at the coral and the little creatures that call it home. It's kind of surreal to be diving next to a shark and then looking another direction and getting close to a little clownfish, swimming in and out of his Anemone home. Ironically, the clownfish is even more aggressive than the shark. Sensing danger, the adult clownfish swims towards me as if to challenge. He then quickly pops back in his home and seeks shelter. For a fish no bigger than six inches, they are quite courageous. After admiring more corals and little fish, I look back to the deep blue and spot a Thresher Shark many meters below us. It's the first time we've seen one since diving very close to them in the Philippines. It was a brief moment but still magical to see one yet again.
This was our first time diving in the Red Sea. We've dived in almost every continent and have come to love liveaboards. We don't get to dive very often and being on a diving boat for an entire week is a great way to see quieter diving spots and to dive as much as possible in a short amount of time. In fact, it's the liveaboard that brought us to Egypt. We've dived some incredible places throughout Indonesia and Malaysia. We've even dived with marine iguanas in the Galapagos. But this time, we wanted to visit somewhere around Europe or the Middle East. We checked out places in the Mediterranean and the Aegean Sea. After reading the reviews, however, it was clear that the Red Sea was by far the best place to dive in this part of the world. It's the best place in Africa and the best place around the middle east. It's better than anywhere in Europe. Plus, the region is incredibly interesting. So, after some research, we ended up signing up with Blue Force, a company based out of Spain. They do a number of tours around the Red Sea and even the Maldives, but the route we took (BCE, which stands for Brothers, Daedalus, and Elphinstone) is the area known for sharks. Hammerhead sharks, Oceanic whitetips, and the occasional Thresher Shark are the main draw to this part of the Red Sea. Toss in some of the best coral reefs you can find and it's easy to see why it's become such a popular spot. It's also quite cheap compared to most liveaboard regions of the world coming in at approximately $1,500 USD for a whole week. We spent a week sailing around to exotic locations and diving with a variety of creatures, including octopus, moray eel, tuna, dolphins, and of course, many, many sharks. We also ate incredibly well and relaxed under the stars on their new yacht – the Red Sea Blue Force 3. It was an incredible week in the ocean, but another benefit to diving in Egypt is what awaits you on land as well.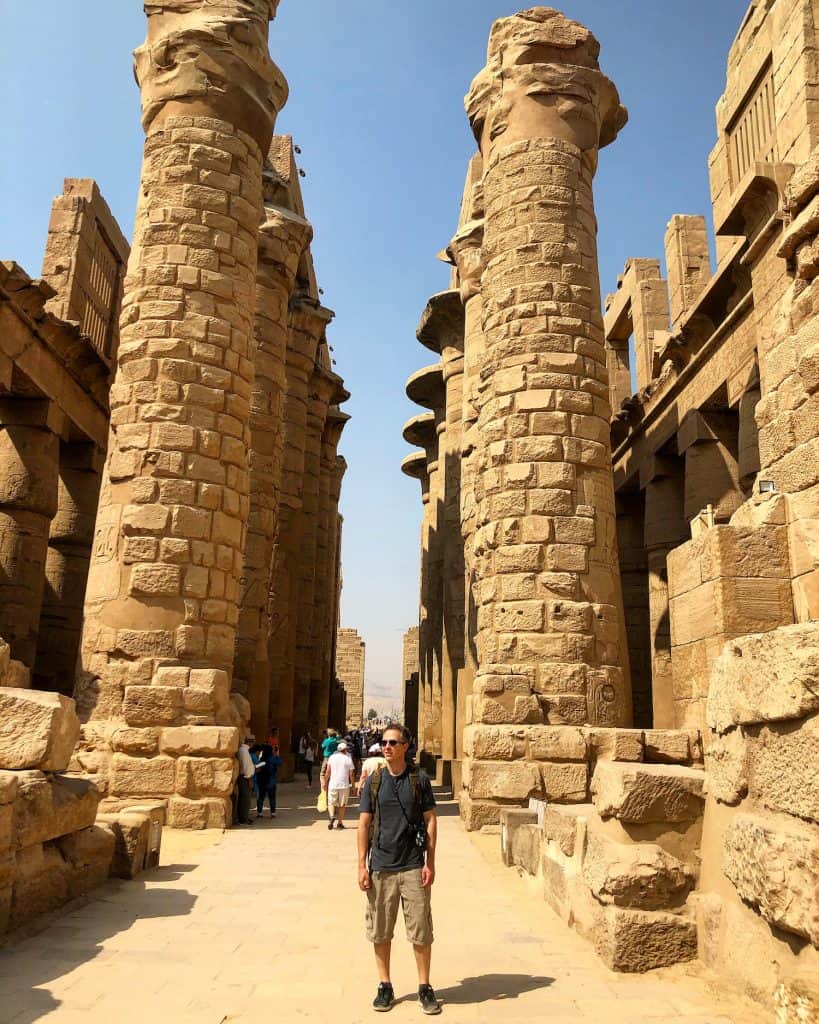 Exploring the Ancient Land of Egypt
Egypt is one of the most famous destinations in the world. Thanks to an incredibly ancient history involving Pharaos, pyramids, temples, and tombs, Egypt has been attracting explorers and tourists for centuries. From archaeologists wanting to find the next big thing to casual visitors just wanting to experience what they were taught about in school, Egypt has become a bucket list destination for almost anyone.
Just three hours away from Hurghada (the place where we embarked on our scuba diving trip), is a place called Luxor. This is the place to go for history lovers. Sure, the pyramids of Giza are the big draw, but Luxor has so much more. We began our trip in Luxor, four days before our scuba diving trip began. We had roughly 2.5 days in the city and made sure to fill them with as much awesomeness as we could. We started with the Luxor temple, as it was just a 30-minute walk from our budget-friendly Happy Land Hotel. It's not the cities "top temple", but already, we were blown away. Tall pillars greeted us before the entrance to the temple itself. Leading out from that is a massive walkway (Currently closed) that led out towards the Nile River back in the day. Along that massive walkway were dozens of sphinx statues, perfectly aligned on each side. It's incredible to see, but it's even more incredible when you imagine what it must have looked like thousands of years ago. This is what makes sites like this so intriguing. Their age. This site was created sometime around 1400 BCE. It's hard to fathom such a thing being built when machinery wasn't available. But here it is, smack dab in the dusty city of Luxor. We arrived just before sunset, allowing us to see it in the day before seeing it lit up at night. It took us a couple of hours to walk around the site, take some photos (great place for a selfie stick) and just admire the structure. It was a fine start to our short visit.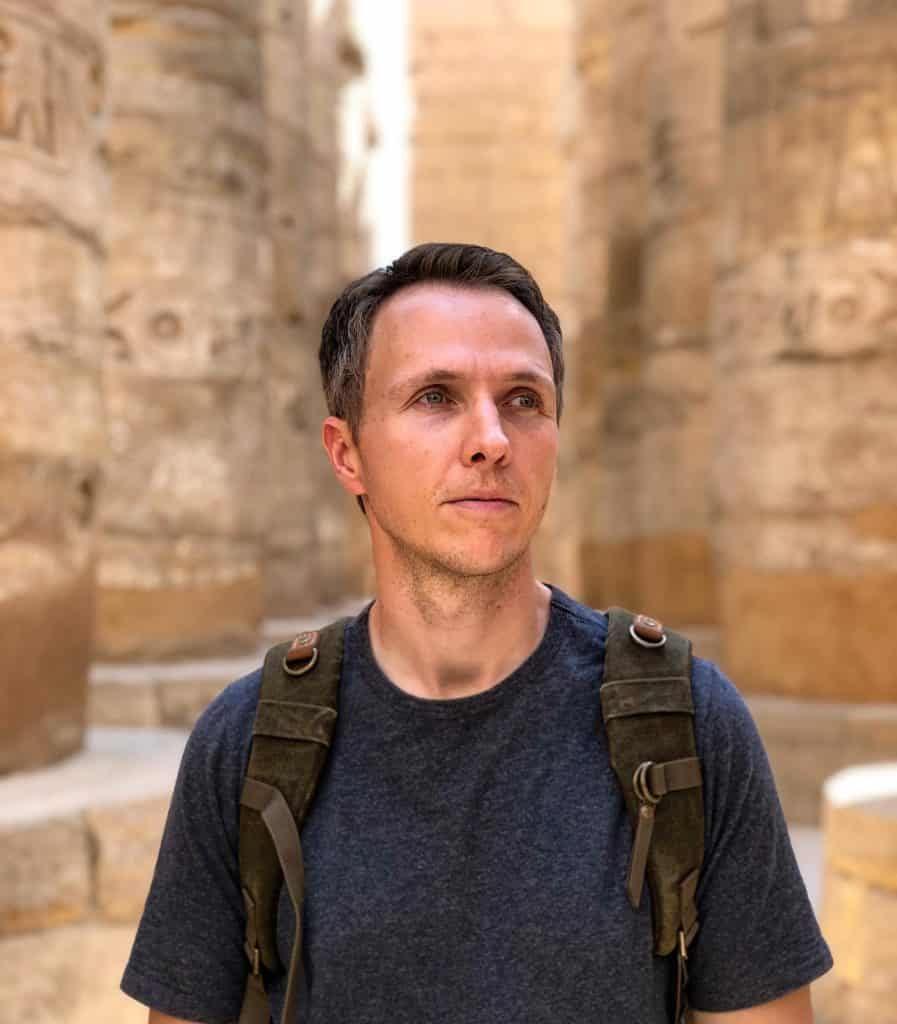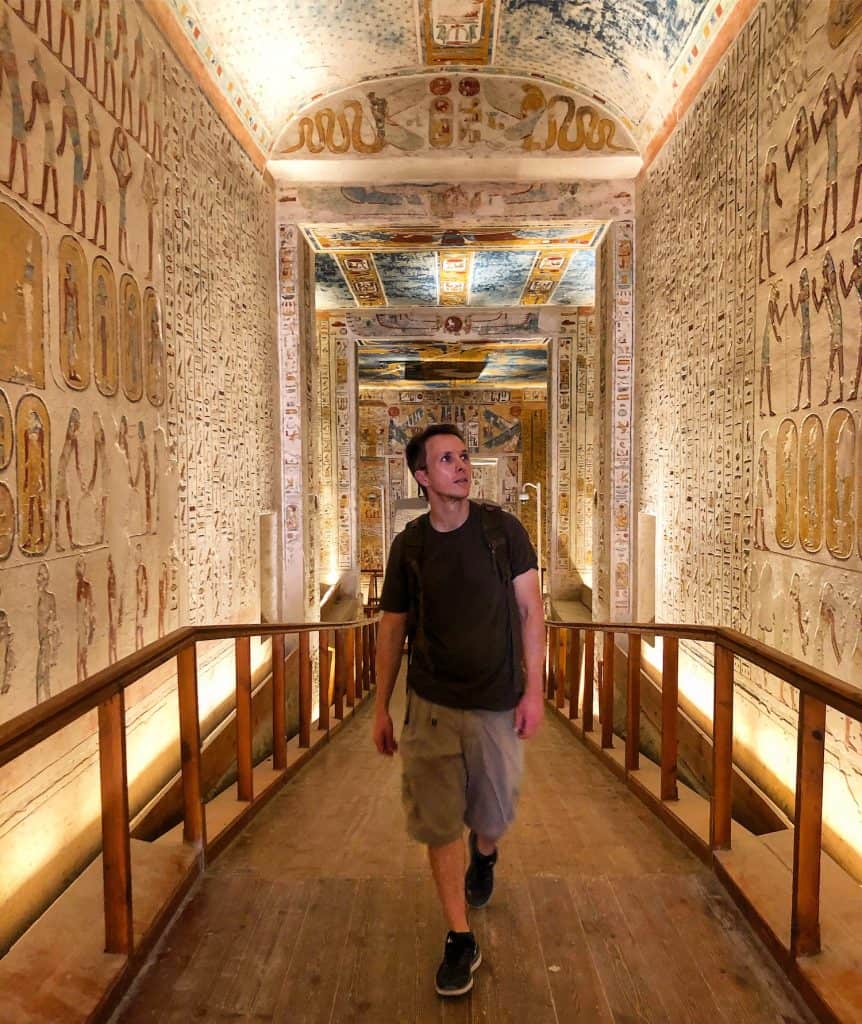 Over the next couple of days, we were continually blown away by the incredible historic sites we were able to explore in and around Luxor. Our favourite temple of them all was the temple of Karnak, which is the second-largest ancient religious site in the world after Angkor Wat. It's absolutely mind-blowing. From the massive columns that make up the Great Hall to the intricate artwork etched into the many pillars, it was one of the greatest sites we've ever seen and by far, one of the best things to do in Luxor. It's one of those places you just have to sit down and admire. We were in awe. It's hard to believe how intact it still is. We even found lots of colour on the upper portions of the pillars, hidden from the rain and sun. It's truly spectacular.
The next day, we took an early morning hot air balloon ride over the Valley of the Kings with HodHod Soliman before going into the tombs to see the artwork and the places where many kinds were buried. Being sent up into the sky inside a basket strapped to a massive balloon is always a treat but imagine doing so in Egypt, soaring above thousands of years of history, looking down into some of the great archeological sites on Earth. Just hours later, you can then go inside the temples and tombs themselves, literally walking in the paths of ancient Egyptians and Pharaohs. We were able to visit three of the tombs during our visit and felt it was enough to get the gist of it. However, for those really into history, you can more to go inside some of the more elaborate tombs. Some cost as much as $100 USD to visit. We couldn't afford that but I'm sure it must be incredible to see the intricate paintings and details they must have.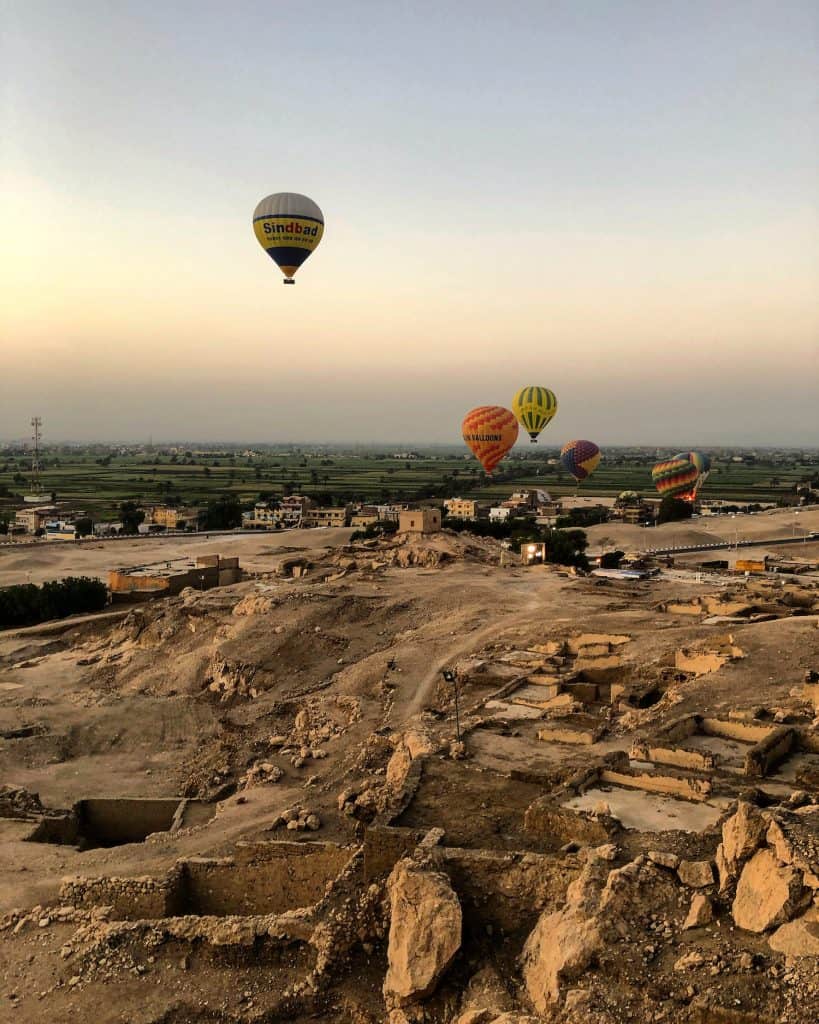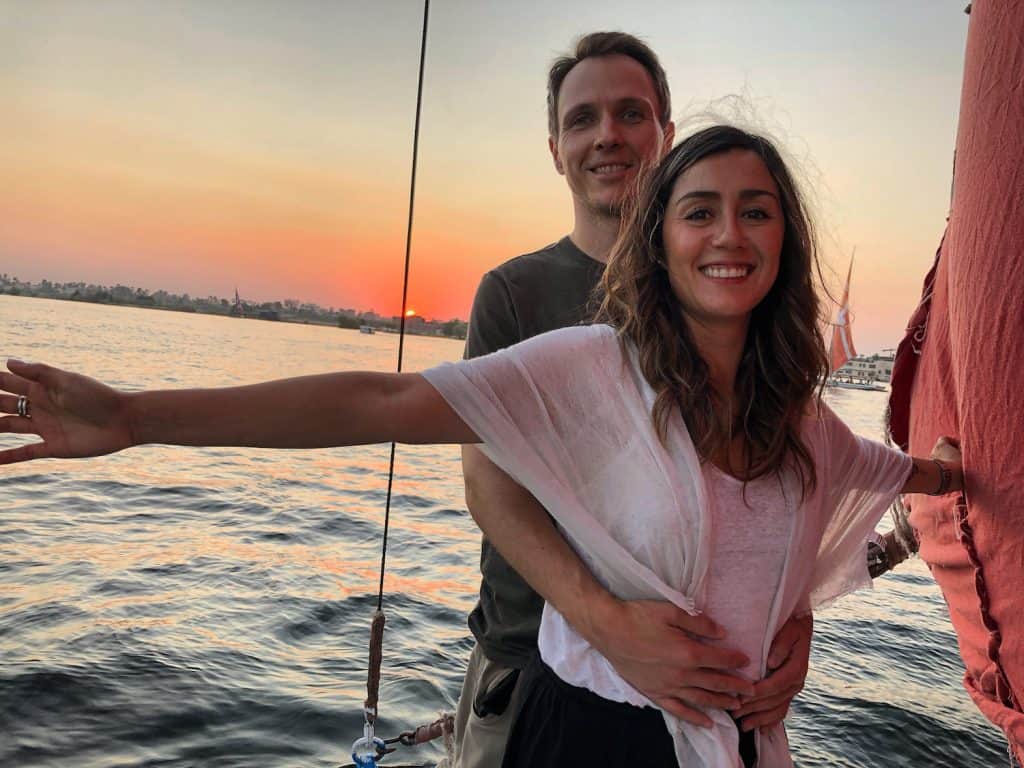 Last but not least, we completed our stay in Luxor by sailing in a Felucca on the Nile River for sunset. Our captains were actually kids (aged 15) but they did a great job of keeping us entertained. It wasn't great to see all the plastic on the edges of the river but it's a very popular thing to do in Luxor and only cost around $10 USD for an hour. If we ever make it back, we really want to take the multi-day cruise up the Nile. We've heard great things. Lots of people visit the temples in Egypt on a Nile cruise.
Cairo and the Great Pyramids of Giza
After a few days in Luxor, we spent a week diving the Red Sea. After that, we jumped on a bus and made our way to Cairo for three nights. However, rather than stay in Cairo, we spent three nights in Giza, staying in a budget guesthouse with views of the Great Pyramids.  Between visiting the Great Pyramids, the Egyptian Museum, and wandering around Old Islamic Cairo, it was a lot to pack in during those two days. But we'll talk about that in the next article.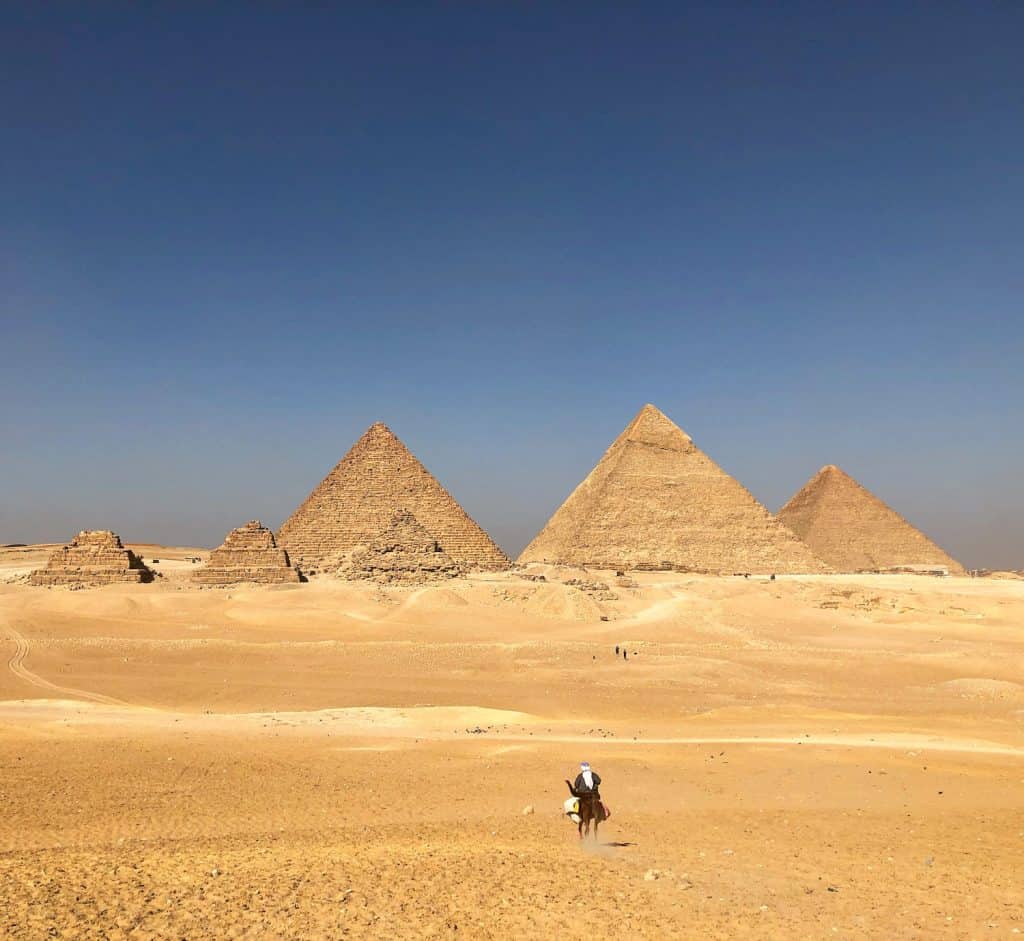 From world-famous shipwrecks and curious sharks in the Red Sea to ancient antiquities and world wonders on land, Egypt is the ultimate destination for anyone looking for adventure, history, scenery, and incredible photos. It's also surrounded by other interesting countries such as Jordan and Israel. For us, Egypt was a wonderful adventure and an extreme contrast after spending years traveling in Canada. We had only two weeks but it gave us a good taste, leaving us with enough wonder and enchantment to warrant another visit in the near future, taking more time to venture further out into the deserts in search of quiet temples and a first-hand education that no history book can provide.
Places to Visit in Egypt on your First Trip!
When we decided to visit Egypt, we were really concerned about the safety of the country. Ever since the revolution and some terrorist action many years ago, Egypt lost a lot of its tourism. But, from what we experienced, it's now quite safe to visit Egypt and there are approximately 50% fewer tourists compared to the years prior to the revolution. We saw security all over the place, including tourist police who lookout for people trying to take advantage. We felt safe.
If you're looking to visit Egypt and wondering what type of itinerary to create featuring the best places to visit in Egypt, I can highly recommend the trip we took. However, if you're not into diving, you can change it up by either adding in a Nile River cruise and/or taking some time to go snorkelling and things like that. Adding a mix of land and sea is always a great way to complete a trip.
Luxor: A trip to Egypt wouldn't be complete without visiting Luxor. There are so many places to see around this ancient city. Some of those include Luxor Temple, Karnak Temple, Valley of the Kings, and a Felucca ride on the Nile. However, if you have more time, consider heading to Aswan and coming back via the Nile River for a couple of days.
Cairo and Giza: Obviously, you can't visit Egypt without seeing the Great Pyramids. It takes a solid day to explore the pyramids, but Cairo is also a cool city to explore for a couple of days. Don't miss the Egyptian museum!
Hurghada: There are two main resort cities in Egypt. One is Sharm El-Sheikh, which is in the North and the other is Hurghada, which is relatively close to Luxor. For those taking the bus, Hurghada makes much more sense if you're visiting Cairo and Luxor. Each place offers a wide variety of snorkeling and scuba diving. For serious divers, there are many liveaboards and it just depends on what you want to see. Generally speaking, the north area around Sharm El-Sheikh offers more wreck diving whereas the areas around Hurghada feature more pristine reefs and bigger animals such as Oceanic White-Tips.
For more, make sure to follow me on Instagram at Instagram.com/MatthewGBailey.
You may also like: