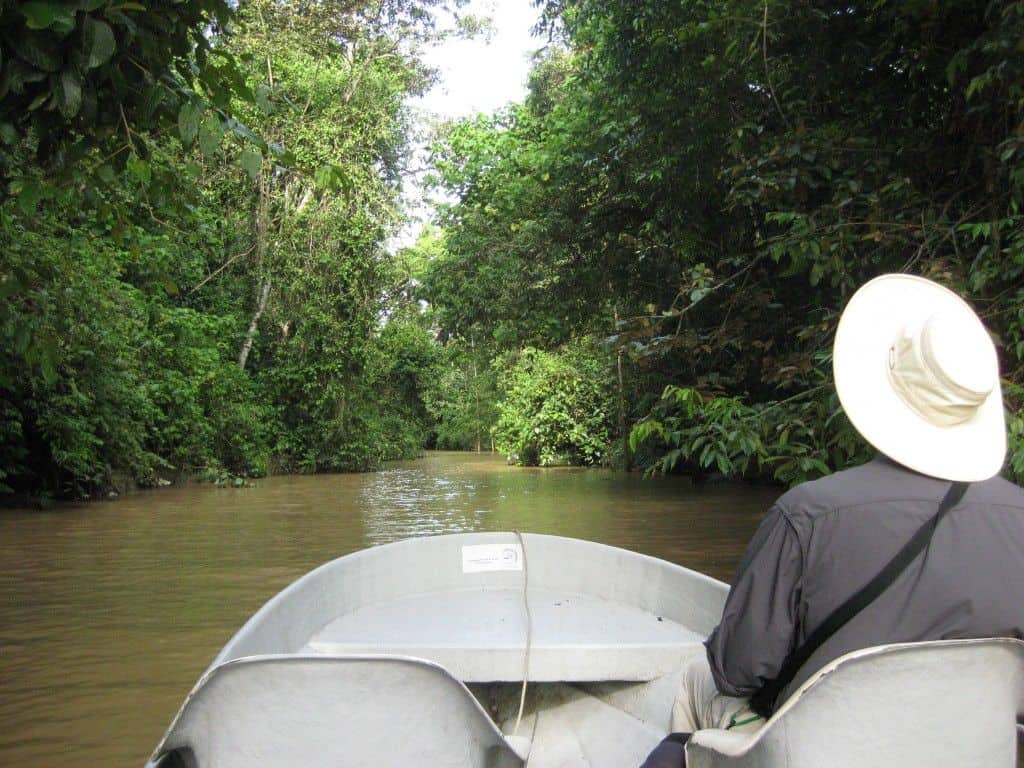 After diving at Uncle Chang's, we got word that elephants were now in the area of Sukao, not far from our last adventure in Bilit. Not wanting to miss these amazing creatures, we made our way back to the Kinabatangan area and this time, stayed at the Kinabantangan Riverside lodge in Sukao.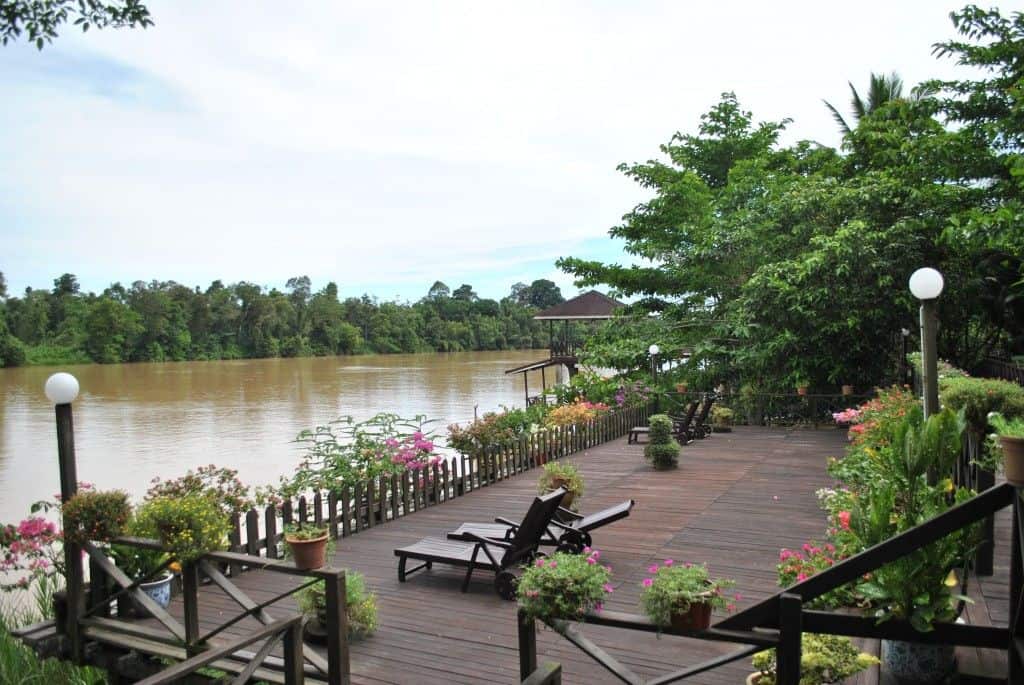 This place was massive! Expecting a small lodge like we had before, I was surprised to find myself standing in a massive dining area complete with a movie room and a souvenir shop. After being greeted by the local deer, we were guided to our room across an integrate network of beautiful raised walkways, bird-watching platforms, sundecks, and even a massage studio. We even got up-close and personal with an oriental hornbill as we reached the door to our luxurious chalet. Once again, a beautiful and spacious room with hot shower provided some much-needed tranquility before the day of adventure began.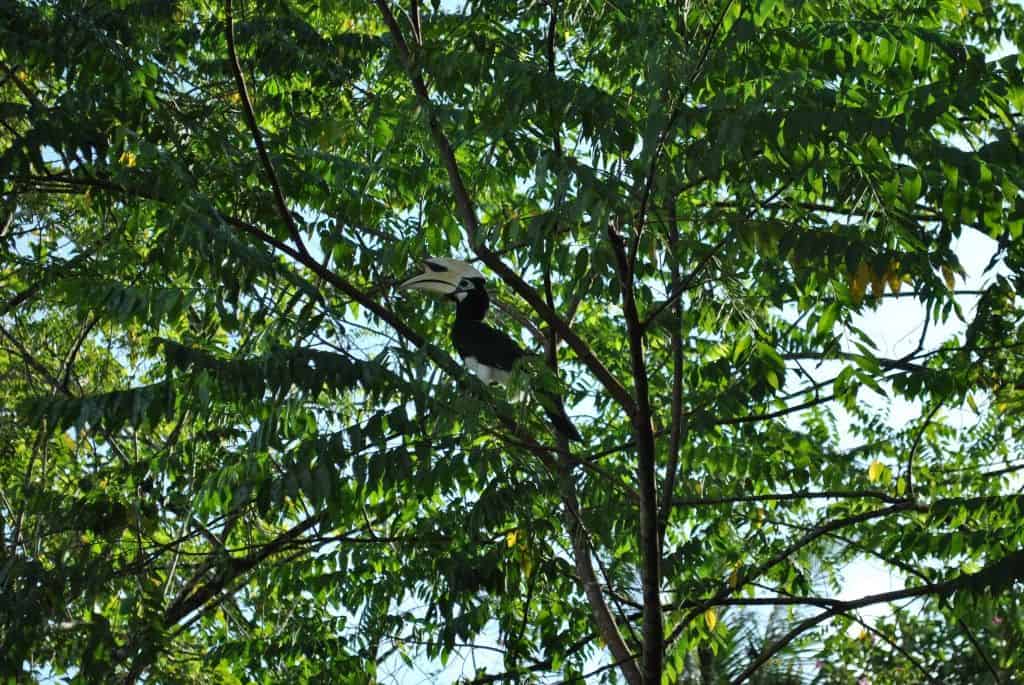 After relaxing a little bit and admiring our awesome room, we took part in the afternoon river cruise where we saw plenty of macaques raising hell along the river and some beautiful proboscis monkeys hanging out in their tree homes. The beauty (and funny) look of the proboscis monkey never ceases to amuse me. After looking at plenty of monkeys, exotic birds, and a tree snake, we went back to unwind for the night.
The river cruises seem endless. They depart early in the morning, the afternoon, and sometimes even in the evening. It's a great way to see the wildlife that surrounds the Kinabatangan area. In the morning, we even stopped the boat in Oxbow lake and had some coffee. As we sipped the black liquid under the morning sunlight, we were lucky enough to see a blue kingfisher hanging out on a branch beside the boat. The guide threw some crackers in the water to get the little fish frolicking about and then the kingfisher swooped in and caught one. So amazing to see this up close. The bird was so excited that it came back and did it again. I'm pretty sure he was sad to see us go after that. Our morning was great but the evening proved to be a memory we will never forget.
Wild Asian Pygmy Elephants.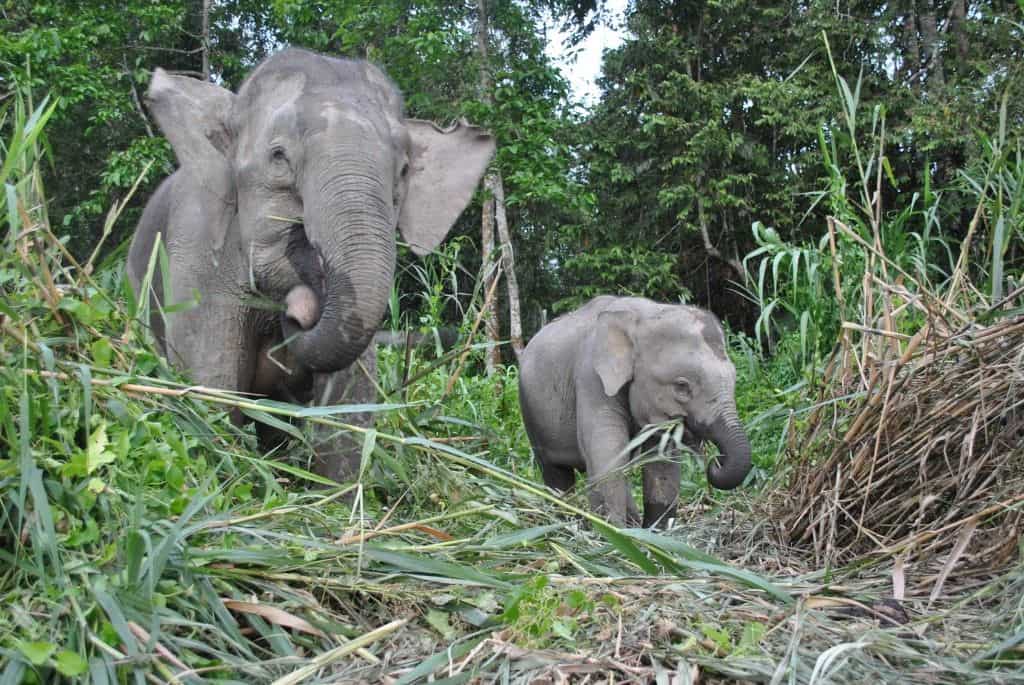 At first, we just saw a couple of the big animals hidden behind the bush, crushing it as they looked for food and water. But then, in a matter of minutes, we found ourselves only a few feet away from a mother and her baby. Perched with the stern of the boat into the river bank, we sat and watched these beautiful creatures for almost an hour. I couldn't take my eyes off of them. Stuffing their face with shrub after shrub, I tried my elephant-whispering techniques by looking calmly into the eyes of the baby elephant. It seemed to work too as the baby began to slowly move closer to the boat and I. But just as it was inches away and I was ready to extend my hand to reach its trunk, another boat swooped into the bank and scared the elephant away. F$%&!
So close.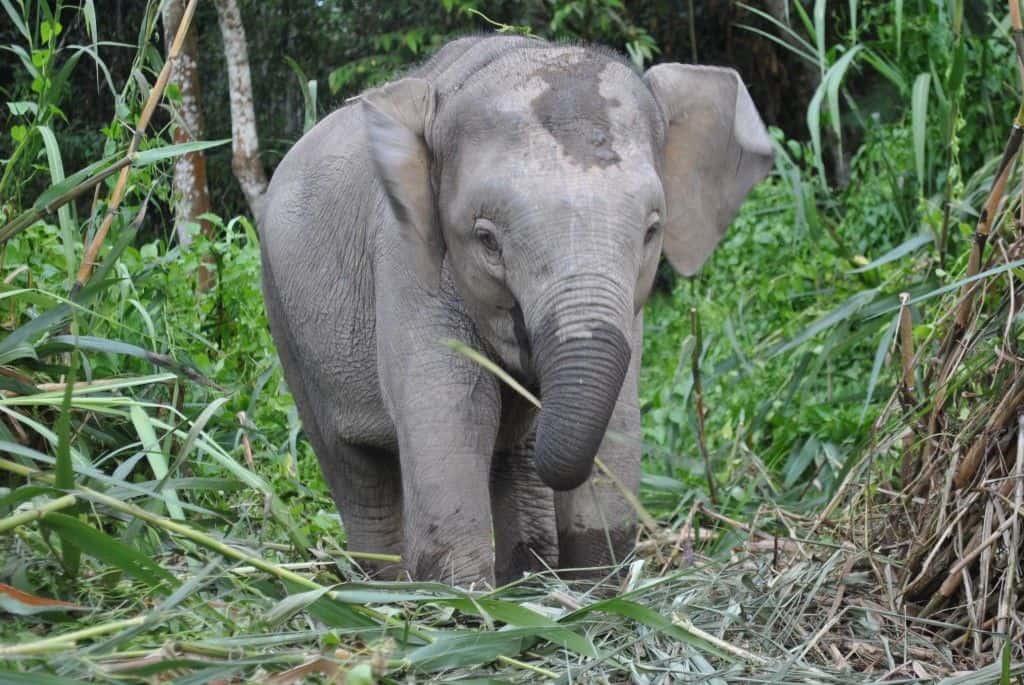 The same baby elephant, minutes later, was trying to drink from the river but couldn't reach with all the twigs in the way. The mother, noticing the struggle of its young one, came in with its powerful trunk and cleared all the twigs away in one swipe. The baby, now relieved of its predicament, stuck its little trunk into the river and grabbed a mouth full of water. Overwhelmed with satisfaction, the baby leaned into a nearby bush and rolled its eyes back as if it just has the best water in the world. Cutest…thing…ever.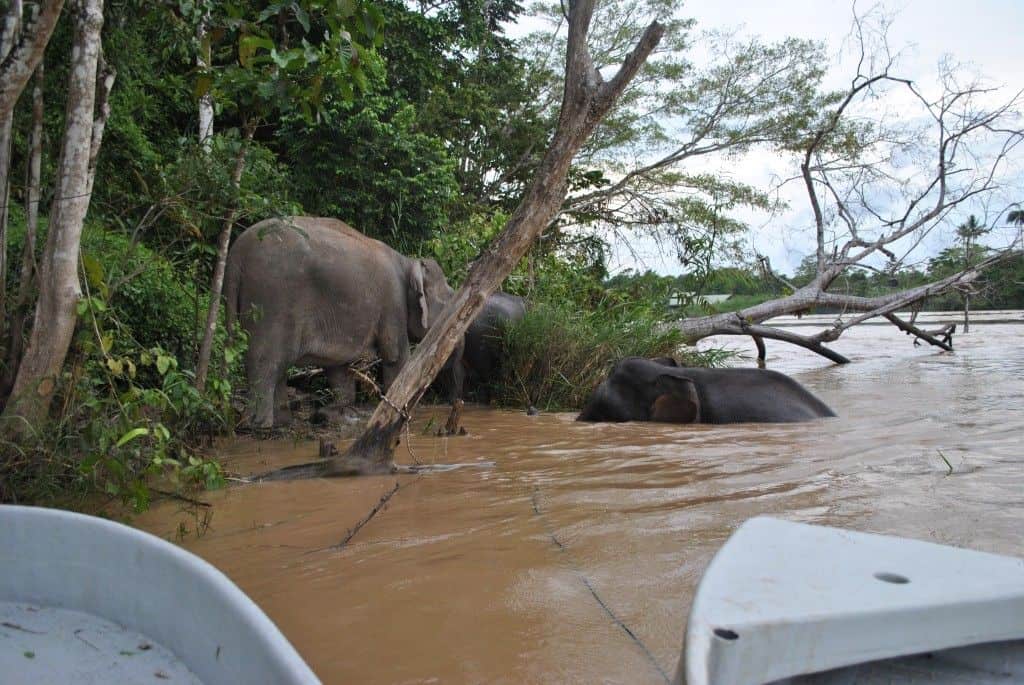 Next, we went upstream just 5m to see another three elephants playing in the water. The mom was having a fantastic time in the river while you could tell the baby was a little nervous. As it stood very close to shore, the mom would try to pull the baby elephant by the leg into deeper water but the baby kept getting away and running back to shallower land. I had always loved elephants but this experience strengthened it more than ever.
Absolutely amazing and graceful creatures. Huge and powerful but still calm and gentle… we'll, sometimes.
I'll truly never forget this. Being a foot away from wild pygmy elephants is really a once-in-a-lifetime experience, although in this case, I hope it isn't. I'd love to do it again.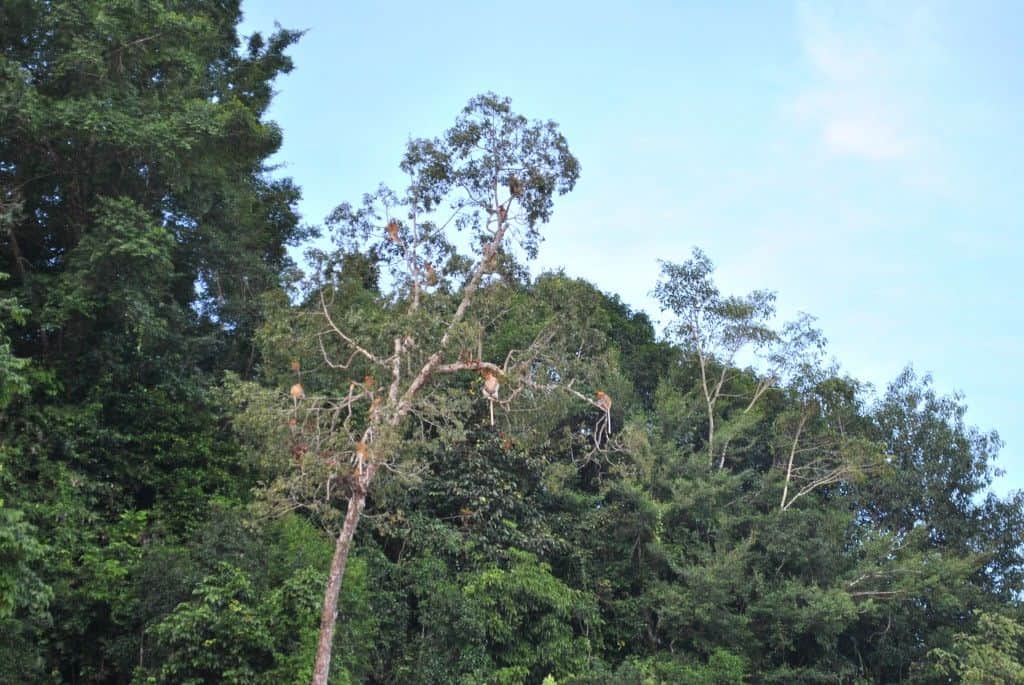 Once we got back to the lodge, we had another amazing buffet dinner and fruit platter for dessert. We watched a fascinating video on the proboscis monkey, and then went to our rooms. Although I continued to be amazed by the bats along the way, we had to make our way to bed as the next day, we were heading to Abai, where we would be staying at the one and only Abai jungle lodge.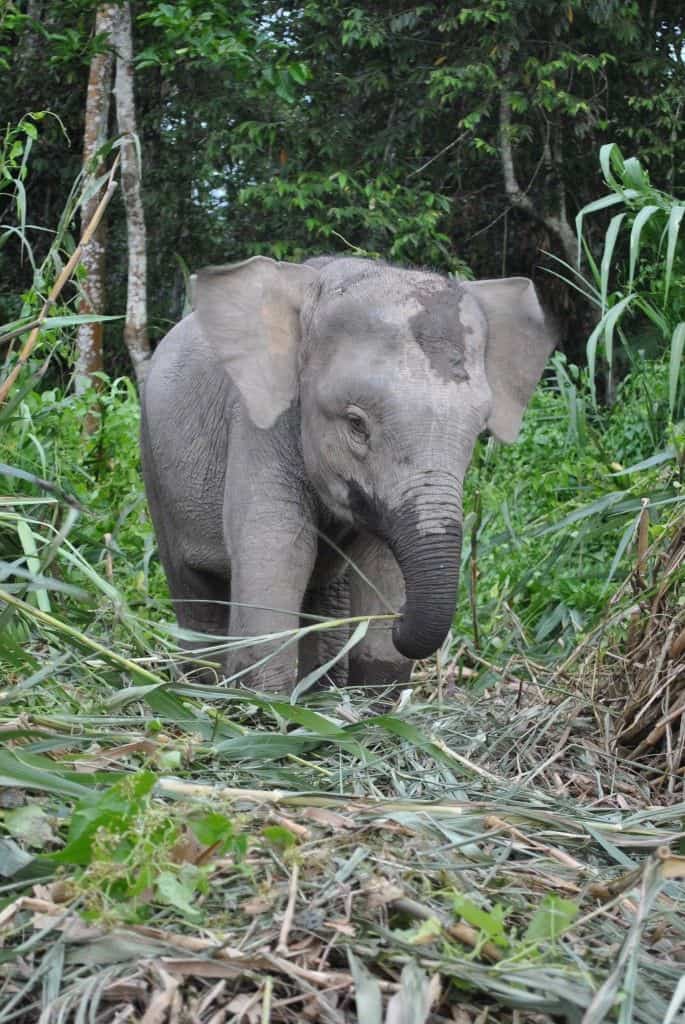 As I lie in bed, I couldn't help but feel both sad and happy. Happy that I was able to witness the beautiful pygmy elephant in its habitat but sad that it was over. I also couldn't help but think how sad the baby elephant must have been for not being able to shake my hand.
Maybe our paths will cross again.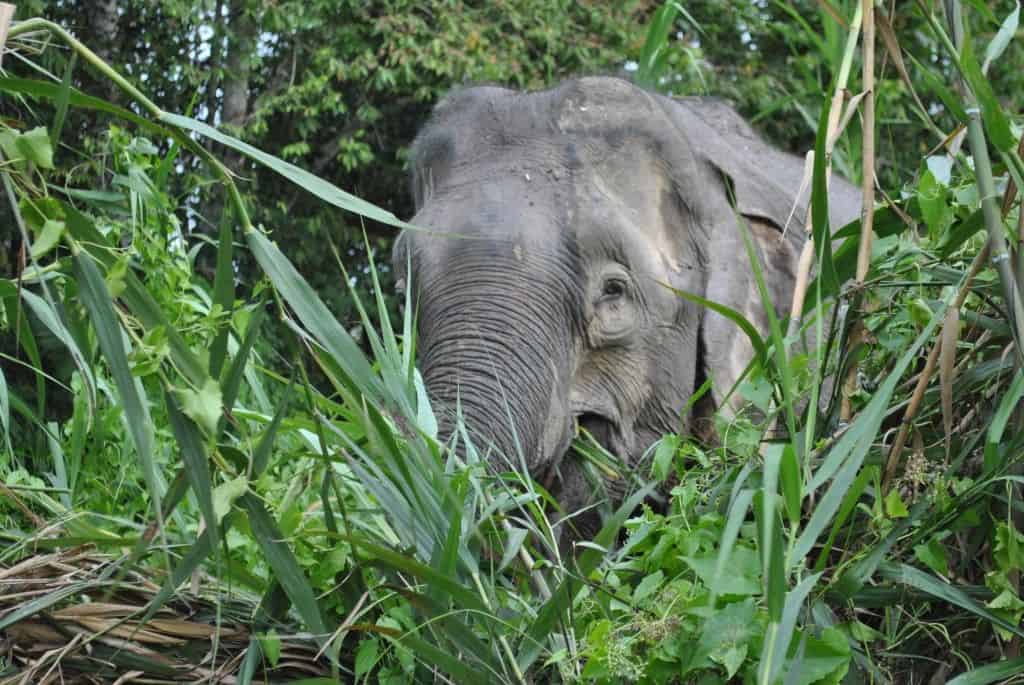 ***
If your interested in arranging a trip like this, ours was done through SITOURS which can be found by clicking here. They also run the Abai Jungle Lodge which can be combined in a 2 night trip. Please be advised that wildlife can never be guaranteed and if your interested in the elephants, please ask them what season they are in the area. Bring binoculars if you can but if not, guides should have a pair you can borrow now and then. We visited as part of a media tour and found this to be a highlight of our entire 9 month trip to Asia. Truly spectacular to see such wildlife and the accommodation was very good. If you have any questions, please just send an email to SITOURS or to Live Limitless.