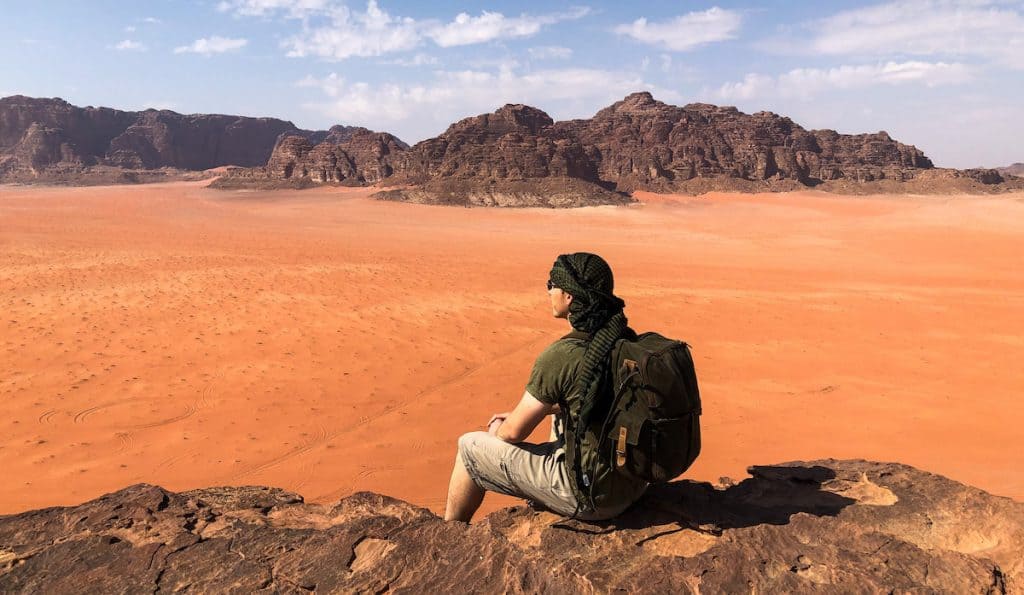 With a history of welcoming visitors, including the camel caravans that traveled the King's Highway, the Roman legionnaires, the various Muslim armies and zealous Crusaders, Jordan is continuing on it's tradition with today's common tourist. It's also a great place to get a taste for the middle east. Surrounded by a region of conflict, Jordan remains a safe haven for those wanting to explore these incredibly historic lands. From World Heritage Sites to stunning desert landscapes, Jordan has been captivating explorers and travellers for thousands of years.
In a land that predates biblical times, there are a lot of things to do in Jordan. Separated from Palestine by the Jordan River and sharing a border with Israel, Saudi Arabia, Syria, and Iraq, Jordan was home to the ancient biblical kingdoms of Moab, Gilead, and Edom, as well as the Nabatean Kingdom, Roman conquests, and the Nabataean culture that created the world-famous red stone city of Petra. Needless to say, there is history everywhere you look.
We explored Jordan as part of a one-month trip that included Egypt, Israel, and Jordan. We found that a lot of the people we met were doing something similar. All three countries are so close that it might make sense if you have the time. We spent just over two weeks in Egypt with one whole week on a live-aboard scuba diving ship, four days in Israel, and one week in Jordan. One week was enough to see the most famous sites, but there's a heck of a lot more to see in Jordan. Another couple we had met from Germany had been travelling around the country for a month and loved it. However, for those of you who do only have one week or so, this will be a great itinerary to follow.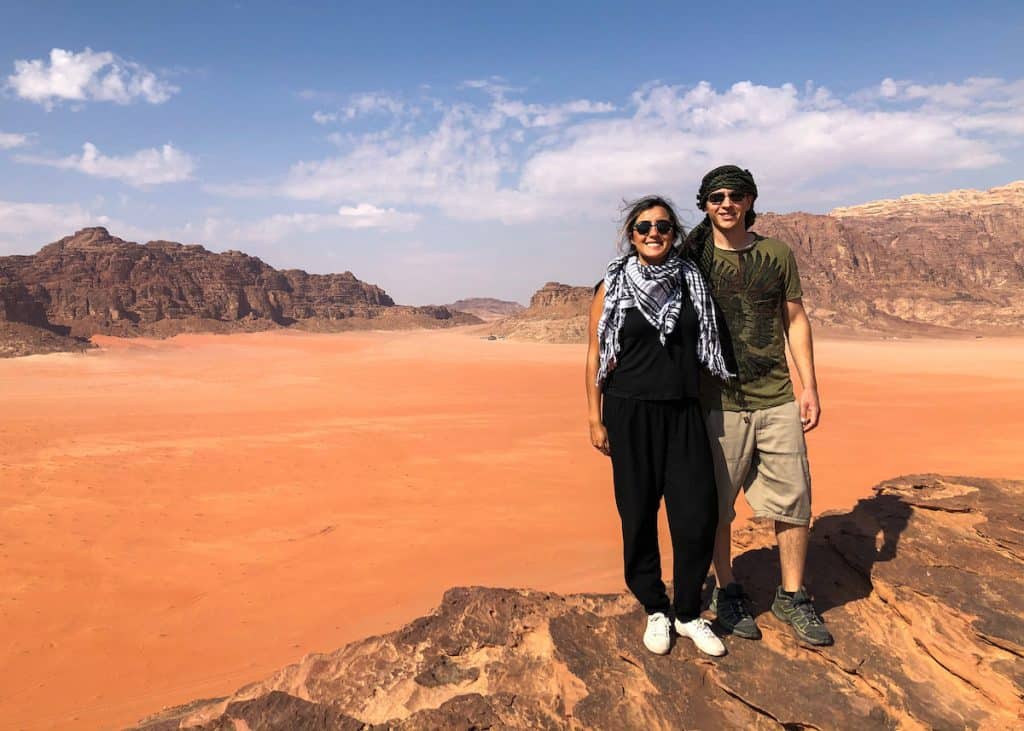 What To Do in Jordan
Jordan's capital city is Amman, which is in the northern part of the country and home to the Queen Alia international airport, which is most likely where you'll arrive if travelling by air. It also shares three border crossings with Israel, two of which are quite popular to use.
There's a lot to do in Jordan, with most of it revolving around history and adventure. The most popular places to see are Wadi Rum and Petra, but there's also Amman, Jerash, the Dead Sea, and so much more. We'll go into more detail below.
Jordan Travel Tips
Jordan is an expensive country to visit. Judging by their economy, this makes no sense, but trust us, it's one of the most expensive countries we've visited. From taxis to restaurants to accommodation, it's one of the most expensive countries in the middle east. However, there are ways to make it cheaper. One of the big things is the Jordan Pass. For just slightly more money than the normal entrance to Petra, you'll get your Petra entrance as well as your travel visa and access to dozens of other important sites, including Jerash and Wadi Rum.
Solo female travel in Jordan is also possible as long as you're prepared and there are many guides for your first time in Petra.
In terms of costs, we found the average meal was around $10 USD or more. Accommodation for the two of us worked out to about $60 USD per night in an Airbnb, and our three taxis worked out to $200 USD. Add in the cost of tours and the cost of entrances, and it can be pretty expensive. It's on par with Canada and the USA for the most part.
Amman to Petra
To visit Petra you can drive from Amman to Petra is about three hours. It's fairly straight forward and can be done by car (a car you rent), taxi, or bus. If taking the local bus, it only leaves once per day around 7:30 AM. Coming back from Petra to Amman, it leaves at 4 or 5 PM. The bus is approximately 10 JOD. A taxi is faster but it will cost around 60 JOD. However, our Airbnb in Petra arranged one for us for 40 JOD because he was already in Petra and had to return to Amman.
Petra to Wadi Rum
The drive from Petra to Wadi Rum (or vice versa) is only two hours. You can take a public bus, a tourist bus, drive your own car, or take a taxi. For the tourist bus, which is more direct, it only leaves once per day. Because of this, we opted for a taxi, which cost 40 JOD. It's expensive but due to timing, it was our only choice. Some people choose to stay in luxury desert camps in Wadi Rum.
Amman to Jerash
Jerash is a spectacular sight to see and is only one hour from Amman. You can get there by public bus, taxi, or a tour. Due to timing, we took the tour with JETT, which brought us first to the Ajloun castle and then to Jerash. Everything went smooth, although it would be nice to have one extra hour at Jerash. Then again, we take a lot of photos and videos.
Amman to Wadi Rum
If you'd like to go all the way from Amman to Wadi Rum without stopping in Petra first, the drive is only 4 hours and is 300 km in length. For this route, you will likely have to take public transportation or the tourist JETT bus to Aqaba and then find a bus or taxi to Wadi Rum. Another option would be a taxi, which will likely cost 60 JOD or more. It's typically a better option to go to Petra first. However, if you rent your own car, you can do what you want!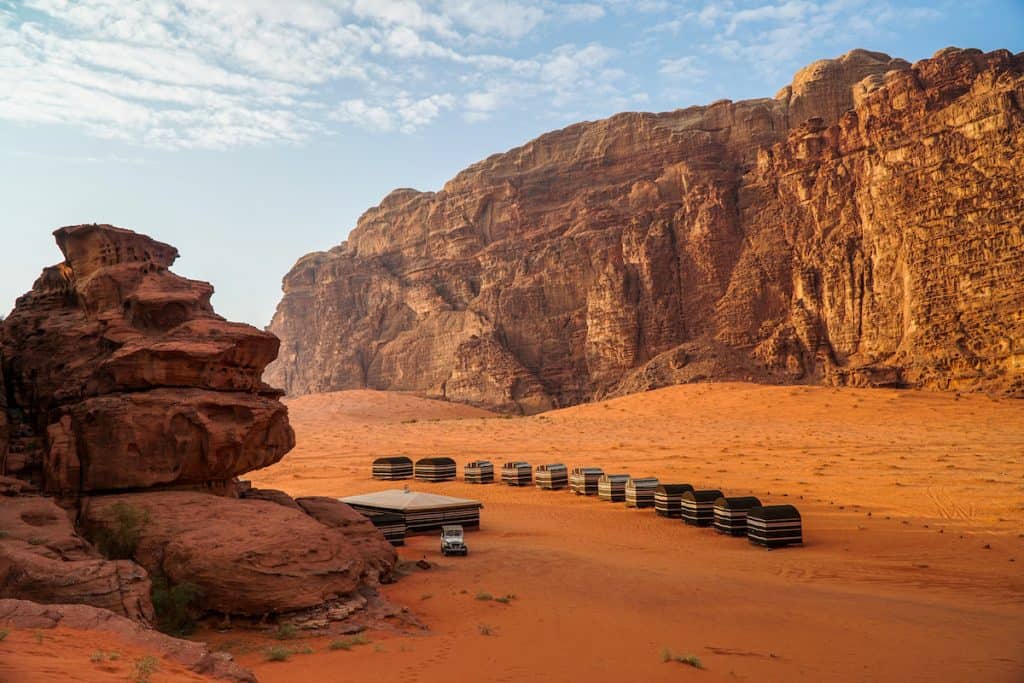 Places to Visit in Jordan
During our week in Jordan, we explored the stunning desert landscapes of Wadi Rum, the incredible ruins of Petra and Jerash, and the thriving city of Amman. Below is the story of our time in Jordan, followed by a more succinct one-week itinerary for you to follow.
From Israel to Wadi Rum
After spending four days in Jeruselum, we wanted to cross into Jordan by land. Although there's a border crossing just one hour from Jeruselum, it was more convenient for us to go right down to the very south of the country and cross through the Wadi Arabi border (Yitzhak Rabin Crossing on the Israel side). This is the closest border crossing to both Wadi Rum and Petra. We took the early Egged bus around 7:30 am and arrived before noon in Eliat. We had already arranged our taxi at the border in Jordan through Wadi Rum Nomads, the company we'd be exploring the desert with. Since we had time to spare (our taxi was meeting us around 2 PM), we decided to have lunch at Omer's, which seems to be one of the most popular places in the city. I can certainly see why. The sandwiches are delicious. The staff is friendly and talkative. Plus, the WiFi was good enough for me to do some work for an hour. From there, it was only 10-minutes by taxi to the border.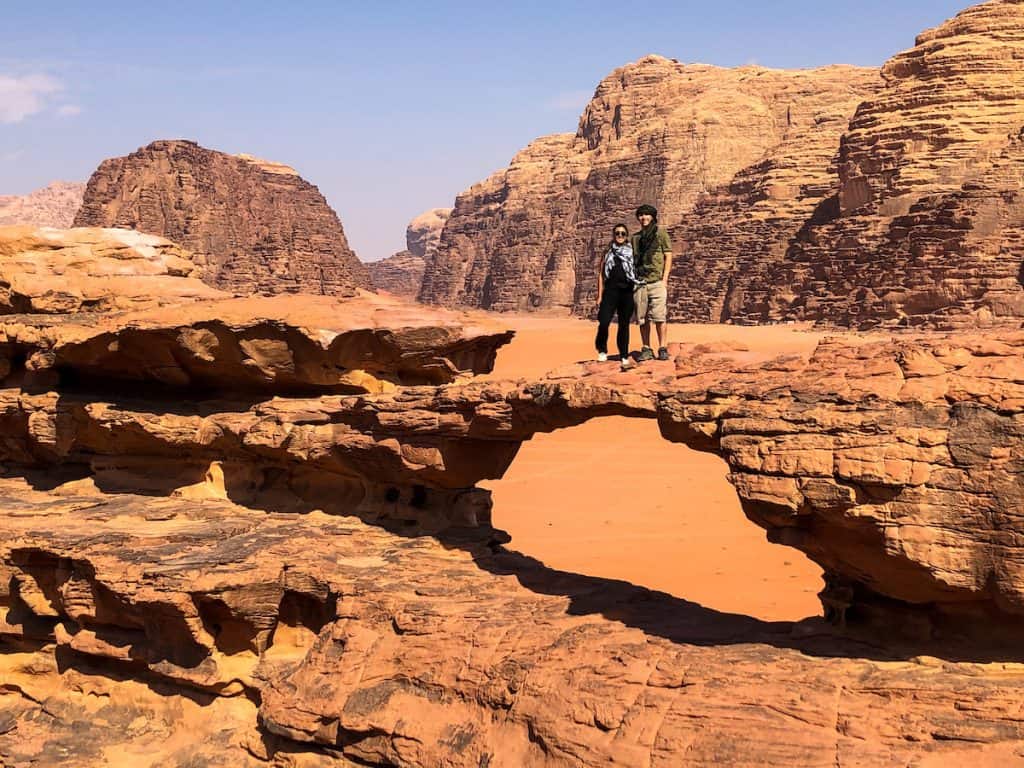 The border was interesting. I was expecting loads of security, but it was so calm that it was almost eery. We went through a security scanner, showed our passports to someone and then walked all the way to the gate, realizing that once we got there we didn't even get the stamp. Finally, someone walked out of a building and told us to go to a different room to get the stamp. Everything seems "nonchalant".
Note: We had already purchased a Jordan Pass, which almost always makes sense. However, this is the only border that supposedly does NOT charge a visa fee. If you're going with a company like Wadi Rum Nomads, ask them before you go and they should be able to find out the current news. If you have the Jordan Pass, it doesn't matter anyway.
Once we were in Jordan, our taxi found us and we hopped in for the 1.5-hour drive to Wadi Rum village, stopping only to use the ATM. Most people arrive in Wadi Rum in the early morning, hopping on a jeep tour that same day. We arrived late, planning to spend the first night in the desert, followed by the tour the next day. We also opted to stay a second night and do a second, more serene tour the following day. We read a bunch of reviews before booking and the one thing in common was that most people regretted spending only one night. We figured we'd trust the reviews. Good thing we did because Wadi Rum turned out to be one of the most beautiful places we had ever been to.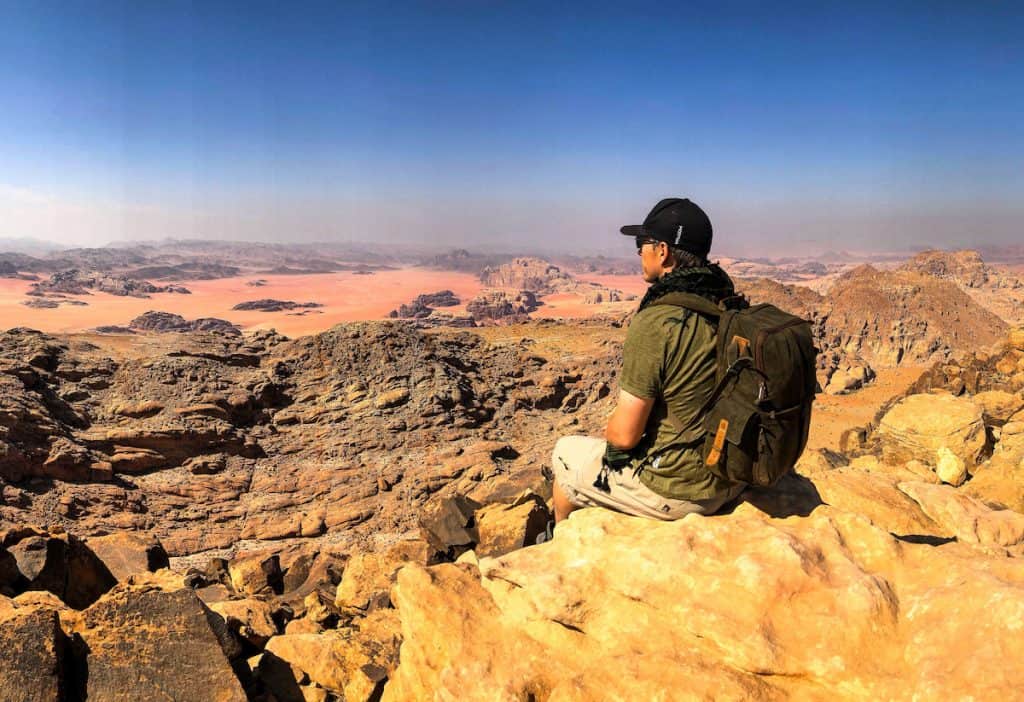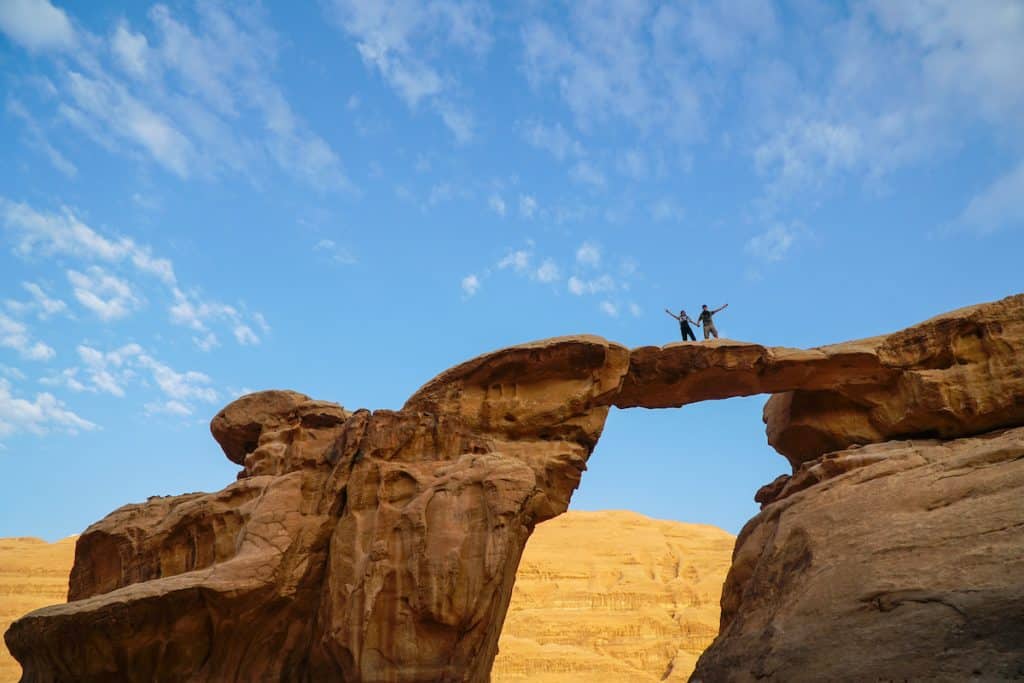 After making it to Wadi Rum village and waiting for the day tour to end, the jeep came to pick us up and bring us out to the Wado rum camp. It was already dark outside, so we couldn't see much as we cruised out into the vast sandy landscape. We were surrounded by silhouettes of massive mountains and with the headlights, we could see the sand and the desert plants as we cruised by. Upon arrival, we were shown around the camp, including the main area where we'd eat and relax, the bathrooms, and the various tents. For our first night, however, we chose to sleep outside. For this, we walked up the lower part of the neighbouring mountain and laid our mattresses under a lip in the rock, which would shield us from possible rain. It was nearly a full moon, so it was quite bright outdoors. We could still see some stars but the moon was definitely overpowering them. The temperatures were getting down to around +12 Celcius, which seems quits warm, but just in case, we dressed warmly and got inside our sleeping bags. I used my sweater as a pillow and tried my best to sleep. I'm not the best sleeper even at home, so when a single mosquito decided to buzz around my ear for hours, it was hard to shake. Eventually, I managed to pull the sheet enough over my head to keep it away. I was hoping it would just bite me and get it over with. After that, it was just waking up periodically to shed clothing as it was getting way too hot. For locals, this was the winter but coming from Canada, this was nothing like our winter! Although I'm not the best sleeper for spending a night outdoors, it was pretty nice to wake up and instantly see the incredible views all around us. If you're looking for luxury camps in Wadi Rum, there are plenty of options for those as well.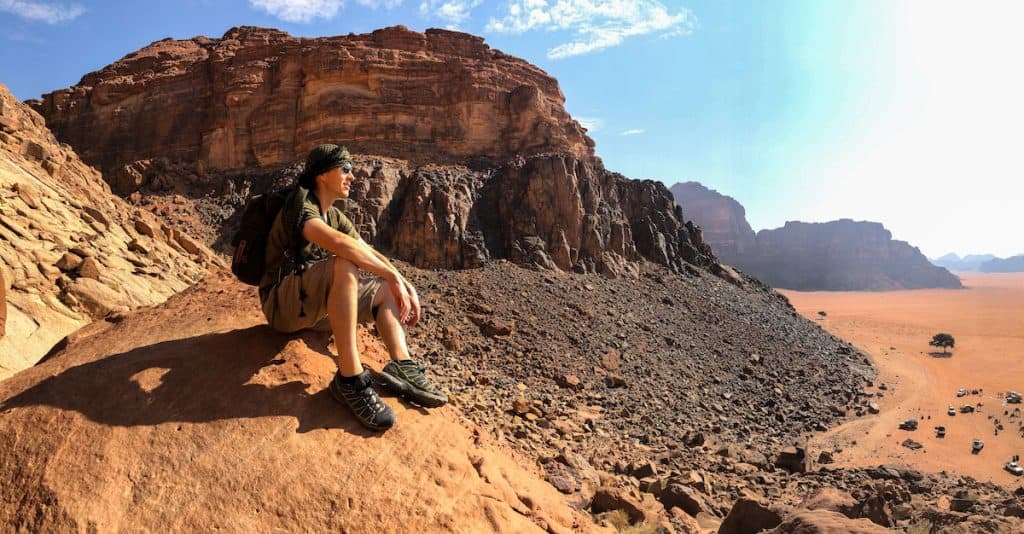 The next day, we joined up with the daily Jeep tour and went cruising into the desert with four other people from around the world. This is the main route that most people come for, so each site we visited had anywhere from 50-60 people there at the same time. Having just come from Jeruselum where the crowds are totally insane, this seemed like nothing. We visited a number of the most popular places, including Red Sand Dune, Burdah Rock Bridge, Abu Khashaba Canyon, Um Fruth Rock Bridge, and many others. Each place had its own charm, but it's hard to pick a favourite. Some had natural bridges you could walk on to get a photo while others had sand dunes you could run down (or sandboard down if you're up for it). However, they all had one thing in common: Dramatic views. At night we returned to the camp and sat down for a delicious dinner that was cooked underground. Known as Zarb, the meat, vegetables, and potatoes are placed in a metal oven casing with hot coals at the bottom, inserted into a big hole, covered with a blanket and lid, and left to cook for around 2.5 hours. It's a very traditional meal and one of the most delicious foods to eat in Jordan.
Although most people leave after one full day, we stayed for a second day to go on a scenic hike far from the "crowds". Our driver took us (and four others) on a 1-hour drive through the desert, where we eventually arrived at the mountain we'd be climbing. We were the only Jeep this time, which is why it can be nice to spend the second day. They take you much further away from the camps. It took just over an hour to make it to the summit and from there, we could see as far as Saudi Arabia. Of course, you'd never know that if the guide didn't tell you, but it was pretty cool nonetheless. Either way, it was the highest we had been in Wadi Rum and the views were mind-blowing. After snapping a bunch of photos, we went back down and enjoyed lunch and hot tea that our driver prepared for us. We then jumped back in the Jeep and made our way back to the village to catch our taxi to Petra.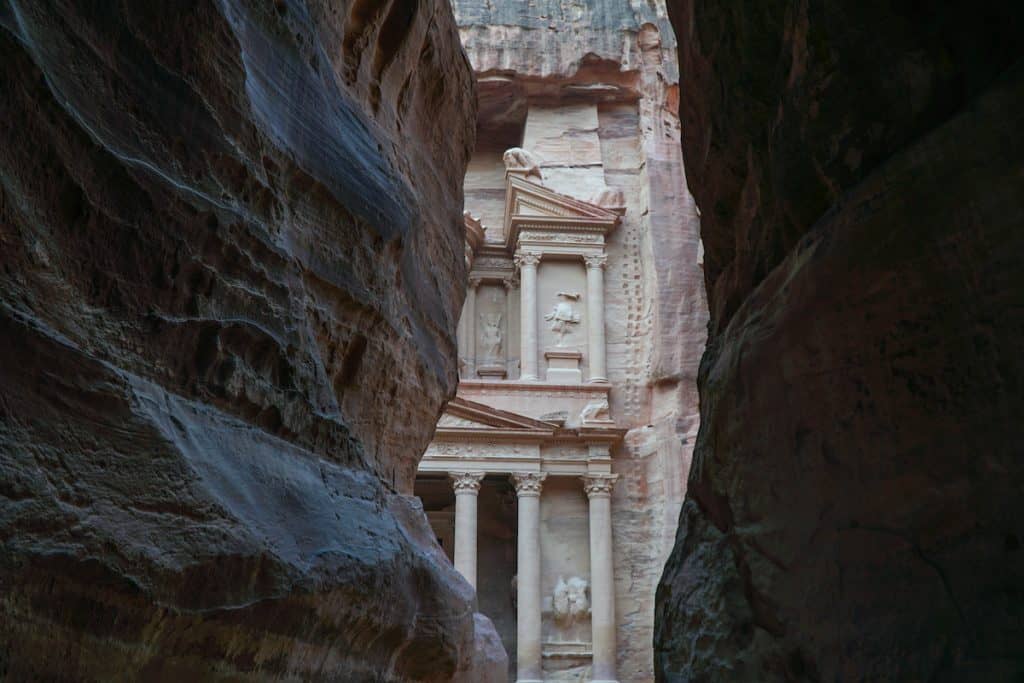 Visit Petra: A World Wonder
The ancient Nabataean city that is now known as Petra is the jewel of Jordan's tourism industry. Ever since explorer Jean Louis Burckhardt shared his "discovery" with Europe back in the 19th century, tourist numbers have grown year after year.
Although there is a bus from Wadi Rum village to Wadi Musa (the town where Petra is located), it only leaves early in the morning. Since we chose to spend an extra day in the desert, we had Wadi Rum Nomads arrange a taxi for us to Petra. Because there were two of us, it worked out to be double the price of the bus (40 JOD), but it was something we had to do. Plus, the best time to visit Petra is right when it opens, so arriving in Wadi Musa in the morning meant we'd have an entire day just sitting around. Hiking in Wadi Rum was a much better option. We ended up arriving at Wadi Musa around sunset, checked into our Airbnb, and then prepared for our exploration of Petra the following day.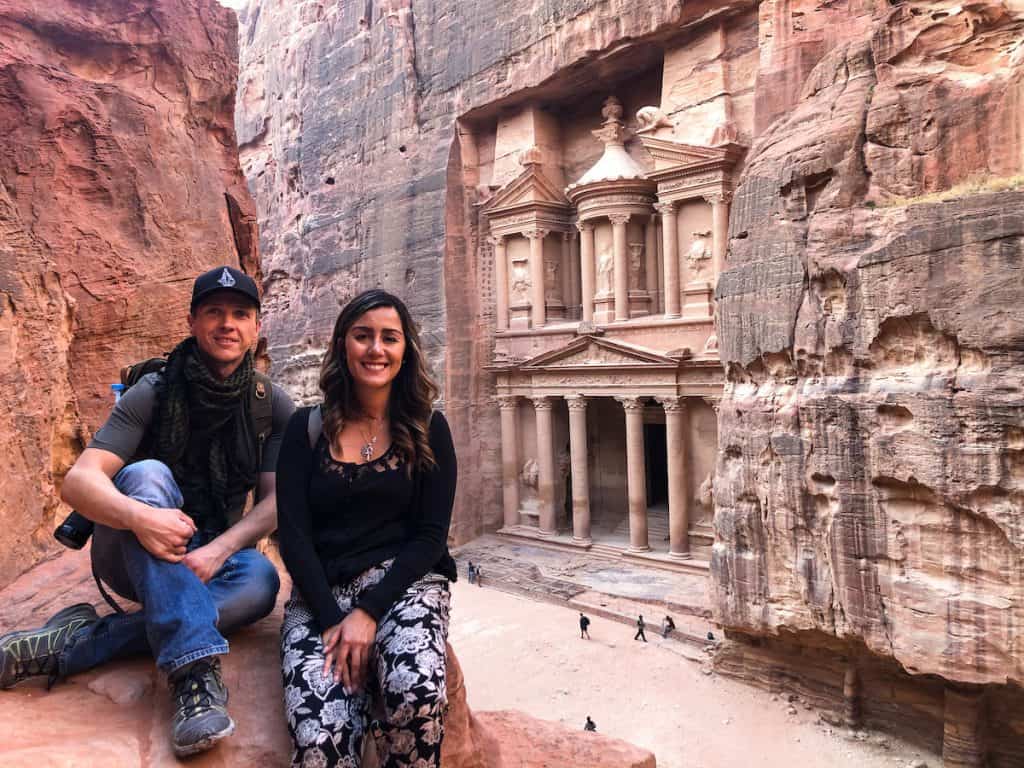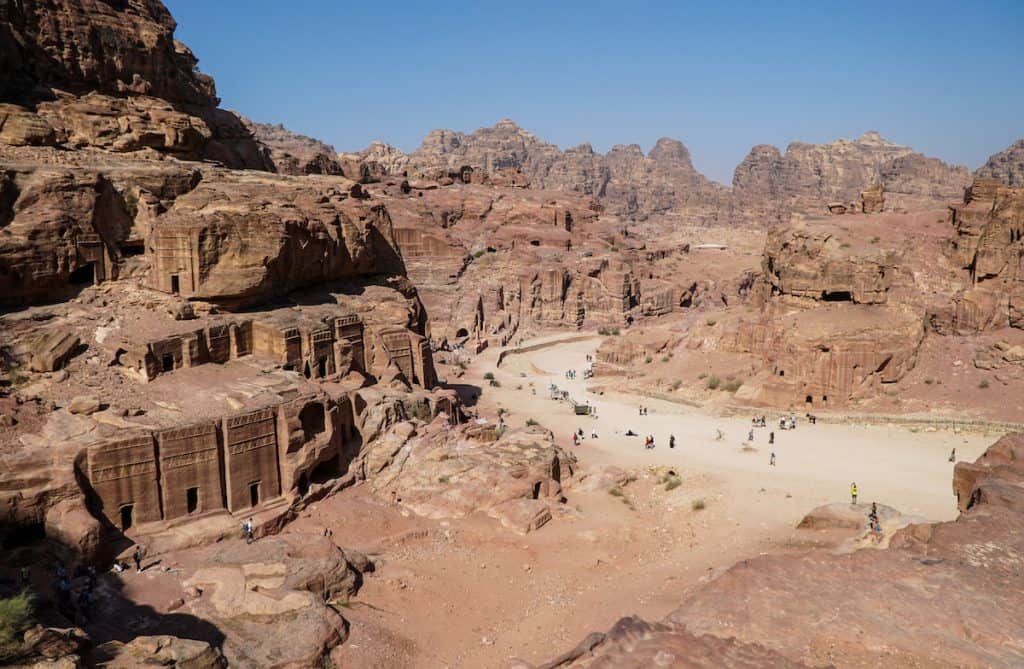 As mentioned, making it to Petra early in the morning is one of the best things you can do. The site opens at 6 am, and the closer you can make it to that time the better. Although you'll never be completely alone, it'll be a big difference between coming then and coming once all the tour buses arrive. We were a bit late but still made it to the site around 7 am. However, it was still relatively quiet and a really nice way to first experience this monumental site. From the tourist office to the Treasury (Petra's defining monument) is quite the walk. There are horses you can rent (and in fact, a horse ride to the entrance is technically included in the ticket price) but due to the cruelty we witnessed (especially noticeable with the donkeys) and just not wanting to deal with the hassle of "tips", we chose to walk in peace. It takes a good 45-minutes to get from the office to the Treasury itself, with the last 10-15 minutes of the trail leading through a spectacular canyon called the Siq. This is part of the experience, especially if you arrive early. It's stunning to be surrounded by red curvy rock and then to see the facade of the treasury appear as you get closer to the end.
The Treasury is the building you see in all the famous photos that promote Petra to the world. It's a gorgeous facade. The pink rock has been intricately carved and so much of it is preserved, likely due to the sheltering cliffs that surround it. It's quite breathtaking in its beauty and it's hard to imagine how striking it would have been back in the 1st Century BC when it was first built. However, the Treasury is only a small part of Petra. Petra is a massive area with around 10-12 hours worth of hiking if you decide to see it all. So, after admiring the famous landmark for another 30 minutes or so, we continued to hike down the path and check out all the other sites that made up this UNESCO World Heritage Site.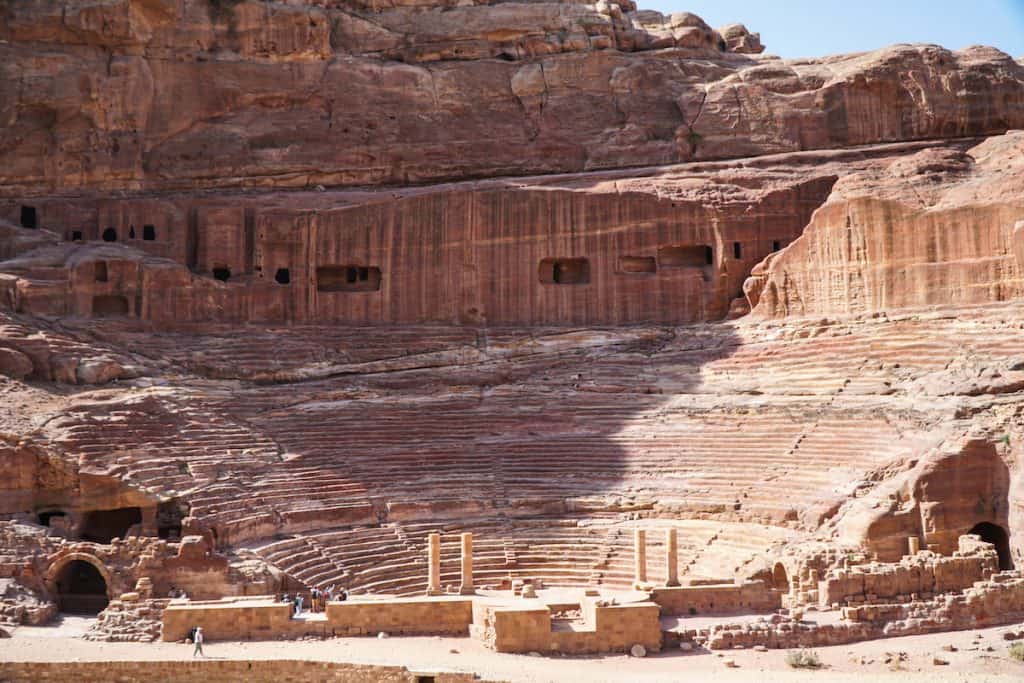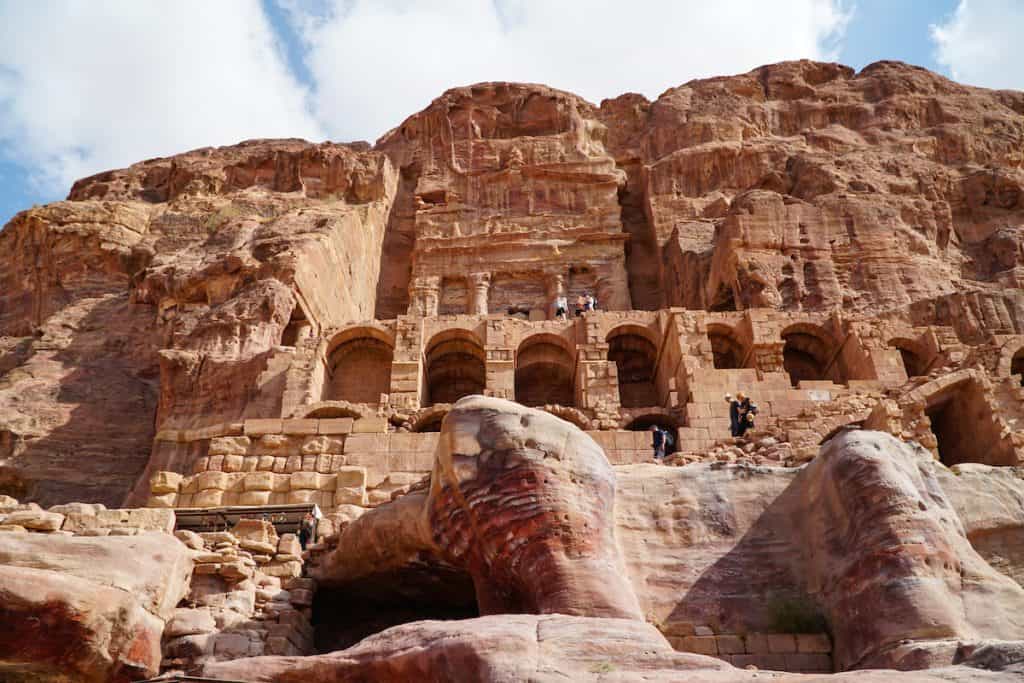 Due to the heat and the amount of hiking (as well as lack of good food within the complex), we decided to break it up into two days. On day 1, we continued down the path and hiked all the way up to the High Place of Sacrifice, which took a good 3-hours round-trip. It's pretty much all incline so keep that in mind if your legs aren't in good shape. Although the views were nice, we didn't find it incredibly spectacular, especially compared to what we saw later. However, for those into history, it might be a very important spot to visit.
Next on the agenda was hiking past the impressive Roman theatre, peaking into the Royal tombs, and visiting the Great Temple. There are actually tombs all over the place, which now just look like empty rooms carved into the mountain. There's no intricate artistic work like the tombs around Luxor, Egypt, but they're still worth a quick visit. There are all sorts of caves that you can walk in and around with some offering views as well. Then there's the Great Temple, which is quite impressive. However, most of it is closed off. This area was hit hard by earthquakes a long time ago, so many of the sites are literally in ruins. By the time you make it to the Great Temple, you'll have also passed through the main market street with a variety of vendors selling souvenirs and snacks. There's also a public washroom.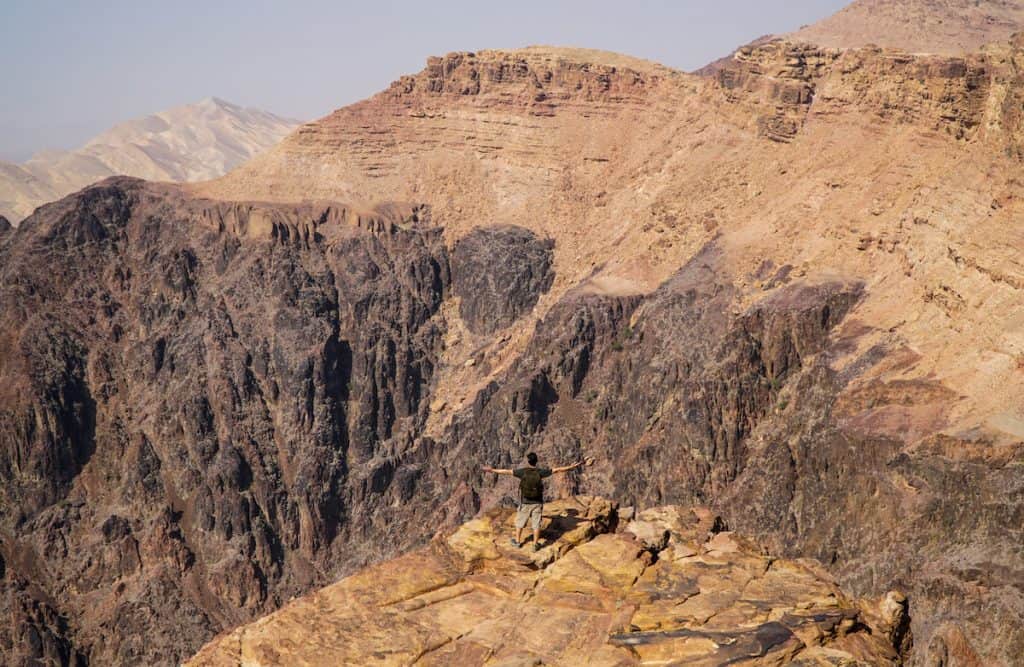 Last but not least is the Monastery, which is located towards the top of a mountain at the very end of Petra. We actually came back and visited the monastery the next day, arriving early enough to see the Treasury one more time and to make it up to the Monastery before the crowds got there too. It takes a solid hour to hike up the mountain and it takes 2-3 hours to make it to the mountain itself from the man tourist office. I'd allow another 2 hours or more to both enjoy the Monastry itself and to continue hiking up past it to see some of the best views in all of Petra. The monastery is actually just as beautiful as the Treasury. In fact, it's twice the size as well. The only difference is that it's not as pink and it's not quite as intricately carved. However, if I had to pick just two places to see within Petra, it would be the Treasury and the Monastery. Plus, as someone who loves vistas, it's hard to beat the views just beyond the Monastery.
Animal Cruelty Alert: The climb to the monastery is where we saw many people taking a donkey to the top. Most of these people were heavily overweight. If you're not in shape to make the climb yourself, please don't go. The animal abuse witnessed here is enough to make some people cry. Donkeys are forced to carry people that are 300 pounds or more up a steep incline for up to an hour. By mid-day, there are so many people hiking up and down that the donkeys become nervous. Instead of giving them time, their owners just kick them or slap them with a stick to force them to keep going. One of them also knocked my wife off of the mountain because he just wanted to keep going to avoid getting hit. Please do not support animal cruelty.
After spending some time admiring the site, we were about to leave when I looked around and saw some small buildings in the distance, higher up on the mountain. These aren't really advertised on the map as part of the sites to visit but we decided to walk up and see what was up there. The buildings turned out to be little shops where you can enjoy tea, coffee, or a Coke while admiring the views. These can be found all over Petra but the views here were absolutely the best. We probably spent two hours up there, marveling at the incredible mountain vistas all around us. It was like being inside an IMAX film. Eventually, we walked away from the little shop and out towards a ledge on our own to shoot some video. It was so quiet. Then, we heard some talking in the distance but couldn't figure out where it was coming from. It didn't sound like it was coming from the direction of the shop so we kept looking around. Eventually, we spotted a group of nomadic Bedouin people, far, far away on the edge of the mountain in front of us, traveling around with their donkey's and children. We couldn't believe it. From where we were, it looked like one little sidestep and they'd fall to their deaths, hundreds or thousands of meters below. It was crazy to see, and really interesting that some still live like that. After all, everyone who lives in Petra was once nomadic, but now it's become a very touristy place. There is also somewhere called Little Petra which is less known, as the name suggests, Little Petra is fairly small. Also known as Siq al-Barid – the cold canyon when translated into English – it is an archaeological site located just north of Petra.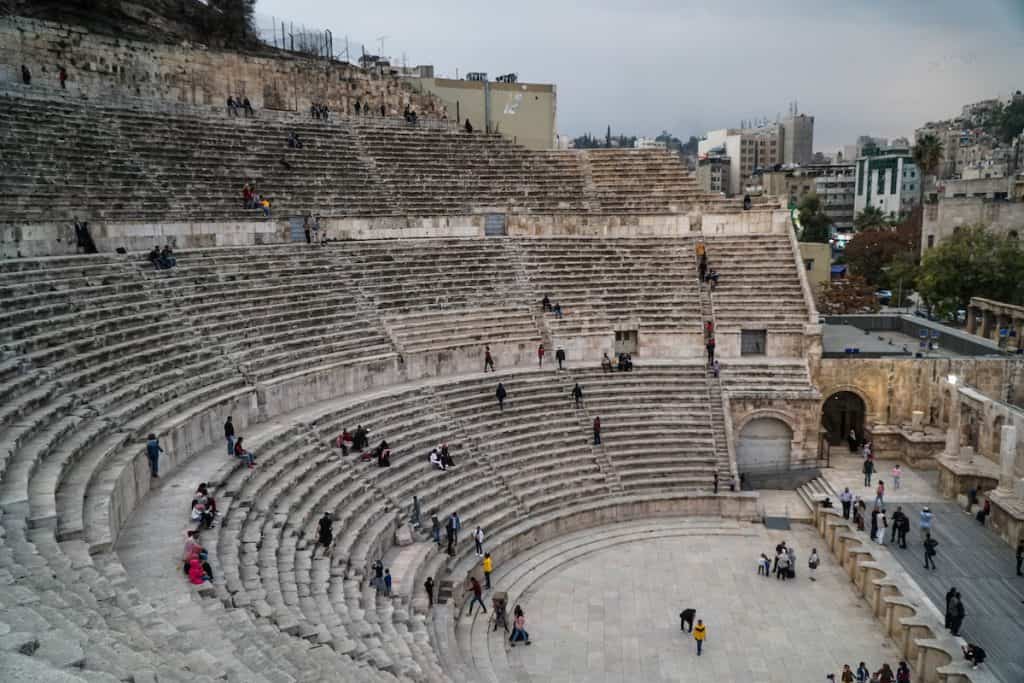 Things To Do in Amman and Jerash
With only two nights left in Jordan, we hopped in a taxi to Amman. A bus would have been cheaper but due to it being Friday (a holy day for Muslims) and the fact that the only tourist bus leaves just once in the evening, we decided to pay the extra price and went to Amman earlier in the day. We actually scored a deal because our Airbnb host called a friend who was already in Petra and had to travel to Amman anyways. So, instead of 60 JOD, he charged us 40 JOD, which worked out to be double what the bus would have cost the two of us. By the time we arrived in Amman, it was almost 4 pm, so we dropped off our bags and quickly ran to the Roman Theatre, which was only 20 minutes from our Airbnb on Rainbow Road. I'm glad we left when we did because we just made it in time. The Roman Theatre is quite spectacular and is right in the middle of the city. It also seems to function as a public space with kids running around and far more locals enjoying the site than tourists. I was actually surprised to see kids running so freely around the top of the theatre. If they were to fall, it would be game over. With night coming quickly, as well as some rain, we quickly made our way to the top of the theatre to get one of the best views in the city. It was stunning. Built between 138-161 CE, this incredible structure could seat around 6,000 people. As the rain came down a little harder, security kicked everyone out.
We made our way back to Rainbow Road to grab a bite to eat. One of the nice things about staying around Rainbow Road is that it's a lively street in the evening with plenty of restaurants, shops, and hookah bars. We wanted something local and after checking out reviews, we made our way to Nabteh O Fatteh. When we arrived, it was completely empty, but it was a very nice place. We were a little uncertain at first due to the lack of people but I'm so glad we stayed. The food was amazing. Of all our meals in Jordan, this was our favorite. In fact, we went back twice, trying a variety of food such as Fatteh hummus (very different than traditional hummus), Mansaf, Kofta, and Tabouleh.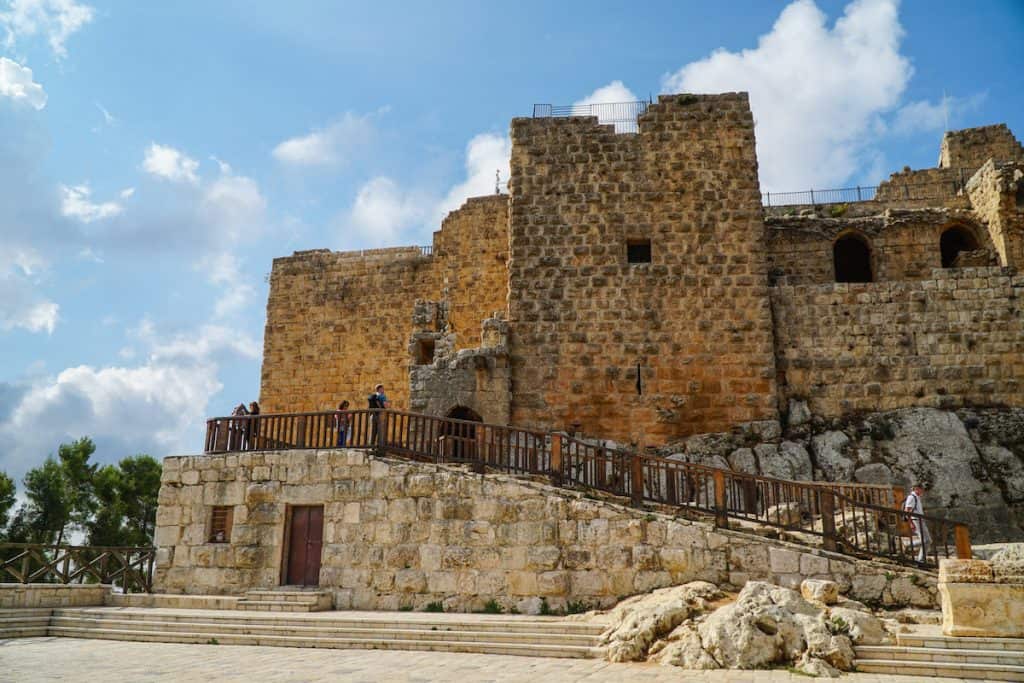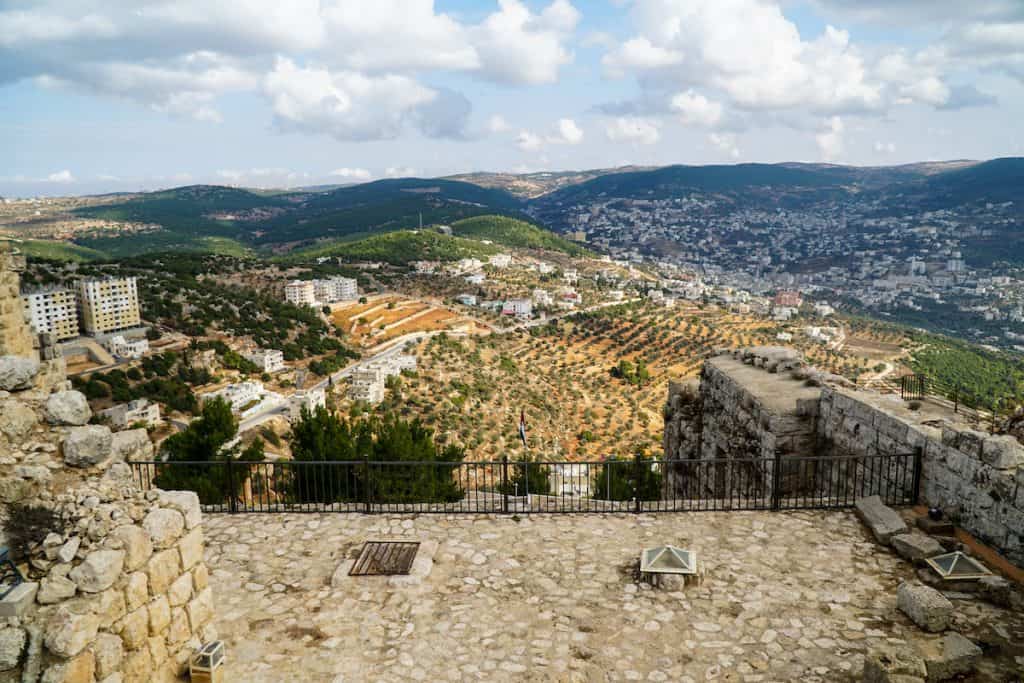 The next day, we woke early and jumped on a tourist bus to the UNESCO World Heritage site of Jerash. Originally, we were going to take the local bus, but due to it being Saturday (it tends to be a little more difficult) and with us only having one day to see as much as we could, we figured it was best to take the JETT tour bus and go there direct. Plus, they also brought us to Ajloun castle, which wasn't even on our list. It's incredible how many people come all the way to Jordan and barely spend time anywhere other than Petra. There are so many historical sites in Jordan. Just look at all the sites that are included with the Jordan Pass. Ajloun Castle was beautiful and it felt like we were walking around a medieval castle in Europe. It only takes a good hour to explore but it was a nice addition to the trip. Then there's Jerash. This is known as one of the best-preserved Greco-Roman sites in the world, comparable to Pompeii. It's massive. So massive that it takes a solid 3 hours to fully enjoy. There are so many impressive things to see in Jerash. Our favorites were standing in the middle of the Oval Forum, walking through the Colonnaded Street, and stepping inside both Roman theatres. One of them still had the inside entrances where you walk through to enter the theatre from above. I could only imagine how epic it would have been to walk through those doors and to see all the people getting ready to watch a show. At the second Roman Theatre, they actually had musicians performing a few songs to show how good the acoustics are. It's very, very impressive. If you're spending any time in Amman, you must make it up to Jerash.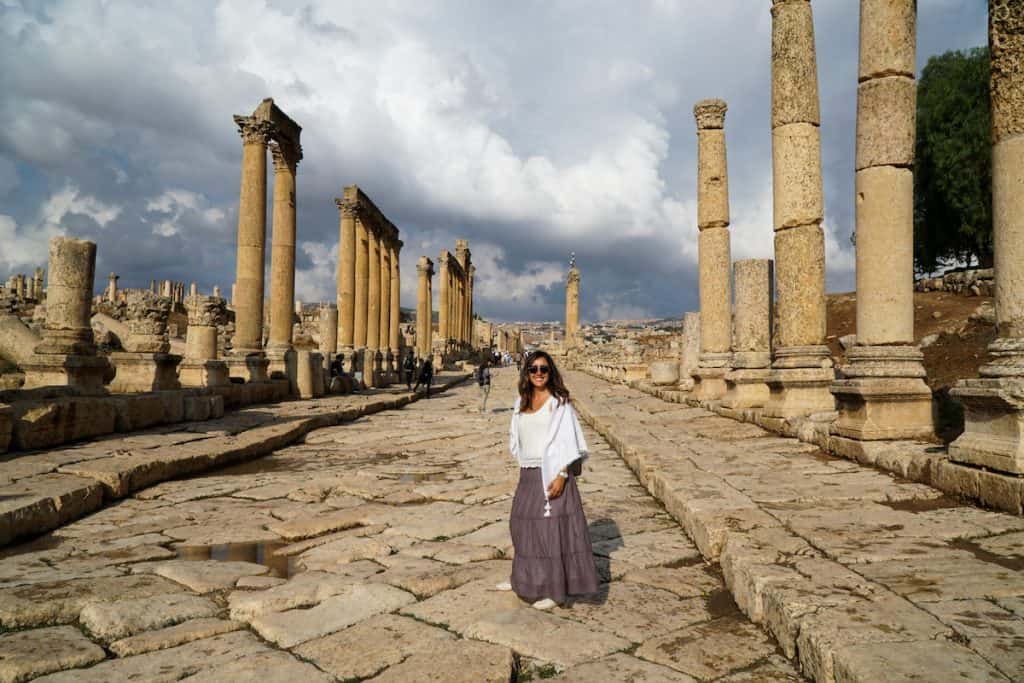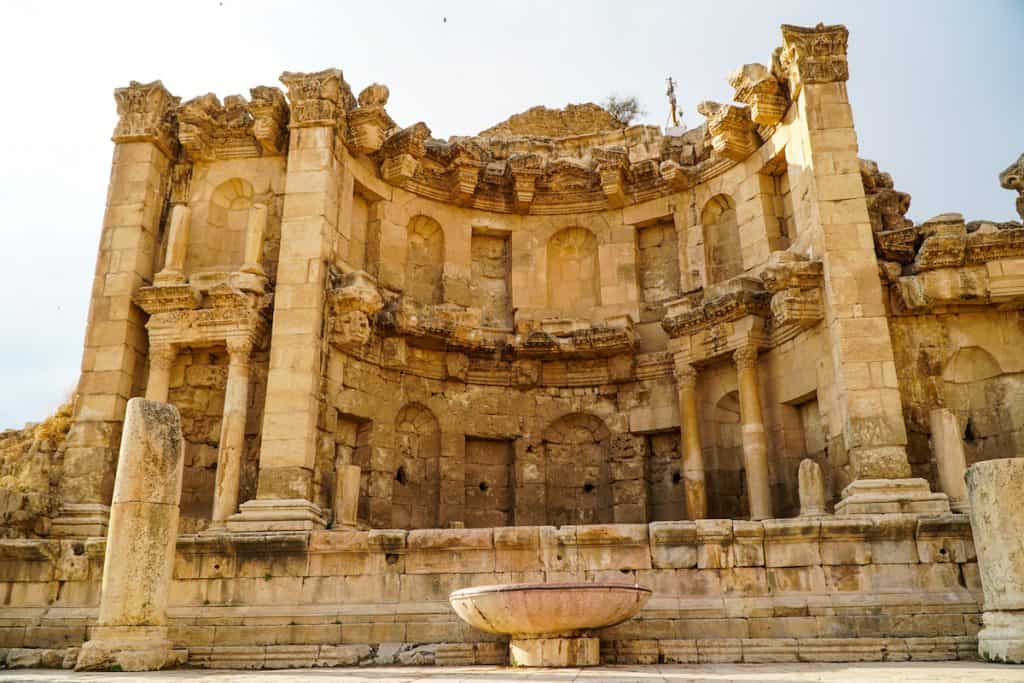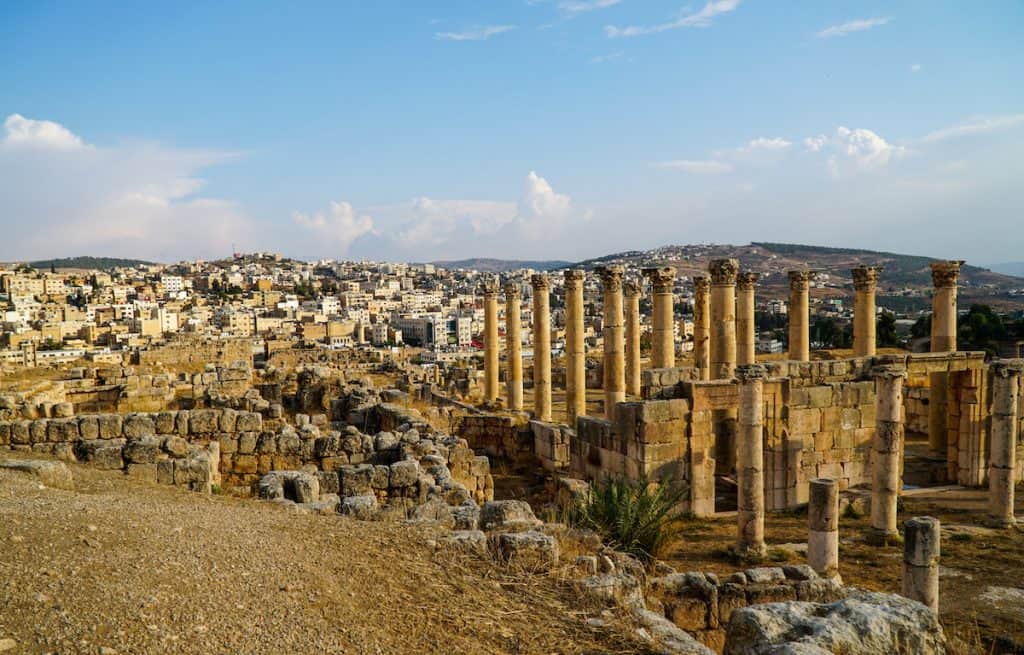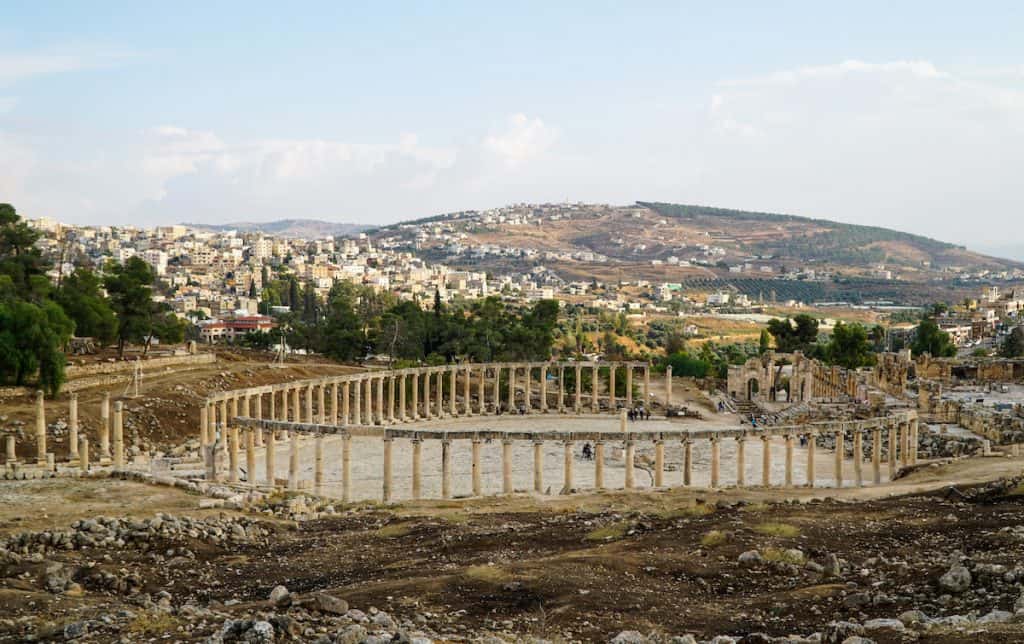 After returning to Amman, it was almost nighttime. It was our last night in Amman, but we couldn't leave without stopping by Al Quds Falafel for their famous falafel sandwich. We even read that the King of Jordan stops here when he's in the city. This was the only thing in Jordan that was actually cheap. For 50 cents JOD (about 75 cents USD), we got this delicious little sandwich with mouth-watering fresh-fried falafel and a nice kick of spice. The guys were super friendly too, even going out of their way to stir the boiling oil so we could get a better video of it all. I actually ended up buying two sandwiches. They were that good. It was a delicious way to cap our time off in Jordan.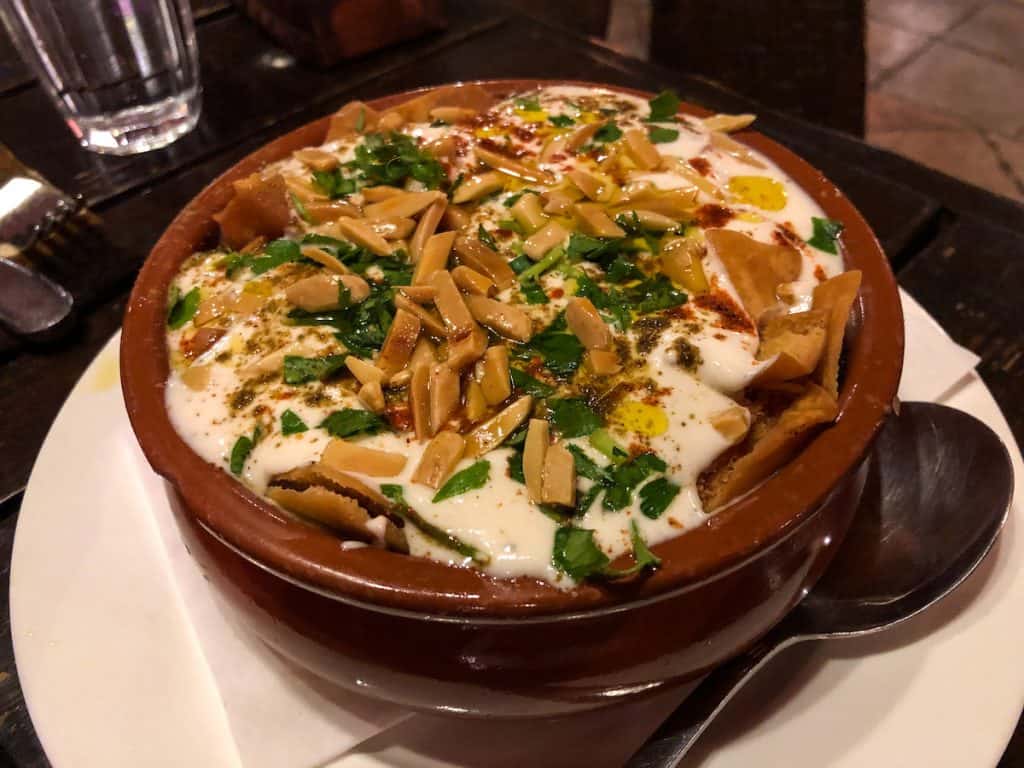 One Week Jordan Itinerary
Below is a shortened version of our itinerary above. No story. Feel free to do it in reverse order as well.
Two Full Days in Wadi Rum: Although most people spend one night and one day in Wadi Rum, we recommend spending two nights (or more) and enjoying the second day in the desert, even if it's just walking around the camp by yourself. There's something so quiet and peaceful about the place, not to mention the exquisite beauty of the pink sand and mountains. You have to book a tour to see the area and we can definitely recommend Wadi Rum Nomads as we had a great time with them. Wadi Rum weather is typically dry. In the summer months, it's very hot whereas it cools down substantially in the winter and there can be more rain.
Two Full Days in Petra: For Petra, we'd recommend spending three nights and enjoying two full days exploring the site itself. If you're short on time, then we definitely recommend one full day within Petra, skipping the High Place of Sacrifice hike but making sure to explore both the Treasury and the Monastery. The Petra Museum just by the visitor centre is also worth a visit. It's also free to visit. If spending one day, I'd get there early (as close to 6 am as possible), enjoy the Treasury in peace, and then make your way all the way to the Monastery before the crowds get there as well. The rest of the park will have to be enjoyed with the tour groups, but at least the most important parts are out of the way. If you have two days, you can either add it in the High Place of Sacrifice or simply leave earlier in the day to have more energy for the next day. The heat, combined with all the walking, makes for a very long, tiring day.
Two Full Days in Amman: While many people skip spending any quality time in Amman, it actually had some cool sites to visit, such as the Roman Theatre and the Amman Citadel. There's a lot more as well, but we just ran out of time, unfortunately. However, it's also a great base for the surrounding sites. We definitely recommend taking a day trip out to Jerash. You can either get there by car, public bus, or by taking a tour with JETT, which also brings you to the Aljoun castle (Thursdays and Saturdays only), which is another cool site to see. There are loads of places to stay in Amman, but we loved staying in an Airbnb right off of Rainbow Road. It was just convenient to have a place that's alive at night.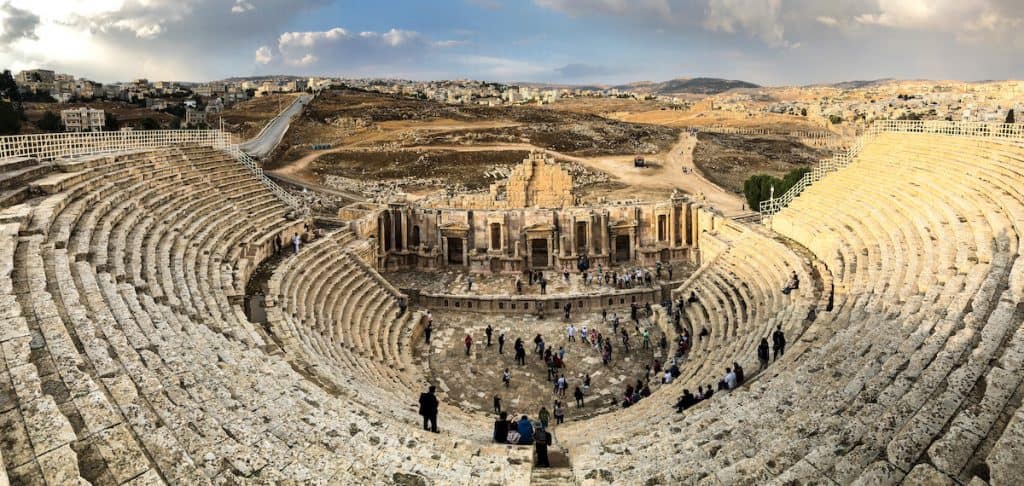 The itinerary above is 7-8 nights with 6 full days of exploring. The drives in-between each place are only 2-3 hours, but depending on the mode of transportation you use, they can take a good chunk of your travel time. Having your own car is the most convenient option and is actually good value compared to taxis, but you have the hassle of driving and finding parking. Public buses are the cheapest option but only run at certain times. Tour buses are also cheap but are limited in their schedules. Lastly, taxis go when you want them to go, but come at a hefty price. The common price for a taxi from Amman to Petra is 60 JOD ($85 USD). The common price for a taxi from Petra to Wadi Rum and from to the nearest border crossing is 40 JOD ($55 USD).
With this independent tour that we planned above, we felt that we got a good taste of Jordan and certainly had enough time to see the most famous sites. If you have more time, there are plenty of other sites to see as well, including Karak Castle, Umm Ar-Rasas, the Dead Sea, and the beautiful hiking throughout Wadi al Mujib. Another option for those with more time is to cross the border into Israel and spend some time in Jeruselum. It's incredibly busy but so spectacular. Then again, you might be tempted to take a 1-hour flight to Egypt and see the Great Pyramids of Giza, the incredible temples around Luxor, or take in some of the spectacular diving in the Red Sea. Either way, a visit to Jordan and the surrounding area is bound to become one of your all-time memories.
Looking for more adventure? Check out these articles below: