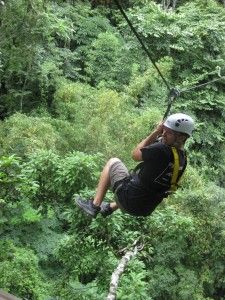 As we chilled out in the bohemian city of Chiang Mai, Thailand, we wondered what other thrilling activities we could do before heading into Laos. We already became elephant owners for a day at the amazing Patara Elephant Farm, found our own little private island near Koh Lipe, and learned how to cook delicious Thai food in Bangkok. Now we were looking for a different thrill to celebrate our amazing time in Thailand before leaving the country.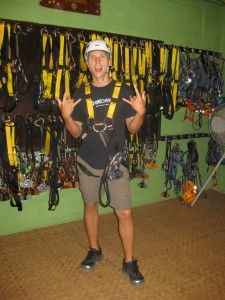 Then I stumbled across Flight of the Gibbon; a thrilling zipline adventure with more than 5km of ziplines woven through the jungle eco-system. Since we knew we were going to skip the famous Gibbons Experience in northern Laos (due to price and off-season weather), we knew we had to experience this. I'm a big fan of thrills and ziplining was mostly new to me despite riding North Americas fastest the year before.
Needless to say, I was excited.
And just like that, the van picked us up the next morning and away we went. The weather was sunny and beautiful and after grabbing our helmets, signing our lives away, and having a light snack, we made way to the first zipline.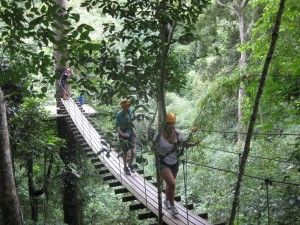 The first one isnt to big as they'd like to work you into it first. Tree Top Asia (the company that runs it) is known for their safety and you can feel it the moment you walk out onto the platform. The guides are an awesome addition as well thanks to their very friendly, outgoing, and goofy personalities that brighten the day and ease the tension for those feeling a little nervous.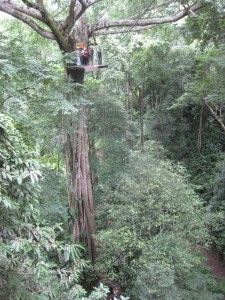 With 33 different platform stations nestled amongst the trees, we were able to do a variety of "stunts" as we glided through the sky. Some allowed you to lie down like Superman as you raised your arm forward through the air. Others allowed two people to go at the same time so you could fight to see who wins the race. Another one was set up with a net at the end so you could climb up like Spiderman when you finished flying.
The park is also home to Asia's longest zipline, allowing you to really soak in the atmosphere as you rocket through the jungle canopy for about 30 seconds. This was my favourite due to both the speed and the length of time.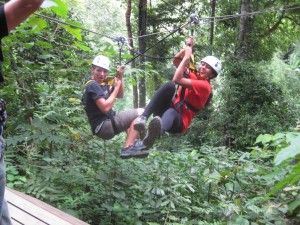 As a bonus, we even got to see a family of Gibbons hanging around a feeding platform. We watched as the cute little baby got followed around by its mom and dad. Amazing creatures to witness in the wild, despite being lured by the guaranteed food.
At the end of it all, we were taken to a nice waterfall to finish the day off with a soothing atmosphere. All in all, it was an exciting day and another adventure I can add to my memories. In fact, I can't wait to find another zip-line park so I can do it again! You can do this yourself when in Thailand. Just visit the Flight of the Gibbon site and find an adventure near you.