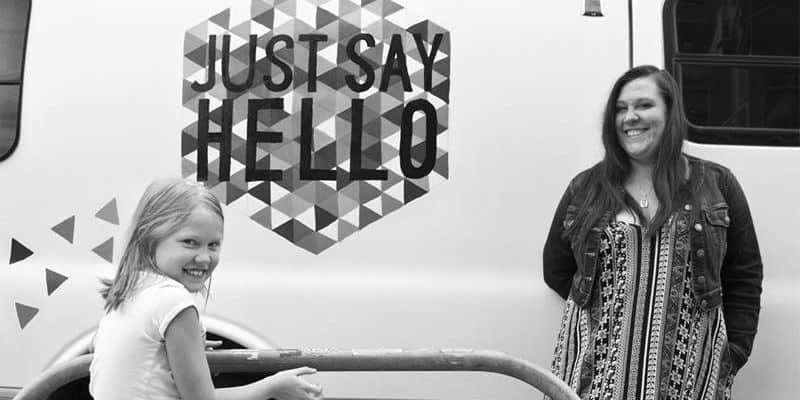 In the 18th episode of the Live Limitless podcast I chat with Jennifer Underwood of www.justsayhellotour.com.
I was introduced to Jennifer through the World Domination Summit. After quitting her stressful job as a social worker, Jennifer started a business on Amazon utilizing what's referred to as retail arbitrage and calculated gambling. In other words, she buys things and sells them through Amazon. However, most of our talk revolved around her latest project: the Just Say Hello Tour.
Jennifer sold everything she owned and hit the road in a camper van with her 8-year old daughter to break down the stigma associated with homelessness. The Just Say Hello Tour is an advocacy project created to record and share the stories of those who are homeless in hopes of inspiring people to challenge their misconceptions and judgments of homelessness and to "Just Say Hello" to those on the streets of their communities.
It's an incredibly inspiring project to display a side of humanity too many often ignore. You can learn more by visiting www.justsayhellotour.com.
In this episode, we talk about:
Jennifer's previous career as a social worker,
How she started a business on Amazon,
What inspired her to launch the Just Say Hello Tour,
Homelessness and the stigma within society,
Finding a passion project,
Role models, books, and blogs,
And MUCH more…
Listen below or download from iTunes by clicking here. (Please note: If you're reading this from email, you may need to visit the site to listen)
Podcast: Play in new window | Download
Subscribe: Apple Podcasts | Google Podcasts | Email | RSS
If you're running short on time;
05:00: We talk about Jennifer's life as a social worker and her new business on Amazon as well as what she's doing now
08:00: Why Jennifer chose Amazon to start a business and how she transitioned out of the "corporate-style" world
11:30: More about her Amazon business
17:50: What inspired Jennifer to launch the Just Say Hello Tour
21:00: Talk a little about homeschooling
24:50: We talk about how "easy" it is to become homeless
29:00: Jennifer's plans for when the tour ends
33:00: Role models
36:00: Fav books and blogs
39:00: One of the many stories Jennifer came across during the Just Say Hello Tour. A man with a masters degree and a 6-figure job and a family who lost it all due to alcoholism.
41:00: We talk about the naysayers who think the Just Say Hello tour is dangerous BUT talking to homeless people is not dangerous. It's actually the opposite.
Links from the show
***
Did you enjoy this interview with Jennifer Underwood?
Please leave a review on iTunes and share with your friends. This would mean the world to me.
If you have a question for either of us, leave a message in the comments and we'll get back to you.
-Matt