In the 20th episode of the Live Limitless podcast, I chat with Sam Hunter of www.huntersdesignstudio.com.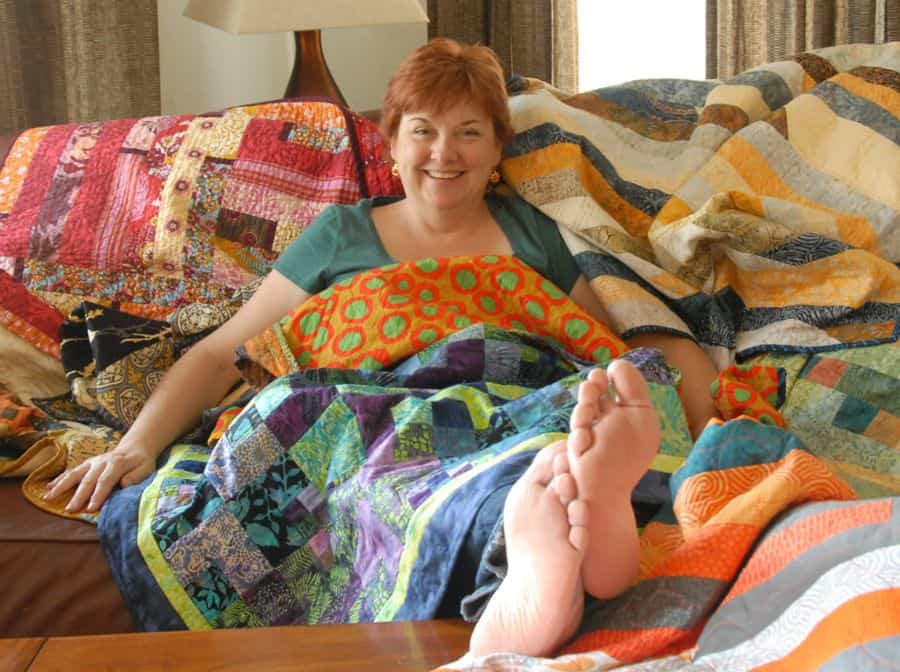 Sam went from a 25-year career in IT to a full-time quilt pattern designer, fibre artist, and entrepreneur. Ever since she was a child (she started sewing at the age of 7 and quilting at the age of 20), Sam wanted to be an artist but peer pressure encouraged her to choose a more "stable" career, which is what brought her to graduating with a degree in electric engineering. Although Sam certainly doesn't regret her IT experience (as a single mother, it paid the bills), she still longed for the life of an artist. Then, at the humble age of 40, she went back to school and earned a BA in sculpture and an MFA in fibre arts.
But it didn't stop there. After talking with many beginning quilters, she learned that all of the beginner patterns were basic and boring. Sam then found her niche by designing patterns that looked complicated but weren't that difficult for a beginner to emulate. In her first three years, she sold 15,000 patterns and hasn't looked back.
In addition to her success as an artist, Sam also created We Are $ew Worth It, a worldwide movement and philosophy for quilters and artists. The mission of WASWI is to champion claiming our worth as makers and to educate our customers about the value of what we create.
There's a lot of gems in this episode.
You can find more about Sam at www.huntersdesignstudio.com.
In this episode, we talk about:
How Sam got started as an artist,
How she started her business and her first big win,
Art and the "devaluation" of handcrafts and art in general,
World Domination Summit and the important of finding your tribe,
Her journey from the corporate world to entrepreneurship,
Advice for those wanting to make a change in their lives,
And MUCH more…
Listen below or download from iTunes by clicking here. (Please note: If you're reading this from email, you may need to visit the site to listen)
Podcast: Play in new window | Download
Subscribe: Apple Podcasts | Google Podcasts | Email | RSS
If you're running short on time;
03:34: The work hours of an entrepreneur,
04:14: The joys of Sam's entrepreneurial journey and whether she does any outsourcing,
05:14: We talk about Sam's quilt pattern business,
05:59: We talk about the philosophy of Derek Sivers and his outlook on business,
07:39: We start talking about art and the "devaluation" of handcrafts and art in general,
09:04: We get deeper into the world of quilting, such as old tech vs new tech,
12:04: We talk about the valuation of art,
14:04: The current trend of going back to "craft",
15:04: How "experience" might eventually be the only thing humans can offer,
15:49: We talk about experience and Apple computers,
17:04: We talk about WDS (World Domination Summit),
21:44: How Sam git featured in Chris Guillebeau's new book "Born for This",
28:29: It all started as a hobby many years ago,
30:39: What inspired the transition from corporate world to entrepreneurship,
41:04: Opportunity costs and why you shouldn't quit your job so quickly,
43:24: How she got started and her first win,
52:04: Why you shouldn't give your work away for free,
53:04: Plagiarism in the world of art,
56:04: How Sam sells her patterns and how distribution works,
58:24: Other income streams for Sam,
58:59: How she got introduced to World Domination Summit,
1:01:39: How she markets herself,
1:07:44: Advice for those wanting to make a change in their lives,
1:12:19: Books and people that have inspired her.
Links from the show
***
Did you enjoy this interview with Sam Hunter?
Please leave a review on iTunes and share with your friends. This would mean the world to me.
If you have a question for either of us, leave a message in the comments and we'll get back to you.
-Matt