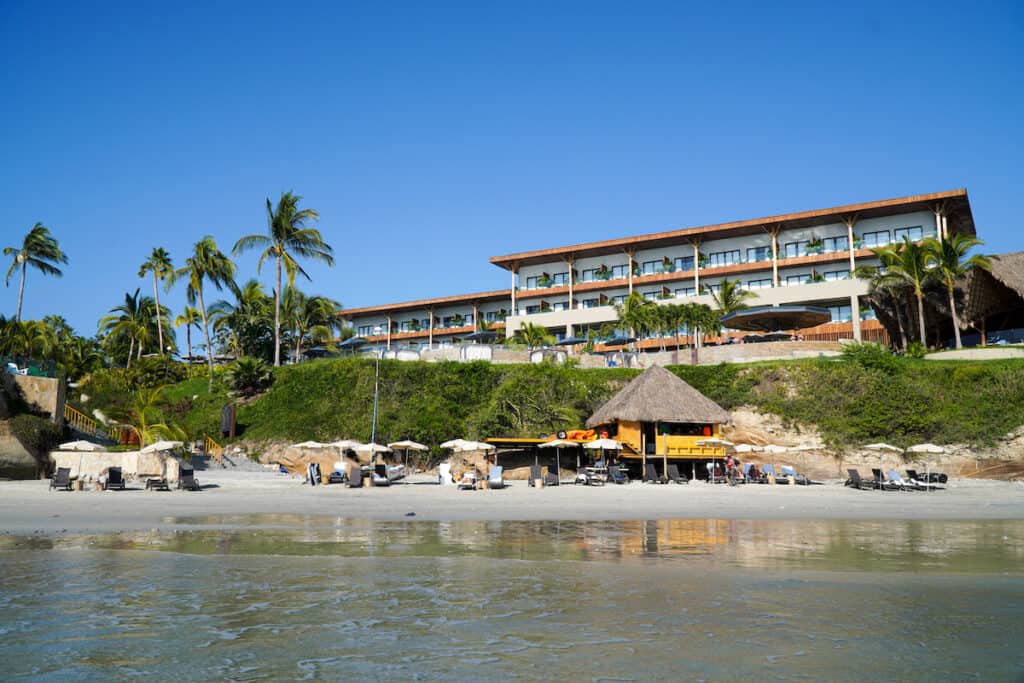 As someone who is into adventure, resorts are usually the last thing on my mind. I love exploring volcanoes in Asia, scuba diving with sharks in Africa, and climbing mountains in South America, but when it comes to pure relaxation, it's really hard to beat a luxury resort.
Resorts are something I've come to appreciate over the years and recently, my wife and I had the chance to spend three nights at the Marival Armony Luxury Resort & Suites, an adult-only all-inclusive resort in Punta Mita, Riviera Nayarit. When it comes to Puerto Vallarta vacations, it's hard to beat the Riviera Nayarit area, which is located roughly 45 minutes north of the famous Puerto Vallarta.
In this travel blog post, I'm going to highlight our amazing three-night stay at Marival Armony Luxury Resort & Suites.

Our Suite Sierra (Rooms at the Marival Armony Luxury Resort)
From the moment we arrived at Marival Armony Luxury Resort & Suites, we knew we were in good hands. The check-in was smooth and efficient, our bags were taken to our rooms, and we were given a welcome drink that consisted of mezcal and hibiscus with a spicy rim. It instantly became one of my favourite drinks and was a great way to enjoy our first moments at this beautiful luxury resort.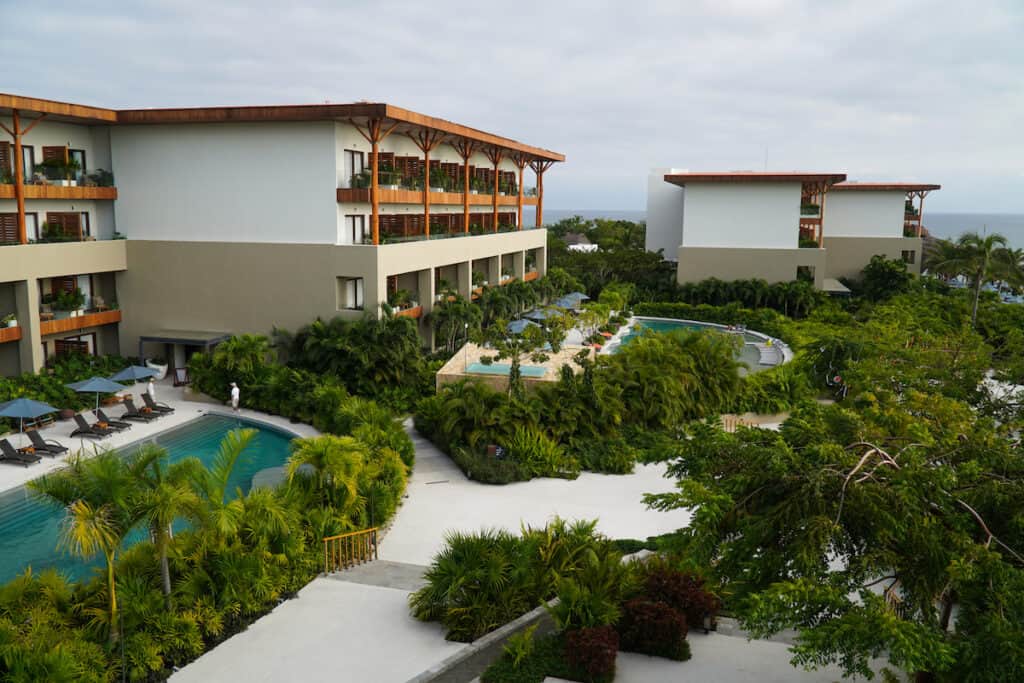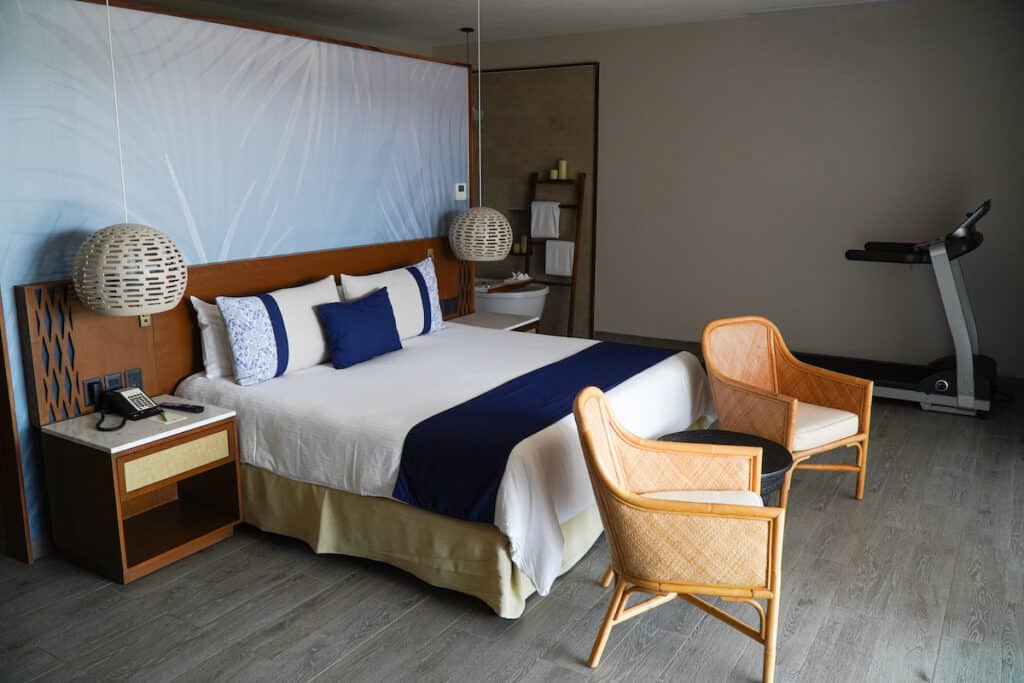 One of the things we love to do first is to admire the architecture and design of the resort. The main foyer, which is where you'll enter pays homage to the famous Hidden Beach at the Marietas Islands, with a thatched roof with a hole in the middle. This is just the first taste of how much thought went into the design of the resort, with various small, secluded spaces to hang out and spend time with your friends or loved ones.
Another thing we noticed about Marival Armony Luxury Resort & Suites is that the layout creates a large space away from the beach, mixing in lots of greenery and flowers. There are a number of buildings, some of which have ocean views, but there are also suites closer to the main lobby, which feel a little more private. Our suite, the Sierra Suite, was one of the more private options. We were located on the top floor with views of the "jungle" instead of the beach. Although beach views are often seen as the best, I loved looking out of our massive floor-to-ceiling windows and seeing lush green plants and listening to the sounds of crickets at night. It was very quiet and since we weren't facing the pool or ocean, it felt quite private.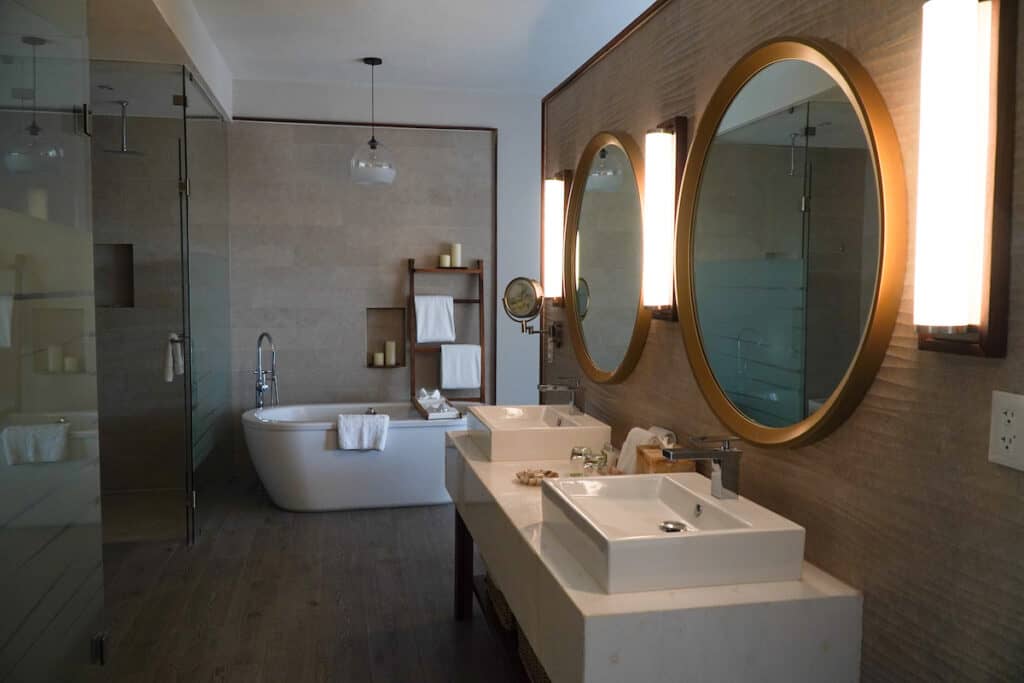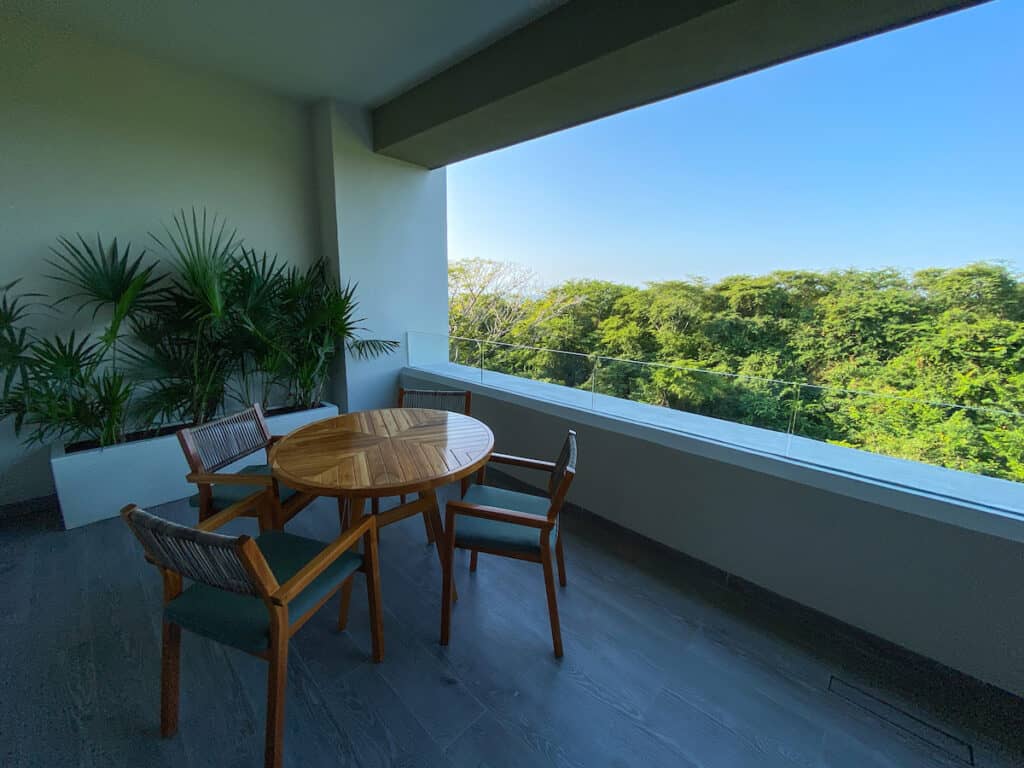 The Sierra Suite is very spacious with a big king bed, a coffee area with a sink, a TV and desk, a treadmill, comfortable chairs, and a massive bathroom with two sinks, a soaker tub, and a standup shower. Our deck was almost half the size of our room with a dining table and a lounging area. It was probably half the size of our apartment back home in Calgary. We had a mini-fridge stocked with free beer and soda, as well as a bottle of wine and Nespresso coffee.
Food and Drinks at Marival Armony Luxury Resort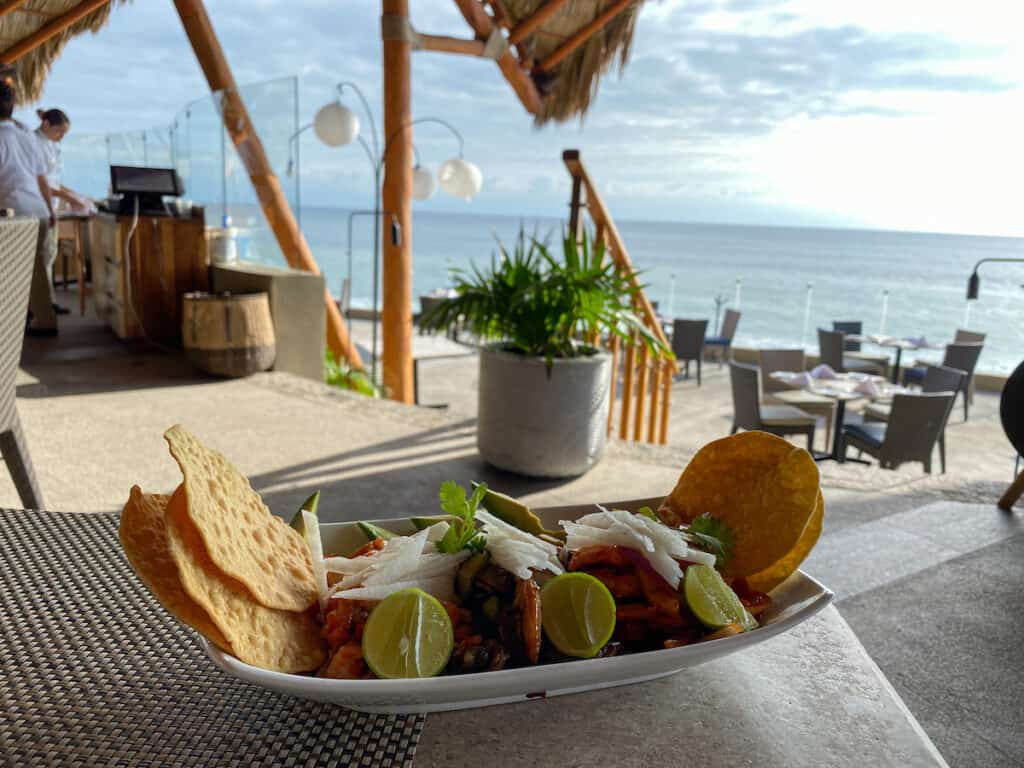 While we haven't experienced a tremendous amount of resorts, we've been to enough to know that Marival Armony offers excellent dining options. There are four main restaurants as well as four bars. In addition, the chefs are also open to special requests and room service is also available for an additional charge.
La Brise
La Brise is the main buffet restaurant and it's open for breakfast, lunch, and dinner. It's right next to the main pool and offers views of the ocean. We dined here daily for breakfast and lunch but did not end up dining here for dinner. There are so many options here that you won't grow tired. There are made-to-order omelettes, crepes, eggs, french toast, quesadillas, tacos, chicken, steak, pasta, and so much more. There's also a range of salads and desserts.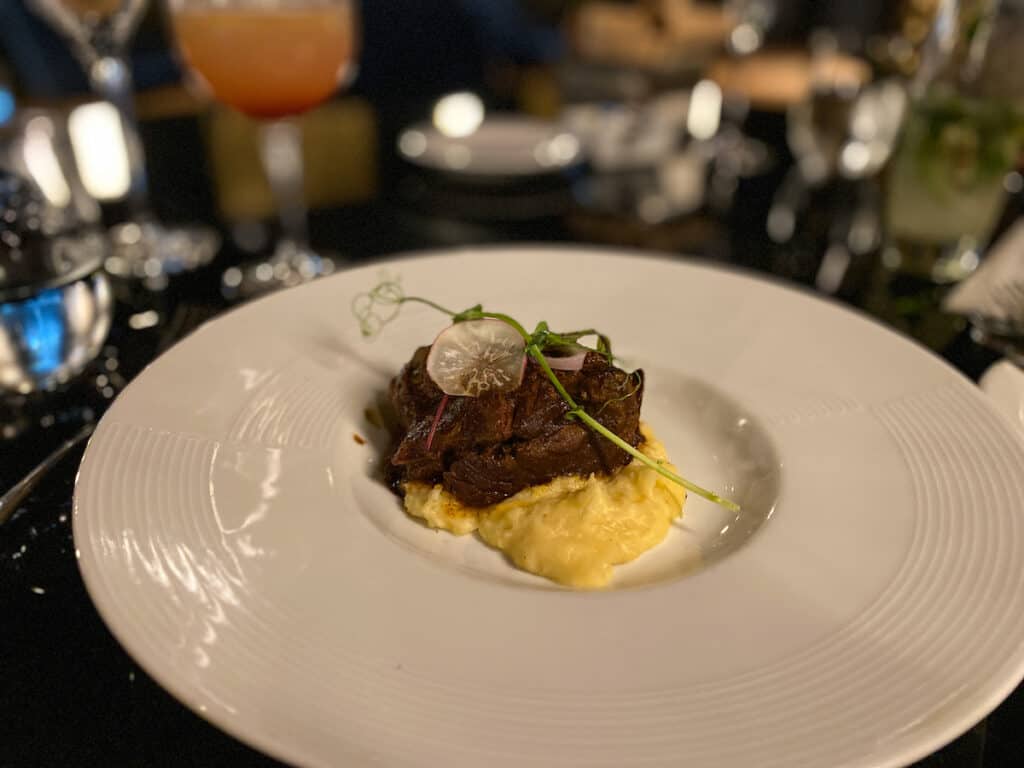 Divum
Divum is one of the specialty restaurants at Marival Armony, located next to the Insu sky rooftop lounge on the top floor. It's a high-end restaurant with chef-inspired dishes and the meals are prepared using the flavours and gastronomic culture of the region. We tried a variety of dishes here, including pork confit crispy enmolada, grilled beef tenderloin, and boneless short rib in cuastecomate mole.
Essence
This was our favourite restaurant on the resort, not only because of the food itself but because of the ambience, especially if you sit outside in the evening with the beautiful lights wrapped around the trees. We really enjoyed the roasted beet Napolean with salmon mousse and the grilled Mahi Mahi fillet.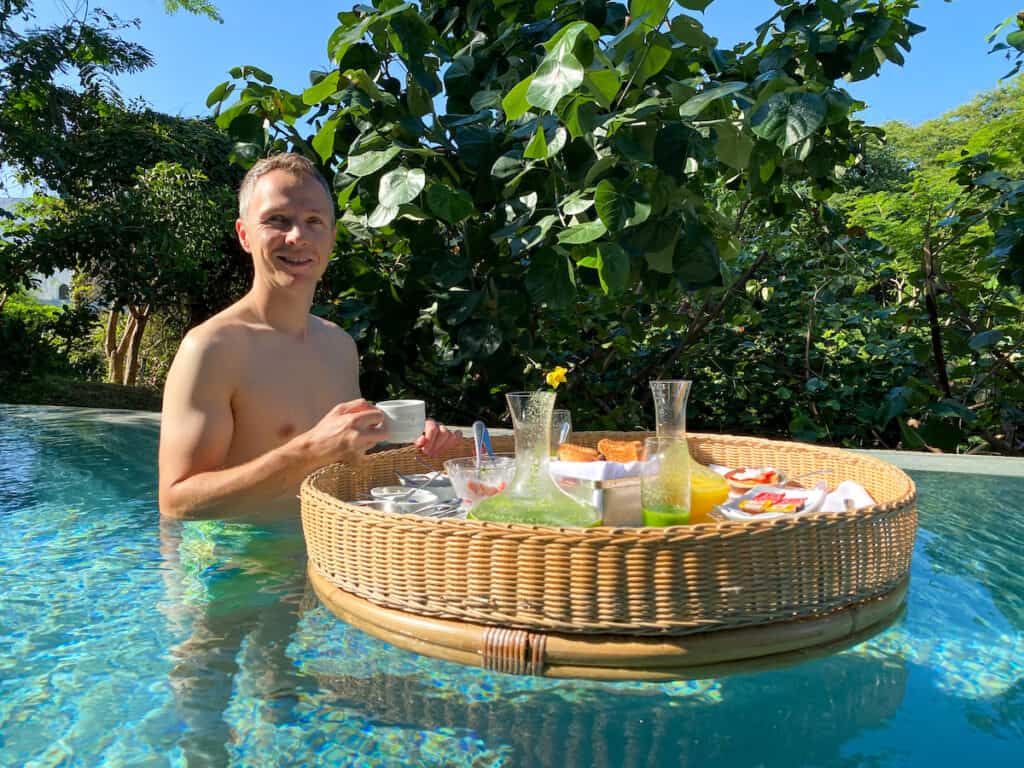 Unique Dining Options
In addition to the restaurants, there's also the option for a variety of unique dining experiences, which come with an extra charge. We were treated to two unique experiences, starting with a floating breakfast at the Cañada Tower Pool, which are two semi-private pools located on the main floor of our building. For this, the staff brings you a round floating bamboo platform with a variety of small dishes to enjoy, such as pancakes, omelettes, chilaquiles, and yogurt and fruit. We also had fresh orange juice, a green smoothie, and of course, coffee. It was actually a very cool experience to eat breakfast in the pool. The only thing that felt odd was having a staff member in the pool with us. As much as we loved having a conversation, I think it would have been more romantic with just the two of us. We later found out that you can request for them to stay near the pool rather than inside with you.
Our second experience was also very nice. It's called the Suite Terrace, and they basically bring the restaurant to your room. While you're enjoying your time at the resort, the waiters come in the room and get the balcony table set just like at the restaurant, complete with candles, wine, and champagne. They then bring you a five-course meal, right to your room. We enjoyed this while listening to the crickets and watching geckos scramble across the walls.
Things to Do at Marival Armony Luxury Resort
As a luxury resort in Punta Mita, there are plenty of things to do besides eating and drinking. The resort aims to find the perfect balance between comfort, nature, and wellness, which can be seen in what they offer.
Enjoying the Beach
Marival Armony is located right in front of Destiladeras Beach on Banderas Bay. Punta Mita and Riviera Nayarit are famous for their expansive white sand beaches, and this one did not disappoint. The beach can be accessed by a series of steps near the main pool. From here, you can either enjoy the crashing waves, walk along the beach, or relax in one of the many loungers and chairs that Marival Armony provides. As with all areas of the resort, the staff will be here to grab you drinks, food, or anything else you might require. There's even a hut where you can borrow a paddleboard, kayak, or bodyboard to have even more fun in the sea. Because the resort is perched on a cliff, the beach is really beautiful. However, exploring other areas of the beach can really only be done at low tide as the waves do come all the way to the cliffs during high tide, making it hard to walk to the other resorts.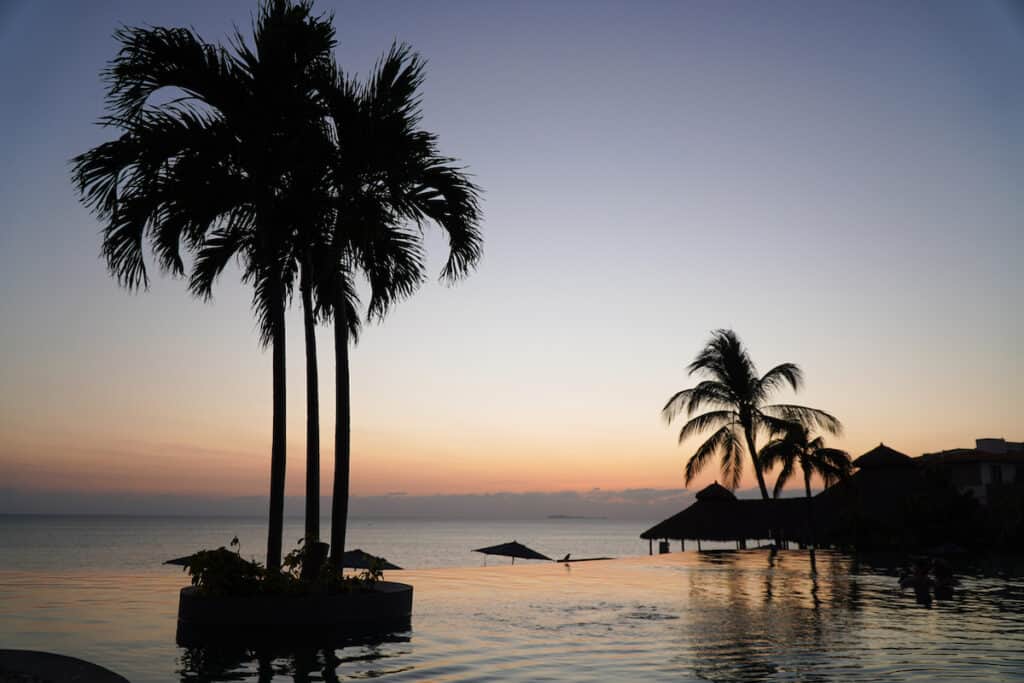 Swimming Pools
There are several swimming pools at Marival Armony as well, making this one of the best all-inclusive resorts in Punta Mita.
The Main Pool: The main infinity pool is the most popular swimming pool and is where most of the action is. Here you'll find the popular swim-up bar and outstanding views of the ocean and the sunset. During the day, the music is kept relatively low and occasionally, there will be pool games or water aerobics as well. As the afternoon fades away, the pool gets livelier and the music gets turned up a notch. We loved the music they played here and the DJs seem to really know how to play to their crowds.
Second Pool: There's a second swimming pool next to the main infinity pool as well. This pool is less crowded but also offers ocean views. This is a great place to just sit back and read a book, or relax in the water. You'll still hear the music from the main pool but certainly not as loud.
Armony Pool: This is a beautiful, secluded pool that many people forget about. It's tucked away behind lots of greenery and is close to Essence restaurant. There are lots of loungers to relax in and they'll likely never fill up. There are no ocean views but the pool is large and is a nice place to get away from the crowds.
Cañada Tower Pool: These two long rectangular pools are near the spa. The pools are semi-private because unless you're staying in that building, you'll likely never think of visiting. However, they are open to everyone and they can be a nice place to relax and feel totally secluded. They're surrounded by greenery, and the bottom suites can actually walk right out into the pool from their patios.
Jacuzzi Cañada: Last but not least is the Jacuzzi Cañada infinity pool, which is reserved for VIP guests. They're located just past the hut where you grab towels. The pool here is not very big and does not offer ocean views, but it's very private as there are only a few cabanas that can be booked. It also features jacuzzi jets and is slightly heated.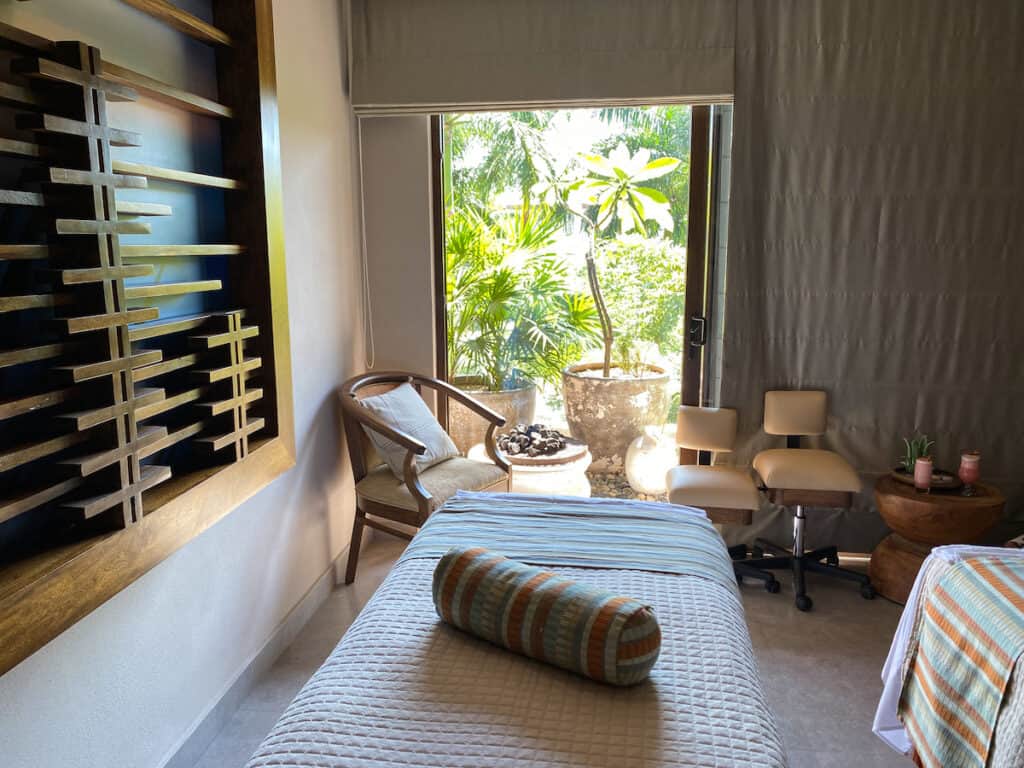 Health and Wellness
While we certainly didn't have time to enjoy the gym, there is a fitness centre that offers cardio and weight machines. However, they also offer daily yoga, stretching and tai-chi classes. We did manage to attend one of the yoga sessions and it was a great way to begin our day.
However, one of our favourite activities was Watsu Therapy, which was offered in the Armony Pool. We had never experienced anything like this before. It's a form of Shiatsu massage that takes place in the water, combined with Tibetan singing bowls. The guides give you a device to plug your nose, float you in their arms, and then guide you through the water in a variety of positions that will guide you above and below the water. It's hard to explain but if you make it there, I highly recommend you go!
Watersports
For those into watersports, there are lots of opportunities to get out into the sea. Included with your stay at Marival Armony, you can rent paddleboards, kayaks, body boards, or the Hobie Cat 13. There's also a variety of water activities you can try for an additional charge, such as surfing, jet skiing, and kiteboarding. Since we only had two full days, we decided to just play around in the waves and tan on the beach.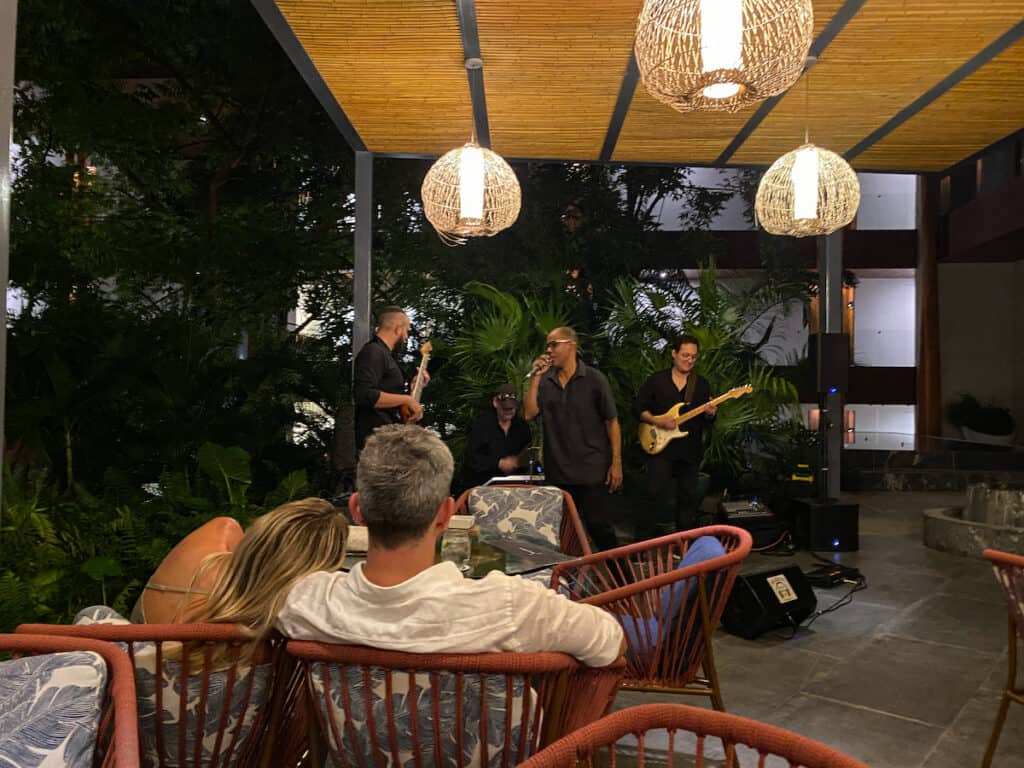 Live Music and Parties
Another great thing about Marival Armony is the daily live music and the occasional parties. Since we stayed at the resort from Sunday to Wednesday, we didn't get to experience one of their three big parties, but we did enjoy the nightly live music at Blend.
If you happen to be there later in the week though, they offer the Armony Vibes party every Friday from 8 pm to 1 am with a VIP cocktail party, a live DJ, and dancers with colourful costumes and dazzling lights. On Saturdays from 4 pm to 7 pm, there's a live DJ and a show that takes place at the main infinity Pool, and on Wednesday night at the Insu Sky Bar, they offer a neon glow party called Flow With the Glow.
Enjoying the Award-Winning Melange World Spa
Another thing people enjoy at this resort is the award-winning Melange World Spa. This unique spa offers specialized spa therapies and treatments from around the world. Taking place in themed rooms, each traditional treatment and service is done in the traditions of the country you choose. Some examples include Thailand, Japan, Bali, and Mexico.
During our visit, we were treated to their signature Mexican experience, which uses native agave, honey, and aloe vera to hydrate and nourish the skin and relax your entire being. We enjoyed a facial and body exfoliation before being wrapped up like a taco in a heated blanket to do some light sweating. While we certainly would have loved a massage, our skin was very soft afterwards and the whole experience was relaxing.
When you're done, there's a hot jacuzzi tub, a cold plunge pool, beautiful gardens, and a relaxation area.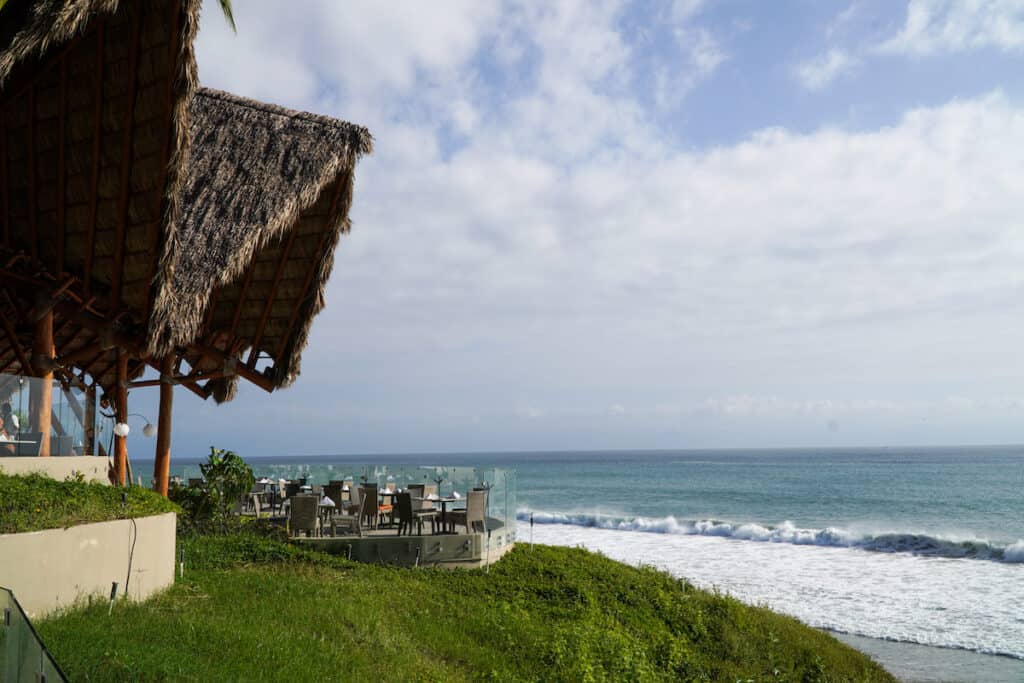 My Final Word
If you're looking to "get away from it all" and simply enjoy luxury and relaxation next to a beautiful beach, I can definitely recommend Marival Armony Luxury Resort & Suites. In addition to the beautiful suites, pools, and other amenities, I also found the service to be outstanding. They always made us feel at home and were happy to help make our stay exquisite. The food was quite good, the drinks were delicious, and the beach was very beautiful. Three nights was nice but with more time, we definitely would have taken advantage of some of the watersports or perhaps a trip out to the famous Hidden Beach at Marieta Islands, which can be seen in the distance from the resort.